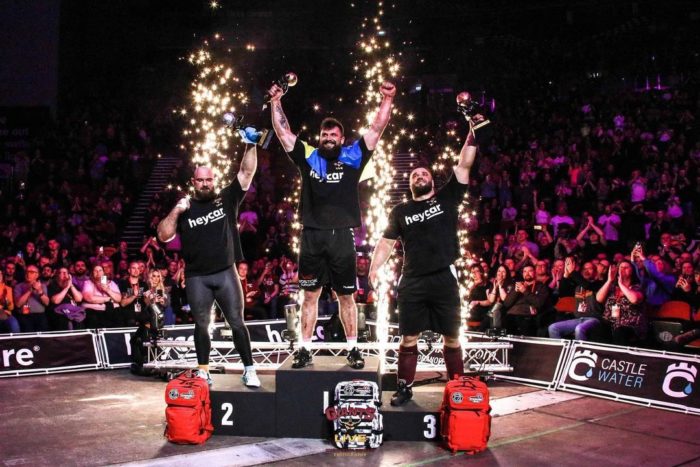 Two Ukrainian strongmen Novikov and Kordiyaka, and Latvian Aivars Šmaukstelis (from left to right)/ Source: Facebook, Pavlo Kordiyaka 
The 27-year-old Lviv-based Ukrainian strongman, Pavlo Kordiyaka, won Europe's strongest man competition in five different disciplines, which took place in Leeds, the UK. It is the second consecutive championship a Ukrainian athlete won, as reported by Suspilne Sport.
In 2019-2020, Kordiyaka became the undisputed champion of Ukraine. He is also the 2020 champion of "Ukraine's Strongest Man." Kordiyaka competed in his 12th International Strongman competition and earned his third victory.
The competition included five strength tests for 13 competitors. The athletes were first required to lift five logs of increasing weight as they progressed through the competition. Pavlo Kordiyaka was the only competitor to lift all five logs, while fellow Ukrainian Novikov placed second in the discipline with four successful attempts.
The category "Load & Push" was featured in the tournament's second stage. The competitors had to place an anvil, a sandbag, and a wheel in a basket before pushing it a predetermined distance. Once again, Kordiyaka was the fastest, with a time of 44.14 seconds (Novikov was second in the race with 46.07 seconds).
In the third deadlift competition, Kordiyaka only placed seventh with three successful attempts. Novikov and Adam Bishop were the first to attempt nine shots.
The fourth stage included the "Wheel of Pain" competition. As far as possible, participants were required to pull a lever attached to the center of a circle. Degrees were used to measure the result (360 degrees is a complete circle). Pavlo Kordiyaka was the only competitor to finish with a score greater than 1000. His fellow countryman, Novikov, placed second with 897 points.
The final competition at the European Championships was a five-boulder competition. The distribution of positions was determined by the time each athlete took to lift a boulder. With 21.76 seconds for five boulders, the Ukrainian Kordiyaka took second place. He lost more than one second to the leader in the standings, the Latvian Aivars Šmaukstelis.
With 57.5 points in the final standings, Kordiyaka was declared the winner. Novikov, in second place, trailed his fellow countryman by only four points, and Šmaukstelis rounded out the top three.
Read also:
Ukraine to boycott Olympic tournaments with Russian or Belarusian athletes
The Olympic Committee has a genocidal dictator problem – opinion
Olympic Committee and Shooting Sport Federation plan to allow participation of Russian shooters in Asian events and the Olympics 
UK presses Olympic sponsors to ensure Russian athletes are banned from games
Tags: sports, Ukrainian athlete