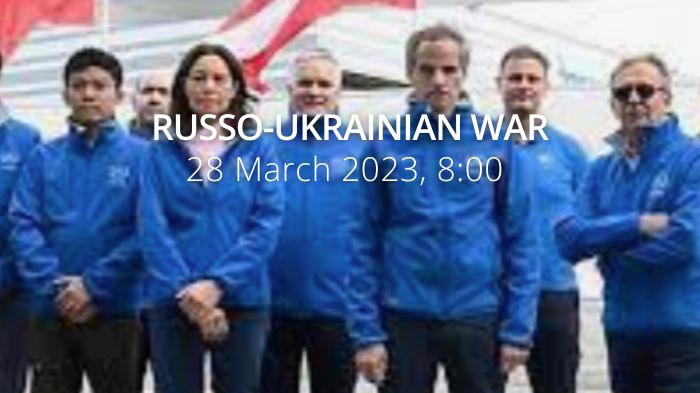 Zelenskyy to IAEA's Grossi: Russia must leave the Zaporizhzhia nuclear power plant. 163 Russian military strikes and 19 armed clashes were reported in the Bakhmut direction. Explosions in occupied Mariupol and Melitopol.
Daily overview — Summary report, March 28
A map of the approximate situation on the ground in Ukraine as of 00:00 UTC 28/03/23. pic.twitter.com/1TCxumuxpR

— War Mapper (@War_Mapper) March 27, 2023
The General Staff's operational update regarding the Russian invasion as of 18.00 pm, March 28, 2023 is in the dropdown menu below:
During March 27, the adversary launched 24 air and 12 missile strikes and conducted 55 MLRS attacks.
Russian forces continue to ignore the laws and customs of war and use terror tactics against civilians in Ukraine. On March 27, a missile attack on the infrastructure of Sloviansk (Donetsk oblast) caused civilian casualties, killing several people. Multistorey and private houses were damaged. In the town of Beryslav (Kherson oblast), a civilian facility was damaged by an enemy air strike.
At night, Russian forces employed 15 Shahed-136 combat UAVs to launch air strikes. 14 of them were destroyed by Ukrainian defenders.
The threat of further missile and air strikes remains high across Ukraine.
The adversary is focusing its main efforts on the offensive operations on Lyman, Bakhmut, Avdiivka, and Marinka axes. The fiercest fighting is for Bakhmut, Avdiivka, and Marinka. Thanks to their professional and coordinated actions, the Ukrainian Defence Forces repelled 62 enemy attacks on the above axes during the day of 27 March.
Volyn, Polissya, Sivershchyna, and Slobozhanshchyna axes: no significant changes in the operational situation, and no signs of the formation of offensive groups were found. The units of the armed forces of the Russian Federation continue their combat training at the training grounds of the Republic of Belarus. During the day of 27 March, Russian forces shelled the vicinities of settlements of Bleshnya (Chernihiv oblast), Baranivka, Tovstodubove, Studenok, Holyshivs'ke, Stukalivka, Volfyne, Tur'ya, Mais'ke, Mezenivka, Popivka (Sumy oblast), Tymofiivka, Krasne, Ustynivka, and Chorne (Kharkiv oblast).
Kupyansk and Lyman axes: during the day of 27 March, the adversary conducted unsuccessful offensives in the vicinities of settlements of Krokhmal'ne, Kreminna, Kuz'myne, Bilohorivka, Verkhn'okam'yans'ke, and Berestove. The invaders fired artillery in the vicinities of settlements of Kam'yanka, Kolodyazne, Krasne Pershe, Novomlyns'k, Dvorichna, Zapadne, Kupyansk (Kharkiv oblast), Stel'makhivka, Novoselivs'ke, Nevske, Bilohorivka (Luhansk oblast), Terny, Sivers'k, Spirne, and Vyimka (Donetsk oblast).
Bakhmut axis: Russian forces continues to assault the city of Bakhmut that is held by Ukrainian defenders, as well as the vicinity of settlements of Orikhovo-Vasylivka, Bohdanivka, Ivanivske, and Ozarianivka (Donetsk oblast). The invaders shelled Vasyukivka, Hryhorivka, Min'kivka, Orikhovo-Vasylivka, Novomarkove, Bakhmut, Predtechyne, Kurdyumivka, Ozarianivka, Druzhba, and Maiors'k (Donetsk oblast).
Avdiivka and Marinka axes: the adversary conducted unsuccessful offensive operations towards the settlements of Stepove, Avdiivka, Sjeverne, Pervomaiske, Nevelske, and Marinka. The occupiers used non-lethal aerosol "tear gas" grenades in the vicinities of Novokalynove, Lastochkyne, Pervomais'ke, and Mar'inka. Russian forces shelled more than 10 settlements. Among them are Novokalynove, Krasnohorivka, Stepove, Avdiivka, Tonen'ke, Sjeverne, Pervomais'ke, Nevel's'ke, Mar'inka, and Novomykhailivka (Donetsk oblast).
Shakhtarske axis: during the day of 27 March, Russian forces shelled the vicinities of settlements of Vuhledar, Prechystivka, Velyka Novosilka, and Vremivka (Donetsk oblast).
Zaporizhzhia and Kherson axes: the adversary stays on the defensive. The invaders shelled Vil'ne Pole, Novosilka, Novopil' (Donetsk oblast), Poltavka, Malynivka, Hulyaipole, Zaliznychne, Bilohir'ya, Novodanylivka (Zaporizhzhia oblast), Kherson, Kozats'ke, and Antonivka (Kherson oblast).
The Russian occupiers continue to reinforce the security regime in the temporarily occupied territories. Recently, there has been a trend of restricting the free movement of Ukrainian citizens between settlements. In particular, it is impossible to get to certain settlements without local registration in Horlivka district (Donetsk oblast) and Kakhovs'kyi district (Kherson oblast).
On March 27, Ukrainian Air Force launched 9 air strikes on the concentrations of enemy troops and 1 air strike on an anti-aircraft missile system. Moreover, Ukrainian troops shot down 5 enemy reconnaissance UAVs of various types.
In the meantime, Ukrainian missile and artillery units hit 3 command posts, as well as 1 concentration of Russian troops, 1 artillery unit at its firing position, 1 ammunition depot, 1 fuel and lubricants depot, and 2 other important targets of the occupants.
Military Updates
Ukraine may start counteroffensive in coming weeks, according to WSJ

Ukrainian counteroffensive will set the course of the Russo-Ukrainian war and potential peace negotiations, WSJ claimed.https://t.co/1eobcoSBsx

— Euromaidan Press (@EuromaidanPress) March 27, 2023
Commander of Ukrainian Ground Forces assesses the situation on the Bakhmut front: We are considering all options, Ukrainska Pravda reports, citing Military Media Center. "Colonel General Oleksandr Syrskyi, the Commander of the Ukrainian Ground Forces, has once again visited the hottest spots on the Bakhmut front. The most intense phase of fighting for Bakhmut is underway. The situation is consistently difficult. Russian forces are suffering significant losses in human resources, weapons and military equipment but continue to conduct offensive actions. Our defenders are heroically holding back Russian forces' attack in extremely difficult conditions and leaving Russian forces no chance to realise their plans.
As he states, the defence of Bakhmut is driven by military necessity and is based on the competent use of the city's defensive capabilities built fortifications and equipped firing positions. Syrskyi emphasised that the command is considering all possible scenarios and will act appropriately to the current situation, he said."
163 enemy strikes and 19 armed clashes were reported in the Bakhmut direction on Monday, Ukrinform reports. "Bakhmut remains the main axis of attack in our operational area, where Russian forces are concentrating their main efforts. During this day, in the area of Bakhmut, Bohdanivka, and Ivanivske, Russian forces launched 163 strikes with various types of tube and rocket artillery, there were 19 armed clashes and three airstrikes. Thirty strikes and 17 clashes took place directly in the area of Bakhmut. 124 occupiers were eliminated and 149 were wounded, Serhiy Cherevaty, Spokesperson for the Eastern Group of the Armed Forces of Ukraine, said."
Volunteers and journalists banned from entering Avdiivka: the city is in "red zone", Ukrainska Pravda reports, citing the Head of Avdiivka Military Administration on Stepanych UA Telegram channel. "27 March. Avdiivka. I would like to post a message that primarily concerns journalists and volunteers. Avdiivka is in the 'red zone', therefore visiting and entering the city by representatives of the press, even accredited ones, is prohibited. This also applies to volunteers. In connection with the aggravation of the situation in and around the city. Therefore, we have an order – a direct ban on visiting. […]
Barabash reported on 26 March that public utility workers will be evacuated from the city of Avdiivka, Donetsk Oblast, where active military operations continue. […] The Armed Forces of Ukraine said that the situation in Avdiivka in the near future may become similar to that in Bakhmut."
Defence forces destroy 13 enemy drones, Ukrinform reports. "On the night of March 27, the Russian aggressor attacked Ukraine with Shahed-136/131 combat drones and guided aerial bombs. The attack of the Shaheds was launched from the north and south-east direction. Su-35 fighter jets of the occupiers took off from the Morozovsk airfield in the Rostov region and attacked the Kherson region with two guided aerial bombs. In total, Russian forces used 13 Shahed-136/131 kamikaze drones, one Granat-4 reconnaissance unmanned aerial vehicle, and two KAB bombs, the Air Force of the Armed Forces of Ukraine posted on Facebook.
The forces and means of the Air Force and air defence units of other components of the Defence Forces of Ukraine destroyed 13 aerial targets: 12 Shahed-136/131 combat drones and one Granat-4 reconnaissance UAV. In particular, the air defence forces spotted and destroyed all the kamikaze drones with which the Russian aggressors tried to attack Kyiv."
Detonations at Russian ammo depot near Mariupol, Ukrinform reports, citing Petro Andriushchenko, the advisor to the city mayor in exile. "An ammunition depot blew up in the village of Novotroitske just outside Mariupol, the industrial city on the Sea of Azov captured by Russian invaders last year. […] … This day is a blast. Mariupol. Melitopol. Tokmak Donetsk. Novotroitske – and this day's not over yet. Nice," Andriushchenko wrote in a caption.
As reported, the invaders are turning Mariupol and the surrounding villages into a military logistics hub for the Russian army. Since February 20, a series of explosions have rocked the city as local eyewitnesses confirm that Russian forces ammunition depots and military equipment have been hit. One of the latest explosions was reported at a Russian ammunition depot in the occupied village of Maloyanisol near Mariupol on March 16."
Explosions rock occupied Melitopol, Ukrainska Pravda reports, citing Ivan Fedorov, legal Mayor of Melitopol. "Several explosions rocked the temporarily occupied city of Melitopol, Zaporizhzhia Oblast, on the morning of 27 March. […] Later, Fedorov posted a photo of smoke in the neighbourhood near the Joker cafe and Russian barracks. He added that a building seized by the Russians, which housed enemy security forces, has been damaged."
Three injured as Russia downs Ukrainian drone south of Moscow, Reuters reports. "Russian air defences halted a Ukrainian drone attack on a Russian town on Sunday in which three people were hurt and apartment blocks were damaged, the Russian Defence Ministry said. Kyiv did not immediately respond to a request for comment. It has previously denied Russian assertions that its drones – also known as unmanned aerial vehicles (UAV) – have flown into Russian territory and caused damage to civilian infrastructure.
The Defence Ministry statement said the attack on the town of Kireyevsk, in Tula region 220 km (140 miles) south of Moscow, involved a Ukrainian Tu-141 Strizh drone. A Polye-21 electronic unit took action against the Ukrainian drone, and as a result its navigation system was taken out of action, the ministry statement said. The drone lost its directional command and fell near the town of Kireyevsk in Tula region."
According to British Defence Intelligence, (last 48 hours): 
In recent days, Russia has continued to prioritise an operation attempting to encircle the Donetsk Oblast town of Avdiivka. However, Russian forces have made only marginal progress at the cost of heavy losses in armoured vehicles.
Russia's 10th Tank Regiment has likely lost a large proportion of its tanks while attempting to surround Avdiivka from the south. The regiment is part of 3rd Army Corps, the first major new formation Russia stood up to support the invasion of Ukraine since August 2022.
Numerous open-source accounts suggested that 3rd Army Corps has been particularly dogged by problems with ill-discipline and poor morale. Despite a likely period of training in Belarus, the formation still appears to display limited combat effectiveness. 10th Tank Regiment's losses have likely largely been due to tactically flawed frontal assaults similar to those in other recent failed Russian armoured attacks, such as around the town of Vuhledar.
On 22 March 2023, at least three uncrewed surface vessels (USV) and one uncrewed aerial vehicle reportedly attempted to strike the Russian naval base of Sevastopol, in occupied Crimea. Open source reports suggest that one USV was stopped by defensive booms, while two were destroyed in the harbour. Russian officials said that no Russian vessels had been damaged.
A previous USV attack on Sevastopol on 29 October 2022 reportedly damaged the minesweeper Ivan Golubets and the frigate Admiral Makarov.
Even though the new attacks likely failed to damage any military assets, the USV threat likely continues to constrain operations of Russia's Black Sea Fleet.
Losses of the Russian army 
As of Tuesday 28 March, the approximate losses of weapons and military equipment of the Russian Armed Forces from the beginning of the invasion to the present day:
Personnel – about 171730 (+570)
Tanks – 3602 (+7)
Armoured combat vehicles – 6966 (+13)
Artillery systems – 2653 (+15)
Multiple rocket launchers –MLRS – 525 (+2)
Air defence means – 277 (+0)
Aircraft – 305 (+0)
Helicopters – 291 (+0)
Automotive technology and fuel tanks – 5502 (+9)
Vessels/boats – 18 (+0)
UAV operational and tactical level – 2235 (+19)
Special equipment – 287 (+2)
Mobile SRBM system – 4 (+0)
Cruise missiles – 911 (+0)
Humanitarian 
Number of victims of Russian strike on Sloviansk is growing: 2 killed, 32 wounded, Ukrainska Pravda reports, citing police of Donetsk Oblast. "The rescue operation continues at the sites of strikes in Sloviansk and Druzhkivka in Donetsk Oblast; the number of victims is growing. As of 15:00, it is known about 34 victims, two of them died. Five of the wounded are in extremely serious condition. Administrative and office buildings, 5 multi-storey and 7 private houses, and 10 cars were destroyed."
Russian troops attacked Donetsk Oblast on 27 March with four S-300 missiles. Investigative teams, bomb squads and paramedics, and all emergency services are working at the sites in Sloviansk and Druzhkivka. In Druzhkivka, an orphanage was completely destroyed, and social infrastructure facilities were damaged."
Kyiv calls on UN to refrain from 'unbalanced political assessments' of actions regarding UOC MP, Ukrinform reports. "This is stated in the commentary by Oleg Nikolenko, Spokesperson for the Ministry of Foreign Affairs, regarding the OHCHR's concern about the "discriminatory" searches in monasteries, offices, and educational facilities of the UOC (MP).
Ukraine is a democratic state in which freedom of religion is guaranteed. At the same time, freedom is not the same as the right to engage in activities that undermine national security. We call on OHCHR to refrain from unbalanced political assessments and to base its reports on facts," Nikolenko noted.
As reported, the Office of the United Nations High Commissioner for Human Rights (OHCHR) in its report on the human rights situation in Ukraine over the past six months expressed concern that searches by Ukrainian security forces in the premises of the UOC (MP) could be discriminatory."
Grain Initiative: Situation with inspections stable but complicated due to Russia's actions, Ukrainska Pravda reports, citing the press service of the Ministry of Infrastructure of Ukraine. "Since 1 August, 848 vessels have departed from the ports of Velyka Odesa (the agglomeration with the centre in the city of Odesa – ed.), exporting 25.9 million tonnes of Ukrainian food products to the countries of Asia, Europe and Africa, as reported by the Ministry of Infrastructure.
At the moment 680,000 tonnes of agricultural products are being loaded to 19 vessels. Three vessels are moving along the grain corridor waiting to be loaded.
The situation with inspections in the territorial waters of Türkiye is tough but stable: on average, six inspections are carried out daily both at the entrance and departure (only a half of the number of inspections declared by the plan). As many as 94 vessels are in the queue waiting to be inspected."
Environmental
https://twitter.com/EuromaidanPress/status/1640527122857959424
Ukraine counts heavy cost of Russian attacks on hydropower plants, Reuters reports. "Ukraine is trying to give hydropower facilities "maximum protection" by hiding equipment underground as it repairs an estimated $1 billion in damage from Russian air strikes, a senior industry official said. […] Ihor Syrota, head of state-run hydropower generating company Ukrhydroenergo, said four of Ukraine's nine hydropower plants had been damaged in Russian attacks that mainly targeted electrical equipment and machine rooms at plants on the Dnipro and Dniester rivers.
He said the nine hydropower plants usually produce about 10% of Ukraine's energy and have a combined capacity of 6,300 megawatts (MW), but that about 2,000 MW of that capacity had been lost because of damage to infrastructure. Engineers have already restored 500 MW of capacity and plan to restore the rest as soon as possible, this time with better protection, he said. […]
If we have a new project – we are of course reviewing it – everything that was previously supposed to be on the surface will have a different structure, we will hide it (underground). […]  Its priorities include the completion the Dniester Pumped Storage Power Station in western Ukraine, construction of a similar station on the Dnipro river, and construction of a new hydropower plant near Kherson in southern Ukraine. Syrota put investment required in these facilities, which would generate an additional 2,500 MW of hydropower, at about $3 billion.
He said hydropower should play a bigger role in helping Ukraine meet national consumption needs during peak hours. Thermal power currently has a much bigger role in this process than hydropower, but the output of thermal power plants has been significantly reduced by the damage they have suffered during the Russian air strikes, Syrota said."
Pollution caused directly by hostilities, as reported by EcoZagroza. "According to the International Coordination Center for Humanitarian Demining of the State Emergency Service of Ukraine, from February 24, 2022 to March 22, 2023, 335,209 explosive objects, including 2,194 aircraft bombs, were neutralized in Ukraine. An area of 811.6 square kilometers was surveyed for explosives. There are still 174,000 square kilometers of potentially dangerous areas remaining, which is 30% of the country's total area.
The map of potentially dangerous territories due to contamination with mines and unexploded ordnance in Ukraine. 
According to estimates by the KSE Agrocenter and the Ministry of Agrarian Policy of Ukraine, the country's agricultural sector incurred losses of $41 billion due to Russian occupation as of November 2022.
Grains grown on soil contaminated by military actions can cause the formation of malignant tumors or disrupt the human nervous system's functioning. Soil damage resulting from military actions can be mechanical, physical, and chemical. Each of these impacts is critical in its own way and causes the destruction of the soil structure and functions. More details can be found in an article published in Kurkul.
One of the most significant obstacles to the restoration of the agricultural sector in liberated Southern Ukraine remains the landmines on farmland. The head of the demining group of the State Emergency Service of Ukraine in the Kherson region, Oleksandr Dvoretskyi, estimated that the approximate area of farmland contaminated with shells and mines could be up to 300,000 hectares. More information about how Ukrainian farmers in the liberated fields of the Kherson region overcome death for the sake of a new harvest can be found in an article by Novynarnia media outlet."
Ukraine fears nuclear plant could face dangerous water cooling shortage, Reuters reports. "Ihor Syrota, director general of the state-run Ukrhydroenergo hydropower generating company, told Reuters there was no immediate danger to Europe's largest nuclear plant, which has been occupied by Russian forces for the past year. But he voiced concern about what would happen if water levels fell further at the Kakhovka reservoir on the River Dnipro, which supplies the plant and millions of people in southern Ukraine, including in Russian-occupied Crimea.
The level has fallen because Russian troops who control the reservoir, and also the Kakhovka hydroelectric power station and dam, have let some water out through sluice gates, he said. Nuclear plants need enough water to cool their reactors and to help prevent a nuclear meltdown. Syrota said the Zaporizhzhia plant still needed water to cool its reactors even though they have been shut down.
An issue (with lack of water for cooling) could arise in the summer, in late summer, Syrota said in an interview, adding that the reservoir could be drained in days if all sluice gates were open. I hope we don't get to that situation. I hope we de-occupy faster, he said, referring to a planned Ukrainian counteroffensive to recapture occupied territory.
State nuclear power company Energoatom said last month the water level at the reservoir was usually 16 metres but had dropped to 13.8 metres. It said a fall to 12.8 metres would be an emergency, and 12 metres would a critical situation. Syrota said the level had risen since then thanks to the winter thaw. […]
The Zaporizhzhia nuclear plant accounted for around 20% of Ukraine's national power generation before Russia's invasion in February 2022, but has not produced any electricity since September, when the last of its six reactors was taken offline."
Zelenskyy tells IAEA's Grossi: Russia must leave Zaporizhzhia plant, Ukrinform reports. "Ukrainian President Volodymyr Zelenskyy told the head of the U.N. nuclear watchdog agency on Monday that safety at the Zaporizhzhia nuclear power station could not be guaranteed until Russian troops left the facility.[…] Zelenskyy was quoted as telling Grossi that staff at the Zaporizhzhia plant were under constant pressure from Russian occupying forces, who he said were failing to uphold safety rules and interfering in technological processes.
Without an immediate withdrawal of Russian troops and staff from the Zaporizhzhia nuclear power station and adjacent areas, any initiatives on restoring nuclear safety and security are doomed to failure, the presidential website quoted Zelenskyy as saying.
In later comments in his nightly video address to Ukrainians, Zelenskyy decried the year-long Russian presence at the plant as "radiation blackmail" and the worst incident to occur in the history of nuclear power. No other terrorist has plumbed such depths with the cynicism that Russia constantly achieves, always reaching new lows, Zelenskyy said.
Holding a nuclear power station hostage for more than a year — this is surely the worst thing that has every happened in the history of European or world-wide nuclear power. The longer the Russian occupation of the plant continues, he said, the greater will be the threat to the security of Ukraine, all of Europe and the world".
Legal 
Blind and disabled #Ukraine political prisoner hospitalized, delaying #Russia attempt to imprison him for 18 years #CrimeanTatar #FreeSizikov #LetMyPeopleGo #StandWithUkraine #StopRussia https://t.co/kJbuID3Aov pic.twitter.com/QI8DGqHIPl

— Euromaidan Press (@EuromaidanPress) March 27, 2023
Russians use chemical munitions on Donetsk axis – military spox, Ukrinform reports, citing Oleksiy Dmytrashkivskyi, head of the joint press center of Ukraine's Tavria Defense Forces. "Russian occupation forces started using chemical munitions in the Donetsk direction. Russian forces uses chemical munitions, dropping explosives containing chloropicrin from unmanned aerial vehicles. And this is not the first day that this is happening, it has been going on since Mar 23. Then it was a trial of such an option – one such explosive was dropped. Then, on March 24, it was two, and yesterday, six were dropped, said Dmytrashkivskyi.
Answering the question of whether Ukraine is collecting evidence of the use of internationally proscribed munitions by the Russians, the spokesman said that at the moment "we have a drone that was downed in the Zaporizhzhia direction, these were the first attempts, nearly a month ago, then we have a K-51 unexploded ordnance.
At the moment, it is impossible to collect gas after the explosions taking place in the Donetsk direction, but if it lands directly in a trench or a dugout, then people need to either put on a gas mask or get out of there because it causes both vomiting and tear rush. But there is also mustard gas. Then chemical protection suits are required, the spokesman noted. […]
As Ukrinform reported earlier, on December 9, 2022, the EU statement released during the meeting of the OSCE Permanent Council on Thursday in Vienna stated that the European Union was stunned by the use of gas grenades by Russian troops against Ukrainian servicemen.
Earlier, the State Border Guard Service of Ukraine reported that the Russian occupiers were using banned chemical weapons – K-51 aerosol grenades. Russians dropped several such grenades from a drone on Ukrainian defenders in Donetsk region. One of them did not set off so its photo was showcased by the agency."
Support
Germany has already delivered Leopard tanks to Ukraine, according to Spiegel

The German government approved the decision to hand over 18 main battle tanks Leopard 2 & 40 armored fighting vehicles Marder to Ukraine over two months ago.https://t.co/XPR3xuAi6S

— Euromaidan Press (@EuromaidanPress) March 27, 2023
All Leopard tanks promised by Germany arrived in Ukraine, European Pravda reports. "All eighteen Leopard 2 tanks, which Germany promised to hand over to Ukraine, have been transferred to the Ukrainian side. According to Spiegel, the last tanks were taken out of Germany at the end of last week and were recently handed over at the Ukrainian border.
In addition to the Leopard 2, Germany also sent to Ukraine about 40 Marder infantry fighting vehicles promised earlier. The German government keeps the exact route of arms deliveries a secret for security reasons. According to Spiegel sources, Ukraine has received Leopard tanks with "a large package of weapons and spare parts.
The Bundeswehr has been training Ukrainian soldiers to use complex weapons systems under an accelerated programme in the past two months. Also, Ukrainian technicians, trained by technical service specialists from among German military personnel, have arrived in Germany."
Germany hoping to increase its military aid to Ukraine to up to €15 billion in coming years, Ukrainska Pravda reports, citing Spiegel, quoting a confidential letter from German Finance Minister Christian Lindner to the Bundestag Budget Committee. "The German government wants to increase spending on military aid to Ukraine from €3 billion to €15 billion over the coming years. In the letter, Florian Toncar, a Free Democratic Party politician and Parliamentary State Secretary in the Federal Ministry of Finance, asks the German parliament to allocate more funds to support Ukraine. […]
In light of the significant material losses sustained by the Armed Forces of Ukraine, new supplies of material resources are needed. To ensure that the Armed Forces of Ukraine are equipped in accordance with their needs, it is necessary to immediately conclude numerous procurement contracts that also establish payment obligations for future fiscal years, the Finance Ministry said. These include material resources related to air defence, as well as armoured tracked vehicles, ammunition for weapons systems supplied by Germany, and artillery, the letter to the Budget Committee reads.
The additional costs are objectively unavoidable, Toncar wrote, because without continued support for Ukraine, there is a serious risk that Ukraine will lose its struggle against the Russian aggressor, with unpredictable consequences for the European peace order.
The German government has allocated €2.2 billion for modernising partner countries in the spheres of security, defence and stabilisation in the current fiscal year. […] This amount will be more than doubled this year, increasing by €3.2 billion to more than €5.4 billion.
But that is not all. In the coming years, another €8.8 billion will be allocated for "commitment authorisations". This means that the Ministry of Defence can enter into contracts for the corresponding amount. So far, only €1 billion have been earmarked for this purpose. Overall, aid to Ukraine will be increased from the current €3.2 billion to more than €15 billion."
All EU countries should give Ukraine ammunition from their stocks – EU Commissioner, Ukrinform reports, citing European Commissioner for Internal Market and Services Thierry Breton during a joint press conference with Polish Prime Minister Mateusz Morawiecki and Minister of National Defense Mariusz Blaszczak on Monday. "First of all, we have to tell all the EU countries that it is time to give Ukraine the ammunition they currently have in their depots. We are talking about the 155 mm caliber, but also about 120 mm and others. Member states have ammunition in their stocks, and we call on them to provide this ammunition as soon as possible. It is very important that they do it immediately, Breton stressed.
He emphasized that the defence industry of the EU member states should increase their ammunition production capacity, and that his visit to Poland to one of the ammo manufacturing firms is aimed at promoting this idea. Breton noted that it is now necessary to increase the production of ammunition, so it is necessary to consider whether the defence firms have a sufficient number of highly qualified personnel to this end.
The European Commissioner emphasized that the Polish company Dezamet S.A. works in three shifts five days a week and may also extend working hours over the weekend. We need to increase our production, we have the appropriate potential to this end. Eleven member states have plants that can participate in the program, the European Commissioner emphasized. […]  We are determined to increase our production capacity in Europe in the long term, so that our defence industry produces them on a scale that corresponds to the current geopolitical situation, Breton emphasized."
New Developments
Assessment 
https://www.understandingwar.org/backgrounder/russian-offensive-campaign-assessment-march-27-2023*
On the war.
The Institute for the Study of War has made the following assessment as of  March 27, 2022:
Russian forces continued ground attacks along the Kupyansk-Svatove-Kreminna line on March 26 and 27 and have made marginal gains in the Svatove area as of March 27. Geolocated footage posted on March 27 indicates that Russian troops have advanced into Raihorodka, 12km west of Svatove. The Ukrainian General Staff reported that Russian forces continued unsuccessful offensive operations near Synkivka (10km northeast of Kupyansk), Kreminna, Bilohorivka (10km south of Kreminna), Vyimka (25km south of Kreminna), and Vesele (30km south of Kreminna) on March 26 and 27. […] Russian milbloggers reported that elements of the Russian 331st Airborne (VDV) Regiment (98th Guards Airborne Division) and 76th Guards VDV Division are operating in forest areas near Kreminna. A Russian military correspondent reportedly embedded with Russian troops near Kreminna claimed on March 26 that Russian paratroopers and unspecified naval infantry elements are advancing 500 meters per day near Kreminna and capturing Ukrainian fortified positions. A Russian milblogger noted on March 27 that Russian forces are additionally continuing attempts to push west of Ploshchanka (15km north of Kreminna). Ukrainian Eastern Group of Forces Spokesperson Serhiy Cherevaty reported on March 26 that Russian forces are conducting the highest number of artillery strikes along the entire Kupyansk-Lyman line and that there were 10 combat clashes on this line over the past day.
Russian forces continued ground attacks in and around Bakhmut on March 26 and 27 and made gains within Bakhmut as of March 26. Geolocated footage posted on March 24 and 26 shows that Russian forces have likely advanced along Zelena Street and Oleksandry Kolpakovoi streets in northwestern Bakhmut. Russian media outlet RIA Novosti additionally posted footage on March 26 confirming that Wagner Group fighters have advanced within the AZOM complex in northern Bakhmut. Geolocated footage posted on March 27 shows Wagner Group financier Yevgeny Prigozhin visiting School No.5 near central Bakhmut. Russian milbloggers claimed that Wagner Group fighters reached the rail line in northern Bakhmut on March 26 and continued advancing within urban areas of northern and southwestern Bakhmut in an effort to reach Bakhmut's city center on March 26 and 27. A prominent milblogger noted on March 26 that Wagner is advancing in Bakhmut with support from unspecified conventional Russian elements, supporting ISW's assessment that conventional formations are increasingly supporting Wagner's offensive on Bakhmut. The Ukrainian General Staff reported that Ukrainian troops repelled Russian attacks on Bakhmut itself; northwest of Bakhmut near Bohdanivka (6km northwest); west of Bakhmut near Ivanivske (5km west); and southwest of Bakhmut near Predtechyne (15km southwest) between March 26 and 27. Ukrainian Eastern Group Spokesperson Colonel Serhiy Cherevaty noted on March 26 that the number of Russian attacks on Bakhmut is decreasing and suggested that Russian forces may be "maneuvering with reserves" in the area.
Russian forces continued ground attacks in the Avdiivka-Donetsk City area on March 26 and 27. The Ukrainian General Staff reported on March 26 and 27 that Russian forces conducted unsuccessful offensive operations near Avdiivka itself; in the Avdiivka area near Novokalynove (10km north of Avdiivka), Severne (5km west of Avdiivka), Tonenke (5km west of Avdiivka), Stepove (8km northwest of Avdiivka), and Novobakhmutivka (11km northwest of Avdiivka); on the northwestern outskirts of Donetsk City near Vodyane, Pervomaiske, Nevelske, and Krasnohorivka; and on the southwestern outskirts of Donetsk City near Marinka. Avdiivka Military Administration Head Vitaly Barbarash announced on March 27 that communal service workers are evacuating Avdiivka and that the military administration will turn off mobile communications in the city due to the presence of Russian informants in the city. Ukrainian Tavriisk Defense Forces Spokesperson Colonel Oleksiy Dmytrashkivyskyi stated on March 25 that elements of the Russian 10th Regiment (likely a Donetsk People's Republic formation newly subordinated to Russian command) are fighting in the Avdiivka area. Russian milbloggers continued to discuss Russian operations towards Avdiivka on both March 26 and March 27. One milblogger claimed that Russian forces entered Novokalynove and are attacking towards Keramik. Russian sources additionally claimed that Russian forces advanced on the northern outskirts of Marinka on March 26 and continued fighting for the settlement on March 27. Geolocated footage posted on March 26 additionally shows that Russian forces have advanced north of Novomykhailivka, about 10km south of Avdiivka. Dmytrashkivskyi noted that elements of the 200th Separate Motor Rifle Brigade (14th Army Corps, Northern Fleet) have recently engaged in Marinka.
Russian forces did not conduct any confirmed ground attacks in western Donetsk Oblast on March 26 or 27. A Russian milblogger claimed on March 26 that Russian forces resumed offensive operations in the dacha area south of Vuhledar. Geolocated footage posted on March 27 shows minor Russian advances in the southern dacha area about 3km southeast of Vuhledar.
Rumors about the dismissal of Russian Eastern Group of Forces (Eastern Military District) Commander Colonel General Rustam Muradov on March 27 generated a muted and cynical response in the Russian information space. The milbloggers claimed that Russian military authorities dismissed Muradov from his position as Eastern Group of Forces commander, but ISW cannot currently verify these claims. Muradov took command of the Russian Eastern Military District (EMD) on October 6, 2022, and has overseen a series of disastrous offensive operations led by EMD elements in western Donetsk Oblast over the past five months. One milblogger claimed that Muradov is on "vacation," which the milblogger noted is tantamount to resignation. Others claimed that Muradov's removal is a positive step but stated that Muradov's replacement is more important than his removal. Some milbloggers noted that Muradov was responsible for significant Russian military failures in western Donetsk Oblast, including the high casualties suffered in the assault against Pavlivka in October-November 2022 and the prolonged and failed effort to take Vuhledar. Independent Russian investigative outlet Vazhnye Istorii (iStories), citing sources close to the Russian General Staff, reported that the Russian General Staff accused Muradov of being inept due to battlefield failures and significant losses in western Donetsk Oblast, including the near obliteration of the Tatarstan "Alga" volunteer battalion. One prominent milblogger claimed that military authorities are also considering dismissing Western Military District Commander Colonel General Yevgeny Nikiforov, whose forces operate along the Kupyansk-Svatove-Kreminna line in eastern Ukraine.  
ISW cannot confirm the rumors of either Muradov's or Nikiforov's dismissals, but it is noteworthy that Russian milbloggers are discussing potential dismissals of commanders associated with areas of operation in which Russian forces have been largely unable to secure substantial gains or have suffered major losses. Russian milbloggers do not appear to be hypothesizing about the removal of either the Central Military District (CMD) Commander Lieutenant General Andrey Mordvichev or Southern Military District Commander (SMD) Colonel General Sergey Kuzovlev. Neither the CMD nor the SMD are heavily committed in critical areas of the front, and Mordvichev and Kuzovlev have therefore likely avoided becoming targets of Russian command skepticism because they are not currently responsible for significant failures. The muted information space response to the reported firings is additionally indicative of broader disillusionment with Russian military command, which milbloggers have argued for months needs systemic overhauls. Many milbloggers have consistently praised former Commander of Russian Armed Forces in Ukraine Army General Sergey Surovikin despite the fall of west (right) bank Kherson Oblast under his command, however. One milblogger claimed on March 27 that Surovikin may be responsible for defending against a future Ukrainian counteroffensive and claimed that Surovikin's military strategy is better than that of Russian Chief of the General Staff and current Commander of Russian Armed Forces in Ukraine Army General Valery Gerasimov.  Russian authorities and some milbloggers have fixated on identifying and punishing individual commanders for the failures of their troops, rather than interrogating and resolving endemic issues in Russian command and control, force structure, and deployment patterns.
Russian milbloggers also had a muted response to Russian President Vladimir Putin's March 25 announcement that Russia will deploy tactical nukes to Belarus, suggesting that Putin's messaging is aimed at Western rather than domestic Russian audiences. Many milbloggers and news aggregators simply amplified various points from Putin's March 25 interview that artificially inflate the capabilities of the Russian military and defense industrial base (DIB) to sustain a prolonged war effort, as well as the nuclear weapons deployment announcement itself. One milblogger correctly noted that deploying tactical nuclear weapons to Belarus does not improve Russia's military situation in Ukraine, claiming that Russian forces need to instead prepare for a future Ukrainian counteroffensive, and criticized continued Russian military command and organization issues. Another milblogger recognized that Putin targeted his nuclear weapons deployment announcement at the West and praised the prospect of being the "nightmare" of the US.
Russian military leadership likely committed limited higher quality Wagner Group elements to the offensive on Avdiivka, potentially to reinforce recent limited tactical successes in the area. Ukrainian Tavriisk Defense Forces Spokesperson Colonel Oleksiy Dmytrashkivyskyi stated on March 25 that Ukrainian intelligence forecasts that Wagner may appear in the Avdiivka direction. […] While Wagner has heavily committed a majority convict-based force to operations near Bakhmut, there is likely a contingent of higher-quality operators at various locations in Ukraine. Russian military leadership may have decided to deploy certain Wagner elements to the Avdiivka area in recent weeks to support exhausted and lower-quality Donetsk People's Republic (DNR) elements in their efforts to take the settlement. If such Wagner fighters have been fighting near Avdiivka, their involvement may help explain the limited tactical gains made in the area over the past week.  
Key Takeaways
Rumors about the dismissal of Russian Eastern Group of Forces (Eastern Military District) Commander Colonel General Rustam Muradov on March 27 generated a muted and cynical response in the Russian information space.
Russian milbloggers also had a muted response to Russian President Vladimir Putin's March 25 announcement to deploy tactical nukes to Belarus, underscoring that Putin's messaging is aimed at Western rather than domestic Russian audiences.
Russian military leadership likely committed limited higher quality Wagner Group elements to the offensive on Avdiivka, potentially to reinforce recent limited tactical successes in the area.
Russian forces made marginal gains around Svatove and Russian forces continue ground attacks along the Kupyansk-Svatove-Kreminna line.
Russian forces continued ground attacks in and around Bakhmut and made gains within Bakhmut.
Russian forces continued ground attacks along the Avdiivka-Donetsk City line.
Russia appears to be increasingly deploying elements of conventional formations in a piecemeal fashion along the entire frontline, including in southern Ukraine.
Russian authorities continue forming new volunteer battalions subordinate to irregular formations.
Ukrainian partisans conducted an improvised explosive device (IED) attack against an occupation law enforcement officer in Mariupol, Donetsk Oblast.
Putin raises stakes – Defence Intelligence on Russian nuclear weapon in Belarus, Ukrainska Pravda reports, citing Andrii Yusov, representative of the Defence Intelligence of Ukraine, in a Svoboda. Ranok programme broadcast. "Suffering defeat on the battlefield in the conventional war, Putin resorts to nuclear blackmail. Again, these arguments are not new. Another thing is that there are new circumstances. It is clear that he is raising stakes, even though the US and the EU react to this situation unambiguously, making it clear that they are not buying into this blackmail.
Yusov recalled that back in January, the Defence Intelligence of Ukraine warned that Putin could use the territory of Belarus for nuclear provocations. Alexander Lukashenko also hinted that this is one of the possible scenarios. Specifically, changes to the Constitution of Belarus were made. In addition to this, there were reports about the deployment of the operative tactical rocket system Iskander, which can carry nuclear weapons, in Belarus.
Yusov stressed that such nuclear threats are a "naphthalene instrument of nuclear blackmail". He stated that so far Russia has been juggling threats. Russian President Vladimir Putin announced on 25 March that Moscow and Minsk had reached an agreement on the deployment of tactical nuclear weapons in Belarus. The storage must be prepared by July.
NATO called Russia's nuclear rhetoric "dangerous and irresponsible". The US saw no signs of Russia preparing to use nuclear weapons. Josep Borrell, High Representative of the European Union for Foreign Affairs and Security Policy, called these plans a threat to European security. […] As of now, the US sees no signs of Russia transferring nuclear weapons to Belarus or elsewhere."
President Putin appears confident that he over time can attain a complete victory in Ukraine, ISW assess. "Putin seems to reject the idea increasingly prevalent in Western discourse that the current military realities require or support a negotiated resolution of the conflict. Neither Ukraine nor the West has persuaded him that he must consider accepting any sort of off-ramp or compromise settlement. Putin instead remains focused on achieving his initial war aims through protracted conflict in which he wins either by imposing his will on Ukraine by force or by breaking Ukraine's will following the West's abandonment of Kyiv. […]
The outcomes of wars often are, in fact, determined on the battlefield with negotiations that merely ratify military realities. […]  But it is simply not the case that all wars end in negotiated settlements, particularly if by "negotiated settlements" is meant mutual recognition of the impossibility of achieving desired aims through military force.
Putin initiated the current war and is the key actor who must decide that he cannot achieve his aims by military power and must instead engage in a negotiated resolution of the conflict if the war is to end in this fashion. The war will protract as long as Putin believes that he can impose his will on Ukraine by fighting or by breaking the Ukrainians' will to fight following their abandonment by the West.
Putin continues to make clear by word and deed that he has come to no such conclusion yet despite the failures of his major military efforts this winter. His efforts to freeze Ukraine and Europe into surrendering over the winter came to nothing, and the Russian winter-spring offensives that were supposed to secure the borders of Luhansk and Donetsk oblasts are culminating. The Russian military has committed the overwhelming majority of the reportedly 300,000 reservists mobilized in Fall 2022 as well as the 40,000 convicts recruited into the Wagner Private Military Company (PMC) into a multi-divisional offensive all along the line in Luhansk and Donetsk oblasts. The results of that effort are deeply unimpressive. […]
This would be an appropriate moment for Putin to conclude that Russia cannot impose its will on Ukraine by force and that he must seek a compromise settlement. He has clearly come to no such conclusion, however. Putin is instead doubling down on his commitment to overpower Ukraine militarily and/or protract the war by mobilizing Russia's defense industrial base and renewing various crypto-mobilization schemes to generate renewed combat power. The continuing of Russian offensive operations around Bakhmut and Avdiivka, as well as along the Luhansk and western Donetsk front lines, is a further indicator that Putin remains committed to victory in a protracted war whose outcome is determined in large part by military realities on the ground. ]…]
Putin's stubbornness in clinging to these offensive operations could make sense, however, in a protracted conflict during which Western support for Ukraine wanes or ends. Putin might even mean these operations to set conditions for a negotiated settlement on terms he has already articulated that include international recognition of Russia's annexation of all of Donetsk, Luhansk, Zaporizhzhia, and Kherson oblasts; Ukrainian "neutrality;" the "de-militarization" of Ukraine; and the "de-Nazification" of the Ukrainian government. He may be pressing his commanders to continue attacks that are increasingly pointless in the short term because he recognizes that he can only hope to make good his claims to unoccupied areas of the four oblasts he has annexed if his forces actually take them.
He may, in this sense, indeed be seeking to set conditions for a negotiated settlement. In that case, however, it becomes apparent that he must still believe that he can impose his desired resolution of the conflict on Ukraine and the West by military force—or by convincing Ukraine to surrender—and that he is unwilling to accept a resolution short of his stated aims (which include territories that Russian forces do not yet control) at this time.
A successful series of Ukrainian counter-offensives, not just one, is thus almost certainly necessary but not sufficient to persuade Putin to enter negotiations on terms other than the achievement of all of his stated objectives. Ukrainian forces must show that they can do what Russian forces cannot, namely change the realities on the ground through military action. They must further damage Russian military power in Ukraine to the point at which it becomes clear to Putin and the inner circle that supports him in this war that the Russian armed forces cannot hope to improve the outcome of the war by continued fighting. Multiple major Ukrainian operational-level victories are therefore likely essential to creating any prospect of a negotiated settlement of the current conflict or forcing Putin to accept unfavorable military realities absent a formal settlement.
There is reason to expect that Ukrainian forces can, in fact, make gains through counter-offensives. […] It remains the case, however, that whereas Russian force have demonstrated that they cannot make significant gains at this stage of the war, Ukrainian forces have yet to fail in such an attempt.
It is far from clear that Putin ever will accept these military realities, however. He may resolve to continue fighting, with or without a pause, as long as it takes to achieve all his aims. His rhetoric and actions, as well as his past patterns, certainly suggest this possibility. A negotiated settlement may therefore be unattainable because Putin will not accept the reality that he cannot actually conquer Ukraine.
Ukraine and the West will have to create military realities that permit a cessation of hostilities on terms that they can effectively impose on Putin in that case. Ukrainian forces, properly supported by the collective West, can retake the terrain that is strategically vital to Ukraine's military and economic survival and that would be essential for renewed Russian offensives on terms favorable to Moscow. […]
It is not a given, nevertheless, that Putin will continue fighting regardless of cost until the day he dies. He has ostentatiously and surprisingly refrained from going all-in on this war from its inception. One can dismiss his failure fully to mobilize and prepare his military before the invasion because he clearly believed that the Ukrainians would not or could not fight. He has passed by multiple moments when moving to fuller mobilization had become necessary, has delayed decisions to implement even partial mobilization for far too long from Russia's perspective, and even when he has made such decisions has sought to limit their impact on the Russian society and economy. Putin's Stalinist rhetoric aside, he has shown remarkable concern about the danger of pushing Russia too far and generating a threat to the stability of his regime. Ukraine and the West should not count on Putin's will breaking by any means, but neither should they dismiss the possibility that he might at some point decide that the costs and risks of continuing the fight are no longer justified by the potential gains.
Putin is nevertheless putting no terms for negotiation on the table now other than Russia's total success. He is not taking the military measures that would be prudent were he serious about seeking some negotiated off-ramp or compromise settlement. The current frontlines would set highly favorable conditions for renewed Russian invasions if Putin were offering to accept them as a ceasefire boundary—but he clearly is unwilling to do so.
The choices before Ukraine and its Western backers at this time are thus relatively straightforward. Ukraine can unilaterally cease fighting even as Russian attacks by ground and air continue, which would lead to disastrous defeat (and which almost no one is advocating). Ukrainian forces can continue fighting in a very constrained way seeking only to hold what they now have, which will encourage Putin to continue his efforts to pursue outright military victory. Or they can launch successive counter-offensive operations with the twin aims of persuading Putin to accept a negotiated compromise or of creating military realities sufficiently favorable to Ukraine that Kyiv and its Western allies can then effectively freeze the conflict on their own regardless of Putin's decisions. Those are the options facing Ukraine and the West as long as Putin continues to believe that he can impose his will by force of Russian arms over however long a period he is willing to fight."
Consequences and what to do?
Hans Petter Midttun: "The war will protract as long as Putin believes that he can impose his will on Ukraine by fighting or by breaking the Ukrainians' will to fight following their abandonment by the West. […] Putin is doubling down on his commitment to overpower Ukraine militarily and/or protract the war by mobilizing Russia's defence industrial base and renewing various crypto-mobilization schemes to generate renewed combat power. […]  Putin's stubbornness in clinging to these offensive operations could make sense, however, in a protracted conflict during which Western support for Ukraine wanes or ends," ISW assess.
Why does Putin believe he can break the Ukrainians' will to fight following their "abandonment by the West"? More importantly, why does he believe that the West will abandon Ukraine?
The perception is based on several factors which all support the idea that Russia's war efforts might outlast Western support.
Firstly, the NATO members are not set up to endure a protracted war. As the last year has demonstrated, the West has huge sustainability issues and is slowly running out of weapons with which it can supply Ukraine. The West are low on ammunition as Ukraine's call for more is becoming more urgent. Nine years after the war started, the defence industries have yet to ramp up production due to the lack of long-term commitments from governments. While that is slowly changing, the EU might be forced to procure ammunition for Ukraine outside Europe in the short term.
Secondly, the West is perceived as weak. Until the full-scale invasion started, the US and Europe failed to respond resolutely to 15 years of Russian transgressions of international law. The assessment is supported by its lack of investment in security and defence, its unwillingness to fully commit to a Ukrainian victory, its lack of response to the hybrid war Russia has unleashed against Europe and the USA, and its inclination to seek political solutions at any costs (including its security). Putin's strategic blunder to invade Ukraine last year is in part a consequence of his miscalculation of Western response.
Thirdly, history has (in part) shown that both the US and Europe's support is not unlimited and that their focus shifts over time. Despite its tremendous efforts over 20 years, the West suffered a humiliating strategic defeat in Afghanistan against an inferior force simply because the latter was strategically patient and was willing to take the losses needed to outlast the coalition.
Fourthly, the hybrid war has already achieved some of the effects needed for Russia to succeed. The aggressor is waging a full-scale "economic war," destroying Ukraine's economic viability. War has tremendous economic consequences. This includes financial reactions to the war, like the decline in GDP, loss of credit rating, higher national debt and taxes, higher inflation, currency depreciation which induced deposit outflows, the collapse of the banking sector, social costs, and loss of international investments.
Ukraine has lost vast deposits of minerals, coal, gas, and oil. Its massive attacks on critical infrastructure and Ukraine's industrial and agricultural basis further erode its economic viability. The Russian maritime blockade of the Ukrainian ports – and consequently a larger part of Ukrainian imports and exports – is part of its wider effort to undermine Ukrainian statehood.
Ukraine needs $3-5 billion in monthly support from its international partners to be able to uphold its basic commitments, including payment of salary and pensions. It is basically one donor conference away from defaulting. That will happen the moment the West starts reducing its defence, financial and humanitarian support to Ukraine.
Until the West comes up with a strategy that stops the "economic war" – including bringing about a Russian defeat in Ukraine, unlocking the Black Sea, and deterring future aggression – the present support is unsustainable. Time is working to Russia's advantage.
Lastly, the US and Europe are also suffering from the consequences of the "tsunami of ripple effects" from the war, including the loss of energy and food security, increased poverty and hunger, recession, inflation and increased costs of living; as well as the potential repercussions, including the increased risk of demonstrations, riots, extremism and social unrest at the cost of global political stability.
In September, I argued that "experiencing food and energy insecurity, as well as higher costs of living, voters across the world are growing increasingly frustrated. This is bound to be reflected in elections to come. President Biden, Chancellor Scholz, President Macron, Prime Minister Støre, Frederiksen, Rutte, Sánchez, Costa, Trudeau, and more will likely be held responsible for having failed to act resolutely when challenged."
The political landscape in the USA and Europe will – as in the 1930s – most likely be changed by political forces seeking to exploit the voters' frustration. We have already experienced shifts in the political landscape (France, Sweden, and Italy) that are likely to spread as the broader confrontation continues.
Yesterday, Reuters reported that "European countries are experiencing a wave of strikes and protests due to high energy prices, a wider rise in living costs, and in France an increase in the retirement age". While the latter might have been inevitable, the financial strains France is facing have surely been reinforced by the "tsunami of ripple effects" from the war. It has also probably helped fuel the French discontent reinforcing the strength of their response to the reform proposal.
"Airports and bus and train stations across Germany were at a standstill on Monday, causing disruption for millions at the start of the working week during one of the largest walkouts in decades as Europe's biggest economy reels from inflation.  Employees are pressing for higher wages to blunt the effects of inflation, which reached 9.3% in February. Germany, which was heavily dependent on Russia for gas before the war in Ukraine, has been particularly hard hit by higher prices as it scrambled for new energy sources, with inflation rates exceeding the euro-area average in recent months.
President Emmanuel Macron said he would press ahead with reforms in France, dodging a union leader's call to suspend a new pension law that raises the retirement age to 64 amid some of the country's worst street violence in years. Weeks of protests over the pension plans became more violent after Macron's government, which lacks a clear majority, pushed the legislation through parliament without a vote. Industrial action disrupting French refineries has left some petrol stations short of fuel, also hitting liquefied natural gas (LNG) terminals, power supply and nuclear reactor maintenance.
The British government is engaged in pay disputes across several sectors as workers demand higher wages to keep pace with surging inflation, with strikes in schools, on railways and in hospitals taking place on a regular basis. Security staff at London's Heathrow Airport have voted to strike for 10 days, trade union Unite said. The walkout will involve over 1,400 staff. More than 3,000 British civil servants across four government departments will strike from April 11 in a dispute over pay, pensions and job security, the Public and Commercial Services (PCS) union said."
That's the situation in only 3 out of 30 NATO member states, as labour unions across Europe are presenting their demands after years of pandemic and war. While these processes are all an inherent part of democracy, Russia's war in Europe and its efforts to disrupt energy and food supplies are also an inherent part of its hybrid war. Russia is only fuelling popular discontent to ensure that the focus of Western governments shifts from Ukraine to domestic challenges. To some politicians, re-election is more important than solving a war they have wrongly framed as a "Russian war against Ukraine".
Fortunately, the scale and scope of the Russian aggressions are slowly dawning on Europe. The letter from German Finance Minister Christian Lindner to the Bundestag Budget Committee, asking for far more funds to increase spending on military aid to Ukraine from €3 billion to €15 billion, argued that:
"The additional costs are objectively unavoidable […] because, without continued support for Ukraine, there is a serious risk that Ukraine will lose its struggle against the Russian aggressor, with unpredictable consequences for the European peace order."
It echoes my assessments from 31 July 2018, strengthening my arguments for why a humanitarian intervention in Ukraine is in NATO's interest.
Tags: Russian invasion