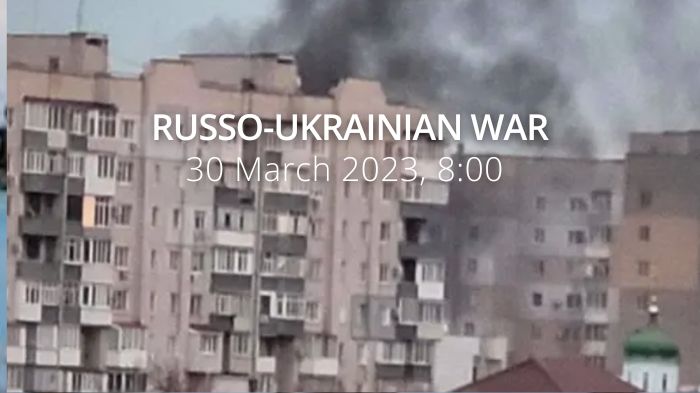 Partisans help the Ukrainian army to attack Russian checkpoints and warehouses. UN nuclear chief to focus on proposing safety measures around Ukraine nuclear plant. Zelenskyy invites Xi Jinping to Ukraine.
President Zelenskyy cautions that unless the battle for Bakhmut is won, Russia could begin assembling int support that could compel Ukraine to make unacceptable concessions. Zelenskyy also extended an invitation to Ukraine to Chinese President Xi Jinping.https://t.co/sGZEEmxRl5

— Euromaidan Press (@EuromaidanPress) March 29, 2023
Daily overview — Summary report, March 30
A map of the approximate situation on the ground in Ukraine as of 00:00 UTC 30/03/23.

There have been no notable changes to control since the last update. pic.twitter.com/aYRKbhXCpj

— War Mapper (@War_Mapper) March 29, 2023
The General Staff's operational update regarding the Russian invasion as of 18.00 pm, March 30, 2023 is in the dropdown menu below:
During March 29, the adversary launched 5 missiles and 25 air strikes, 34 MLRS attacks.
The likelihood of missile and air strikes across Ukraine remains high. An air strike on the infrastructure of the cities of Beryslav (Kherson oblast) and Druzhkivka (Donetsk oblast) wounded civilians and damaged private houses and civilian infrastructure.
The adversary is focusing its main efforts on the offensive operations on Lyman, Bakhmut, Avdiivka, and Marinka axes. Ukrainian Defence Forces units repelled over 60 attacks from the adversary. Bilohorivka, Bakhmut, Avdiivka, and Marinka remain at the epicentre of the fighting.
Volyn, Polissya, Sivershchyna, and Slobozhanshchyna axes: no significant changes in the operational situation, and no signs of the formation of enemy offensive groups were found. During March 29, the enemy shelled the vicinities of settlements of Chernats'ke, Esman, Kucherivka, Bilopillya, Volfyne, Basivka (Sumy oblast), as well as vicinities of more than 15 settlements in Kharkiv oblast. Among them are: Udy, Strilecha, Hlyboke, Krasne, Pishchane, Hatyshche, Vovchans'k, Bochkove, and Komisarove.
Lyman axis: during March 29, the adversary attempted to advance in the vicinity of Stel'makhivka and Vyimka, to no success. The vicinities of settlements of Kupyansk, Kolodyazne, Dvorichna, Zapadne, Petropavlivka, Kyslivka (Kharkiv oblast), Stel'makhivka, Nevske, Kuz'myne, Bilohorivka (Luhansk oblast), Kolodyazi, Spirne, and Sivers'k (Donetsk oblast) were shelled with artillery.
Bakhmut axis: makes further attempts to seize the city of Bakhmut. In the course of the assault, Ukrainian forces repelled 28 adversary attacks. At the same time, the adversary conducted unsuccessful offensives in the vicinity of Orikhovo-Vasylivka on March 29. The vicinities of settlements of Orikhovo-Vasylivka, Bakhmut, Ivanivske, Chasiv Yar, Novomarkove, and Oleksandro-Shul'tyne (Donetsk oblast) were shelled by the enemy.
Avdiivka and Marinka axes: the adversary conducted offensive operations towards the settlements of Novokalynove, Stepove, Avdiivka, Sjeverne, Pervomais'ke, and Mar'inka (Donetsk oblast). To no success. The invaders shelled Novokalynove, Stepove, Avdiivka, Sjeverne, Vodyane, Pervomaiske, Karlivka, Krasnohorivka, Mar'inka, Pobjeda, and Novomykhailivka (Donetsk oblast), among others.
Shakhtarske axis: the enemy shelled the vicinities of Vuhledar, Prechystivka, and Velyka Novosilka on March 20.
Zaporizhzhia and Kherson axes: the adversary is defending. The enemy shelled the vicinities of more than 20 settlements, including Malynivka, Hulyaipole, Zaliznychne, Novodanylivka, Novoandriivka, Staroukrainka, Charivne (Zaporizhzhia oblast), Mykhailivka, Novooleksandrivka, Novoberyslav, Tomaryne, Rozlyv (Kherson oblast), and the city of Kherson.
In certain settlements of the temporarily occupied territory of the Autonomous Republic of Crimea, Russian invaders continue to exert pressure on Ukrainian citizens and violate human rights. In particular, in Krasnoperekopsk, FSB officers are conducting active counterintelligence measures. They resort to humiliating filtration procedures, stripping, interrogations that involve beating of civilians etc.
[Russia continues to build fortifications and trenches in Armiansk and Dzhankoi districts of the temporarily occupied territory of the Autonomous Republic of Crimea. Local civilian population is actively involved in the fortification works.]
On March 29, Ukrainian Air Force launched 5 air strikes on the concentrations of Russian troops. In addition, air defence units of the Air Force of the Armed Forces of Ukraine destroyed 1 Russian Su-24M bomber.
On March 29, Ukrainian missile and artillery troops hit 3 concentrations of enemy troops, weapons, and military equipment, 1 electronic warfare station, 1 ammunition depot, and 2 fuel and lubricant depots of the enemy.
Military Updates
Explosion thunders in Crimean settlement with a military airbase, Ukrainska Pravda reports, citing Krym.Realii (Crimea.Realities, a project by Radio Free Europe/Radio Liberty). "An explosion was heard in the village of Hvardiyske in the Simferopol district of annexed Crimea, Simferopol district. Local Telegram channels publish videos and photos of the explosion's aftermath, which shook windows in the houses nearby. […] A Russian military airbase is located in the village."
Partisans help the Armed Forces of Ukraine to attack three control points and storages of Russia – National Resistance Center, Ukrainska Pravda reports, citing the press service of the National Resistance Centre Sprotyv. "The National Resistance Centre reports that this week, the partisans helped the Ukrainian forces to detect and adjust fire on the Russian control points and storage points.
The centre states that the Russians cannot fully control the occupied territories despite cutting the access to mobile Internet, raiding and deporting people: Thanks to the Ukrainians in the temporarily occupied territories, the occupiers cannot hide; they are constantly exposed and under attack. The National Resistance Centre calls upon Ukrainians to continue providing the Defence Intelligence of Ukraine with locationіs of the occupiers or other useful information."
Ukraine hits city inside Russian-controlled territory, Reuters reports. "Ukraine struck a railway depot and knocked out power in the Russian-occupied city of Melitopol deep behind the front line on Wednesday amid growing talk from Kyiv of a counterassault against Russian forces worn out by a failed winter offensive.»
National Security Council Secretary hints that Ukraine UAVs can reach Moscow, Ukrainska Pravda reports. "Oleksii Danilov, Secretary of the National Security and Defence Council of Ukraine, hinted at the possibility of Ukrainian drones reaching Moscow and beyond.
'Ukrainian swarm in the name of Mathias Rust' — dozens of models, thousands of drones. Attack UAVs in service with the Armed Forces of Ukraine have a flight range of more than 3,000 kilometres. 1987, Red Square, Moscow, aeroplane, Rust. Danilov illustrated his post with a historical photo of a German pilot's plane that landed on Red Square in Moscow in May 1987, bypassing the USSR's air defence system.
In December 2022, it was revealed that the Ukrainian company AeroDrone passed certification and received permission to operate two types of unmanned aircraft systems in the Armed Forces: the E-300 Enterprise [payload up to 300 kg] and the D-80 Discovery [payload up to 80 kg]. At the beginning of March 2023, Dmytro Shimkiv, the co-owner of the company and the former Deputy Head of the Presidential Administration of Ukraine, announced that the UAV had already been approved for use in the Armed Forces and that AeroDrone had launched serial production of its drones on the order of the Ministry of Defence. AeroDrone E-300 drones can fly at a distance of up to 3,100 kilometres."
According to British Defence Intelligence, (last 48 hours): 
https://twitter.com/DefenceHQ/status/1640999561366851586
Russian media reporting suggests that the authorities are preparing to start a major military recruitment campaign with the aim of signing up an additional 400,000 troops.
Russia is presenting the campaign as a drive for volunteer, professional personnel, rather than a new, mandatory mobilisation. There is a realistic possibility that in practice this distinction will be blurred and that regional authorities will try to meet their allocated recruitment targets by coercing men to join up.
Russian authorities have likely selected a supposedly 'volunteer model' to meet their personnel shortfall in order to minimise domestic dissent. It is highly unlikely that the campaign will attract 400,000 genuine volunteers. However, rebuilding Russia's combat power in Ukraine will require more than just personnel; Russia needs more munitions and military equipment supplies than it currently has available.
Fighting continues in the Donbas town of Bakhmut, though Russian assaults are still at a reduced level compared to recent weeks.
One of the key achievements of recent Ukrainian operations has likely been to push Russian Wagner Group fighters back from the 0506 route. This minor country road has become a critical supply line for Ukrainian defenders. Wagner had previously been within a few hundred metres of the route.
On 26 March 2023, Russian media claimed Wagner had taken full control of the Azom factory complex to the north of Bakhmut town centre. However, the area likely remains contested, as it has been for the past fortnight. With Wagner having now confirmed the release of at least 5000 prisoner fighters, personnel shortages are likely hampering Russian offensive efforts in the sector.
Losses of the Russian army 
As of Thursday 30 March, the approximate losses of weapons and military equipment of the Russian Armed Forces from the beginning of the invasion to the present day:
Personnel – about 172900 (+560)
Tanks – 3610 (+1)
Armoured combat vehicles – 6974 (+8)
Artillery systems – 2671 (+12)
Multiple rocket launchers –MLRS – 526 (+0)
Air defence means – 278 (+1)
Aircraft – 306 (+0)
Helicopters – 291 (+0)
Automotive technology and fuel tanks – 5518 (+11)
Vessels/boats – 18 (+0)
UAV operational and tactical level – 2239 (+0)
Special equipment – 291 (+3)
Mobile SRBM system – 4 (+0)
Cruise missiles – 911 (+0)
Russia plans to conscript over half million people this year, Ukrainska Pravda reports, citing Bloomberg, referring to the Federal Statistics Service data and sources familiar with the conscription plan in the Russian Federation. "Bloomberg, citing data from the Russian Federal Statistics Service, reports that the size of the Russian army last year increased by approximately 400,000 people. According to the news agency, the army of the Russian Federation probably was strengthened by 500,000.
In addition, according to Bloomberg's sources familiar with the Kremlin's plan, Russia plans to call up another 400,000 contract soldiers this year as Putin prepares for a prolonged war against Ukraine. The total strength of the Russian army, as reported by the Ministry of Defence of the Russian Federation, is planned to increase to 1.5 million from 1.15 million by 2026. The agency notes that Putin's drive to expand Russia's Armed Forces is exacerbating labour shortages as the war against Ukraine draws hundreds of thousands of workers from other sectors of the economy into the army."
Russia's Wagner chief says the battle for Bakhmut has damaged his forces, Reuters reports. "The head of Russia's Wagner mercenary group acknowledged on Wednesday that fighting for the Ukrainian city of Bakhmut had inflicted severe damage on his own forces […].
The battle for Bakhmut today has already practically destroyed the Ukrainian army [he claims, as he asks for help in fear of a forthcoming Ukrainian offensive], and unfortunately, it has also badly damaged the Wagner Private Military Company, Wagner chief Yevgeny Prigozhin said in an audio message."
About 6,000 Wagner group mercenaries fighting in Bakhmut – General Milley, Ukrinform reports, citing CNN. "They're (Wagner mercenaries – ed.) conducting combat operations right now in Bakhmut primarily. It's probably about 6,000 or so actual mercenaries and maybe another 20 or 30,000 recruits that they get, many of whom come from prisons, [Chairman of the US Joint Chiefs of Staff Gen. Mark) Milley said.
He added that Russians are suffering an enormous amount of casualties in the Bakhmut area; the Ukrainians are inflicting a lot of death and destruction. The Ukrainians are doing a very effective area defence that is proven to be very costly to the Russians. For about the last 20, 21 days, the Russians have not made any progress whatsoever in and around Bakhmut. So it's a slaughter-fest for the Russians. They're getting hammered in the vicinity of Bakhmut and the Ukrainians have fought very, very well, he said."
UK at OSCE: Ukraine has destroyed Russia's military reputation, Ukrinform reports, citing Ian Stubbs, the UK's military advisor. "With support from their partners, Ukraine has shown that agility and ingenuity can have a devastating effect against a so-called superpower, the British military diplomat said. According to him, in recent weeks, the staggering casualties suffered by Russia around Bakhmut appear to have had a significant impact, and their assault seemingly stalled, reports suggest that the Russian military and Wagner group urgently need to replenish personnel and munition stocks.
Stubbs noted that approximately 30,000 Russian fighters have been killed or wounded since the battle for Bakhmut began nine months ago, with the Wagner-dominated force "advancing just 25km in this time. Try as they might to present an alternate reality to the ground truth with an increasingly ridiculous carpet of disinformation, the astounding levels of incompetence in Russia's military leadership that have eroded Russia's military reputation are clear for all to see, he said.
He also pointed out that in February, Russian Soviet-made MT-LB multipurpose tracked armoured vehicles were observed operating in eastern Ukraine modified with old naval turrets and guns, still painted in naval colours. These Stalin era naval weapon systems, 60-year-old T-62 main battle tanks and vintage BTR-50 armoured personnel carriers that Russia is operating in Ukraine are indeed a true demonstration of the type of high technical performance' for which Russia's military and defence industry are now regarded, Stubbs said."
Humanitarian 
"The water needs in #Donbas are incredibly high," says a volunteer from the UK. Russians destroy critical infrastructure, leaving civilians without power, heat, and water.

Volunteers bring drinking water to towns in #Donetsk Oblast–under fire. https://t.co/ezkUCWMVMa

— Euromaidan Press (@EuromaidanPress) March 29, 2023
The Russian army has already killed 466 children in Ukraine, Ukrinform reports. "As of the morning of March 30, 2023, more than 1,409 children were killed and injured in Ukraine as a result of the full-scale armed aggression of the Russian Federation. According to the official information from juvenile prosecutors, 466 children were killed and more than 943 received injuries of varying degrees of severity," the Prosecutor General's Office posted on Telegram.
The numbers are not final. Work is ongoing to establish casualties in the areas of armed operations, in temporarily captured and liberated territories."
Kyiv urges Russians not to adopt Ukraine's 'stolen' children, Reuters reports. "Ukrainian Deputy Prime Minister Iryna Vereshchuk urged Russians on Tuesday not to adopt children who she said were "stolen" in Ukraine during the war and deported to Russia. The war that Russia has been waging on its neighbour for 13 months now has seen millions of people displaced, including families and children. The real number of children who have been forcefully deported to Russia is impossible to establish. […]
Vereshchuk said on the Telegram messaging app that orphans have been "stolen in Ukraine" and allegedly given up for adoption in Russia. I strongly recommend that Russian citizens do not adopt Ukrainian orphans who were illegally taken out of the temporarily occupied territories of Ukraine, Vereshchuk, in charge of social issues, said- […] According to Ukraine's Ministry of Integration of Occupied Territories, 19,514 Ukrainian children are currently considered illegally deported.
Russia has not concealed a programme under which it has brought thousands of Ukrainian children to Russia but presents it as a humanitarian campaign to protect orphans and children abandoned in the conflict zone."
Ukrenergo can now receive emergency energy aid from 15 EU countries, Ukrinform reports, citing Ukrenergo. "National Power Company Ukrenergo has signed an agreement with 15 system operators of European Network of Transmission System Operators for Electricity (ENTSO-E). It will allow Ukrenergo to seek assistance in unforeseen situations. […]
Emergency aid is an urgent supply of electricity from another country at the request of the system operator. This is necessary if internal reserves and means to avoid simultaneous power outages for a large number of consumers have already been exhausted. It differs from imports. This is an urgent measure to overcome an emergency. The need for it cannot be predicted in advance. Imports, on the contrary, are made within a predetermined timeframe under signed commercial contracts.
As reported, the other day, ENTSO-E decided to further increase the electricity import capacity from Ukraine to 850 MW from the current 700 MW."
Environmental
Chemists in Ukraine revisited: Serhii Radio

Practical difficulties hinder experiments, but a new course looks to address future environmental challengeshttps://t.co/kVpraRv3Nw

— Euromaidan Press (@EuromaidanPress) March 30, 2023
UN nuclear chief to focus on proposing safety measures around Ukraine nuclear plant, Reuters reports. "The head of the U.N. nuclear watchdog visited Ukraine's embattled Zaporizhzhia nuclear plant on Wednesday and said he was putting aside plans for a security zone around the facility so he could propose specific protection measures acceptable to both Moscow and Kyiv. Rafael Grossi, head of the International Atomic Energy Agency, had been pushing for a demilitarised zone at the Russian-held power station, Europe's largest nuclear facility, which has come under repeated shelling.
Grossi, who visited the plant for the second time in less than seven months on Wednesday, told Russian reporters that the situation was not improving. A recording of the briefing was made available to Reuters.
The IAEA head did not name specific safety measures that could be proposed. […] I think what is important is to make sure there are no attacks. I am trying to put on the table realistic, viable proposals that can be accepted by all, he said. Grossi said it was no secret there had been a significant increase in the number of troops in the region. It is obvious that military activity is increasing in this whole region. So the plant can't be protected, he said. […]
The IAEA has had monitors stationed at the plant since September when Grossi travelled to the facility as fears of a potential nuclear accident mounted."
Minister Galushchenko: Renewable energy is a matter of national security, Ukrinform reports. "During Russian missile attacks, we saw that renewable energy sources are not just about 'green transformation' or commitments under the Paris Agreement. Renewable energy sources are about national security, security of supply, security of the state," [Ukrainian Energy Minister German Galushchenko said during a panel discussion at the Berlin Energy Transition Dialogue 2023].
Since October 10, 2022, Russia has launched numerous missile strikes on Ukraine's energy objects. 271 of them hit the targets, which is just 20% of the total number of missiles and drones used by Russia.
According to Galushchenko, at times, Ukrainian nuclear power plants generated enough electricity volumes, but it was impossible to supply electricity to the affected regions experiencing the capacity deficit. As a result, electricity production volumes had to be lowered.
The minister mentioned that renewable energy sources could be set up across different regions and become a better solution in terms of the security of supply. Even from a military point of view, targeting a large number of objects all over the country would have been more difficult than attacking one big facility.
Additionally, Ukraine is remaining committed to the climate goals, which provide for increasing the share of renewable energy sources to 25% before 2032. Currently, nuclear power plants generate 50% of Ukraine's electricity output. Galushchenko expects that renewable energy sources will be covering another 50% in the future.
Prior to the war, the share of renewable energy sources in Ukraine was about 10%. But, most solar power plants and wind farms are situated in the areas that are now temporarily occupied by Russia."
Legal 
#Russia sentences #CrimeanTatar journalist and #CrimeanSolidarity activists to 19 years for highlighting its repression in occupied #Crimea #LetMyPeopleGo #Ukraine #StandWithUkraine #StopRussia #FreeRemziBekirov #Riza_Izetov #Raim_Aivazov https://t.co/82sycJYPuS pic.twitter.com/FWnSlxmngC

— Euromaidan Press (@EuromaidanPress) March 29, 2023
West can help Ukraine crack down on graft, anti-corruption prosecutor says, Reuters reports. "Western allies can help Kyiv with its mounting crackdown on graft by extraditing more people who are under investigation, Ukraine's top anti-corruption prosecutor said on Wednesday. Fighting sleaze is a priority for Kyiv as it seeks membership of the European Union and tries to strengthen state institutions following Russia's invasion last year.
Oleksandr Klymenko, director of the Specialised Anti-Corruption Prosecutor's Office, told Reuters that most countries Kyiv has asked to extradite suspects in corruption cases have declined to do so. In 90% of our cases, we have one or two or three or more subjects who are abroad, and the procedure for handing these people over to Ukraine is complicated, he said during an interview in his Kyiv office. Countries where suspects have been located included Austria, Spain and Britain, he said.
Easing extradition, Klymenko said, was extremely relevant to Ukraine's efforts to root out corruption, which the European Commission, the EU executive, has singled out as a precondition for membership talks to begin. The investigation of a criminal case is quite ineffective when we can't return these people to Ukraine from various jurisdictions for the administration of due justice, he said. Klymenko said countries typically cite security concerns amid Russia's war and the conditions of detention in Ukraine, but that Kyiv always guaranteed the safe custody of suspects under investigation. […]
Klymenko said such elaborate corrupt ploys would continue unless their high-ranking organisers were targeted and the mechanisms exposed. If there's no system – in which a subordinate answers to a higher-up, who then answers to the very top – then I think it would be a success not just for us, but for our country in general, he said."
Support
More UK universities partner with Ukraine

Vice-chancellors group Universities UK announces 33 additional twinning partnerships.https://t.co/j2wcyFiW9D

— Euromaidan Press (@EuromaidanPress) March 30, 2023
Ukraine should start preparing for receiving F-16 fighters – Air Force spox, Ukrinform reports, citing the spokesman for the Air Force, Yuriy Ihnat. "We need a decision on the transfer of a multi-purpose warplane to Ukraine. The process (of preparations – ed.) should start now. That is, it will kick off with the training of pilots and engineers, and in parallel lines, the base for maintaining these planes and the airfield network will also be prepared. The transfer process itself, of course, is not an easy endeavor – it is about technical paperwork, etc. But we don't have time for any delay, we have to start doing this now, Ihnat said.
He emphasized Ukraine's need for multipurpose fighter jets capable of engaging targets in the sky, on land, and at sea. As Ukrinform reported, speaking at a hearing in the US Senate Armed Forces Committee, the head of the Pentagon, Lloyd Austin, said that in the future the Armed Forces of Ukraine may receive F-16 generation 4 fighter jets."
Germany to allocate additional €12 billion of military aid for Ukraine, Ukrainska Pravda reports, citing Reuters. "The budget committee of the German Bundestag [ National Parliament of Germany – ed.] has approved the request of the Federal Ministries of Defence and Internal Affairs to allocate €12 billion for military aid to Ukraine. The additional financing provides for €3.2 billion that will be paid in 2023 as well as credit lines for the period from 2024 to 2032 for a total of about €8.8 billion.
With the money, Ukraine can directly buy armaments with the support of the German government. It is important to support Ukraine as long as necessary. The German army may start spending this money this year, with a part of it being preserved for the next few years. It was not specified how and for what time period these funds will be divided.
The Ministry of Foreign Affairs of Germany reports that since the beginning of the full-scale Russian invasion of Ukraine, the German government has allocated over €14.2 billion for the support of Ukraine, of which €3 billion was spent on military aid. This week the Leopard 2 tanks, promised by Berlin, arrived in Ukraine. Germany has also sent nearly 40 Marder infantry fighting vehicles to Ukraine."
Bulgaria may "secretly" send Ukraine huge amount of ammunition, Ukrainska Pravda reports, citing EURACTIV and European Pravda. "The Bulgarian Defence Ministry has reported that they will supply old ammunition worth nearly €175 million to the state-owned VMZ military plant and, in return, will receive new ammunition. Former Defence Minister Boyko Noev told bTV in an interview that the goal is for the vast amounts of old ammunition from the warehouses of the Bulgarian army to go to Ukraine
This is the largest rearmament of the Bulgarian land forces in recent history. That's a huge amount of ammunition – hundreds of thousands. There is a huge increase in the price of ammunition, and VMZ will sell this ammunition through intermediaries to Ukraine, the former minister said. […] The Bulgarian army has stockpiles of Soviet-standard ammunition, which the Ukrainian army needs to fuel its vast stock.
EURACTIV's investigations have reported that arms supplies to Ukraine worth billions of euros from Bulgaria have not stopped, despite the official claims of the authorities in Sofia. On Monday, Defence Minister Dimitar Stoyanov commented that the scheme with VMZ was only agreed to for the purpose of renewing wartime stocks for the army. […]
President Rumen Radev, who runs the country as a presidential republic in the absence of a regularly elected government and parliament, has publicly opposed arms supplies to Ukraine. […] If the ammunition is sent from the army to the military plant and then exported through intermediaries to Ukraine, Radev can continue to tell his supporters that Sofia is not helping Kyiv.
Bulgaria is one of the EU countries that has not confirmed its participation in the EU plan to purchase 1 million rounds of ammunition for Ukraine."
Spain to send six tanks to Ukraine after Easter, Reuters reports. "Spain will send six German-made 2A4 Leopard tanks to Ukraine after the April 9 Easter holiday to support Kyiv's efforts to fend off Russia's invasion, Defence Minister Margarita Robles told lawmakers on Wednesday. Robles said the country had just repaired the fighting vehicles that have not been used since the 1990s, and was testing their combat readiness before shipping them.
By sending the Leopards, we will continue to help the Ukrainian people… to defend themselves against an absolutely unjust attack, she said, adding that Spain would now repair another four tanks which will be sent in the near future".
White House sees no evidence that US military aid improperly used in Ukraine, Ukrinform reports, citing US National Security Council Coordinator for Strategic Communications John Kirby. "We haven't seen any evidence that — that there's been any egregious misconduct when it comes to managing the security assistance that's gone into Ukraine, Kirby said.
He stressed that the Ukrainian officials also share our concerns about making sure there's proper accountability and transparency of things getting in and moving around the battlefield."
Slovakia provides military assistance to Ukraine for 10% of its defence budget – Kondratiuk, Ukrinform reports. "Deputy speaker of the Ukrainian parliament, Olena Kondratiuk, thanked Slovakia for the comprehensive military, humanitarian and political support provided since the first days of Russia's full-scale invasion. […]
She noted that Slovakia provided military assistance to Ukraine for 10% of its defence budget and is among the top ten countries in terms of this indicator. "We are grateful for the first ones provided: air defence systems, MiG-29 aircraft, armoured personnel carriers, self-propelled guns," added Kondratiuk."
Ukraine returns non-working air defence system to ally – Zelenskyy, Ukrainska Pravda reports, citing President Zelenskyy in an interview for the AP media outlet. "Zelenskyy stated that Ukraine's European partner state has supplied it with an air defence system, which did not function properly so it was replaced over and over again. Zelenskyy did not name the country.
The President also stressed that Ukraine does not "actually" have the Patriot air defence systems which the US agreed to supply it with, i.e. they have not been deployed. Ukraine needs at least 20 batteries of the Patriot air defence systems for protection against Russian missiles. Even this number may not be sufficient since not a single country in the world was attacked with such a number of ballistic missiles."
Ukrainian army forms 3 new strike drone companies, Ukrainska Pravda reports, citing Mykhailo Fedorov, Deputy Prime Minister and Minister of Digital Transformation. "The Ukrainian army is undergoing active transformations and receiving unique new experience in this war, the most technologically advanced war in history. Earlier we have announced, together with the General Staff, the creation of the first-ever strike drone companies. They will have a completely new approach to management, training, and drone use doctrine.
As of today, the first three strike drone companies are ready for battle. They have been fully equipped, thanks to the help of our partners. They have received pick-up trucks, strike helicopters and Starlink systems. All drones are Ukrainian-made. All equipment for the strike companies of the Drone Army was purchased by private donors. Fedorov said that the drones will be used to conduct reconnaissance and attack missions."
United States transfers $1.25B grant to the Ukrainian state budget, Ukrinform reports, citing the Ukrainian Finance Ministry's website. "The state budget of Ukraine has received $1.25 billion of grant funds from the United States, which will mainly be used for social payments. The ministry said that the grant funding will be used to provide partial reimbursement of state budget expenditures, in particular for pension payments, support for certain state social assistance programs (assistance for IDPs), and to pay salaries of public employees, employees of the State Emergency Service and employees of higher education institutions.
The United States provided the funds through the World Bank Trust Fund as part of the fourth additional financing for the Public Expenditures for Administrative Capacity Endurance in Ukraine (PEACE) project. Since the start of Russia's full-scale invasion, Ukraine has already received $15.5 billion in grants from the United States."
Hungarian President Katalin Novák voiced support for 5-point peace plan for Ukraine that does not include a Russian victory and is based on "fair and realistic goals." According to Novák, the common goal is the withdrawal of Russian troops from Ukraine.https://t.co/zH9c2AWPQl

— Euromaidan Press (@EuromaidanPress) March 30, 2023
New Developments
Putin's plan for a new Russian Empire includes both Ukraine and Belarus, leaked document shows

Putin's dreams of a new empire have been evident since his first term in office but became more obvious following his formal return to the presidency in 2012.https://t.co/X2ODe7EVNl

— Euromaidan Press (@EuromaidanPress) March 29, 2023
A young talented Ukrainian blind singer Anna-Maria Herman raised over $13,500 for Ukrainian military. Previously, AM donated over $17,600. She supports the military from the start of the war. AM has many talents and passions, including playing bandura.https://t.co/LoFMl7CNKo

— Euromaidan Press (@EuromaidanPress) March 29, 2023
Assessment 
On the war. 
The Institute for the Study of War has made the following assessment as of  March 29, 2022:
Russian forces conducted limited ground attacks along the Kupyansk-Svatove-Kreminna line on March 29. The Ukrainian General Staff reported that Russian forces conducted unsuccessful ground attacks near Krokhmalne (20km northwest of Svatove), Novoselivske (14km northwest of Svatove), Stelmakhivka (12km northwest of Svatove), Bilohorivka (10km south of Kreminna), Verkhnokamianske (18km south of Kreminna), Vymika (27km southwest of Kreminna), and Berestove (30km south of Kreminna). Geolocated footage published on March 26 shows elements of the Russian 6th Combined Arms Army (Western Military District) striking Ukrainian positions northeast of Kupyansk. Ukrainian Eastern Group of Forces Spokesperson Colonel Serhiy Cherevaty stated on March 28 that Russian forces continue to use "classic army tactics" with a considerable number of armored vehicles in the Kupyansk-Lyman direction. A Russian milblogger posted footage on March 28 purportedly showing the 3rd Guards Spetsnaz Brigade operating near the Siverskyi Donets River south of Kreminna. Another milblogger claimed that Russian forces continue to advance in the forests around Kreminna. Ukrainian Luhansk Oblast Military Administration reported on March 29 that Russian forces are concentrating their main efforts on offensive operations in the Lyman direction and that Russian forces attempted to storm Bilohorivka. A Russian milblogger claimed that Ukrainian forces regained lost positions and made unspecified advances near Bilohorivka. The milblogger also claimed that Russian forces pushed through Ukrainian defenses near Torske (14km west of Kreminna) and unsuccessfully attacked Ukrainian positions near Terny, Nevske, and Makiivka, all 17 to 21km northwest of Kreminna. ISW has not observed visual confirmation that supports a Ukrainian advance near Bilohorivka or a Russian advance near Torske.
The Ukrainian General Staff reported that Russian forces maintain their presence in the Kursk and Belgorod Oblast border areas. Russian forces likely maintain their presence in Kursk and Belgorod oblasts in an attempt to keep Ukrainian forces from deploying to other parts of the frontline.
Russian forces continued offensive operations in and around Bakhmut on March 29. Geolocated footage published on March 28 and 29 indicates that Russian forces advanced in southern and southwestern Bakhmut. A Russian milblogger claimed that Russian forces conducted offensive operations near Khromove (2km west of Bakhmut) and advanced in northern parts of Bakhmut. Russian milbloggers claimed on March 28 and 29 that Wagner Group fighters advanced further in the southern part of Bakhmut. A Russian milblogger claimed on March 28 that Wagner fighters are intensifying their offensives within Bakhmut itself because conventional Russian forces strengthened Russian positions north and south of the city to defend against potential Ukrainian counterattacks, supporting ISW's assessment that conventional Russian elements are likely increasingly supporting Wagner operations in this area. The United Kingdom Ministry of Defense (UK MoD) reported that Russian forces are continuing to conduct assaults on Bakhmut at a reduced tempo in comparison to recent weeks. Russian milbloggers claimed that Wagner fighters advanced near Ivanivske (6km west of Bakhmut) on March 29 and that Ukrainian forces continued attempts to push Russian forces back from the T0504 highway as of March 28. The Ukrainian General Staff reported that Russian forces conducted unsuccessful offensive operations within 11km northwest of Bakhmut near Orikhovo-Vasylivka and Bohdanivka and within 16km southwest of Bakhmut near Ivanivske, Predtechyne, and Ozarianivka. The Ukrainian General Staff acknowledged that Russian forces conducted partially successful assaults on Bakhmut but did not specify the details of those assaults. ISW assessed that Wagner Group forces likely occupied the AZOM industrial complex in northern Bakhmut and made additional gains in the city on March 28.
Russian forces continued offensive operations along the Avdiivka-Donetsk City frontline on March 29. Geolocated footage published on March 29 indicates that Russian forces likely advanced north of Vodyane (8km southwest of Avdiivka) and in Vesele (7km northeast of Avdiivka). Russian sources claimed that Russian forces made unspecified gains in Pervomaiske (11km southwest of Avdiivka) and continued offensive operations near Nevelske (15km southwest of Avdiivka). Russian milbloggers amplified footage on March 28 purporting to show the Donetsk People's Republic (DNR) 5th Brigade of the 1st Army Corps operating near Marinka (27km southwest of Avdiivka). The Ukrainian General Staff reported that Russian forces conducted unsuccessful offensive operations near Avdiivka itself; within 14km north of Avdiivka near Novokalynove, Krasnohorivka, and Stepove; and within 27km southwest of Avdiivka near Sieverne, Pervomaiske, and Marinka.
Russian forces did not conduct any confirmed ground attacks in western Donetsk Oblast on March 29. Russian Eastern Grouping of Forces Spokesperson Aleksandr Gordeev claimed that Ukrainian forces conducted two reconnaissance-in-force operations in unspecified areas in western Donetsk Oblast. Former Luhansk People's Republic (LNR) minister Vitaly Kisleyov amplified footage on March 29 of a servicemember of the 14th Separate Guards Special Purpose Brigade of the Main Intelligence Directorate of the General Staff of the Russian Armed Forces (GRU) near Vuhledar (30km southwest of Donetsk City).
Iranian Foreign Affairs Minister Hossein Amir Abdollahian met with Russian Foreign Minister Sergei Lavrov in Moscow on March 29 to review strategic and long-term cooperation agreements that will likely intensify Russia and Iran's bilateral security relationship. Abdollahian stated that Russian and Iranian officials are in the final stage of signing a cooperation agreement. Lavrov promoted Iran's "Hormoz Peace Plan" for security in the Persian Gulf and the Gulf of Oman and stated that the Kremlin demands an immediate return to the Joint Comprehensive Plan of Action (JCPOA). Abdollahian and Lavrov likely discussed continued Russian efforts to procure Iranian weapon systems for use in Ukraine and a finalized agreement for Russia to provide Iran with Su-35 attack aircraft. The Ukrainian Resistance Center reported on March 29 that Iranian Pouya Air Transport resumed regular flights between Tehran and Moscow on March 13 likely to support weapons transfers. The Ukrainian Resistance Center also reported that Iranian officials are planning to deliver Shahed-131 drones to Wagner Group personnel and that Wagner personnel have started training to operate the drones, although ISW has not observed confirmation that Wagner Group personnel have used Iranian-made drones in Ukraine. ISW previously assessed that Russia is relying on Iran for military and technological support in Ukraine and that some Iranian personnel are likely in Ukraine directly supporting Russian attacks on Ukrainian infrastructure. Iran is likely attempting to solidify a bilateral security relationship with Russia in which the two are more equal partners and will likely increase weapons transfers to Russia in pursuit of this goal.
Wagner Group financier Yevgeny Prigozhin seized on the recent story of the sentencing of a Tula Oblast father for his 12-year-old daughter's antiwar drawing to promote the Wagner Group's reputation and ameliorate his own personal image. Prigozhin's press service posted a letter on March 28 signed by Prigozhin, Wagner commander Dmitry Utkin, and Wagner-affiliated director of the "Liga" veteran's organization Andrey Troshev addressed to Tula Oblast prosecutor Alexander Gritsaenko stating that the signatories consider Gritsaenko's issuance of a two-year prison sentence to Aleksey Moskalev unfair. Moskalev was charged with "discrediting the armed forces" after his 12-year-old daughter Masha drew an antiwar picture with a Ukrainian flag in her school art class in April 2022. Masha was taken into state custody and now lives in a juvenile shelter, and Moskalev fled house arrest the night before his sentencing and was sentenced to two years in prison in absentia. Prigozhin's letter suggests that Tula Oblast check the legality of Gritsaenko's sentencing and recommends that Wagner-affiliated lawyers participate in the case on Moskalev's side, noting that it is tragic that both Masha and children of dead Wagner fighters end up in orphanages. Prigozhin's response to Moskalev's sentencing is particularly ironic considering that Prigozhin was initially one of the biggest and loudest supporters of the law on punishing those who "discredit" Russian forces. It is therefore likely that Prigozhin seized on the discourse surrounding Moskalev to further his own reputation and advocate for the Wagner Group, especially by choosing to highlight the plight of orphans of Wagner fighters who die in Ukraine. Prigozhin may seek to maintain his own domestic relevance by continuing to closely involve himself in such developing stories, especially by affiliating his newest campaign for relevance with Utkin and Troshev—two well-established and notorious Wagner-affiliated personalities. The letter attempts to portray Wagner's leadership as a united front against elements of the Russian bureaucracy.
Chechen Republic Head Ramzan Kadyrov's demonstrative response to an attack on a police station in Chechnya suggests that he may be concerned about the stability of his authoritarian rule. Kadyrov claimed that Chechen authorities killed two unidentified men attempting to conduct an attack in Gudermes, Chechnya on the night of March 28, and Russian sources amplified footage purporting to show the two men shooting at a local police department. Kadyrov's Special Forces University is in Gudermes, although it is not clear if the attack was connected to the facility. Kadyrov published footage of himself, his 15-year-old son, and an entourage of Chechen officials and security personnel visiting the scene of the attack and inspecting the mangled bodies of the assailants. Kadyrov likely meant this demonstrative inspection of the bodies to enhance his strongman image and signal to Chechens that any form of internal resistance to his rule will be eliminated. The fact that Kadyrov's response to the attack was so immediate and heavy-handed suggests that he is concerned about the potential for internal resistance within Chechnya to undermine his authoritarian rule of the autonomous republic. Kadyrov recently meet with President Vladimir Putin on March 13 to promote Chechnya's relevance in the Russian political and military sphere, and ISW assessed that Putin may seize upon Kadyrov's fears about falling out of favor with Putin to pressure Kadyrov into increasing the role of Chechen fighters in combat operations in Ukraine. Kadyrov likely sees any sign of internal instability in Chechnya as a threat to Putin's continued favor.
Russian authorities arrested Russian National Guard (Rosgvardia) naval department head Colonel Sergey Volkov for corruption-related charges. The 235th Garrison Military Court in Moscow arrested Volkov on March 29 for abuse of authority charges in connection with the sale of low-quality radar systems at heavily inflated prices, and an official investigation reportedly found that his actions amounted to damages of 395.5 million rubles (roughly $5 million). The Russian Federal Security Service (FSB) and Rosgvardia recently launched a criminal case against the Deputy Commander of the Rosgvardia's Central District, Major General Vadim Dragomiretsky, on March 20 for corruption-related charges. The recent criminal proceedings against two Rosgvardia commanders may suggest that Russian authorities are conducting a sweeping corruption probe within Rosgvardia. The criminal proceedings are notable because commanders of conventional Russian forces have not been fired, let alone arrested, since the start of Russia's invasion of Ukraine at the same rate or in such high-profile circumstances as the Rosgvardia cases. It is highly unlikely that corruption in the Rosgvardia is more pronounced than it is in the Russian Armed Forces. The Rosgvardia notably includes elements responsible for Russia's domestic regime security. Putin likely pays very close attention to the reliability and loyalty of some Rosgvardia personnel, apart from concerns he may have about corruption in that organization. […]
Key Takeaways
Iranian Foreign Affairs Minister Hossein Amir Abdollahian met with Russian Foreign Minister Sergei Lavrov in Moscow on March 29 to review strategic and long-term cooperation agreements that will likely intensify Russia and Iran's bilateral security relationship.
Wagner Group financier Yevgeny Prigozhin seized on the recent story of the sentencing of a Tula Oblast father for his 12-year-old daughter's antiwar drawing to promote the Wagner Group's reputation and ameliorate his own personal image.
Chechen Republic Head Ramzan Kadyrov's demonstrative response to an attack on a police station in Chechnya suggests that he may be concerned about the stability of his authoritarian rule.
Russian authorities arrested Russian National Guard (Rosgvardia) naval department head Colonel Sergey Volkov for corruption-related charges.
Ukrainian Defense Minister Oleksii Reznikov stated on March 27 that Ukrainian forces may be planning to launch a counteroffensive in April or May depending on weather conditions.
Russian forces conducted limited ground attacks along the Kupyansk-Svatove-Kreminna line.
Russian forces continued offensive operations in and around Bakhmut and along the Avdiivka-Donetsk City front.
International Atomic Energy Agency (IAEA) Director General Rafael Grossi visited the Zaporizhzhia Nuclear Power Plant (ZNPP) for the second time.
Russian occupation authorities continue to implement measures to integrate occupied territories into the Russian administrative and legal system.
The Belarusian Ministry of Defense (MoD) reported that planned activities are ongoing to call up those liable for military service for military training and to retrain reserve servicemen in military registration specialties.
Counter-offensive to be conducted on several fronts and could start in April or May – Ukraine's Defence Minister, Ukrainska Pravda reports, citing the Estonian TV channel Err.ee. "Oleksii Reznikov, Minister of Defence of Ukraine, has said that the General Staff of the Armed Forces of Ukraine is planning to conduct a counter-offensive on several fronts, but it all depends on the weather conditions. The Ukrainian troops are also waiting for the "right moment, and Reznikov believes it will happen in April or May. […] Reznikov said that for Ukrainian soldiers, switching from Soviet weaponry to German Leopard tanks is like driving a Mercedes after a Zhiguli.
Concerning the Ukrainian counter-offensive, Reznikov believes that in 2023, the world will witness very positive changes for Ukraine. I am confident that we will continue to liberate the temporarily occupied territories as we did before in Kyiv, Chernihiv, Sumy, Kharkiv and Kherson Oblasts. All that will continue.
He also remarked that the Ukrainian soldiers on the front line are tired since the war has been ongoing for over a year: It is a psychologically and physically challenging process. That's why we try to rotate the troops. But this is war: the standard of living is different; the conditions are different. […]
Regarding Bakhmut, Reznikov added that Ukrainian troops have significantly reduced the Russians' offensive potential on that front, and this will help the Defence Forces to keep the front line stable and buy time to prepare for the counter-offensive. Reznikov also stated that the Russians are short of ammunition: They are tired too. They have suffered huge losses; there are a lot of injured and killed Russian soldiers. They are losing at least 500 soldiers daily, killed and wounded.
President Volodymyr Zelenskyy has said that the Armed Forces of Ukraine cannot start the planned spring counter-offensive yet because currently they do not have sufficient weapons."
Ukraine's counteroffensive to be launched without new warplanes – Reznikov, Ukrinform reports, citing Ukrainian Defence Minister Oleksii Reznikov. "For any counteroffensive, of course, dominance in the air is important, but we will be using the weapons we already have at the moment. These are weapons left over from Soviet times and those already provided and being provided by partners. These are not only tanks, but also armoured vehicles of various types, on which our crews is currently training in Europe, said Reznikov.
The minister that for Ukraine, combat aircraft are, first of all, a missing effective element of the country's air defence capability. It's a matter of time before we receive a modern fourth generation combat aircraft, I have no doubt about that, the defence minister emphasized.
According to Reznikov, in addition to the time for the partners to make a decision on the transfer of fighter jets, it will also take time to train pilots and engineers who will service the equipment. Therefore, I believe that the acquisition of combat aircraft and the option of our nearest counteroffensive will be separated in time, Oleksii Reznikov concluded."
Kremlin predicts long hybrid war, so Russians should "unite around Putin", Ukrainska Pravda reports. Russian Interfax. "Peskov evaded the question of when Russia's war against Ukraine will end, but he said that the hybrid war of unfriendly countries against the Russian Federation will last for a long time. And if you mean the war in a broad context – confrontation with hostile states, unfriendly countries, this hybrid war that has been unleashed against our country – then it will last for a while. And here we need fortitude, loyalty to ourselves, determination, and unity around the president.
Peskov is sure that in the Russian Federation, there is an unprecedented consolidation around the president, the supreme commander-in-chief, around the policies he is pursuing. In addition, he declared that confidence that all the goals of the so-called "special military operation" [i.e. the war against Ukraine – ed.] will and must be achieved, absolutely predominates among Russians.
As media reported on 28 March, in December 2022, Peskov declared that Russia's war against Ukraine would last a very long time."
Consequences and what to do?
Russia's economy beginning to collapse due to war and sanctions, Ukrinform reports, citing The Wall Street Journal. "Russia's economy is beginning to gradually collapse due to a long war in Ukraine and sanctions introduced against the aggressor country. According to the news outlet, Russia's government revenue is being squeezed and its economy has shifted to a lower-growth trajectory, likely for the long term.
Russia's biggest exports, gas and oil, have lost major customers. Government finances are strained. The ruble is down over 20% since November against the dollar. In addition, the labor force has shrunk as young people are sent to the front or flee the country over fears of being drafted. Uncertainty has curbed business investment.
Russia's economy is entering a long-term regression, predicted Alexandra Prokopenko, a former Russian Central Bank official who left the country shortly after the invasion. While there is no sign the economic difficulties are bad enough to pose a short-term threat to Russia's ability to wage war, state revenue shortfalls suggest an intensifying dilemma over how to reconcile ballooning military expenditures with the subsidies and social spending that have helped President Vladimir Putin shield civilians from hardship.
Russian billionaire Oleg Deripaska warned this month that Russia is running out of cash. There will be no money next year, we need foreign investors, the raw-materials magnate said. Having largely lost its European market next door, and with other Western investors pulling out, Moscow is becoming ever more reliant on China, threatening to realize long-simmering fears in Moscow of becoming an economic colony of its dominant southern neighbour."
Putin admits sanctions harm Russian economy, Ukrainska Pravda reports, citing RIA Novosti. "President of Russia Vladimir Putin has admitted that the sanctions imposed on the Russian Federation because of its aggressive war could negatively affect the state of affairs in the country's economy. The illegitimate restrictions introduced against the Russian economy in the medium term can really have a negative effect on it. In this regard, we need to ensure a sustainable increase in domestic demand.
The Wall Street Journal reported in its article that due to the war and the sanctions imposed against Russia, the Russian economy is beginning to collapse. Prior to this, Russian President Vladimir Putin said that the sanctions caused by Russia's attack on Ukraine did not seem to have much effect on Russia."
EU keeps on doing business with Russia despite sanctions, Reuters reports. "With ten rounds of sanctions since Russia invaded Ukraine in February last year, the European Union has rolled out its toughest punishment ever against a foreign country. The EU says its sanctions are meant to cut Moscow revenues and access to technology used in war. But the impact will not be severe enough to limit Russia's ability to wage war against Ukraine in 2023, a European Parliament research note said.
Much trade still flows between the bloc's 27 countries and Russia – a result of successful lobbying, the EU's unwillingness to take a harder economic hit, and concerns about ripple effects on global supply chains. Rather than seek new sanctions, the EU now wants to crack down on bypassing those already imposed and officials identified the UAE, Türkiye, Armenia, Georgia, Kazakhstan and Kyryzstan as potential circumvention routes.
 […] Since the invasion in 2022, the value of EU imports from Russia fell by a half to around 10 billion euros last December. In total, the EU imported 171 billion euros worth of goods from Russia starting from March, 2022 until the end of January, 2023, according the latest data available from Eurostat, the EU statistics office. That figure thwarts the 60 billion the EU last month said it had assigned to Ukraine over the year since the invasion, though that total does not include the value of modern tanks Kyiv got since, or the latest deal on ammunition supplies.
The EU sanctioned imports of Russian coal and seaborne oil last year. Gas is not covered by EU sanctions, but Moscow slashed pipeline deliveries to Europe since the invasion. In 2022, the EU received about 40% less Russian gas than in recent years. Liquefied natural gas is another story. Russian LNG deliveries to Europe increased since the war – to 22 billion cubic metres in 2022, up from around 16 bcm in 2021, according to EU analysis. The LNG volumes are smaller than Russia's pipeline gas deliveries, which were about 155 bcm per year before the war. But the uptick has led some countries to ask for a legal option under EU law to block LNG imports.
Similarly, there have been no sanctions against Russia's nuclear industry, something Hungary – where Russian state nuclear energy company Rosatom is due to expand the Paks power plant – and Bulgaria openly oppose. EU imports of Russian nuclear industry products totalled nearly 750 million euros in 2022, according to Eurostat. EU nuclear agency Euratom said Russia provided a fifth of uranium used by EU utilities in 2021, the latest data available, as well as a fourth of conversion and a third of enrichement services. The French energy ministry disputed parts of a report by Greenpeace, which last month said Paris had sharply increased imports of enriched uranium from Russia since the invasion. Paris said its contracts with Russia would be more expensive to halt than continue.
The EU bought 1.4 billion euros worth of Russian diamonds last year, according to Eurostat, as it banned neither the gem imports nor blacklisted Russian state-controlled miner Alrosa. Belgium, home to the world's biggest diamond trading hub Antwerp, has upset the bloc's hawks by lobbying against the EU going solo on Russian diamonds. The EU, the United States and other G7 economies are now working on a traceability system to squeeze out Russian diamonds together. The Antwerp World Diamond Centre said that needed to include India – not in a G7 member – to be effective.
EU imports of Russian fertilizers were worth 2.6 billion euros last year, more than 40% up from 2021 as price rise beat reduced volumes, according to Eurostat. Potash from Russia and ally Belarus is heavily restricted or banned in the EU. But other fertilisers including urea flow freely, said Sean Mackle of industry lobby Fertilizers Europe, adding that the patchy approach weighed on implementation. Disagreement among the 27 EU countries over proposed exemptions to keep fertilizers going to Africa is blocking more sanctions against Belarus for aiding Russia's war.
Among raw materials unaffected by sanctions is nickel, mostly used for stainless steel production. The EU imported 2.1 billion euros worth of nickel in 2021, up to 3.2 billion euros last year, according to Eurostat. […]"
Hans Petter Midttun: Today marks the 400th day since the full-scale invasion started. It is, however, also the 3326 days since the war started. World War 2 in contrast, lasted for 2194 days
During the last 400 days, both Russia and the West have experienced several surprises. The Russian decision to invade Ukraine – a historical and strategic blunder – was probably the first surprise. Putin decided to wage war against a country that cannot be defeated. Ukraine has suffered the War of Independence (1917-21), the Holodomor genocide – "to kill by starvation" (1932-33), the Great Terror (1937- 38), World War 2 – in which Ukraine was the true target for Nazi-Germany's Operation Barbarossa (1939-45), Chornobyl (1986) and lastly, the ongoing war starting 2014. The massive, strong, and effective Ukrainian resistance, and later counter-offensives, came as a surprise to Russia.
Given its history, however, Ukraine's resistance and resilience should not have come as a surprise to anyone.
Atrocities uncovered in liberated territories and recent revelations of Russian plans show that Russia came prepared to execute total cleansing of society and politics in Ukraine.  The FSB anticipated resistance among the Ukrainian population but was ordered to deal with it ruthlessly. Mobile crematoria followed its forces into Ukraine, signalling Russia's murderous intentions.
After years of inaction, lack of support and efforts to find a political solution to a war Russia started to achieve its strategic aim and objectives, the massive defence, finance, and humanitarian Western support to Ukraine probably came as an even bigger surprise. Additionally, while sanctions would have been expected, the scale and scope of international response will have also surprised President Putin.
After 400 days of defiance, even Putin admits that sanctions are harming the Russian economy. Unfortunately, not enough to pose a short-term threat to Russia's ability to wage war as the EU continue doing business with Russia.
The Russian military "collapse" (for lack of better words) was a huge surprise for all, not least Russia.
This includes the Russian Air Force's lack of capacity to plan, brief and conduct complex air operations, its failure to execute the fundamentals of combined-arms operations and to suppress Ukraine's air defence. The Ground Forces, suffer from command-and-control challenges, poor communication and even worse intelligence and situational awareness. The Army has been exposed to vast logistical and technical problems, as well as design flaws. The Black Sea Fleet has lost 18 vessels to a county without a navy and has been denied the opportunity to employ its amphibious capacity. The navy has been forced to operate further south and away from the Ukrainian coast as planned. Russia is not least, running out of long-range precision weapons, main battle tanks, armoured vehicles, artillery and ammunition. While it remains capable of mobilising unlimited numbers of soldiers, it is running out of experienced officers and elite forces.
Russia continues to experience surprises. During the last 400 days, Ukraine has inflicted several stunning operational and strategic surprises on Russia.
The destruction of a Russian landing ship and damaging of two other vessels in the occupied Ukrainian port city of Berdiansk on 24 March was one. The sinking of the Russian flagship Moskva on 14 April was another. Its attack on Saki airbase on 9 August, its partial destruction of the Kerch bridge on 8 October and the combined UAV and surface drone attack on the Black Sea Fleet in Sevastopol on 29 October are some of the many spectacular strategic surprises. As were its attacks on Dyagilyaevo and Engels airfields deep inside Russia on 5 December.
A country which was believed to lack long-range fire has several times struck Russia in the deep and where it hurts the most: their national pride.
The Ukrainian counteroffensive in Kharkiv starting on 6 September 2022 was, however, probably the biggest and most important so far. Russia's forces were routed and left behind hundreds of weapons and vehicles. An army already suffering from poor leadership, low morale, psychological state, faltering motivation and desertion, was inflicted a huge blow to their collective psyche.
Russia is, however, learning from its past mistakes. Lessons learned will be made and result in further improvements. It stopped operating combat aircraft over Ukrainian-controlled territory and instead began delivering massive, long-range fire against critical infrastructure. Its use of UAVs has increased in scale and scope. Logistic hubs have as far as possible been withdrawn out of range of HIMARS. The Land Forces have adapted their formations and tactics when attacking Ukrainian positions.
Russia has, unfortunately, also been able to take advantage of other and more sobering surprises.
Firstly, the West's unwillingness to provide Ukraine with the tools it needs to evict Russian forces. 400 days after the full-scale war started, Ukraine has not yet received western made 4th generation combat aircraft or long-range precision fire. After having defined "the Russian Federation as the most significant and direct threat to Allies' security and peace and stability in the Euro-Atlantic area", the NATO members are not aiming for a Russian defeat in Ukraine. Under US leadership, the coalition is aiming for a solution at the negotiation table. The surprise is that they still do not understand Russia, its mindset and its strategy.
Secondly, NATO remains reluctant to defend the freedom of navigation in the Black Sea is surprising given the global repercussions. Until the Alliance starts a FONOPS, a Ukrainian defeat remains very much within Russia's reach.
Thirdly, the structural problems with the Alliance might also have come as a surprise to both Russian and western politicians. The full-scale war in Ukraine and the consequential slow and incremental defence support from the West have clearly demonstrated that NATO is by no means prepared to fight a full-scale, protracted war in Europe. It lacks a robust defence industry and force structure as well as the sustainability needed to succeed.
Ukraine will continue to surprise Russia and inspire the West. It will uphold and even intensify its attacks deep inside the Russian Federation. The Ukrainian security and defence sector will continue to evolve and outperform the Russian Armed Forces, inflicting huge losses.
Unfortunately, Ukraine will also continue to suffer the consequences of war until Putin realise that the West is fully committed to Russia's defeat in Ukraine.
That requires deeds, not words. It demands a change in strategy. After 15 years of inaction and weakness, resolute actions are crucial to convincing Russia that the US and Europe are willing to do what is needed to ensure a Ukrainian victory. It is an effort effectively undermined each time Heads of State talk about negotiations.
A Western resolve surpassing that of Russia and Ukraine will be the biggest surprise of all.
400 days of surprises with more to come.
Tags: Russian invasion