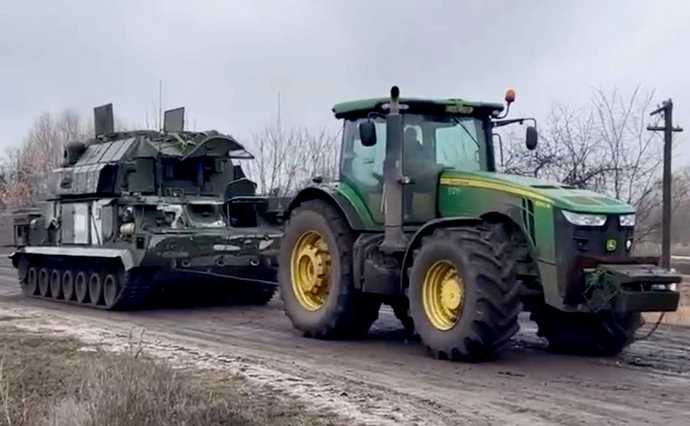 Ukrainian tractor pulls Russian armored vehicle. Photo: agravery.com 
Unless Ukraine wins the war on its terms, it will lose. Here are the four dangerous scenarios that could prevent it from achieving victory, and what needs to be done to counter them.
Despite the application of brutal military power, the ongoing war in Ukraine is still a hybrid war.
Until the full-scale invasion on 24 February last year, hybrid war was often described as a grey zone operation below the threshold of war. That was, however, a conclusion resulting from an academic debate which was proven wrong last year.
Hybrid War is the parallel and synchronized use of both military and non-military means to destabilize nations from within. Synchronization is the ability to effectively coordinate the employment of both military and non-military means in time, space, and purpose to create the desired effects. It allows Russia to escalate or de-escalate horizontally rather than just vertically, thus providing further options.
In this context, horizontal escalation or de-escalation refers to it's the many instruments of power being applied in parallel. For example, by escalating the military aggressions, and simultaneously intensifying its diplomatic, political, economic and information efforts, Russia can achieve effects greater than through a one-dimensional military effort only. Instead of only military gains, Russia ensures multiple effects across the battlefield (e.g., impact on foreign policy, diplomatic initiatives, bilateral relationships, finance markets, costs of living, information sphere, public opinion, fear, and more).
What happened on 24 February was just that: A horizontal and vertical escalation. A shift from the focus on the non-military to the military tools but still using all tools. It is still a total war.
It is still the same aggressor, with the same strategic aim and objectives, employing the same tools.
As previously argued, and seen through the prism of hybrid war, Russia does not need to take another centimeter of Ukrainian territory to defeat Ukraine. It will, however, attempt to do just that out of pride, revenge, and, not least, as a justification of its strategic narrative for its so-called "special military operation": To "protect Russians" (Ukrainian citizens) in Donbas.
Its potential victory, however, will not be decided on the battlefield alone. The combined efforts of its military and non-military means have been undermining Ukraine for years already. Ukrainian independence and sovereignty are still hanging in the balance, and it is far too early to conclude the war's outcome.
Russia still believes in victory because several scenarios support the conclusion. These are as follows (listed according to likelihood):
Scenario 1 – Failure to reform (NOT UNLIKELY)
2023 will be the biggest test for President Zelensky yet. Ukraine must both stop Russian military offensives, counter its hybrid war, start a counteroffensive to liberate occupied territories, and, not least, execute the reforms the EU requires to uphold its financial support.
The EU has agreed to provide Ukraine with €18 billion in financial support in 2023. The first tranche of €3 billion (two-month aid) has been allocated without any provisions. However, the transfer of the remaining €15 billion will only be after Ukraine has fulfilled several reform commitments. These include comprehensive reform of its judicial, governance, energy, and finance sectors, each with a separate deadline.
The war is no longer perceived as a reason to slow down reforms in Ukraine.
While the reforms are crucial for Ukraine's ambitions for future NATO and EU membership, they are also essential for its future stability and prosperity. All of which run counter to Russian strategic interests.
Having successfully introduced many important changes during the first 8 years of the war, Ukraine still failed to implement several crucial reforms. Before the full-scale invasion, President Zelensky was even accused of rolling back some reforms introduced under his predecessor.
While the conditionality for financial support is crucially important, they also introduce a critical vulnerability into the overall war effort. If the reforms are blocked or sabotaged – again – the support from the international community might falter and potentially stop altogether.
Previous lack of success resulted from several factors, including the influence of vested interests, institutional resistance, and external influence. While the latter has been reduced, all are still very much present.
Russia will exploit existing weaknesses and do its uttermost to ensure that Ukraine fails. A failure to reform might ultimately result in a Ukrainian defeat.
Scenario 2 – Economic collapse (POSSIBLE)
The aggressor is waging a full-scale "economic war," destroying Ukraine's economic viability. War has tremendous economic consequences. This includes financial reactions to the war, like the decline in GDP, loss of credit rating, higher national debt and taxes, higher inflation, currency depreciation which induced deposit outflows, the collapse of the banking sector, social costs, and loss of international investments.
Ukraine has lost vast deposits of minerals, coal, gas, and oil. Last summer, Russia occupied territories containing $12,400 billion in minerals, gas, and oil. Additionally, it controls Ukraine's exclusive maritime economic zones assumed to contain a "North Sea basin" reservoir of gas and oil. It has also taken procession of some of its crucial coal deposits.
The economic losses from Russia's temporary occupation of the Crimean Peninsula were assessed at $135 billion by July 2021. This is a conservative estimate since it only lists known oil and gas deposits. Additionally, the losses are increasing by the year.
Its massive attacks on critical infrastructure and Ukraine's industrial and agricultural basis further erode its economic viability. The cost of rebuilding Ukraine alone is presently assessed to be a staggering $750 billion. The destruction of the Ukrainian energy sector, including the occupation of Zaporizhzhia Nuclear Power Plants, helps ensure a further erosion of its independence and sovereignty.
The Russian maritime blockade of the Ukrainian ports – and consequently a larger part of Ukrainian imports and exports – is part of its wider effort to undermine Ukrainian statehood.
The Ukrainian defense alone comes at huge costs. National security and defence comprise about 50% of the Ukrainian state budget expenses (or 18.2% of GDP).
Ukraine needs $3-5 billion in monthly support from its international partners to be able to uphold its basic commitments, including payment of salary and pensions. It is basically one donor conference away from defaulting. That will happen the moment the West starts reducing its defence, financial and humanitarian support to Ukraine.
Western ability to uphold a long-term commitment at the scale and scope needed in Ukraine is limited. Until the West comes up with a strategy that stops the "economic war" – including bringing about a Russian defeat in Ukraine, unlocking the Black Sea, and deterring future aggression – the present support is unsustainable. Time is working to Russia's advantage.
Scenario 3 – Loss of Western support (LESS LIKELY)
Western aid has proven crucial to Ukraine's ability to resist and counter Russian military power. Its financial and humanitarian support is equally important as it enables Ukraine to continue to function and uphold its national and international obligations.
Western commitment to support Ukraine has dramatically increased since 24 February 2022. We are witnessing a growing maturity in Western security and defense policy discussions, deliberations, and decisions. Increasingly more countries are acknowledging that Ukraine is not only defending its right to exist but also our shared values and principles.
Russia is seen for what it is. All hope for reset and business as normal has been quashed by its crime against humanity. Fear is giving way to resolve. The immature is maturing. Vulnerabilities are being closed. Defence industries are slowly being mobilised. The irresponsible are slowly turning responsible for the lack of other alternatives. The ones absent a moral compass are slowly finding their bearings because Russia's atrocities leave them no choice.
Consequently, previous "nays" are inevitably being turned into "ayes." In the words of the Ukrainian Minister for Foreign Affairs Dmytro Kuleba:
"Last year, Ukraine unblocked political decisions on six out of seven types of weapons needed by the Armed Forces. Every discussion about supplying Ukraine with a new, crucial kind of weapon started with a 'no' and ended with a 'yes.' In the last year, we have unlocked political decisions on six of the seven types of game-changer weapons. The only one left is combat aircraft."
Many countries support Ukraine way about their "weight class" because their defense starts on its territory. They are, in a sense, acting in the spirit of NATO's late strategic concept, which highlighted the need to intervene and stop conflicts before they threaten the security of its member states.
While heads of states and governments are unlikely to falter in their (constrained) resolve, their voters might over time experience a change of hearts.
The battlefield of the Hybrid War occurs both in the mind of key policy- and decisionmaker as well as populations. It confuses and manipulates. The hybrid war aims to destabilize, create fear, and promote passivity. Through disinformation, lies, cyber-attacks, extortion, provocations, fabrications, military escalation, and more, a "virtual reality" is created that motivates countries to make the political decisions Russia wants.
The Russian hybrid war in Europe – including its full-scale war in Ukraine – has resulted in a "tsunami of ripple effects," including the loss of energy and food security, increased poverty and hunger, recession, inflation and increased costs of living; as well as the potential repercussions, including the increased risk of demonstrations, riots, extremism and social unrest at the cost of global political stability.
The political landscape in the USA and Europe will – as in the 1930s – most likely be changed by political forces seeking to exploit the voters' frustration. We have already experienced shifts in the political landscape (France, Sweden, and Italy) that are likely to spread as the broader confrontation continues.
Unless stopped, this process might impact Western will and ability to support Ukraine over time. In 2024 already, several crucial elections might potentially decide the fate of Ukraine and Europe.
The present strategy is, unfortunately, not designed to alleviate the problem. Seeking a prolonged war, the West is reinforcing the effects of the "tsunami of ripple effects." This is one out of seven arguments I put forward when arguing why a humanitarian intervention in Ukraine is in NATO's interest.
Why a humanitarian intervention in Ukraine is in NATO's interest
Scenario 4 – Military defeat on the battlefield (UNLIKELY)
Russia's military potential was at its peak one year ago. It has since lost many of its elite units and much of its newest weapons and equipment. It is running out of precision-guided missiles and is low on both artillery and ammunition. The fundamental flaws revealed during its failed attempt to conduct a "Blitzkrieg" last year are still just that: fundamental flaws. Having suffered tremendous losses, the motivation of the Russian soldiers is running low. Russia suffered more than 21,000 KIA in January alone, the highest number of casualties yet.
On February 2, the Institute for the Study of War concluded that:
"Putin may have overestimated the Russian military's own capabilities again. ISW has not observed any evidence that Russian forces have restored sufficient combat power to defeat Ukraine's forces in eastern Ukraine and capture over 11,300 square kilometers of unoccupied Donetsk Oblast (over 42 percent of Donetsk Oblast's total area) before March as Putin reportedly ordered. ISW previously assessed that a major Russian offensive before April 2023 would likely prematurely culminate during the April spring rain season (if not before) before achieving operationally significant effects. 

 

Russian forces' culmination could then generate favorable conditions for Ukrainian forces to exploit in their own late spring or summer 2023 counter-offensive after incorporating Western tank deliveries."
According to the Russian independent media outlet "Важные истории" (Important Stories), the assessment is apparently shared by the Russian General Staff.
"According to a source close to the [Russian] Ministry of Defence, the military understands that a strategic offensive in Ukraine is impossible. There are two main reasons – the lack of high-quality equipment and ammunition, as well as the inability of the high command to realistically assess the situation at the front.

 

"Plans to go to Kyiv again are drawn, but only because the country's leadership requires it. Nobody believes in the implementation of these plans, it will be suicide," the source said. The source calls the mood among the "understanding" military men for panic, noting that the officers themselves use this word."
The outlet claims Russia is creating reserves that it keeps far from the front line to block a possible Ukrainian breakthrough.
The assessment is shared by Igor Girkin, the former Russian FSB officer who played a vital role in the war in Donbas as an organizer of militant groups in the Donetsk People's Republic (DPR). On 4 February, he was recorded discussing the poor state of the Russian force's morale, communication, command and control, logistics, and its lack of reconnaissance and air superiority to shape the battlefield. He argues that the Ukrainian Armed Forces have better mobility and can redeploy forces. Girkin does not believe that Russia is ready for a major offensive, and if it tries, it might end up worse off than after the withdrawal from Kyiv.
While Russian ability to wage war has been gradually degraded during the last 12 months, Ukrainian ability has increased.
That's not to say that Ukraine has not suffered losses. It has. But not to the same extent as Russia.
While incremental and slow, the inflow of western weapons and the training of Ukrainian soldiers by its international partners contribute to increasing its military potential.
Ukraine has also the benefit of motivation, professionalism, and shorter and better logistical lines. Its biggest advantage, however, is both superior command and control, situational awareness, and intelligence. Russia is unable to hide its forces and, consequently, its intentions. It is constantly advancing towards prepared Ukrainian positions. Additionally, Ukraine can deliver precision strikes against Russian logistics, command and control posts, areas of force concentrations and ground lines of communication.
That said, and as previously stressed, Russia does not need to take another centimeter of Ukrainian territory to defeat Ukraine. It will, however, attempt to do just that out of pride, revenge, and not least, as a justification of its strategic narrative for its so-called "special military operation": to protect "Russians" (Ukrainian citizens) in Donbas.
Ukraine, however, needs to liberate all occupied territories to avoid a long-term defeat for the reasons listed above. It needs to achieve a Russian defeat to deter future aggressions and create the foundation for rebuilding what has been destroyed.
For that to happen, the West needs to make up its mind. Will it set the conditions for victory or defeat?
There are only two alternatives. Either a Russian or a Ukrainian victory. All notions, dreams, or fantasies of a "compromise" only exist in the minds of those who don't understand Russia and Ukraine.
Putin's regime – not Russia – is fighting for its existence. Its decision to invade Ukraine, however, has put the very existence of Russia at risk. Ukraine – both the country and the nation – is fighting for its existence.
The West, in contrast, is still deliberating on what to do. It is not yet providing Ukraine with the tools it needs to win in the fear of a Russian defeat while seeing a Russian victory as utterly unacceptable.
The West needs a new strategy that will allow it to end the war on Ukraine's terms, liberating occupied territories, ending the suffering and destruction of Ukraine, ending the economic war, blocking the "tsunami of ripple effects" from undermining Europe and the US, and, not least, ensuring future security and stability. The US, EU, and NATO need a proactive strategy to ensure the West and Ukraine gain the initiative.
Ukraine must both stop Russian military offensives, counter its hybrid war, start a counteroffensive to liberate occupied territories, and, not least, execute the reforms the EU requires to uphold its financial support. Attempts to stop or sabotage the reform process must be treated as an assault on Ukrainian independence and sovereignty.
Until this happens, Russia will remain convinced that victory is within reach and that time is on its side.
https://euromaidanpress.com/2022/12/28/what-if-russia-wins-in-ukraine-and-the-only-thing-that-can-stop-this-opinion/
Tags: hybrid war, Russian invasion