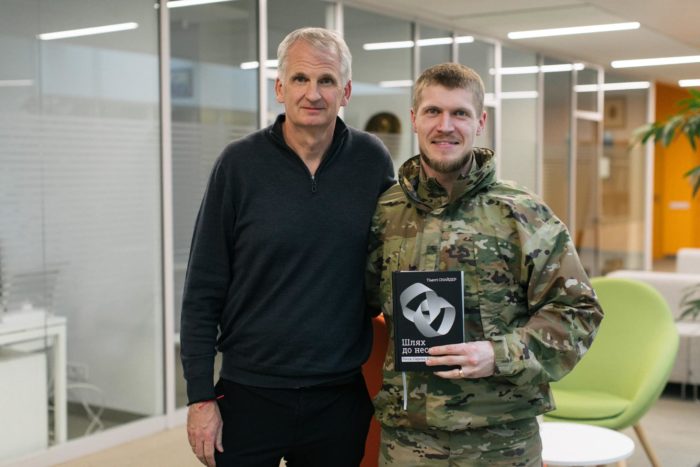 Ukrainian soldier Oleksandr Shyrshyn meeting American historian Timothy Snyder/ Source: Source: Facebook, @Oleksandr Shyrshyn 
Timothy Snyder, the renowned Richard C. Levin Professor of History at Yale University, met Ukrainian soldier Oleksandr Shyrshyn, who was reading his book The Road to Unfreedom: Russia, Europe, America in a trench, as reported by Ukrainska Pravda.
Oleksandr Shyrshyn informed that the meeting occurred at Shyrshyn's alma mater, the Ukrainian Catholic University (UCU).
Shyrshyn captioned the photo with Snyder, "An accidental, non-accidental meeting."
The historian Timothy Snyder tweeted a picture of Oleksandr reading his book in a trench on 2 January 2023.
"A reader is the highest honor a writer can receive," the author wrote in Ukrainian at the time.
Shyrshyn does not consider the tweet popular, even though the photo with Snyder's book was shared in the media.
"I was astonished when Timothy Snyder reposted my image and it began to gain traction. It is merely a photograph, nothing remarkable. After one week, everyone will forget. However, the book is quite intriguing," says Oleksandr.
Modern history is the subject of "The Road to Unfreedom: Russia, Europe, America." In the book, Timothy Snyder demonstrates how Russia seeks to destroy Western countries by supporting the far right in Europe. It also sheds light on invading Ukraine in 2014, engaging in cyber warfare during the 2016 US presidential campaign, and the referendum on EU membership.
Oleksandr Shyrshyn is a graduate of the Institute of Leadership and Management of UCU's Master's program in Nonprofit Management.
Oleksandr signed a contract to join the 80th Separate Air Assault Brigade (an airmobile formation of the Ukrainian Air Assault Forces) a few days before the start of the full-scale invasion.
According to the local newspaper Your City (Tvoe Misto), the soldier was wounded in June 2022 and miraculously survived.
Shyrshyn was awarded the Order for Courage of the 3rd Class in the summer of 2022.
Oleksandr commands a platoon. He began his career as a UAV operator. Due to his lack of military experience, he learned on the job during the full-scale war.
Shyrshyn stated that he encountered numerous obstacles and tragedies during his military service. In particular, the death of his fellow soldier. Oleksandr also found it challenging to be separated from his wife and children.
Read also:
5 reasons why Russia's war is to conquer Ukraine, not defend itself from NATO
US historian Snyder becomes UNITED24 platform ambassador launching 'Shahed Hunter' fundraiser
We should be asking what feature of Russian politics is not fascist – Timothy Snyder
Tags: book, Timothy Snyder, Ukrainian soldier