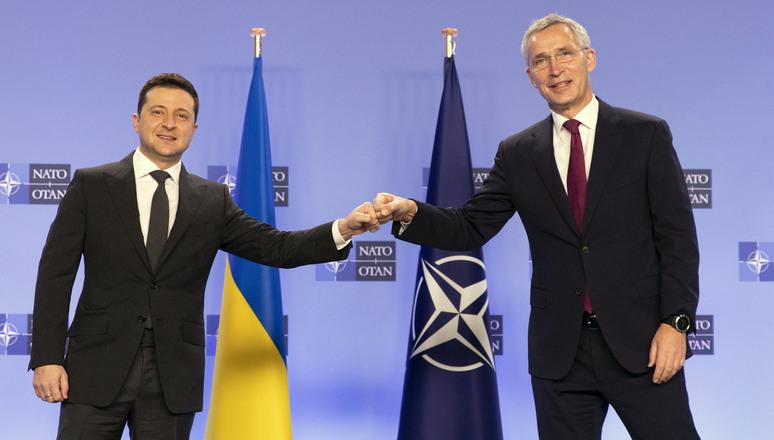 Ukrainian President Volodymyr Zelenskyy and NATO Secretary General Jens Stoltenberg. Source: NATO 
Even amid Russia's atrocity-filled war against Ukraine, some pundits continue claiming that NATO provoked Russia to launch its aggression. Russia's actions betray this Kremlin myth: here are five facts that prove that its war against Ukraine is one of conquest.
Even amid war, some Western experts continue claiming that the US and NATO are responsible for Russia's invasion of Ukraine.
For instance, political scientist John Mearsheimer declared that the "United States pushed forward policies towards Ukraine that Putin and his colleagues see as an existential threat to [Russia]."
According to this narrative, while Moscow initiated aggression, Western countries and Ukraine agitated the Kremlin as NATO expanded eastward, and Kyiv hoped to join the alliance. Moscow feared the NATO bloc would eventually include Ukraine, so they constructed military bases near the Russia-Ukraine border. As such, Western leaders "provoked" Moscow to overreact and defend its "vital interests."
The fear of "enraging" or "provoking" Russia may still influence the decisions of Western allies on transferring weapons to Ukraine, including protracted discussions on long-range missiles and military aircraft. Here we examine the relations between Russia, Ukraine, and NATO to explain the genuine reasons for the current war.
1. NATO was not a threat to Russia – and even excluded Ukraine to allay Kremlin fears
Proponents of mutual guilt often look to World War I as an example of a war whose onset is the responsibility of both sides.
While it was Germany and Austria who initiated the fighting in 1914, the Allied countries were not innocent victims. Russia funded opposition movements in Austria, and France sought to return Alsace and Lorraine by force, causing the Central Powers to feel surrounded. The entirety of Europe was engaged in an arms race.
Contemporary Russians experience a situation entirely dissimilar to 20th-century Germany. They have not experienced a recent war with France or other NATO members. The Kremlin never objected to the NATO accession of Poland or the Baltic states. And why would it? The NATO Bloc has never conducted actual military operations against post-Soviet Russia.
It is noteworthy to consider the style of NATO military exercises. Alliance members prepare themselves for counter-terrorist actions, defense against invasions, and the transfer of reinforcements to allies – they do not prepare to march to Moscow.
In October 2022, the Kremlin held training for a massive nuclear strike on the UK and the US.
Yet Vladimir Putin's Russia has continually accused NATO of "aggression." It speculated about some conspiracy to invite Ukraine to join NATO and transform it into a military rival of Russia.
NATO, however, has never taken steps to bring Ukraine into the alliance.
In 2005, then-president Viktor Yushchenko indicated a desire for Ukraine to join NATO. It was part of a pro-Western path. However, Ukraine simultaneously sought friendship with Moscow. Thus, Yushchenko's first international trip as president was to Russia. Since NATO maintained a healthy relationship with the Kremlin until 2014, Yushchenko's desire for Ukraine to join NATO was not perceived as an anti-Russian move.
However, Kyiv was not fast-tracked to join NATO. Albania was admitted to NATO in 2009, and Montenegro, which only appeared on the world map in 2006, entered NATO in 2017. This was one year after Ukraine indicated its interest in joining.
Ukraine and Georgia both tried to apply for a NATO membership plan in 2008, but at the Bucharest Summit, NATO denied both countries. France and Germany reportedly opposed the membership plans as they were unwilling to "offend" Russia. NATO later reacted very mildly to Russian aggression in Georgia.
At this point, there was a clear possibility that the West and the Kremlin could have become allies. However, in 2014 Russia occupied Ukrainian Crimea and initiated a hybrid war against the West. In response, NATO downgraded its relationship with Russia and mobilized forces to protect the Baltic states and other Eastern NATO members from possible attack.
2. NATO members benefitted from cooperation with Russia and had no belligerent plans
"Direct conflict between NATO and Russia is World War III, something we must strive to prevent," explained Joe Biden on why the West attempted to maintain a positive relationship with Russia until February 2022.
Even fragile peace is preferable to confrontation with a nuclear power.
Until the war, Moscow was an important partner to Washington, DC, in talks on nuclear weapons, climate change, and other global issues. Russia also helped the US supply its troops in Afghanistan.
European countries shared this relaxed sentiment: after more than 60 years of peace, they had grown accustomed to devoting their budgets to education and medicine, not tanks and weapons.
Moreover, Western Europe has built its economic policy around access to gas and oil. Germany was the most dependent of the European countries: after the Fukushima nuclear disaster, it closed many nuclear power plants, replacing them with fossil fuels.
"Our prosperity relied on cheap energy from Russia," stated Josep Borrell, head of the European Union's diplomacy.
This dependence on Russian fuel sources guaranteed Putin's regime a de facto security guarantee.
Similar to the European Union, the NATO military alliance makes decisions with the unanimous consent of its 28 member countries. It means that in the unlikely event that NATO was headed by a Security General aggressive toward Russia, it would still be impossible for such aggression to be enacted.
According to Article 5 of the NATO treaty, the military bloc is obliged to respond only if a member country is attacked. It does not apply to a hypothetical "invasion of Russia."
Furthermore, in 2021 there were no NATO discussions of any aggressive moves toward Russia. Instead, France and Germany, key European members, maintained an unofficial "don't trigger Russia" policy.
According to the Dzerkalo Tyzhnia newspaper, Angela Merkel's government blocked the transfer of anti-drone rifles, non-lethal and purely defensive weapons, to Ukraine. Meanwhile, French officials proposed an EU-Russia summit.
Furthermore, Hungarian Prime Minister Viktor Orban openly sought friendship with Russia. It meant that Hungary would block any potential moves NATO may want to make against Moscow.
3. In reality, the Kremlin wanted to conquer Ukraine – and it voiced this plan many times
"We have no such problems with Sweden and Finland, like we, unfortunately, have with Ukraine. We have no territorial questions and quarrels. We have nothing that can disturb looking at Sweden's and Finland's NATO membership", admitted Vladimir Putin in June.
He effectively recognized that the expansion of the NATO bloc does not inherently provoke Russia – when this enlargement does not include Ukraine.
It explains why Putin has never negotiated with Ukraine to prevent its NATO membership. According to the BBC, President Zelenskyy was open to negotiations in which Ukraine would be non-aligned with NATO, but Russia did not accept.
Even more confusing is that this tension began in 2010-2013 when president Viktor Yanukovych of the pro-Russian Party of Regions ruled Ukraine. Kyiv maintained a strong partnership with Russia then and officially refused to join NATO.
Instead, the Kremlin found another motivation. When Ukrainian tried to sign the Association Agreement with the European Union, Russia attempted to block this deal and attacked its neighbor with trade wars, political ultimatums, and propaganda.
Russia targeted a neutral Ukraine while simultaneously building solid connections with NATO members: economically with Germany and France and militarily with Türkiye.
It is clear: Putin's Russia has no problem with NATO. Putin's Russia wants to conquer Ukraine and deny its independence. This is Russia's true motivation for the invasion of Ukraine.
The ideology Russia has developed to explain its claim to Ukraine is that the Kremlin alleges Ukrainians are an organic part of the "Russian people." Additionally, the territory of Ukraine is seen as "historic Russia."
These supremacist sentiments are evident even in Russian bookshops. According to the Chytomo project, Russia published at least 50 books featuring anti-Ukrainian ideologies and propaganda – and even speculations about a possible full-scale war.
Putin is a vocal supporter of these views. The "Russian president … had personally articulated in an essay in July 2021 his belief that the people of Ukraine viewed Russians favorably and believed they were part of a shared civilization, cruelly divided by historical political mistakes," explained British scholars of the Royal United Services Institute (RUSI), marking this as a reason for the Ukraine invasion.
Russia had a secret plan to wipe Ukraine off the face of the Earth. This report tells why it failed
Russian leaders deny Ukraine's right to exist through these claims, calling it an "artificial state" and rejecting Ukraine's centuries-long history. In this viewpoint, people from Uzhhorod in the west of the country to Luhansk in the east are Russian, and some external forces – perhaps Poland, the Hapsburg dynasty, or the USA – "created" Ukraine.
"The Americans, using their proteges in Kyiv, decided to create an antipode of our country, cynically choosing Ukraine for this, trying to divide an essentially singular nation," claimed Nikolai Patrushev, secretary of the Security Council of Russia and one of the closest associates of Vladimir Putin.
Russia believes that the West is deliberately separating Ukraine from Russia. It explains why Kremlin officials constantly call Ukraine "occupied" and "colonized" by the West. Russia's goal is to "return" Ukraine, "restoring" the borders of the so-called "Russian world." According to those familiar with Putin, the Russian leader identifies control over Ukraine as his primary unfinished ambition.
4. This explains why Russians commit war crimes – and planned ever more
The calls to erase the Ukrainian national identity and culture may seem illogical – after all, this is an identity shared by over 40 million people. Russians, however, simply label it "wrong" and fascist.
They planned to destroy Ukrainian identity through conquest, repression, and russification. Genocide studies scholars Eugene Finkel, Gregory Stanton, and Timothy Snyder concur that Russian actions in Ukraine qualify as genocide.
This mindset can explain the brutality and number of crimes occupiers committed in Ukraine – why would they have mercy for supposed "fascists" and "traitors"? Moreover, according to the RUSI, Russian plans were not focused on explaining that NATO was evil after the occupation began.
Before the invasion, the FSB and military conducted training on the "capture of individuals." They planned to kidnap public activists and participants in the Revolution of Dignity, then put them "on trial to be executed." They also intended to kill Ukrainian leaders of their executive branch of government.
According to Foreign Policy magazine, invading forces prepared "kill lists" that included journalists, anti-corruption activists, and others who could possibly lead resistance.
Occupying forces prepared to establish detention camps to hold residents of captured territories. There, personnel would intimidate Ukrainians and select people for deportation to Russia, effectively reinstating Soviet repression policy.
The Kremlin planned first to subdue the Ukrainian population, then begin colonization. They intended to bring teachers and civil servants from Russia to "reeducate" Ukrainians through russification.
Russia could not accomplish these goals: strong Ukrainian resistance, supported by Western allies, prevented their success. However, their plans to destroy the national elite, deport Ukrainian citizens, and assimilate remaining Ukrainians, are hauntingly similar to Nazi Germany's actions in occupied Poland. Russians planned genocide in Ukraine. Fears of NATO enlargement cannot explain this.
5. Russia's 2021 treaty proposals for NATO – and grievances about Western refusal – were a facade
On 17 December 2021, as Russia was planning genocide in Ukraine, the Russian Ministry of Foreign Affairs surprised the USA and Europe by proposing security treaties with NATO and the United States. The Western countries refused to sign.
While one could interpret this step as a genuine attempt to avoid full-scale war and confirmation that Putin only sought security for Russia, it is evident that Russia had already decided to invade before the feigned negotiations.
By December 4, nearly two weeks before Russia proposed the treaty, American intelligence had already published evidence of the planned Russian invasion scheduled for early 2022. Earlier, the German newspaper Bild disclosed a planned Russian offensive that later proved generally accurate.
On a deeper level, Russia proposed a redistribution of the spheres of influence within Europe. It is reminiscent of the Cold War era.
"It's definitely about establishing new spheres of influence in Europe. Moreover, the scale of it exceeded the most daring forecasts," wrote Serhii Sydorenko, editor-in-chief of European Pravda media.
He cited Russia's main demands:
NATO should refuse to accept Ukraine and any other new members
NATO should end military cooperation with Eastern Europe, Central Asia, and the Caucasus region
NATO members that joined after 1997 will not be permitted to host foreign troops and equipment on their territory without the Kremlin's approval. Hence, it effectively turns 14 countries into neutral states. For example, Lithuania would not be able to host American units without Russia's permission.
In exchange for these large-scale concessions, Russia promised only to "not consider NATO an enemy."
Expert opinions vary on whether these ultimatums were genuine or whether Putin deliberately proposed a deal unacceptable to NATO to derail talks and blame the West for the war.
***
It is evident that NATO strived to maintain peace with Russia. The full-scale war began solely because Putin decided to conquer Ukraine and assimilate it into Russia. NATO countries must not be afraid of providing more weapons to Ukraine. It will not "provoke" Russia, which is already determined to eliminate Ukraine. Still, it will help Ukrainians to defeat the invaders and ultimately end the war.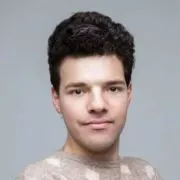 Yuriy Prymachuk is a freelance journalist and editor from Ukraine. He received a master's degree in the Institute of Journalism, Kyiv, interned at Radio Free Europe/Radio Liberty, worked as a journalist and editor in political and economic fields.
Read also:
Tags: NATO, Russian war against Ukraine