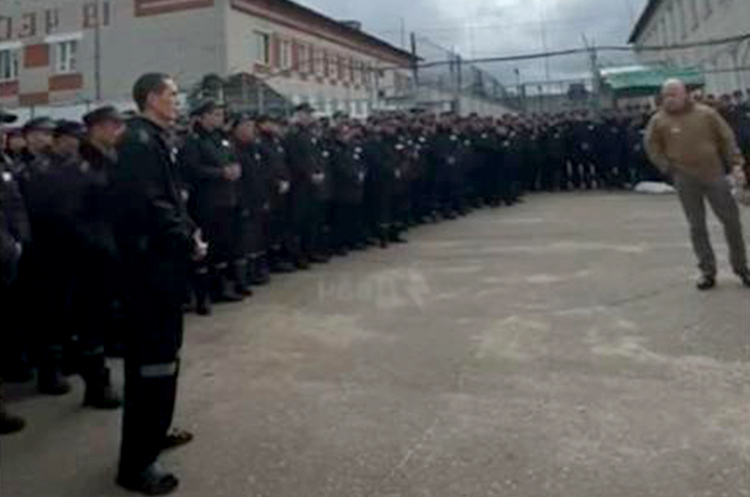 Putin's confidant Prigozhin had boosted ranks of his Wagner PMC thanks to recruitment efforts in Russian prisons, but is now barred from doing that. Screenshot of video where Prigozhin spoke to convicts in fall of 2022 
Yevgeny Prigozhin, the founder of the Russian mercenary group Wagner, is reportedly preparing to scale back his private army's operations in Ukraine due to a shortage of manpower and ammunition, Bloomberg reports, citing sources who asked to remain anonymous.
According to Bloomberg's sources, Prigozhin has faced these setbacks after being barred from recruiting from prisons and deprived of supplies by Russian military chiefs.
Despite months of fighting, Wagner troops have failed to capture their main target, the Ukrainian city of Bakhmut. Sources suggest that top commanders were able to sow doubts in Putin's mind about Wagner's military prowess, arguing that any results they achieved were due to waves of convict troops sent to their deaths. Putin then stepped in to transfer prison recruiting to the Defense Ministry, cutting off the flow of recruits to Wagner and slowing munitions supplies from the military.
Close Putin's confidant Prigozhin showed a photo of killed Wagner mercenaries, accusing Russian leadership of a lack of ammunition
Ukraine has been the focus of Prigozhin's major efforts since the invasion. He had previously won Kremlin permission to recruit prisoners with promises of early release if they survived six months on the battlefield. However, these convict soldiers were sent into combat with little preparation. About half of the 40,000 who signed up have been killed or wounded in the fighting in Bakhmut and the capture of the small salt-mining town of Soledar, according to UK intelligence estimates.
Prigozhin announced last week that he had opened recruitment centers in sports and martial arts clubs in 42 Russian cities, hoping to sign up 30,000 new recruits. However, it remains unclear how successful he will be in attracting volunteers.
From decade in prison to "Putin's chef": who is Wagner CEO Evgeny Prigozhin
Despite the setbacks, Prigozhin's shock troops may still play a role in further assaults in a bid to seize the remaining Ukrainian-held cities in the eastern Donbas region, according to two people close to the Kremlin and intelligence services, Bloomberg says. However, one of them stated that Prigozhin would not be allowed any opportunity in state-controlled media to claim credit for taking Bakhmut, which would be the first significant advance for Russia since mid-2022.
Although there is no indication that Prigozhin will redeploy troops to Africa, Blosources suggest that the continent's operations will likely receive more attention in the future. Wagner has previously supported the Kremlin's geopolitical goals in countries such as Libya, Sudan, Mali, and the Central African Republic. Most recently, reports have emerged that Wagner is moving into Burkina Faso after the country ordered French troops to leave.
Concerns have arisen over the possible impact of increased Russian private military company activity on the stability of Northern and Western Africa. Italian intelligence has warned of a potential surge in migrant flows towards the European Union as a result.
Latest on Wagner:
Earlier, British intelligence has reported that the Wagner Group has been banned from recruiting more prisoners, exacerbating its personnel issues, as convicts recruited in the fall are soon expected to be released. The PMC has also been facing heavy casualties in Ukraine, and its owner, Yevgeny Prigozhin, has likely lost access to recruiting in Russian jails due to ongoing disputes with the authorities.
Despite these setbacks, Wagner continues to conduct military operations in Ukraine. Recently, the PMC began recruiting locals in occupied Melitopol to fight in Bakhmut. Wagner forces have also been advancing from several directions, attempting to break through Ukrainian defenses and take control of downtown Bakhmut.
Prigozhin's Wagner-based growing political influence had ruffled feathers in the Kremlin, and Ukraine's intelligence reported about Kremlin efforts to create PMCs to counterbalance Wagner.
Notably, on 14 March, the Lithuanian Seimas adopted a resolution declaring the Wagner Group a terrorist organization.
Related: