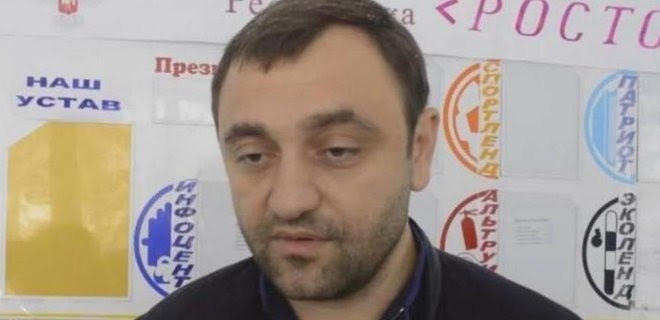 Armen Sarkisyan. Photo: Ukraine's intelligence 
Russia has a new prison "administrator" for Russian and Russian-occupied territories who is tasked with creating a new private military company, Ukrainian intelligence reports.
Armen Sarkisyan, a criminal authority from eastern Ukraine's Horlivka linked to fugitive ex-president Yanukovych, will create a PMC modeled on the infamous Wagner PMC and quickly find many recruits among the prison population, according to the intelligence.
Sarkisyan is wanted by Ukraine as one of the organizers of the killings of protesters during the Euromaidan revolution of 2013-2014 and overlord over businesses in Russian-occupied Horlivka. According to Ukraine's intelligence, since the full-blown Russian invasion of 24 February, he leads efforts to maraud and take over businesses in Russian-occupied territories of Ukraine.
The new PMC will aim to strengthen the Russian occupation formations and create internal competition among Russian PMCs. It will be sponsored by Kremlin-linked Russian-Armenian businessman Sanvel Karapatyan, who is connected to Russia's state energy monopolist Gazprom through a company called "Tashyr holding."
"The creation of the new structure is an attempt to create a counterbalance to Prigozhin's de facto monopoly in the field of PMCs in Russia," Ukraine's intelligence notes.
The recruitment of convicts for Russia's war against Ukraine is nothing new. Wagner financier Prigozhin, has been recruiting them since summer, promising to write off their sentences.
Russian prisoner numbers fall by a record 23,000 amid Wagner PMC recruitment campaign
Wagner, credited with successes on the frontline and accused of war crimes in Ukraine and beyond, as well as particular brutality, has seen Prigozhin, informally known as "Putin's cook," turn into a political force.
The ISW had noted that the creation of the new Armenian-run PMC is likely approved by Russian officials, as PMCs are illegal in Russia, and likely points to Kremlin circles wanting to counterbalance the influence of Yevgeny Prigozhin.
Wagner POW who surrendered to Ukraine executed by his own with sledgehammer
Wagner financier Prigozhin becoming political force in Russia – ISW
Russian prisoner numbers fall by a record 23,000 amid Wagner PMC recruitment campaign
Tags: PMC Wagner