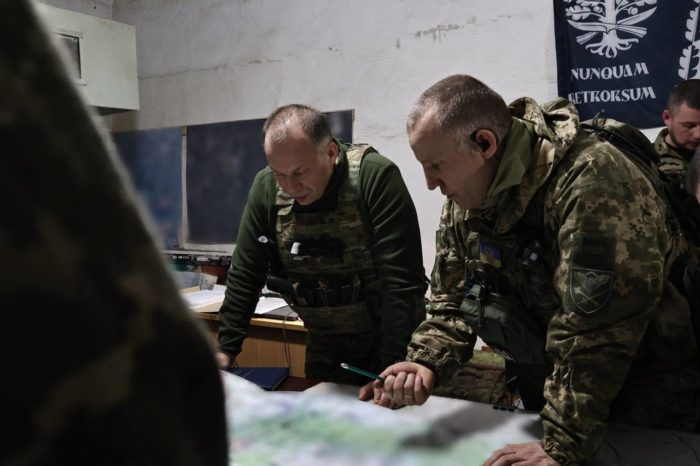 The Commander of Ukraine's Ground Forces Colonel General Oleksandr Syrskyi visited Bakhmut, Donetsk Oblast, eastern Ukraine, on 11 March 2023.
Credit: Ukraine's Ground Forces/Telegram 
Assault infantry of Russian mercenary group Wagner attack Ukrainian forces in Bakhmut, trying to break through the defense and enter the downtown, the Military Media Center of Ukraine's Defense Ministry reported, referring to the Commander of the Ground Forces of Ukraine Colonel General Oleksandr Syrskyi.
"The situation around Bakhmut remains difficult," Colonel General Oleksandr Syrskyi said. "Wagner's assault units are advancing from several directions, trying to break through the defenses of our troops and advance to the central districts of the city. Heavy fighting is under way. Our defenders inflict significant losses on the enemy. The defense of the fortress continues," Colonel General Syrskyi added.
Ukraine's ground forces commander visits Bakhmut despite looming threat of encirclement
All attempts of the Russian forces to capture Bakhmut are repelled with the fire of Ukrainian artillery, tanks, and other means, according to the Commander of the Ground Forces of Ukraine.
Related: