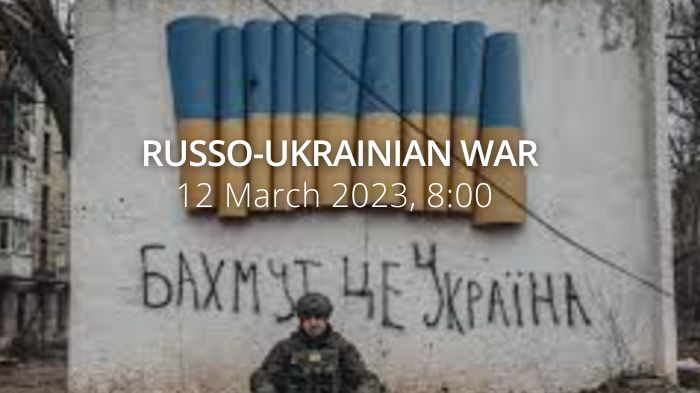 Minister Reznikov: Russia fired 821 missiles at Ukraine since the invasion started, Ukrinform reports, citing Ukrainian Defense Minister Oleksii Reznikov at a meeting with Norwegian Defence Minister Bjørn Arild Gram in Kyiv. "As of March 10, 2023, a total of 821 Russian missiles were fired at our country. These are cruise, ballistic missiles only. We know for sure that every 10 times that the NASAMS systems are used to the provision of which Norway has contributed, 10 missiles of the aggressor are shot down, 10 buildings and infrastructure objects are preserved, and hundreds of human lives are saved, Reznikov noted."
More than 10 explosions rock Melitopol, Ukrinform reports. "It's loud in Melitopol. Residents report more than 10 loud explosions in the northern part of the town [Saturday morning]," Melitopol Mayor Ivan Fedorov posted on Telegram."
Russians attack vital infrastructure in Zaporizhzhia, Ukrainska Pravda reports, citing Zaporizhzhia Oblast Military Administration and Anatolii Kurtiev, Secretary of the Zaporizhzhia City Council. "Having no success on the battlefield fighting with Ukraine's Armed Forces, today, Russian projectiles [reportedly S-300] hit the vital infrastructure of the administrative centre of [Zaporizhzhia] Oblast, where several hundred thousand civilians live, including a large number of people who were forced to leave their homes and flee from the Russian occupation. The administration noted that all relevant services were involved in dealing with the aftermath of the attack."
Border guards eliminate a group of Wagner mercenaries in Bakhmut's industrial area, Ukrinform reports, citing the Ukrainian State Border Guard Service. "Recently, the border guard unit of the Luhansk detachment has conducted a positional battle with enemy forces near one of the industrial enterprises. The day before, Ukrainian defenders withstood several assault attacks by the invaders. To continue the offensive, Russian mercenaries gained a foothold within one of the production shops and were accumulating forces, the report states.
In order to eliminate the Russian force cluster, using the SPG-9 recoilless gun, border guards neutralized a Russian machine gunner, who had been covering the approach to the building. A ground reconnaissance group of border guards went for a breakthrough and eliminated the Wagner mercenaries. Additionally, border guards set up an ambush for enemy reserve units. With the onset of darkness, Russian assault teams, approaching the front line, were met with a surprise. Ukrainian snipers decimated six Russian invaders.»
28,000 Ukrainians submitted applications to join Offensive Guard to take part in the upcoming counteroffensive, Ukraine's Interior Minister Klymenko says

Ukraine's Armed Forces form 8 assault bridges of the Offensive Guard for the counteroffensive.https://t.co/GDcpwxKZFp

— Euromaidan Press (@EuromaidanPress) March 11, 2023
US government to impose new restrictions on the export of semiconductor manufacturing gear to China, according to Bloomberg

Amid concerns that China considers providing lethal aid to Russia, the US plan to tighten chipmaking exports to China.https://t.co/eRceu6Klwz

— Euromaidan Press (@EuromaidanPress) March 11, 2023
Norway provides Ukraine with NASAMS ground-based air defence system, states the Norwegian Government. "Norway will provide Ukraine with two complete NASAMS firing units in cooperation with the United States. – Ukraine has a critical need to defend itself against missile attacks, and Norway will assist, says Norway's minister of defence, Mr. Bjørn Arild Gram.
Norway has previously contributed equipment and training to US donations of NASAMS to Ukraine. These donations have been highly valued and contributed to defeat missile attacks. Continuing Russian attacks on Ukrainian infrastructure highlight the need to further improve Ukraine's air defence. Ukraine has repeatedly requested international partners to provide more and better air defence systems, says Gram."
Ukraine ready to send military for NASAMS training in Norway as soon as possible, Ukrinform reports. "Ukraine's Air Force is ready to send servicemen to the Kingdom of Norway in order to undergo training on the Norwegian Advanced Surface-to-Air Missile System (NASAMS) within the shortest time possible."
Denmark expects to deliver first batch of Leopard 1 tanks to Ukraine during spring, Ukrainska Pravda reports, citing European Pravda. "Acting Danish Defence Minister Troels Lund Poulsen has announced the approximate timing of the transfer of Leopard 1 tanks to Ukraine during a visit to the German company FFG, which is engaged in their repair. […]
Denmark launched the Leopard 1A5 tank restoration project together with the Netherlands and Germany in early February 2023. The first phase of the project is to deliver tanks for two battalions, equivalent to approximately 80 tanks, as soon as possible. The first Leopard 1s are expected to be ready in the spring and will be used for training the Ukrainian military. As part of the joint initiative, Ukraine will also receive spare parts and ammunition for the tanks.
Ukraine's Defence Minister Oleksii Reznikov previously said that Ukraine would receive 80 Leopard 1s by the end of the year, with the first two dozen to arrive by summer".
Ammunition, equipment, air defence: Zaluzhnyi and Milley discuss Ukraine's defence needs, Ukrinform reports. "Commander-in-Chief of the Ukrainian Armed Forces Valerii Zaluzhnyi and Chairman of the Joint Chiefs of Staff, General Mark Milley have discussed the defense needs of Ukraine.
I had a phone call with Chairman of the Joint Chiefs of Staff, General Mark Milley. We discussed a number of important topics for us. I focused in detail on the issue of Ukraine's defence needs, he wrote. Zaluzhnyi said both parties had discussed the supply of ammunition and equipment. He also emphasized the need to strengthen Ukrainian aid defence capabilities."
Patriot air defence systems will shoot down ballistic missiles, enemy aircraft, Ukrinform reports. "Patriot air defence systems, which Ukraine receives from international partners, can shoot down not only ballistic missiles but also enemy aircraft that launch missile and bomb attacks on Ukraine from temporarily occupied territories.
The system is good not only in terms of shooting down ballistic missiles, it is a long-range system. Unfortunately, we do not have such long-range anti-aircraft systems, because our main system is Buk-M1 with a range of up to 40 km, S-300 system has a range of 70 km. Therefore, the range of 150 km, which both Patriot and SAMP/T systems have, will help primarily to shoot down not only ballistic missiles but also to oppose Russian aviation at long distances, Spokesperson for the Air Force of the Armed Forces of Ukraine Yuriy Ihnat said.
He emphasized that now Russia uses aviation in the front-line areas of north and south to launch missiles and guided aerial bombs. They fly up to a distance of 30-40, 50-60 km to [the frontline] and can drop these bombs. We know how destructive aviation bombs of large tonnage are. And the presence of long-range anti-aircraft systems, as well as aircraft capable of firing at a distance of over 150 km, will drive Russian aircraft away from [occupied territories], Ihnat said. […] According to him, the systems will be placed in a way to cover Ukraine's critical infrastructure and troops."
Ukraine's Kuleba urges Germany to send more ammunition and train up pilots, Reuters reports. "Ukraine's foreign minister urged Germany in an interview published on Sunday to speed up supplies of ammunition and to start training Ukrainian pilots on Western fighter jets. Dmytro Kuleba told the Bild am Sonntag newspaper that ammunition shortages were the "number one" problem in Ukraine's attempt to repel Russia's invasion.
He said German weapons manufacturers had told him at the Munich Security Conference last month they were ready to deliver but were waiting for the government to sign contracts. So the problem lies with the government, Kuleba was quoted as saying.
Kuleba made clear he did not expect Western allies to give Ukraine the fighter jets it has been asking for any time soon. But he said Ukrainian pilots should be trained anyway, so they would be ready once that decision was taken, the paper wrote. If Germany were to train Ukrainian pilots, that would be a clear message of its political engagement, he said."
Finland permits Estonia howitzers and ammunition re-export to Ukraine, Euromaidan Press reports. "The Finnish government permitted Estonia to re-export its military equipment and supplies to Ukraine at a Wednesday meeting, as reported by the European Pravda. The decision concerns the export of D-30 howitzers and ammunition with a 122-mm caliber. The quantity of both military supplies is not specified.
The supplies recipient is the Armed Forces of Ukraine. Estonia has stated that the number of weapons exported is confidential, reads the statement of the Finnish government. Therefore, the Finnish government also reported that Estonia requires the number of exports to remain confidential.
The exports will likely occur within the framework of a €113 million military aid package approved by the Estonian government in January 2023. The package comprises "dozens" of 155-mm and 122-mm howitzers, thousands of shells, and trucks for their use. The package also includes over a hundred Carl-Gustav anti-tank guns and over a thousand rounds of ammunition. After that, Estonian Ambassador to Ukraine Kaimo Kuusk emphasized that all available 155-mm howitzers would be transferred to Kyiv."
EU could top up fund for Ukraine arms purchases by 3.5 bln euros -official, Reuters reports. "The European Union could soon top up the fund used for purchasing weapons for Ukraine by 3.5 billion euros ($3.7 billion), a senior EU official said on Friday. Under a plan drawn up by foreign policy chief Josep Borrell, EU states would get financial incentives worth 1 billion euros ($1.06 billion) to send more of their artillery rounds to Kyiv while another 1 billion euros would fund joint procurement of new shells.
If there is a deal on this 2-billion-euro package, resources under the EPF will be exhausted, the EU official said, referring to the European Peace Facility (EPF) used to fund arms for Kyiv. It's up to the member states to decide if and when they want to operationalize this new possible 3.5 billion euros top up, he added.
Kyiv is burning through shells faster than its partners can make them and has urged the EU to club together to buy 1 million 155-millimetre shells this year at a cost of 4 billion euros to help fight Russia's invasion and launch a counter-offensive."
Tags: Russian invasion