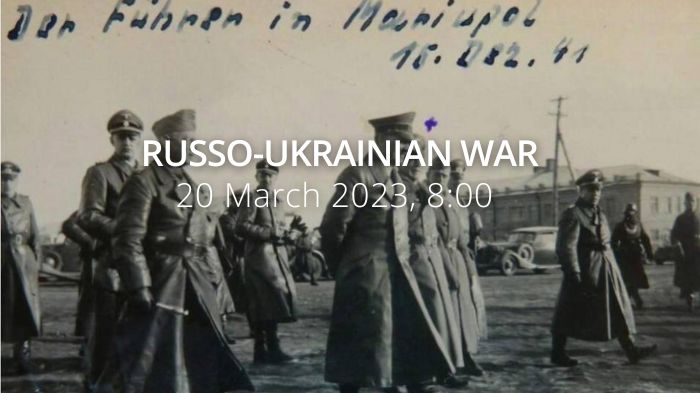 Russians attack Bakhmut and suffer heavy losses. Ukrainian troops eliminate more than 5,800 Russian military in the past week. Putin visits occupied Mariupol; his visit is compared to Hitler's visit in 1941.
Putin visits Mariupol 2023
Hitler visits Mariupol 1941

HT @johnpaul_newman photo on the right pic.twitter.com/rPOf3r4Y57

— Dr. Emma L Briant @[email protected] (@EmmaLBriant) March 19, 2023
Daily overview — Summary report, March 20
A map of the approximate situation on the ground in Ukraine as of 00:00 UTC 20/03/23. pic.twitter.com/3bwPbmBOSB

— War Mapper (@War_Mapper) March 20, 2023
The General Staff's operational update regarding the Russian invasion as of 18.00 pm, March 20, 2023 is in the dropdown menu below:
The Russian Federation continues to conduct offensive operations in the Lyman, Bakhmut, Avdiivka, Marinka, and Shakhtarske axes. During the past day, our forces repelled 69 enemy attacks in the indicated directions. Bakhmut remains the epicentre of hostilities.
Last day, the Russian Federation continued to use terror tactics against the civilian population of Ukraine. By shelling populated areas and critical infrastructure facilities, Russian forces completely ignores the laws and customs of war.
The Russian occupiers launched 6 missiles and 13 airstrikes, and carried out 56 MLRS attacks, in particular, on the civilian infrastructure of Donetsk and Zaporizhzhia regions. There are dead and wounded civilians and civil infrastructure objects have been damaged.
The probability of strikes throughout the territory of Ukraine remains high.
Volyn, Polissya, Sivershchyna, and Slobozhanshchyna axes: the operational situation has not changed significantly. The training of units of the territorial troops of the armed forces of the Russian Federation continues at the training grounds of the Republic of Belarus. During the day, Russian forces shelled the areas of Hrinivka, Klyusy, Oleksandrivka and Kamianska Sloboda settlements of Chernihiv region; Sopych, Kharkivka, Starykove, Volfyne and Stepok in Sumy Oblast and Chervona Zorya, Strelecha, Hlyboke, Krasne, Staritsa, Vovchansk, Kolodyazne, Kamianka, Novomlynsk, Krasne Pershe, Dvorichna, Zapadne and Kindrashivka in Kharkiv Oblast.
Kupyansk and Lyman axes: Russian forces carried out unsuccessful offensive actions in the area of the settlements of Novoselivske, Kreminna and Bilogorivka. He carried out artillery shelling of the areas of the settlements of Vesele, Kupyansk, Krokhmalne, Pishchane and Berestov in the Kharkiv region and Novoselivske, Nevske, Bilogorivka, Siversk and Spirne in the Luhansk region.
Bakhmut axis: our defenders repelled enemy attacks in the areas of Bakhmut, Ivanivske, Bohdanivka and Hryhorivka settlements. In particular, Vasyukivka, Orikhovo-Vasylivka, Bakhmut, Hryhorivka, Ivanivske, Kostyantynivka, Mayorsk, Zalizne and New York of the Donetsk region came under enemy fire.
Avdiivka, Marinka, Shakhtarske axes: Russian forces carried out unsuccessful offensive actions in the districts of Kamianka, Avdiyvka, Severny, Vodyany, Berdychiv, and Marynka. Kamianka, Avdiivka, Berdychi, Orlivka, Tonenka, Severne, Pervomaiske, Nevelske, Pobyeda, Novomykhailivka, Krasnohorivka, Georgiivka, Maryinka, Vugledar, Velyka Novosilka and Neskuchne came under enemy fire.
Zaporizhzhia and Kherson axes: Russian forces are defending. Areas of 27 settlements were shelled. Among them: Olhivske, Charivne, Orihiv and Novodanilivka of the Zaporizhzhia region, as well as Tamarine, Tyaginka, Odradokamyanka, Novotyaginka, Ponyativka, Sadove, Rozlyv and the city of Kherson.
In the Kherson region, the Russian occupiers threaten peaceful citizens with punitive actions for not having a Russian passport. In particular, at checkpoints in the temporarily occupied territory of the Kherson region, the occupiers threaten the local population with illegal deprivation of liberty and violent actions in the event of the absence of Russian passports during the next document check.
[The Russian occupiers continue to exert psychological pressure on the civilians to force them to obtain Russian passports. Thus, counterintelligence regime has been strengthened in the village of Azovske (temporarily occupied territory of Zaporizhzhia oblast). The regime implies that the local residents undergo active checks for Russian citizenship. Those having no Russian passport have to put up with additional checks, along with interim custody.]
[In addition, the Russian occupiers continue their looting practices and take the homes of civilian Ukrainians. In particular, an instruction is being drafted to the force illegal alienation of the houses of Ukrainian citizens who have been forced to leave the village in the village of Strilkove (temporarily occupied territory of Kherson oblast). The draft is made in the village council, under the lobbying of the village head and backed with the forcibly collected signatures of local deputies. The housing is to be transferred to the servicemen of the Russian occupation army.]
During the past 24 hours, Ukrainian Air Force struck three Buk-M1-2 anti-aircraft missile systems, 7 strikes on areas where the occupying personnel were concentrated, and destroyed a Russian ammunition depot.
At the same time, our defenders destroyed a Russian UAV of the "Zala" type.
Units of missile troops and artillery struck the Russian anti-aircraft missile complex "Tor", 3 areas of concentration of personnel and military equipment of Russian forces and 3 means of radio-electronic warfare of the occupiers.
Military Updates
Ukraine still able to resupply troops in battered Bakhmut says army, Reuters reports. "Ukrainian forces outside the battered eastern city of Bakhmut are managing to keep Russian units at bay so ammunition, food, equipment and medicines can be delivered to defenders, the army said on Saturday."
Russians attack Bakhmut by inertia, suffering heavy losses, Ukrainska Pravda reports. "Serhii Cherevatyi, the spokesperson for the eastern grouping of the Armed Forces of Ukraine, has stated that Russian occupiers are tactically unable to complete the operation to capture Bakhmut and suffer heavy losses during the fighting. 
Now they are tactically unable to complete the operation to capture the Ukrainian district centre of Bakhmut. Yes, there are very active battles there, and they are still carrying out several dozen attacks by inertia, but they are suffering heavy losses. Our command and staff are properly planning the defence. […]
Yevgeny Prigozhin, the founder of the Wagner PMC, is trying to create pretexts to explain why his mercenaries cannot complete the encirclement of Bakhmut, according to a report by the Institute for the Study of War (ISW)."
Avdiivka "strategically important" for Russians – Ukraine Command, Ukrinform reports, citing Oleksiy Dmytrashkivskyi, head of the joint press center of Ukraine's Tavria Defense Forces. "Today, Russian forces continues to actively storm Avdiivka and Maryinka. Avdiivka is a strategic location for them at the moment to be able to start assault operations in the Vuhledar area. Russian forces has already been burned there more than once. They urgently need to surround Avdiivka, and Russian forces has been trying to do this for two weeks already, he noted.
According to Dmytroshkivskyi, there is currently a noticeable decline in the intensity of Russia's activities on the Vuhledar axis. Instead, Russian forces continues to shell our positions. They struck 37 times yesterday. Overnight, Russian forces carried out four assaults and 122 strikes. Yesterday, Russian forces lost about three companies worth of personnel, 15 tanks, nine IFVs, and other equipment amounting to 46 units, said the head of the joint press center. According to the available reports, all this equipment was actually destroyed in the area of Spartak and Vodiane – it was on this axis that Russia ran active military operations on Saturday.
Answering the question of to what extent the attempts to besiege Avdiivka exhaust Russian forces, he said that Russia was sustaining rather serious casualties and equipment losses. Today they are gathering personnel there, recalling the sick and redeploying including toward Vuhledar – all without success so far. […] As the head of the joint press center stated, Russian forces forces are facing major exhaustion. What we need is for our Western partners to supply equipment and weapons so that we could launch a proper counteroffensive, the official believes."
Powerful strike hits enemy ammo depot in occupied Kakhovka, Ukrinform reports, citing Kherson Regional Council Deputy Serhiy Khlan. "Today, a powerful strike was recorded hitting a Russian base in Kakhovka. Delivered by the Ukrainian Army, the blast damaged an industrial zone in Svetlovo near the well-known Chumak Plant, where the occupiers tried to hide their ammunition and artillery, Khlan said.
He also noted that over the past day, the number of Russian strikes targeting Kherson has slightly decreased and that no casualties were reported. This was due to successful counter-battery efforts on the part of Ukraine's Armed Forces."
20 Ukrainian soldiers learn how to operate a modern air defense system in Italy – Il Giornale D'Italia

The Ukrainians learn how to down ballistic missiles & other aerial targets using the missile system SAMP/T that may be deployed to Ukraine next month.https://t.co/IeUs0aP7Vb

— Euromaidan Press (@EuromaidanPress) March 19, 2023
According to British Defence Intelligence, (last 48 hours): 
Over the past three weeks, Russian forces have made creeping gains around the Ukrainian-held Donbas town of Avdiivka, immediately north of Donetsk city.
The Russian operation has largely been carried out by the 1st Army Corps of the Donetsk People's Republic; local personnel who will know the terrain well. Avdiivka has been on the front line of the Donbas conflict since 2014; the city is now largely destroyed. The sprawling Avdiivka Coke Plant complex is likely to be seen as particularly defendable key terrain as the battle progresses.
Tactically, the situation is similar to that in the larger town of Bakhmut, further north. Ukrainian forces continue organised defence, but their supply lines to the west are increasingly threatened by the Russian envelopment operation.
On 3 March 2023, authorities in the Russian-controlled part of Zaporizhzhia Oblast published a decree that declared occupied Melitopol as the oblast capital. The Russian-installed head of the oblast, Evgeniy Balitskiy, said that this was a temporary measure until the city of Zaporizhzhia was controlled by Russia.
Zaporizhzhia is one of the four oblasts President Putin claimed to have annexed as part of the Russian Federation on 30 September 2022. Russia has never occupied Zaporizhzhia city, a major industrial centre of 700,000 people, which is approximately 35km from the current front line.
The quiet declaration of an alternative capital is likely tacit acknowledgement within the Russian system that its forces are highly unlikely to seize previously planned major objectives in the near future.
Losses of the Russian army 
As of Monday 20 March, the approximate losses of weapons and military equipment of the Russian Armed Forces from the beginning of the invasion to the present day:
Personnel – about 165610 (+700)
Tanks – 3537 (+5)
Armoured combat vehicles – 6869 (+16)
Artillery systems – 2577 (+9)
Multiple rocket launchers –MLRS – 507 (+0)
Air defence means – 270 (+2)
Aircraft – 305 (+0)
Helicopters – 290 (+0)
Automotive technology and fuel tanks – 5416 (+8)
Vessels/boats – 18 (+0)
UAV operational and tactical level – 2160 (+1)
Special equipment – 265 (+3)
Mobile SRBM system – 4 (+0)
Cruise missiles – 907 (+0)
Ukrainian troops eliminate more than 5,800 invaders in the past week, Ukrinform reports. "During the week of March 13-19, the Armed Forces of Ukraine eliminated about 5,820 enemy personnel, Oleksandr Pavliuk, First Deputy Minister of Defense of Ukraine, posted on Telegram.
Moreover, the Russians lost many weapons and military equipment units. In particular, 66 enemy tanks, 84 armoured personnel vehicles, 81 artillery systems, 14 MLRS, 9 air defence systems, 60 vehicles, and 20 units of special equipment were destroyed. In addition, according to Pavliuk, Ukrainian fighters shot down an aircraft, a helicopter, and 51 unmanned aerial vehicles."
The United States confirms the use of Chinese ammunition in Ukraine, Ukrainska Pravda reports, citing the Japanese publication Kyodo News. "The US government determined that the ammunition found in Ukraine was made in China after analysing its composition and other factors, the sources said. However, they did not disclose exactly what kind of ammunition was found. It remains unclear whether the munitions were supplied by China, US administration sources said, adding that Washington was prepared to take action if it was confirmed that Beijing had made the deliveries. […] The confirmation comes as Chinese leader Xi Jinping plans to travel to Moscow for a three-day state visit next week."
Humanitarian 
https://twitter.com/EuromaidanPress/status/1637620218494083076
UNHCR resumes payments to Ukrainians affected by war, Ukrinform reports, citing the Ministry for Reintegration of the Temporarily Occupied Territories. "The UN Refugee Agency, UNHCR, has resumed registration for cash assistance for internally displaced persons and other war-affected individuals. Those who have not previously received payments from international organizations and whose monthly income is below UAH 5,400 [$148] can count on monetary assistance. The priority is given to the most vulnerable population strata, the ministry notes. […]
As Ukrinform reported earlier, 700 humanitarian organizations operate in Ukraine, including international agencies, as well as local non-profits and charitable foundations, which since February 24, 2022, have provided humanitarian aid to 13.6 million Ukrainians."
Protection against Russian shelling: Armed Forces of Ukraine define measures for Chernihiv region, Ukrinform reports, citing Serhiy Nayev, Commander of the Ukrainian Joint Forces. "Thirty-four settlements in Chernihiv region suffer from Russian strikes. The Armed Forces of Ukraine determined specific measures to protect local residents from enemy attacks. […]
We understand that the enemy has not abandoned its intentions to fire at civilian objects. Therefore, we need to do everything possible to ensure that the local population in the border areas of the Chernihiv region does not suffer from enemy shelling. We defined specific measures that we will implement in the future, Nayev said. As reported, the Russian troops launched 11 mortar strikes at the village of Kliusy in Chernihiv region on March 18."
Civilian wounded as invaders shell 13 settlements in Kharkiv region, Ukrinform reports, citing Oleh Syniehubov, chief of the Kharkiv Regional Military Administration. "Russian artillery shelled at least 13 settlements across the Kharkiv region over the past day, wounding a civilian. The settlements of Kupiansk, Dvorichna, Vovchansk, Veterynarne, Hrianykivka, and others came under Russian artillery fire, the official reported on Telegram.
According to Syniehubov, a 51-year-old woman sustained shrapnel wounds in the village of Dvorichna as a result of enemy shelling. The victim was hospitalized in grave condition. Medics are now fighting for her life."
Sumy region comes under Russian mortar and artillery fire, Ukrinform reports, citing the Sumy Regional Military Administration. "Seredyna-Buda community: there was a mortar shelling this morning – 10 strikes on the town of Seredyna-Buda. As a result of the shelling, a household was damaged. The Russians also shelled the Nova Slobodka community – seven mortar rounds and 41 barrel artillery rounds, the report said.
Yesterday, March 18, the Russians shelled the territories of the Shalyhine, Esman, Krasnopil, and Bilopillia communities in the Sumy region. As reported, Russian artillery shelled at least 13 settlements in the Kharkiv region over the past day. A civilian was wounded in one of them."
Donetsk region: Russians destroying Bakhmut with artillery, shelling cities and villages with aircraft, tanks, Ukrinform reports. "According to the National Police, Avdiivka, Krasnohorivka, Bakhmut, Kostiantynivka, Kramatorsk, Hostre, Kurakhivka, Berdychi, Novoukrainka, Karlivka, Sieverne and Kalynove came under Russian shelling. In total, Russian forces launched 23 attacks on these settlements over the past day. The invaders used aircraft, tanks, artillery and Smerch, Grad and Uragan MLSR.
Overall, Russian attacks destroyed or damaged 115 civilian objects: 80 residential buildings, a school, a kindergarten, a municipal enterprise, an administrative building, a shop, an outbuilding, garages and cars.
Russian forces shelled Kramatorsk with Smerch and Uragan MLRS. As many as 39 private homes, infrastructure facilities and vehicles were destroyed by enemy strikes. There are killed and injured civilians.
Russian troops hit Kostiantynivka with Uragan MLRS. As many as 11 apartment blocks and 18 private buildings, educational institutions, garages and cars were damaged. One person was killed and others were injured.
With the use of rocket artillery, the invaders continue to destroy Bakhmut. Three apartment blocks and two private homes in the city were damaged by enemy fire during the day. Local residents were injured. Four police officers were also injured.
In the village of Berdychi, civilians were injured in enemy attacks.
According to the National Police, over the past day, police officers helped evacuate 433 more civilians from dangerous areas of the region. Since the beginning of mandatory evacuation from the region, police officers have helped to evacuate more than 54,110 residents, including 6,925 children and 2,527 people with disabilities.
As reported by Ukrinform, according to the Head of the Donetsk Regional Military Administration Pavlo Kyrylenko, the Russian army killed three civilians and injured 18 more in the Donetsk region on March 18."
Russians strike building in Zaporizhzhia Oblast: casualties reported, Ukrainska Pravda reports, citing Zaporizhzhia Oblast Military Administration. "Today, Russian forces carried out a cynical attack on a residential building in the Vasylivka district. A Russian Grad took the lives of three people in Kamianske. Two more were injured. They are getting assistance. The Oblast Military Administration urged the residents to leave dangerous areas."
Invaders damage over 1,700 units of emergency service equipment since 24 February, Ukrinform reports, citing Serhiy Kruk, head of the State Emergency Service. "We lost more than 1,700 fire trucks and firefighting equipment during this period of the war. During the war, we lost more than 300 fire departments and more than 700 buildings of various types, buildings of the State Emergency Service. These are those that were damaged (as a result of shelling – ed.), as well as those that remained in the occupied territories, he said."
Environmental
The EU finally proclaimed the need for independence from Russian fossil fuels; yet, European companies are helping Russia expand LNG production, not only paving the way to another dependency but also jeopardizing climate goals.https://t.co/uviVKwIMUv

— Euromaidan Press (@EuromaidanPress) March 19, 2023
More than 400,000 Russian shells defused since the beginning of the full-scale war – Zelenskyy, Ukrainska Pravda reports, citing President Zelenskyy's evening address. "Since the beginning of the full-scale war, our pyrotechnicians and demolition experts have already inspected more than 100,000 hectares of territory. Over 400,000 enemy shells have been neutralised. More than 200,000 explosive items have already been removed."
Legal 
Since 24 Feb, 21,965 Ukrainian civilian casualties, & 13,734 injured; 8,231 killed – over 5000 adults & over 400 children whose sexes were identified. Actual casualties are higher, as there are delayed and unconfirmed reports from intense fighting areas.https://t.co/iMbC5b7eLx

— Euromaidan Press (@EuromaidanPress) March 19, 2023
Putin's arrest warrant is a turning point – Zelenskyy, Ukrainska Pravda reports, citing the evening address of President Zelenskyy. "This outgoing week has finally brought a truly significant international legal result for Ukraine, for justice. There is a warrant from the International Criminal Court for the arrest of the head of Russia, and this is a turning point.
The moment after which it becomes indisputable that the end of this aggression for Russia will be the full range of its responsibility. Responsibility for every strike in Ukraine, for every destroyed life, for every deported Ukrainian child… And, of course, for every manifestation of the destabilisation of the world caused by Russian aggression".
What does the ICC arrest warrant mean for Putin, Reuters asks? "Vladimir Putin may not see the inside of a cell in The Hague any time soon, but his war crimes arrest warrant could hurt his ability to travel freely and meet other world leaders, who may feel less inclined to speak to a wanted man. Putin is just the third head of state to be indicted by the International Criminal Court while still in power. Following is a look at what the consequences could be for the Kremlin leader. The ICC accuses Putin of responsibility for the war crime of deporting Ukrainian children – at least hundreds, possibly more – to Russia. […]
The ICC's 123 member states are obliged to detain and transfer Putin if he sets foot on their territory. Russia is not a member, and neither are China, the United States or India, which is hosting a summit later this year of leaders of the G20 group of big economies, which includes Russia.
The world's permanent war crimes court was created by the Rome Statute, a treaty ratified by all the EU states, as well as Australia, Brazil, Britain, Canada, Japan, Mexico, Switzerland, 33 African countries and 19 nations in the South Pacific.
Russia signed the Rome Statute in 2000 but withdrew its backing in 2016 after the ICC classified Moscow's annexation of Ukraine's Crimea Peninsula as an armed conflict.
Putin is not stupid. He's not going to travel abroad to a country where he might be arrested, said assistant professor of history at the Utrecht University Iva Vukusic. He is not going to be able to travel pretty much anywhere else beyond the countries that are either clearly allies or at least somewhat aligned (with) Russia, Vukusic said."
Ukrainian Intelligence on ICC decision says that Kremlin already looking for a successor to Putin, Ukrainska Pravda reports, citing Andrii Yusov, Spokesman for Ukraine's Defence Intelligence. "Yusov noted that on 17 March, Russian propagandists did not discuss The Hague on their TV shows [although they did comment on it on social media – ed.], because debating this would be a strange and disturbing 'wake-up call" for the population of the Russian Federation.
Putin's circle is narrowing, he is becoming more and more toxic both to the outside world and inside the country. In particular, there is more and more dissatisfaction with what is happening in the Kremlin towers. There is an increasingly grim awareness of the outlook, namely the geopolitical catastrophe of the Putin regime. And yes, we are already talking about finding a successor to Putin, and it is no longer Putin who is looking for one. […]
All member states of the International Criminal Court are now legally required to detain and detain Russian President Vladimir Putin as a suspect."
Support
Vladimir Putin will be arrested in Germany if he comes there, German Justice Minister Buschmann says

Germany is obliged to detain Putin and hand him over to the ICC in the Hague if Russia's President enters the territory of Germany, Buschmann said.https://t.co/QszS2Qx0xh

— Euromaidan Press (@EuromaidanPress) March 19, 2023
Ukrainian military complete training to operate SAMP-T missile systems in Italy – mass media, Ukrinform reports, citing ANSA, "A group of Ukrainian servicemen has completed a training programme in Italy to operate the SAMP-T air defence missile systems. […]
A reminder that, following the ninth meeting of the Ukraine Defense Contract Group on February 14, 2023, Italy and France announced the delivery of SAMP-T air defence missile systems to Ukraine."
Six hundred Ukrainian infantrymen already trained in Estonia – MoD, Ukrinform reports, citing Estonian Defense Minister Hanno Pevkur's interview with The Kyiv Independent. "We trained 600 Ukrainian infantry soldiers. We have given training to one company at a time, three times. On top of that, there are medics, sharpshooters, and some more. I can't tell you more precisely, Pevkura said.
As Ukrinform reported earlier, the Estonian government on Thursday supported Defense Minister Hanno Pevkur's proposal to send another package of military aid to Ukraine, this time consisting of sniper weapons and equipment for special operations forces."
Shmyhal: Government allocates 518B for defence, endorses action plan for 2023, Ukrinform reports. "The Government approved the draft law, which provides an additional UAH 518 billion [$14,13 Bln] for security and defence. These funds will be used primarily for payments to the military, the purchase of equipment. The reserve fund of the state budget was also increased by UAH 19 billion. We strengthen our army and bring victory closer, Prime Minister of Ukraine Denys Shmyhal posted on Facebook, summing up the week.
The Government Action Plan for 2023, which includes more than 500 tasks, was also approved. The priorities are security and defence, integration into the EU and NATO, energy security, restoration of Ukraine, macro-financial stability, and support for business, social and veteran policy. The important areas of work will be ensuring high-quality education, continuing decentralization, public administration reform, protecting the health of Ukrainians and the environment. […]
This week, a draft agreement was approved under which the Slovak government will send 13 MiG-29 aircraft to Ukraine. Shmyhal thanked the Slovak friends for their support.
We also marked the anniversary of Ukraine's accession to the European energy grid ENTSO-E. We have become part of the EU energy network. Thanks to this, we survived the Russian missile terror and helped Europe survive the energy crisis. Even wider integration and joint restoration of the Ukrainian energy industry is ahead, Shmyhal added.
The transport visa-free regime with the EU was extended until the end of June 2024. Two-way and transit transportation will be possible without obtaining permits. This stimulates Ukrainian exports to Europe. Sectoral integration into the EU, which is a prerequisite for EU membership, continues.
The grain initiative was extended for another 120 days. We thank the UN and Turkish partners for their efforts. Together, we will guarantee global food security and save millions of people from hunger, the Prime Minister emphasized.
Moreover, the Memorandum of Understanding was signed between the Government of Ukraine and the Energy Community Secretariat. The organization will be an active participant in the reconstruction of the energy sector, in particular, alternative energy facilities."
New Developments
#Putin visits #Mariupol in #propaganda stunt by night to conceal how #Russia has totally destroyed this city in Ukraine #StandWithUkraine #RussiaWarCrimes #StopRussia #https://t.co/g7QgJ9wXBI

— Euromaidan Press (@EuromaidanPress) March 19, 2023
Russia did not invade Ukraine following the annexation of Crimea in 2014 due to a lack of necessary weaponry, Vladimir Putin says

"We had no hypersonic weapons back then," Putin told a Russian propagandist Pavel Zarubin.https://t.co/PZGu3Vp3Rv

— Euromaidan Press (@EuromaidanPress) March 19, 2023
Assessment 
https://www.understandingwar.org/backgrounder/russian-offensive-campaign-assessment-february-22-2023*
On the war. 
The Institute for the Study of War has made the following assessment as of  March 19, 2022:
ISW is publishing an abbreviated campaign update today, March 19. This report discusses growing Russian concern about a prospective Ukrainian counteroffensive near Bakhmut or in southern Ukraine, and Russian efforts to prepare mitigations for these claimed efforts. The tempo of Russian offensive operations across the theater has slowed in recent weeks, suggesting that the Russian spring offensive in Donbas may be nearing culmination. Ukrainian officials have indicated that significant Russian losses near Vuhledar are severely inhibiting Russian forces' capacity to conduct further offensive operations in Donetsk Oblast. Russian President Vladimir Putin used his first visit to recently-occupied Ukraine to portray himself as an involved wartime leader amid exaggerated responses in the Russian nationalist information space over fears of a possible future Ukrainian counteroffensive in southern Ukraine.
Ukrainian forces likely conducted a localized counterattack southwest of Bakhmut amid growing Russian discussion about a potential Ukrainian counteroffensive in the Bakhmut area. Geolocated footage published on March 19 indicates that Ukrainian forces conducted a successful counterattack southwest of Ivanivske (6km west of Bakhmut) and pushed Russian forces further away from the T0504 highway in the area. Ukrainian Eastern Group of Forces Spokesperson Colonel Serhiy Cherevaty reported that Russian forces conducted 25 attacks in the Bakhmut area on March 19, but Russian forces likely only secured marginal gains. Russian sources amplified footage on March 18 alleging to show a column of Ukrainian armored vehicles along the T0504 southwest of Kostyantynivka (22km southwest of Bakhmut) and speculated that Ukrainian forces are preparing to launch counteroffensive operations southwest of Bakhmut. A prominent Russian milblogger claimed that Ukrainian forces are currently capable of intensifying counterattacks to stabilize the front line around Bakhmut. The growing Russian discussions about an imminent Ukrainian counteroffensive in the Bakhmut area suggest that Russian sources are increasingly uncertain about the Russian military's ability to maintain the initiative around Bakhmut.
Statements made by Ukrainian military officials on the pace and prospects of current Russian offensive operations may suggest that the overall Russian spring offensive may be nearing culmination. Ukrainian Eastern Group of Forces Spokesperson Colonel Serhiy Cherevaty stated on March 19 that Russia was unable to gather sufficient forces for the anticipated major offensive in Donbas and noted that current Russian offensive actions cannot be called a "major strategic operation." Cherevaty emphasized that Russian forces cannot even complete the tactical capture of Bakhmut, which supports ISW's assessment that the Wagner Group offensive near Bakhmut is likely nearing culmination. Russian forces are also notably struggling to secure operationally significant gains elsewhere along the frontline, particularly in the Avdiivka-Donetsk City and Vuhledar areas. Ukrainian Tavriisk Defense Forces spokesperson Colonel Oleksiy Dmytrashkivskyi noted on March 19 that Russian forces have been desperately attacking Avdiivka to restart offensive operations on Vuhledar, likely suggesting that continued Russian attacks in the Avdiivka area are meant partially to pull Ukrainian reserves away from western Donetsk Oblast to the Avdiivka-Donetsk City area. Dmytrashkivskyi stated that this renewed offensive focus on Avdiivka has recently led to major Russian losses around Avdiivka amounting to the equivalent of one company, on which ISW has previously reported.  
Ukrainian military officials additionally continue to indicate that massive Russian losses in the Vuhledar area are severely degrading Russian offensive capacity in Donetsk Oblast. Dmytrashkivskyi stated that Russian forces have reinforced elements of the 155th Naval Infantry Brigade (currently heavily committed in the Vuhledar area) with reserve forces of the 98th Guards Airborne Division. The 155th Naval Infantry Brigade suffered catastrophic manpower and equipment losses during continued failed attacks on Vuhledar in November 2022 and February 2023, and Russian military leadership is likely heavily relying on reserve elements from the 98th Airborne Division to offset and compensate for the 155th Naval Infantry Brigade's losses. The 98th Airborne Division is at least partially committed in the Kreminna area in Luhansk Oblast, and the commitment of some of its constituent elements to the Vuhledar area is likely indicative of a level of desperation on the part of the Russian military command trying to reconstitute battered units and restart offensive operations in western Donetsk Oblast. The Ukrainian General Staff similarly noted that the Russian military leadership is in a hurry to send reinforcements to Vuhledar and has been creating a "Shtorm" detachment within the 37th Separate Motorized Rifle Brigade (36th Combined Arms Army, Eastern Military District), which will presumably deploy to the Vuhledar area on March 24. The ad hoc reconstitution of existing units for deployment to Vuhledar, as well as the apparent creation of sub-brigade echelon special formations, suggests that Russian combat capabilities in western Donetsk Oblast are greatly degraded.
The overall Russian spring offensive is thus likely approaching culmination. Ongoing Russian offensives along the Svatove-Kreminna line, around Bakhmut, and along the Avdiivka-Donetsk City and Vuhledar frontlines have failed to make more than incremental tactical gains in the first few months of 2023. Russia has committed the approximately 300,000 mobilized soldiers, called up by partial mobilization in September 2022 for the purpose of pursuing exactly such a spring offensive, to these various offensive efforts. If 300,000 Russian soldiers have been unable to give Russia a decisive offensive edge in Ukraine it is highly unlikely that the commitment of additional forces in future mobilization waves will produce a dramatically different outcome this year. Ukraine is therefore well positioned to regain the initiative and launch counteroffensives in critical sectors of the current frontline.
Russian President Vladimir Putin visited occupied Mariupol on March 19, likely to project the image of invulnerability and to continue efforts to portray himself as an involved wartime leader. Putin's visit to Mariupol included highly staged meetings with residents, a bizarre drive around the city with Putin supposedly driving the car himself, and a briefing from Russian Deputy Prime Minister Marat Khusnullin about restoration efforts in the city. The Kremlin likely framed Putin's first visit to occupied Ukraine outside of Crimea as a spontaneous jaunt in order to portray Putin as an invincible wartime leader who can visit the zone of hostilities without concern. Putin likely chose to visit Mariupol because it is a city seized since May 2022 that is far away from the frontline, where Russian forces and occupation officials have already instituted stringent security measures. Putin also likely meant his visit to be a response to the International Criminal Court's arrest warrant for his involvement in war crimes connected to the deportation of Ukrainian children, at least 1,000 of whom Russian officials deported from Mariupol alone. Putin likely sought to portray his role in the deportation of children and the destruction of Mariupol as beyond the jurisdiction of the international community and himself as safe from the Ukrainian military 80km to the north. Putin also visited the headquarters of the Southern Military District in Rostov-on-Don, Krasnodar Krai, and received briefings from Russian Chief of the General Staff Army General Valery Gerasimov and other Russian military commanders. Russian media publicized Putin's meetings with Gerasimov and previous theater commander Army General Sergey Surovikin to portray Putin as highly involved in the management of the war in Ukraine as well as possibly to signal that Gerasimov currently has Putin's favor and that Survoikin, with his former Wagner Group connections, is now firmly subordinated under Gerasimov.
Putin's Mariupol visit likely also aimed to assuage a longstanding and pervasive fear in the nationalist space about a prospective Ukrainian counteroffensive in southern Ukraine. Russian milbloggers that ISW tracks claimed en masse on March 19 that Ukrainian forces conducted a limited and localized counterattack near Novodanylivka, Zaporizhzhia Oblast, a disproportionate response to a frequent occurrence on other areas of the front. Many of these milbloggers claimed that Ukrainian forces continue to prepare for a future counteroffensive on the Zaporizhzhia Oblast front line, which milbloggers have been claiming with varying degrees of urgency since October 2022. Some milbloggers specifically linked Putin's March 19 visit to Mariupol to a Ukrainian counter-offensive. One milblogger claimed that Putin's visit shows he is not a cowardly leader who is too afraid to leave Moscow Oblast out of fear of Ukrainian intelligence and claimed that the Russian surrender of the south [of Ukraine] will be Putin's personal defeat. The milblogger added that Russian forces would have to work harder to defend against a Ukrainian counteroffensive. Former Russian officer and convicted war criminal Igor Girkin instead sarcastically claimed that Russian forces would do everything to be defeated in order to blame everything on Putin, noting that Putin appointed and kept in power all the Russian military commanders responsible for Russia's performance in the war thus far. The Russian occupation administration declaring Melitopol rather than Zaporizhzhia City as the capital of occupied Zaporizhzhia Oblast also likely reflects a desire to ease the palpable fear in the nationalist and domestic information space by portraying Russian occupation as long-term and certain.
Former Russian officer, convicted war criminal, and prominent critical nationalist milblogger Igor Girkin indicated that there are likely deepening fractures within the top levels of Russian military leadership. In a 12-point hyper-critical and sarcastic essay on how Russia can lose the war, Girkin remarked that never changing the leadership of the state, intelligence, and armed forces who have already demonstrated blatant incompetence is a sure-fire way to lose the war and that Russia has already committed this cardinal sin. Girkin called for leadership changes in the Russian Ministry of Defense and General Staff, the Foreign Intelligence Service, the 5th Service of the Federal Security Service (FSB), the Ministry of Foreign Affairs, political advisors, and representatives of military industry. Girkin's omission of the broader FSB organization (the FSB's 5th Service is a distinct but subordinate FSB entity concerned with intelligence targeting of Russia's foreign neighbors in the post-Soviet space) and FSB Director Alexander Bortnikov is noteworthy because it suggests that Girkin views the FSB as distinct from the failing Russian military, intelligence, and security apparatus. The FSB's 5th Service was also responsible for laying the groundwork for the invasion by paying off Ukrainian collaborators. Girkin's comments may indicate that there are considerable tensions between the Russian military command and the FSB, as well as within the FSB itself. Girkin's acerbic commentary continues to provide insight into growing inner circle frictions.
Key inflections in ongoing military operations on March 19:
Russian forces continued limited offensive operations along the Kupyansk-Svatove-Kreminna line.
Russian forces likely secured marginal gains near Bohdanivka (6km northwest of Bakhmut) amidst continued Russian offensive operations in and around Bakhmut.
Russian forces continued offensive operations along the outskirts of Donetsk City and may have advanced towards Berdychi, about 10km northwest of Avdiivka.
Russian forces continued erecting defensive fortifications throughout southern Ukraine.
Unknown actors killed a Russian occupation Ministry of Internal Affairs Patrol Service platoon commander with a car bomb in occupied Kherson Oblast. Ukrainian media hypothesized that the attack may have been a partisan attack or a result of Russian infighting.
Russian federal communication supervisor Roskomnadzor blocked a website that helped Russians escape mobilization in continued crackdowns against resistance to mobilization.
Polish Ambassador to France: Poland will be forced to enter war if Ukraine fails to defend itself, Ukrainska Pravda reports, citing LCI and Rzeczpospolita. "It is not NATO, Poland or Slovakia that are mounting ever more pressure, but Russia, which has invaded Ukraine. Russia, which is seizing its territories. Russia, which is killing its people. And Russia, which is abducting Ukrainian children. Therefore, either Ukraine will defend its independence today, or we will have to enter this conflict. Because our main values, which were the basis of our civilization and our culture will be threatened. Therefore, we will have no choice but to enter the conflict."
Following the ambassador's remark, Poland's Embassy in France issued a statement saying that it has been interpreted by some media "out of context". During a thirty-minute conversation with the editor, Ambassador Rościszewski argued for the need for allies to support Ukraine. He also spoke about the threat that Russia poses to Europe and European values […] A careful listening to the entire conversation makes it clear that there was no announcement of Poland's direct involvement in the conflict, only a warning of the consequences that a Ukrainian defeat could have: the possibility of a Russian attack, or the involvement of more Central European countries – the Baltic States and Poland.
The embassy stressed that Ambassador Rościszewski made it clear in his interview with LCI that Poland is not currently at war but is doing everything it can to help Ukraine and protect itself in Russia's war against Ukraine. Searching for a sensationalist claim that goes against Poland's consistent efforts over the past year to help Ukraine win in this conflict and so keep it out of Europe and Poland should be seen as a sign of ill will, the embassy said in a statement."
Military expects continuation of Russian offensive in Avdiivka and Marinka areas, Ukrinform reports. "In the near future, we still expect the continuation of offensive actions in the areas of Avdiivka and Marinka. In Vuhledar direction, we expect a calm situation for the time being. But Russian forces continues to fire tube artillery, MLRS, and launch airstrikes. This happens all the time and [the Russian Federation] launches rather powerful strikes, Oleksiy Dmytrashkivskyi, Head of the Joint Press Center of the Defense Forces of Tavria direction, said.
In addition, [he] stated that a certain strategic lull has been established in Vuhledar direction at this moment. But Ukrainian intelligence officers are working, and our military sees the build-up and movement of troops, Dmytrashkivskyi noted. According to his information, Russian forces brings its last reserves into battles in Avdiivka and Marinka directions. Yesterday or the day before yesterday, units of the 98th Guards Airborne Division were brought, the special forces of this division. And already yesterday evening, we learned that two additional tank companies entered the battles. The reason is that they lose equipment, he clarified.
As for Zaporizhzhia direction, there is a certain slight lull, although positional battles are ongoing there. Our soldiers are trying to take slightly different positions to have better opportunities for a counterattack in the future. Shelling continues in Donetsk direction. There were 317 strikes over the past day, Dmytrashkivskyi said.
Among the reasons why the Russians are suffering heavy losses at the front, Dmytrashkivskyi named the poorly trained soldiers and poorly planned operations in which they are trying to achieve some kind of success. According to him, the Russians still have success in some cases, but then Ukrainian forces knock them out of their positions."
China as Peacemaker in the Ukraine war? The US and Europe are sceptical, The New York Times reports. "As Xi Jinping, China's leader, prepares to meet with President Vladimir V. Putin in Moscow this week, Chinese officials have been framing his trip as a mission of peace, one where he will seek to play a constructive role in promoting talks between Russia and Ukraine, as a government spokesman in Beijing put it. But American and European officials are watching for something else altogether – whether Mr. Xi will add fuel to the full-scale war that Mr. Putin began more than a year ago.
US officials say China is still considering giving weapons — mainly artillery shells — to Russia for use in Ukraine. And even a call by Mr. Xi for a cease-fire would amount to an effort to strengthen Mr. Putin's battlefield position, they say, by leaving Russia in control of more territory than when the invasion began. A cease-fire now would be effectively the ratification of Russian conquest, John Kirby, a White House spokesman, said on Friday. It would in effect recognize Russia's gains and its attempt to conquer its neighbor's territory by force, allowing Russian troops to continue to occupy sovereign Ukrainian territory. It would be a classic part of the China playbook, he added, for Chinese officials to come out of the meeting claiming we're the ones calling for an end to the fighting and nobody else is.
That skepticism of one of Mr. Xi's stated goals pervades thinking in Washington and some European capitals. American intelligence agencies have concluded that relations between China and Russia have deepened during the war, even as Russia has become isolated from many other nations. The two countries continue to do joint military exercises, and Beijing has joined Moscow in regularly denouncing the North Atlantic Treaty Organization. China remains one of the biggest buyers of Russian oil, which has helped Moscow finance its invasion.
Chinese officials have at no point condemned the invasion. Instead, they have said ambiguously that all nations must respect each other's sovereignty and territorial integrity. They have worked with Russian diplomats to block international statements condemning the war, including at gatherings of the Group of 20 countries in India in February and March.
While some Chinese officials see Mr. Putin's war as destabilizing, they recognize a greater priority in foreign policy: the need to buttress Russia so the two nations can present a united front against their perceived adversary, the United States. Mr. Xi made his views clear when he said earlier this month at an annual political meeting in Beijing that "Western countries led by the United States have implemented all-around containment, encirclement and suppression of China, which has brought unprecedented severe challenges to our country's development."
But China remains firmly anchored in the global economy, and Mr. Xi and his aides want to avoid being seen as malign actors on the world stage, especially in the eyes of Europe, a major trade partner. Some analysts say Mr. Xi has adopted the guise of peacemaker, claiming he is on a mission to end the war to provide cover for efforts to strengthen his partnership with Mr. Putin, whom the International Criminal Court on Friday formally accused of war crimes in an arrest warrant. Mr. Xi and Mr. Putin have a strong personal affinity and have met 39 times since Mr. Xi became China's leader in 2012.
China's release last month of a 12-point statement of broad principles on the war was an attempt at creating a smoke screen of neutrality during planning for Mr. Xi's trip, some analysts say. I think China is trying to muddy the picture, to say we're not there to support Russia, we're there to support peace, said Yun Sun, a scholar of China's foreign policy at the Stimson Center in Washington. There's an intrinsic need for China to maintain or protect the health of its relationship with Russia, she said, adding that a senior Chinese official had told her that geopolitics and US intransigence were driving Beijing's approach to the relationship — not love of Russia. […]
When Mr. Putin visited Mr. Xi in Beijing right before the start of the Ukraine war in February 2022, their governments proclaimed a "no-limits" partnership in a 5,000-word statement. The two men saw each other again last September at a security conference in Samarkand, Uzbekistan. Mr. Xi has not talked to Volodymyr Zelensky, the president of Ukraine, since the war began, much less ask for his perspective on peace talks. Mr. Zelensky has said he would enter peace talks only if Mr. Putin withdrew his troops from Ukrainian territory. […]
Mr. Zelensky has said he would welcome a chance to speak with Mr. Xi, and some Ukrainian officials hold out hope that China will eventually exercise its leverage over Russia to get Mr. Putin to withdraw his troops. But China has not indicated it would make any such move. On Thursday, Qin Gang, the foreign minister of China, spoke by phone with Dmytro Kuleba, the foreign minister of Ukraine, and stressed that the warring sides should "resume peace talks" and "return to the track of political settlement, according to a Chinese summary of the conversation.
In an interview with the BBC before Mr. Xi's visit was announced, Mr. Kuleba said he believed China was neither ready to arm Russia nor bring about peace. The visit to Moscow in itself is a message, but I don't think it will have any immediate consequences, he said. Analysts in Washington concur. I don't think China can serve as a fulcrum on which any Ukraine peace process could move, said Ryan Hass, a former US diplomat to China and White House official who is a scholar at the Brookings Institution. Mr. Hass added that China would have a role as part of a signing or guaranteeing group for any eventual peace deal and would be critical to Ukraine's reconstruction. I believe Zelensky understands this, which is why he has been willing to exercise so much patience with China and with Xi personally, he said.
European officials have had varying attitudes toward China, and some prioritize preserving trade ties with Beijing. But China's alignment with Russia throughout the war has spurred growing suspicion and hostility in many corners of Europe. On Friday, some officials reacted warily to the announcement of Mr. Xi's trip to Moscow — they saw it as a further sign of China's friendship if not alliance with Russia, as well as an effort by China to present itself as a mediator in the war.
Wang Yi, China's top foreign policy official, stressed the need for peace talks at the Munich Security Conference late last month before a stop in Moscow. He used language that appeared aimed at peeling European nations away from the United States. We need to think calmly, especially our friends in Europe, about what efforts should be made to stop the warfare; what framework should there be to bring lasting peace to Europe; what role should Europe play to manifest its strategic autonomy, he said. He suggested that Washington wanted the war to continue to further weaken Russia. Some forces might not want to see peace talks materialize, he said. They don't care about the life and death of Ukrainians or the harms on Europe. They might have strategic goals larger than Ukraine itself. This warfare must not continue.
But China's 12-point statement did not go over well in Europe. And many European officials, like their Ukrainian and American counterparts, are convinced that early talks on a peace settlement will be at the expense of Ukrainian sovereignty. Ursula von der Leyen, president of the European Commission, said China's stance was anything but neutral. It is not a peace plan, but principles that they shared, she said of China's statement. You have to see them against a specific backdrop. And that is the backdrop that China has taken sides, by signing for example an unlimited friendship right before Russia's invasion in Ukraine started.
China's regular denunciations of NATO make European officials bristle. In its position paper, China said the security of a region should not be achieved by strengthening or expanding military blocs — a statement that supports Mr. Putin's claim that he had to invade Ukraine because of threats that included NATO expansion. The Chinese position builds on a misplaced focus on the so-called 'legitimate security interests and concerns' of parties, implying a justification for Russia's illegal invasion, and blurring the roles of the aggressor and the aggressed, said Nabila Massrali, a spokeswoman for foreign affairs and security policy at the European Union.
Jens Stoltenberg, the NATO secretary general, put it more simply: China doesn't have much credibility, especially because they have not been able to condemn the illegal invasion of Ukraine."
Podoliak on China's "peace plan": Doesn't make sense and contains contradictions, Ukrainska Pravda reports, citing Mykhailo Podoliak, Adviser to the Head of the Office of President of Ukraine in an interview with Corriere della Sera. "There are no details in it [China's plan – ed.], there is no balanced logic. One of the points says about the inviolability of the sovereignty and territorial integrity, and the other about the need for an immediate ceasefire, which means the transfer of the occupied territories to Russia: but this is an absolute contradiction. The peace plan cannot be based on satisfying the interests of the aggressor, it must begin with the forced withdrawal of Russian troops from Ukraine."
At the same time, Podoliak believes China will not supply Russia with weapons. I do not see the point. It would immediately become a known fact, and China would jeopardise its trade and technological relations with other countries. And secondly, why help Russia, which is suffering from the collapse of its own civilization? Soon Russia will cease to exist; it would be a hopeless investment, and China is too pragmatic to make such mistakes. Thirdly, Chinese law prohibits the transfer of weapons to a state at war, said the adviser to the head of the presidential office.
At the same time, he believes that China can take advantage of the state of a greatly weakened and discredited Russia.
Asked how Ukraine would react to China's possible offer to Russia to retreat to its borders before a full-scale invasion, Podoliak said: After tens of thousands of deaths and the effective defence of our territories, what is the point of returning to the status quo that forced Russia to attack us a year ago? This is impossible, any such compromise will not lead to peace, but to an aggravation of the situation, and then to a conflict."
Consequences and what to do?
NATO considering deployment of up to 300,000 troops on the border with Russia, Ukrainska Pravda reports, citing Politico. "Politico writes that NATO intends to stop Russia if it decides to expand the war beyond Ukraine. Because of this, the Alliance is talking about strengthening its eastern borders and the need to send up to 300,000 troops to the border.
Such actions will require coordination and great efforts from the 30 NATO members to provide soldiers, training facilities, large quantities of weapons, equipment and ammunition. However, the news outlet emphasises that coordination may be challenging, as many allies are already concerned about their own insufficient ammunition stocks, which take time and money to replenish.
Politico writes that NATO military leaders are to submit updated regional defence plans. Alliance officials are putting forward the idea that its borders with Russia should be guarded by up to 300,000 troops, the news outlet reports. It is noted that the first echelon of NATO troops may consist of about 100,000 soldiers, ready to deploy within 10 days. It may include troops from Poland, Norway, Estonia, Latvia and Lithuania.
The second echelon of troops, Politico writes, will support these soldiers, ready to be deployed within 10-30 days from countries such as Germany."
2023 may be a turning point in the impact of sanctions on Russia, Ukrainska Pravda reports, citing President Volodymyr Zelenskyy's website. "The International Working Group on Russian Sanctions led by Andrii Yermak, the head of the Office of the President, and [former] ambassador Michael McFaul, the director of the Freeman Spogli Institute for International Studies (FSI), together with experts from the Kyiv School of Economics, has published a study of the impact of sanctions on the Russian economy over the last year. The key conclusion drawn by the experts is that the sanctions are working, but there are opportunities to toughen them, the president's press service reports.
The researchers agree that the impact of the sanctions burden on the Russian economy, in particular on its trade and the public sector, continues to increase. This is first and foremost due to the introduction of export restrictions on Russian energy, particularly oil and natural gas. Experts believe that 2023 could be a turning point in the economic impact on the aggressor country.
The pressure of sanctions on Russia will definitely affect its future ability to wage war, which is confirmed by the data of the joint study, said Yermak. Even the Russian Federation's official sources acknowledge the decline of key macroeconomic indicators in 2022: a fall in GDP, an increase in inflation and unemployment, a reduction in investment, etc. This proves the relevance of the strategy chosen by Ukraine and its allies to influence the aggressor. At the same time, there are still opportunities to further increase the pressure.
According to the study, the effect of the sanctions has had significant momentum and is now having a substantial impact on the Russian economy. The surplus of the current balance of payments is shrinking significantly (-60% for the period from Q2 to Q4, and the data for December-January indicate a strengthening of this trend), and in 2023 it will amount to $63 billion (compared to $227 billion in 2022) with the prospect of further decline. There is also a depreciation in the rouble and an increase in inflation: the rouble has lost 20% of its value since November 2022, which is forcing consumer prices up.
As a result, Russians are becoming poorer and losing access to quality goods and services. The shortage of liquid resources is also having an impact: every month, the war takes $8-9 billion away from the Russian budget, which has been covered by the National Wealth Fund (NWF). If funds are used up at this rate, the Kremlin will have lost the entire liquid part of the NWF by the end of 2023.
Receipts from oil and gas trade – a key driver of the Russian economy, including the military budget – will plunge by nearly 50% this year. And in the long term, the situation for Russia's oil and gas industry will look even more dismal. The irreversible loss of its most stable and solvent markets, the technology gap, the ripple effect that will affect the supply chain (tanker transportation, port services, pipeline transport) – all this will only hasten the collapse of the most substantial contributor to the Russian budget.
By putting pressure on the oil and gas sector, we are hitting the aggressor at its very heart, bleeding off its potential. The impact is clearly reflected in the statistics. In 2022, oil and gas sales were the key component of export revenues ($350 billion of the total $540 billion balance of trade), whereas now we are seeing a 46% drop in revenues from the sale of oil and gas, Yermak added.
At the same time, the sanctions regime is a long way from having exhausted its potential and it requires continual updating and improvement. According to Yermak, Russia still has sufficient resources to continue the war, so the speed of the cessation of hostilities depends on the strength of the sanctions imposed."
Hans Petter Midttun: "It is not NATO, Poland or Slovakia that are mounting ever more pressure, but Russia, which has invaded Ukraine. Russia, which is seizing its territories. Russia, which is killing its people. And Russia, which is abducting Ukrainian children. Therefore, either Ukraine will defend its independence today, or we will have to enter this conflict. Because our main values, which were the basis of our civilization and our culture will be threatened. Therefore, we will have no choice but to enter the conflict," the Polish Ambassador to France, Rościszewski, stated in an interview yesterday.
There is nothing alarming or extraordinary about the statement except its level of clarity.
It is very much in line with what I have been reporting for a long time: Eastern European countries do not support the Ukrainian fight for its right to exist – its sovereignty and independence – out of kindness alone, but primarily as a defence of their own country on Ukrainian territory.
They are doing their uttermost to avoid the dramatic consequences of a potential Ukrainian defeat. As previously argued, this would result in Russian forces being deployed along their borders; Russian military power moving 1,000 km closer to Warsaw, Berlin, Paris, Brussels and London; Russian Air Defence systems covering a greater part of Central Europe; the Black Sea turning into a Russian lake. It would create a belt of constant instability along the border of the EU and NATO. Equally important, it would give Russia access to an immense wealth of rare minerals, gas, oil and coal resources, as well as the "breadbasket of Europe". It would gain control over the Ukrainian defence industry helping it to restore its military power.
Perhaps more importantly, a hypothetical Russian victory in Ukraine would be seen as a victory over NATO.
The statement by Ambassador Rościszewski follow the logic of NATO's previous strategic concept, in which the Alliance undertook to stop conflicts that threaten the security and stability of its member states. The Russian conventional war in Ukraine and its hybrid war across Europe does exactly that: It threatens the security and stability of its member states.
This is why I have persistently argued in favour of what the ambassador implies: military intervention in Ukraine. I have listed eight objective arguments for why this is in NATO's interest and described why intervention can prevent a nuclear disaster.
The statement by the Polish ambassador highlights, however, the discord within NATO.
When the US stands firm on its policy of "no boots on the ground", Eastern Europe is discussing doing just that. When President Biden stresses that the US will not supply combat aircraft (F-16), President Duda donates combat aircraft (Mig-29) to Ukraine. When Eastern Europe asked NATO to do more (according to its strategic concept), NATO decided to do less. When the EU highlights that its member states – most of which are also NATO members – are exposed to a Russian Hybrid War, NATO limits itself to admitting that the Euro-Atlantic area is not at peace.
The statement by Rościszewski is also in line with Polish security and defence policy. Polish actions reflect its statements.
Poland was allocating 2.42% of its GDP to its defence budget before the Russian full-scale invasion of Ukraine began. Only Greece and the US were spending more. In January, Prime Minister Mateusz Morawieck declared that Poland will increase its defence spending to 4% of GDP.
Poland's army has presently 170,000 soldiers. Being at par with Germany today, it plans to build "the largest land army in Europe" with 300,000 men and women comprising 250,000 professional soldiers and 50,000 civil defence personnel.
Last year, it bought 250 Abrams tanks, expected to be delivered in late 2024. In January, Poland approved the purchase of further 116 Abrams tanks due to arrive later this year. Additionally, it has announced plans to procure 180 South Korean "K2 Black Panther" tanks. It plans to acquire more than 800 of the K2PL variant of the tank, many of which will be produced in Poland from 2026. It has already received the first shipment of tanks that it bought from South Korea in December.
The country has also bought four dozen K9 howitzers, with the planned procurement of a further 600 to start in 2024. Domestic production is expected to begin in 2026.
In February, the US State Department approved the sale of up to $10 billion worth of 18 HIMARS rocket launchers and almost 500 launcher loader module kits along with ammunition to Poland.
In 2020, Poland signed a contract to acquire 32 F-35s from the US. It is also buying 48 FA-50 light combat fighter jets from South Korea. The first 12 jets are to be delivered in 2023 and a further 36 aircraft from 2025 to 2028.
Poland is not only building the strongest Armed Forces in Europe (after Ukraine), but it is also building the Defence Industry needed to sustain it. It is also diversifying the suppliers, both increasing the speed of delivery as well reducing its dependency on the US.
The bottom line is that Poland is thinking, planning, and acting according to NATO's late strategic concept. It is building military power to – if needed –do what the US and NATO will not: Fight alongside the Ukrainian Armed Forces to stop a war that threatens European security and stability.
That makes sense. After all, the latest NATO members understand Russia perfectly well. The oldest members do not.
According to Hanno Pevkur, the Estonian defence minister, NATO is responsible for assisting Ukraine because it's fighting for the free world. Estonia has provided military assistance to Ukraine worth more than 1% of its GDP, making Estonia's assistance the world's largest in this term.
"I could also ask why the others are not doing as much as Estonians. Because we all understand that Ukraine is not fighting only for itself and for the Ukrainian people. They are fighting for a free world and a rule-based world. So this is why we have to help Ukraine as much as we can. Of course, we know that Ukraine needs that help desperately."
In Madrid last year, NATO declared that "the Euro-Atlantic area is not at peace. The Russian Federation's brutal war of aggression against Ukraine has shattered peace in Europe. Russia has violated the norms and principles that contributed to a stable and predictable European security order, and poses the most significant and direct  threat to Allies' security and to peace and stability in the Euro-Atlantic area."
Eastern Europe is acting accordingly. Ukraine is fighting for its right to exist. 20 out of 30 NATO members are, however, still not meeting their commitment to invest 2% of their GDP in defence. The defence industries are still not producing what is needed at a speed reflecting the urgency of the situation.
A month before the full-scale invasion I argued that the likelihood of a military escalation had increased because of the lack of political courage in the West. For the lack of the Churchills and the way too many Chamberlains. Unfortunately, this is still the case.
In the lack of NATO resolve, President Xi Jinping is pondering China's next move.
Tags: Russian invasion