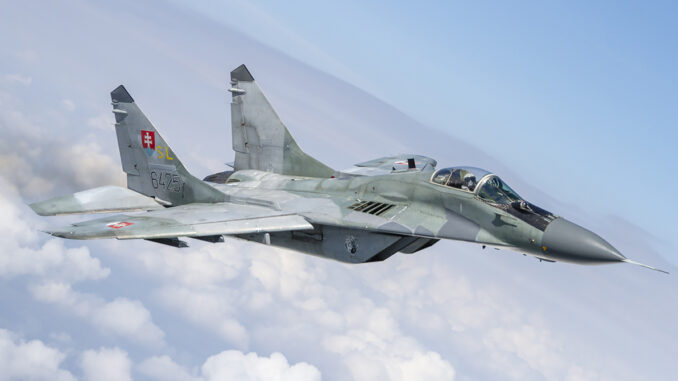 Slovak MiG-29 Fulcrum on 25 August 2022. Photo: The Aviationist
 
In his interview with CNN, Polish President Andrzej Duda reiterated Poland's readiness to hand over the country's remaining operational MiG-29 Soviet-era fighter jets to Ukraine.
Commenting on Duda's remark, Slovak Defense Minister Jaroslav Naď said that he talked to his Polish counterpart at the meeting of the EU defense ministers in Sweden on 8 March, and received confirmation that Warsaw "would agree with the joint progress of Slovakia and Poland in handing over the redundant MiG-29s of both countries to Ukraine."
Naď believes that Slovakia must decide on sending MiG-29s to Ukraine
"People in Ukraine are dying, we can really help them, there is no room for Slovak politicking. This is inhumane and irresponsible," he wrote on Facebook.
Previously, Jaroslav Naď told AP that Slovakia was considering giving Ukraine 10 of its 11 Soviet-made MiG-29 planes — with the 11th reserved for a Slovakian museum.
Read also: