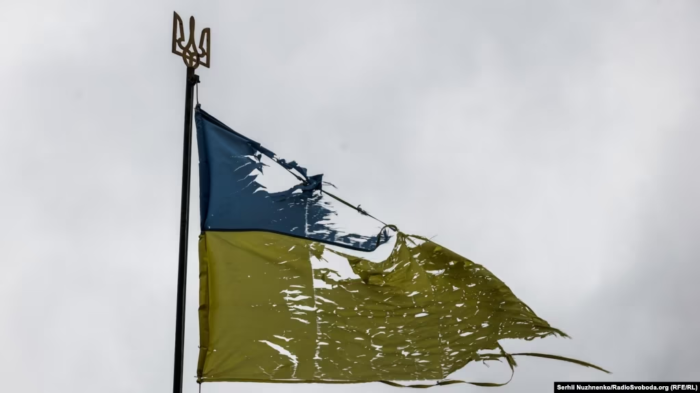 Ukrainian flag in Chernihiv, the city which was besieged in 2022 but withstood. Source: RFE/RL 
A year ago, Ukrainians surprised the world – instead of panic and despair, citizens remained determined enough to stop the Russian invasion and save the country from chaos.
Now, in 2023, Ukrainians are still ready for resistance, believe in victory, and have clear goals for the post-war future. We analyzed opinion polls of recent months to determine the views of the country at war – including their resolute will to keep fighting until victory.
(Note: in each case, the name of the pollster is identified in parentheses.)
Ukrainians believe in victory
After a year of grinding war, missile attacks on infrastructure, and on the eve of a new Russian offensive, Ukrainians are once again surprising the world with their optimism.
More than 95% of citizens are sure that the country will win the war (Rating Group). So if President Volodymyr Zelenskyy promises to keep fighting until victory, he does so in accordance with society.
Similarly, Ukrainians are ready to prove their resolute views in real life. On 2 February 2023, the Ministry of Internal Affairs announced the formation of new military brigades named the Offensive Guard. As of 17 February, more than 27,000 volunteers enlisted in newly assigned military formations.
For example, on 27 January 2023, Serhiy Prytula, a well-known volunteer, raised money to buy 430 drones for the armed forces. It took him a single day.
Ukrainian Citizens believe that in 10 years, Ukraine will be a prosperous member of the European Union (EU). Even in the eastern region – the most damaged by the invasion – 76% of residents remain optimistic, as noted by the Kyiv International Institute of Sociology (KIIS).
Confidence in the Armed Forces of Ukraine supports the belief in victory. The forces have the trust of 96% of citizens, while the president is trusted by 84% of people. Ukrainian volunteers have the same levels of trust (KIIS).
74% of citizens consider that the country is on the right path. In fact, people are more optimistic than in peaceful 2012 or the first months of 2013 (Rating Group).
Of course, optimism does not mean Ukraine is not suffering. 10% of citizens have had their property damaged or ruined. But 17% have experienced even worse – some of their close family and friends have been killed. Economic fallout is widespread. 36% of Ukrainians have lost their jobs, and 63% say that their family's welfare has worsened. However, the economy is slowly recovering, and 8% of citizens have found new work (Rating Group).
Meanwhile, not all Ukrainians are at home. Several million citizens have left for other countries – scattered from Poland to Canada. Their views can be measured only by digital surveys.
According to the Gradus Research survey, 32% of refugees would use the first chance to return to Ukraine. 10% of survey respondents have the opposite view, thinking that another country is their final destination. 47% have yet to decide – this margin has increased in recent months.
Ukrainians trust the government but want to control it
When electing the politician of the year, citizens unsurprisingly named President Zelenskyy (Razumkov Center). In the same way as abroad, he gained his domestic popularity by his actions thus far in the war. Importantly, in December 2021, the president was trusted by only 27% of Ukrainians (KIIS).
As an indicator that respect is earned on the battlefield (even in the metaphorical sense), we can point to the rise in approval for other law enforcement agencies – including police (30% to 58%), and State Security Service (SBU) (29% to 63%), as of 2022 (KIIS).
At the same time, the trust of Ukrainians of the authorities does not translate into the formation of a cult of personality for Zelenskyy and his team. The scandal regarding food contracts in the Ministry of Defense was a landmark case – it caused a public uproar, which prompted the ministry to promise procurement reforms, while deputies announced new anti-corruption laws.
Some decisions of the ruling party – in particular, delaying the restoration of electronic declarations for civil servants and MPs, as well as the highly controversial law which weakens control of the construction sector – caused criticism and disagreement among civil society and politicians. Yet, Ukrainians are willing to defend the rule of law and demand reforms, despite the war.
Ukrainians also sought to cut cultural ties with Russia
The most common way to cut cultural ties with Russia is to stop using the Russian language – it is becoming a trend in Ukraine. According to a digital survey, 33% of Russian-speaking residents of Kyiv have switched to the Ukrainian language. More than 60% are not yet ready (due to habit or lack of confidence), but the reasons are not ideological.
The rest of the country does not lag behind Kyivans. As of 2022, 58% of Ukrainians call Ukrainian the main language in everyday communication – a significant increase from 2017, when 49% of citizens spoke Ukrainian. Meanwhile, 24% of people use both languages and 15% speak Russian (KIIS).
People are generally trying to use more Ukrainian language during work, school studies, and even on the Internet. In fact, they boycott Russian music and films. Further, leading Ukrainian media, and even football clubs, are decreasing their use of the Russian language in many of their communications.
For similar reasons, 59% of Ukrainians support renaming streets and squares named after Russian figures (such as, Alexander Pushkin, a Russian poet, playwright, and novelist; and Alexander Suvorov, a Russian general in the service of the Russian Empire), with only 13% disagreeing (Democratic Initiatives). Moreover, 54% of citizens support banning the Moscow-linked Ukrainian Orthodox Church, while 24% favor direct Ukrainian state supervision over this church (KIIS). So when Zelenskyy makes tough political decisions, he truly implements the will of the majority.
The most curious fact is that 74% of Russian speakers, and 83% of bilingual ones, nevertheless thought that Ukrainian must be the only official language in the country. Overall, 86% of Ukrainians support this view (Rating Group). Such views dominate in all regions, so the country seems to have finally defeated the artificially imposed schism on the "Ukrainian-speaking west" and the "Russian-speaking east."
But it doesn't mean language issues divide the country, turning Russian-speaking citizens into an oppressed minority. As of August 2022, 51% of citizens had a positive attitude toward their Russian-speaking compatriots – compared to 37% before the invasion, when 14% had negative views and 31% had "neutral views" (Rating Group).
Ukrainians favor the idea of a political nation where language is an important pillar, but personal national sentiment and patriotism are the major "license" of being Ukrainian. Here the country's society has no contradictions – 95% of people identify themselves with Ukrainian nationality (KIIS), while hundreds of thousands of Ukrainian- and Russian-speakers are fighting side-by-side against Russian invaders.
Joining the European Union (EU) is one of the key post-war tasks for citizens. Zelenskyy named a trip to the sea as a dream for after the war. Citizens may have similar dreams, but the biggest expectation is definitely joining the EU. This step is supported by 87% of citizens (Rating Group).
As of November, 96% of people were ready to face "material difficulties," if it helps to enter the EU in the near future (KIIS). Moreover, 62% of respondents were sure that Ukraine will be able to start direct accession negotiations even before the war ends (Info Sapiens).
Thus, the Ukrainian government would have a solid motivation to be rapid in doing their "homework," given by the EU, and to adapt state law to that of Europe. Considering the mood of citizens, if Parliament and wider government members act slowly or sabotage any reforms, they would face a strong public backlash – especially after the war, once protests and political struggle will be possible again.
But Ukrainians do not just want to get a pass, but to enter the EU deservedly, by reforming the country.
Thus in December 2022, 73% of citizens supported Brussel's decision to demand a number of reforms from Ukraine, making these an "entrance ticket" to the EU – even while it means demands for the president whom they trust.
Moreover, 60% of Ukrainians support the EU's stringent expectation of their country, to introduce more anti-corruption policies and actions (Info Sapiens).
When the war ends and reconstruction of the country gets underway, citizens prefer to have their allies supervise Ukrainian businesses. In fact, 55% of respondents supported this idea, while 29% preferred to entrust the reconstruction directly to foreign companies (Rating Group).
Ukrainians are ready to fight for victory and see no other way
But before going forward in this positive way, Ukrainians must first see the war come to an end. The majority of citizens (85%) are determined to fight until complete victory is achieved, with the Ukrainian army expelling the Russian army from the entire territory of the country, including Crimea and those parts of the Donetsk and Luhansk regions which were occupied in 2014 (Rating Group).
As of December 2022, 85% of Ukrainians opposed any territorial concessions. People would rather face a longer war and new threats to the country than cede territory (KIIS).
And what about an immediate ceasefire at the current frontline? Only 1% of Ukrainians see it as "somewhat acceptable," while 97% would disagree (Tagesspiegel).
These views contradict the opinion of many Western experts who claim that the best option for Kyiv is to seek an immediate armistice with Russia because it would save the lives of Ukraine's population and its infrastructure from devastation.
Usually, proponents of such plans hope that a shaky truce will become the basis for new arrangements and eventually bring lasting peace, as took place on the Korean peninsula. Russia reportedly promotes this so-called "Korean version."
But these optimistic views by Ukrainians can be rationally explained. As Annalena Baerbock, German Minister of Foreign Affairs recently concluded: "Had Putin wanted peace, he would return his soldiers home and the war would be finished."
He obviously does not. That is why Russian troops are starting a new massive offensive in the Donbas region. Right now, according to Bloomberg, Moscow is not planning to return its troops home. According to The New York Times, the conquest of Ukraine is a key unfinished issue for Putin.
Frederick Kagan, director of the Critical Threats Project at the American Enterprise Institute, provides the same assessment: "Russia will continue to seek to subjugate Ukraine to its control fully and completely, by one means or another." Any references to Korea are wrong since the Asian state enjoys a defensive agreement with the United States, which would protect South Koreans in the event of war.
For Ukrainians, it means that any ceasefire would only be a pause in the war, when the Kremlin would prepare a new attack in the following years. Moreover, the citizens have a grim example in the Minsk Accords which did not prevent the recurrent invasion.
And when the war resumes, Russia will have an advantage – and better chances to achieve their goal by occupying all of Ukraine. According to Frederick Kagan, Moscow would use the ceasefire to better train and equip troops (in 2023, the Russians have already begun preparing to form 22 new divisions.) Meanwhile, the Ukrainian military would be weakened because the government would divert funds for reconstruction. A frozen conflict would attract less attention, and Western aid – both military and economic. Essentially, a ceasefire would mean sacrificing Ukrainians in Melitopol, Enerhodar, Nova Kakhovka, Berdiansk, and hundreds of other occupied towns and villages under Russian rule.
Pro-Ukrainian rally in Energodar
Their residents risk becoming victims of executions, tortures, child theft (more than 6000 children have been deported to Russia), forced Russification or conscription – and the "Korean version" means that they would never be saved.
So citizens are willing to keep fighting despite any threats – including the nuclear weapons, feared by Western observers. 89% of Ukrainians will refuse to surrender even in the event of a nuclear attack on the battlefield or against the city (Tagesspiegel).
89% of Ukrainians want to keep fighting even after Russian nuclear strike
After the victory Ukrainians want security … which means joining NATO.
The war is yet to be finished, but Ukrainians are already making plans for a peaceful reality. Having survived the horrors of war, citizens obviously want to do everything possible to ensure peace for the next decades. After the treacherous attack of Russia, only 8% of citizens believe that a peace agreement with the Kremlin will guarantee security (Rating Group).
And when it comes to direct protection against any possible attack, people see joining NATO as the best way. As of November, 61% of Ukrainians believe that joining this bloc will deter Russia (Rating Group). Obviously, citizens are ready for it – 86% of citizens support joining this defensive bloc (Rating Group).
As an alternative, 34% of Ukrainians count on joining the EU (although it is not a military organization) or receiving guarantees from Western allies (Rating Group). The latter is well in line with the idea of the Kyiv Security Compact, proposed by Zelenskyy's team.
This agreement will establish international guarantees for Ukraine until the country joins NATO. According to the general secretary of the bloc, Jens Stoltenberg, Ukraine will become a member of NATO after the war.
Joining NATO may seem like a foreign policy issue, but for millions of Ukrainians, it can be a decisive reason to emigrate or stay. A research study conducted by one of Ukraine's leading think tanks, CASE (located in Kyiv), indicates that if the war ends with an armistice between Ukraine and Russia, only about half of Ukrainians (54.7%) will plan the future of their children in the country. The rest will consider life in Ukraine too dangerous.
Meanwhile, if the country receives serious guarantees or joins NATO, 85% of citizens prefer that their families remain in Ukraine. It can be assumed that the risk of the next war will also influence the refugees' decision to return.
***
Ukrainian society not only withstood the horrors of the war, but was also able to rally around a common goal. Ukrainians are in a good position to fight for victory.
And they simply have no other choice. Russia is waging a genocidal war and is not going to stop – so victory is the only way for Ukrainians to save their lives and their country. That is why everyone who wants a quick end to the war has a simple recipe – help Ukraine with everything it needs.
Related:
Tags: Poll, Russian invasion