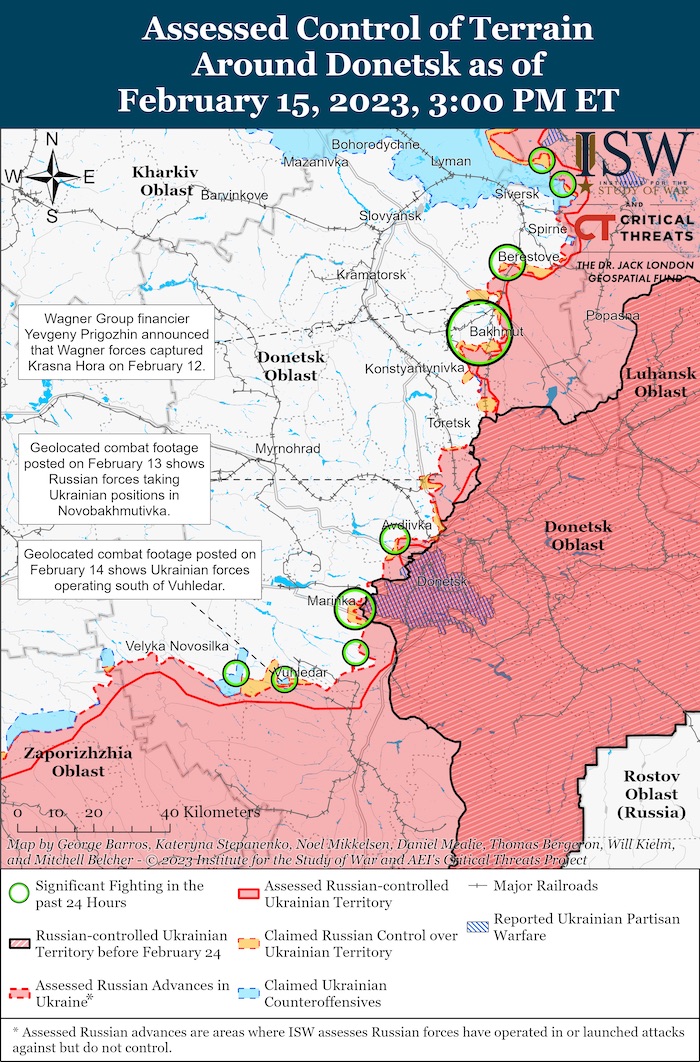 Donetsk Battle Map. February 15, 2023. Source: ISW. 
Editor's Note
In its daily
assessment
of the Russian offensive campaign, the Washington-based think tank Institute for the Study of War (ISW) says Russia's equipment and manpower reserves have likely been
"significantly depleted,"
while the country's inability to regenerate lost equipment
"further restricts Russian maneuver warfare capabilities"
in the short term.
Russia's costly military campaign in Ukraine has likely significantly depleted Russian equipment and manpower reserves necessary to sustain a successful large-scale offensive in eastern Ukraine. 
UK Defense Secretary Ben Wallace told the BBC that the UK had not seen the Russian "massing of a single force to punch through in a big offensive" and noted that Russians are now trying to advance in Donbas at a "huge cost."
Wallace estimated that Russia could have committed up to 97% of its army to the fight in Ukraine and that its combat effectiveness has decreased by 40 percent due to an "almost First World War level of attrition" that measures Russian advances in meters in human wave attacks.
ISW cannot independently confirm Wallace's estimates, but his observation that Russia lacks sufficient mechanized combat power for a breakthrough aligns with previous ISW assessments that the conventional Russian military must undergo significant reconstitution before regaining the ability to conduct effective maneuver warfare.
Wallace's observations also suggest that Russia does not have untapped combat-ready reserves capable of executing a large-scale offensive, which is also ISW's assessment.
Russia likely lost more than half of its operational tank fleet in Ukraine – IISS Military Balance 2023
Other highlights of the report by ISW:
Russia's inability to regenerate expended mechanized vehicles in the short term further restricts Russian maneuver warfare capabilities.
Russian President Vladimir Putin is unlikely to announce measures for further escalation of the war in Ukraine, major new Russian mobilization initiatives, or any other significant policy in his planned address to the Russian Federal Assembly on February 21.
Russian military failures in Ukraine continue to deny Putin the ability to present military success to the Russian public.
The Kremlin continues to pursue efforts to censor dissent through societal intimidation tactics.
A Kremlin-affiliated milblogger claimed on February 15 that Iran and Russia were creating and sharing technology on high-precision bombs, missiles for UAVs, and attack aircraft.
Read also:
Russia fails to produce military gear it needs for Ukraine campaign – British Intel
Russia amasses aircraft near Ukraine border as land offensive falters – Financial Times
Tags: Russian losses