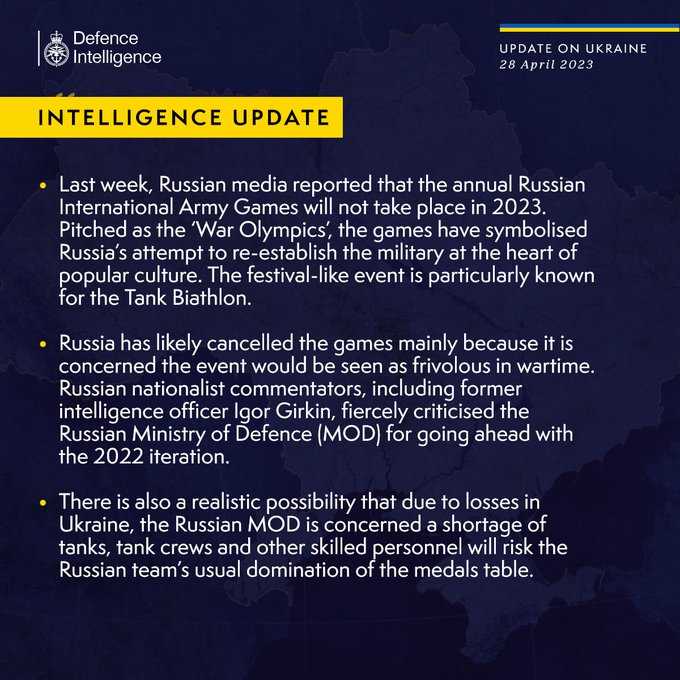 The daily update of British Intel on the Russo-Ukrainian war.
Credit: UK Ministry of Defence/Twitter 
Russia's Defense Ministry canceled the annual Russian International Army Games in 2023, according to British Intelligence.
This festival-like event, which symbolizes Russia's attempt to re-establish the military at the heart of popular culture, is particularly known for the Tank Biathlon. According to British Intelligence, Russia has likely canceled International Army Games mainly because it is concerned the event would be considered frivolous in wartime.
"There is also a realistic possibility that due to losses in Ukraine, the Russian MOD is concerned a shortage of tanks, tank crews, and other skilled personnel will risk the Russian team's usual domination of the medals table," British Intel reported.
Russian nationalist commentators, including former intelligence officer Igor Girkin, criticized the Russian Ministry of Defence for going ahead with the Russian International Army Games back in 2022, British Intelligence noted.
According to the General Staff of Ukraine's Armed Forces, Russia has already lost 3,694 tanks since the beginning of the full-scale invasion of Ukraine.
Related:
Tags: British intelligence, Russia, Russian invasion of Ukraine, Russian losses