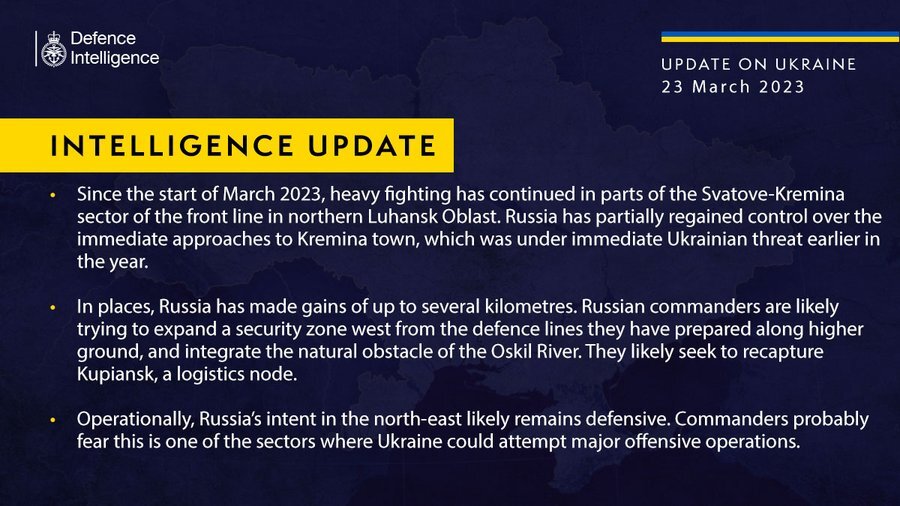 British Intel's update on Ukraine as of 23 March 2023.
Credit: UK Defence Ministry/Twitter 
Russian forces strengthen their defense lines in northern Luhansk Oblast (eastern Ukraine) anticipating Ukraine's major offensive operations in this area, according to the daily report by British Intelligence.
Since the beginning of March 2023, heavy fighting has continued around the cities of Svatove and Kremina in northern Luhansk Oblast, according to British Intel. Currently, both of the cities are under Russian control. Ukrainian forces exert pressure on Svatove and Kreminna, which are important transportation hubs for the Russian army in Luhansk Oblast, eastern Ukraine.
Russian forces have managed to partially regain control over the immediate approaches to Kremina city, which was under immediate Ukrainian threat earlier in the year, British Intel reported.
In some areas around Kreminna city, Russian forces have made gains of up to several kilometers, according to British Intel. Russian commanders are likely trying to expand a security zone west from the defense lines that they have prepared along the higher ground and integrate the natural obstacle of the Oskil River to prevent Ukrainian forces from advancing any further in this area.
Apart from that, Russian forces likely seek to recapture Kupiansk (Kharkiv Oblast, eastern Ukraine), according to British Intel. Kupiansk is an important logistics node that Ukraine's Armed Forces liberated in September 2022.
Operationally, Russia's intent in the northeast likely remains defensive. Commanders probably fear this is one of the sectors where Ukraine could attempt major offensive operations, according to British Intel.
Related:
Tags: British intelligence, Luhansk Oblast, Russian invasion of Ukraine