Costly offensives in Donetsk Oblast of eastern Ukraine have significantly degraded Russia's elite infantry force, according to British Intelligence.
Imagery shows concentrated Russian vehicle losses in the Vuhledar sector of Donetsk Oblast. Destroyed Russian military vehicles were likely elements of Russia's 155th Naval Infantry Brigade which has been at the forefront of recent costly offensives, British Intel reported on 26 February in its daily update on Ukraine.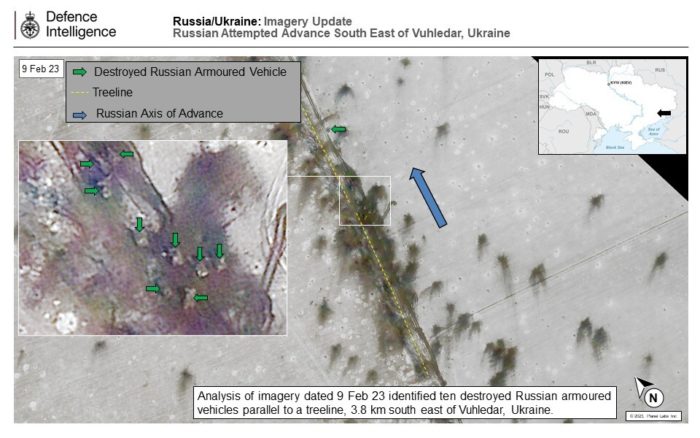 Naval infantry is an elite infantry force within the Russian military. Unlike the similarly prestigious airborne infantry (VDV), naval infantry has not deployed as a single large formation in Ukraine. Instead, individual units have been attached to Ground Forces-dominated Groups of Forces. The Russian military command prefer to attach individual units of naval infantry to Ground Forces-dominated Groups of Forces, British Intel reported.
Being tasked with some of the toughest tactical missions in the Russo-Ukrainian war, Russian naval infantry suffered extremely high casualties, especially during the series of assaults on the city of Vuhledar.
The supposedly enhanced capability of Russian naval infantry brigades has now almost certainly been significantly degraded because it has been backfilled with inexperienced mobilised personnel, according to British Intel.
Despite heavy losses, it is still highly likely that degraded naval forces' units will again be committed to new assaults near Vuhledar, Brtitish Intel analysis concluded.
Related: