Residents of Kherson Oblast protests against Russian occupation. Image by Golos Ukraini 
A new survey "Omnibus," conducted by the Kyiv International Institute of Sociology during ten months of the war, has revealed that most Ukrainians have become more convinced that territorial concessions to Russia should not be exchanged for peace.
In May 2022, 82% of respondents agreed with the statement that Ukraine's territorial integrity was not negotiable even if the war would last longer. In February 2023, that number exceeded to 87%.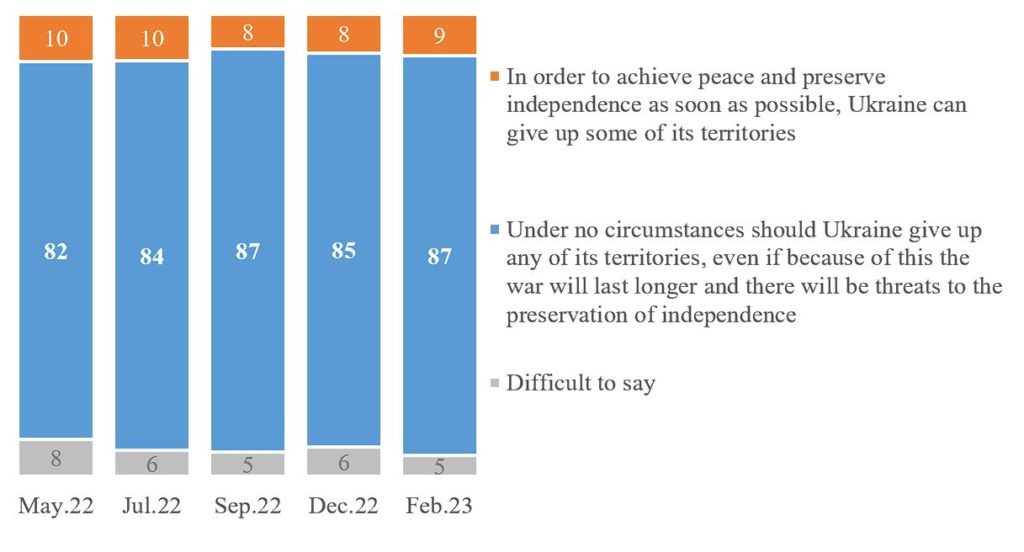 In all regions of Ukraine, most of the population opposes territorial compromises. In particular, 82% who live in the eastern part of the country and 86% of residents from southern Ukraine rejected the idea of signing any peace deals with Russia, the Kyiv International Institute of Sociology said. Poll shows that today only 9% of respondents consider giving territories to the aggressor country for a ceasefire.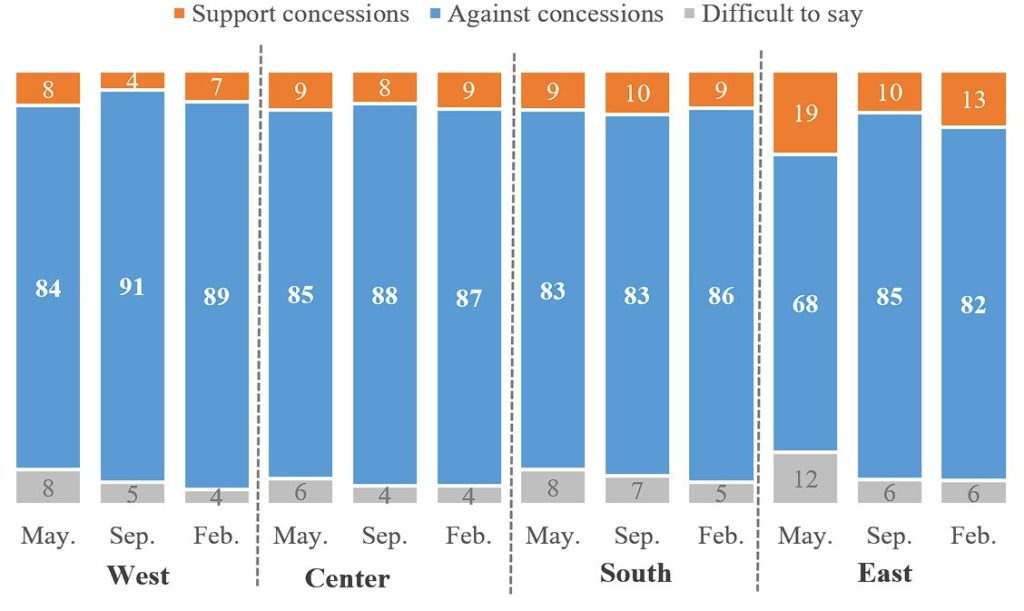 Readiness for territorial concessions in the regional dimension
The Executive Director of KIIS, Anton Hrushetskii, says the survey results indicated that most Ukrainians would keep fighting the Russian invasion despite any threats.
"As you can see, even at the end of a challenging winter, Ukrainians keep their unity and desire to resist the cruel aggressor. Currently, any which sells "peace in exchange for territory" to Ukrainians is doomed to fail and be rejected by society," he stated.
The Kyiv International Institute of Sociology interviewed 2,002 respondents from all the regions of Ukraine, except occupied territories and residents who left the country, using the method of computer-assisted telephone interviews based on a random sample of mobile phone numbers.
Related:
89% of Ukrainians want to keep fighting even after Russian nuclear strike – Euromaidan Press
Poll shows majority of Europeans believe in Ukraine's victory in war with Russia – Euromaidan Press
Russia's war has displaced two-thirds of Ukrainians in hostilities-affected areas – poll – Euromaidan Press