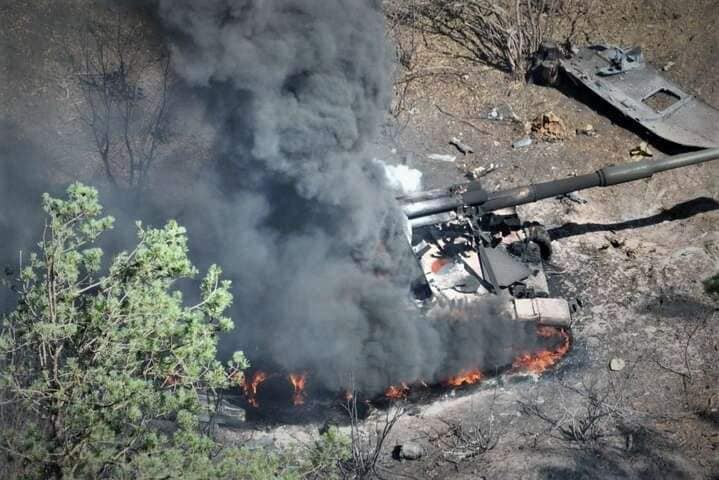 Russian tank on fire. Photo: General Staff of the Armed Forces of Ukraine 
Russia has likely lost more than 2,000 tanks in its war in Ukraine, more than half of its operational tank fleet, according to estimates released on 15 February by the London-based think tank International Institute for Strategic Studies (IISS), The Wall Street Journal reports. The estimates are used to inform the IISS Military Balance, an annual assessment of military strength worldwide.
The weapon losses are forcing Russia to rely on its older weapon stockpiles even as it seeks to increase industrial production of newer weapons, according to the think tank.
"The estimates suggest that Russia might have lost 50% of modern tanks such as the T-72B3 and T-72B3M and that its inventory of T-80BV/U tanks has been depleted by two-thirds. Henry Boyd, research fellow at the IISS, estimated a floor of about 1,700 tank losses by Russian forces. 'I would suspect the actual figure is somewhere between 20% and 40% higher than that' at between 2,000 and 2,300, he said," WSJ wrote.
According to the IISS report, the current Russian operational tank inventory is at 1,800, with a further 5,000 tanks in storage, most of which are of "lower quality and many are likely to be junk." Meanwhile, Russia's most modern T-14 Armata tanks remain in test, according to ISS analytics.
According to the current estimates of the General Staff of Ukraine's Armed Forces, Russia lost 3,296 tanks in the course of the all-out war as of 16 February.
The Oryx team, which is tracking the visually confirmed Russian losses of equipment, says 1,733 Russian tanks as destroyed, damaged, or captured.
Read also:
Tags: Russian losses, Russian tanks