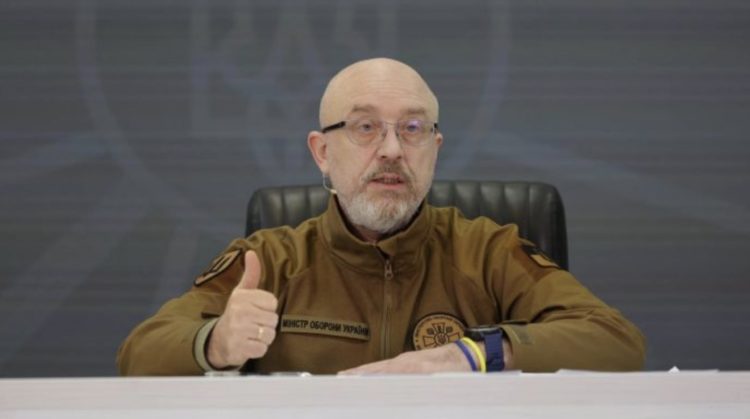 Oleksii Reznikov, the Ukrainian Defense Minister, at a press conference on 5 February, a video screenshot/ Source: Ukrinform 
Oleksii Reznikov, the Ukrainian Defense Minister, had stated at a press conference that the country's defense forces anticipate Russian offensive operations before the symbolic date of 24 February, when the full-scale invasion began. However, he has urged the public to rely solely on official information, as reported Ukrinform news agency.
"There was a great deal of information, probably everyone has read the Telegram channels [that reported-ed.] that an attack would occur at night, and so on. No attack took place. It is critical to pay attention to the General Staff's official position. When it becomes clear that they [ the Russians – ed.] have formed offensive groups, our General Staff knows exactly where and when," the Minister of Defense, Rezniko.
Regarding Kharkiv, Reznikov noted that there are currently no offensive groups from Russia.
However, he did not rule out the possibility that "they may appear after some time."
Nonetheless, he did not rule out the possibility of increased pressure from the Russian invaders and offensive operations.
"We continue to anticipate possible Russian offensive operations because it's February and they love symbolism – February 24 will mark the anniversary of the beginning of this invasion, the beginning of the full-scale Russo-Ukrainian war, which began in 2014. Thus, we anticipate this pressure. We are prepared, the Armed Forces of Ukraine are prepared, and the Staff of the Supreme Commander-in-Chief is constantly monitoring the situation, so there are no unexpected things for us," stated Oleksii Reznikov.

Reznikov added that the Defense Ministry has no record of offensive groups forming in Belarus to attack Kyiv.
"Today, we do not observe any offensive groups capable of moving to Kyiv from the territory of Belarus. There is currently no such concentration of troops. Our estimates indicate that there are no more than 12,000 Russian soldiers on training grounds in Belarus," the minister emphasized.
In addition, Reznikov believes that if international partners had acted in advance, a full-scale war between Russia and Ukraine could have been avoided.
"This war could have been avoided entirely if Nord Stream 2 had been stopped, if access to the SWIFT system had been cut off, if Russian ships had been barred from entering international ports, if Europe had stopped buying their gas, which they did anyway, if they had begun to block assets of Russian oligarchs," the minister believes.
Read also:
Ukraine's army needs "hundreds of thousands" of drones – Defense Minister Reznikov
Russia is readying for renewed invasion in February – Def Min Reznikov
Tags: General Staff, Ministry of Defense of Ukraine, Russian offensive, Russo-Ukrainian War (2014-present)