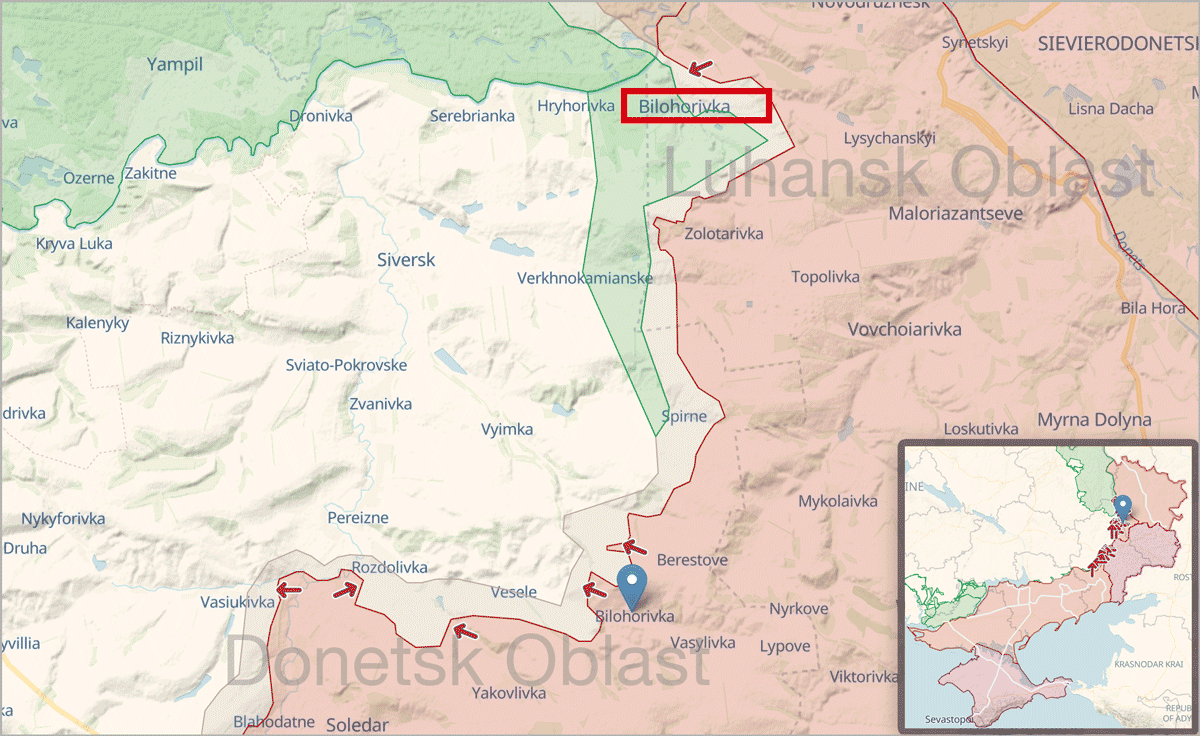 Luhansk's Bilohorivka (marked with the red rectangle) and Donetsk's Bilohorivka (marked with the blue marker) on the map showing the situation as of 5 February 2023 (full size image). Map: DeepState 
Head of the Luhansk Oblast Military Administration Serhii Haidai refuted claims circulated by various Russian sources that the Russian troops have allegedly captured the settlement of Bilohorivka in Luhansk Oblast:
"The Russian Federation is spreading information about the alleged capture of Bilohorivka and the evacuation of people from there. In reality, the enemy has not entered the town, our troops are at the positions. The invaders don't even know if there are people left and how many," he wrote.
Ukrainian troops liberated Luhansk Oblast's Bilohorivka last September and keep defending it since then.
The Russian sources might have confused Luhansk's Bilohorivka with Donetsk Oblast's one, or deliberately spread the false report. The latter is situated some 20 kilometers to the south of the Luhansk Bilohorivka and was recently occupied by the Russian forces after months of fighting in the area (see the map).
Read also:
Russia might attempt new major offensive in coming months most likely in Luhansk Oblast – ISW
Ukrainian defenders liberated Bilohorivka village in Luhansk Oblast
Russian troops suffer epic fail while attempting to cross river at Bilohorivka
Tags: Bilohorivka, Donetsk Oblast, Luhansk Oblast