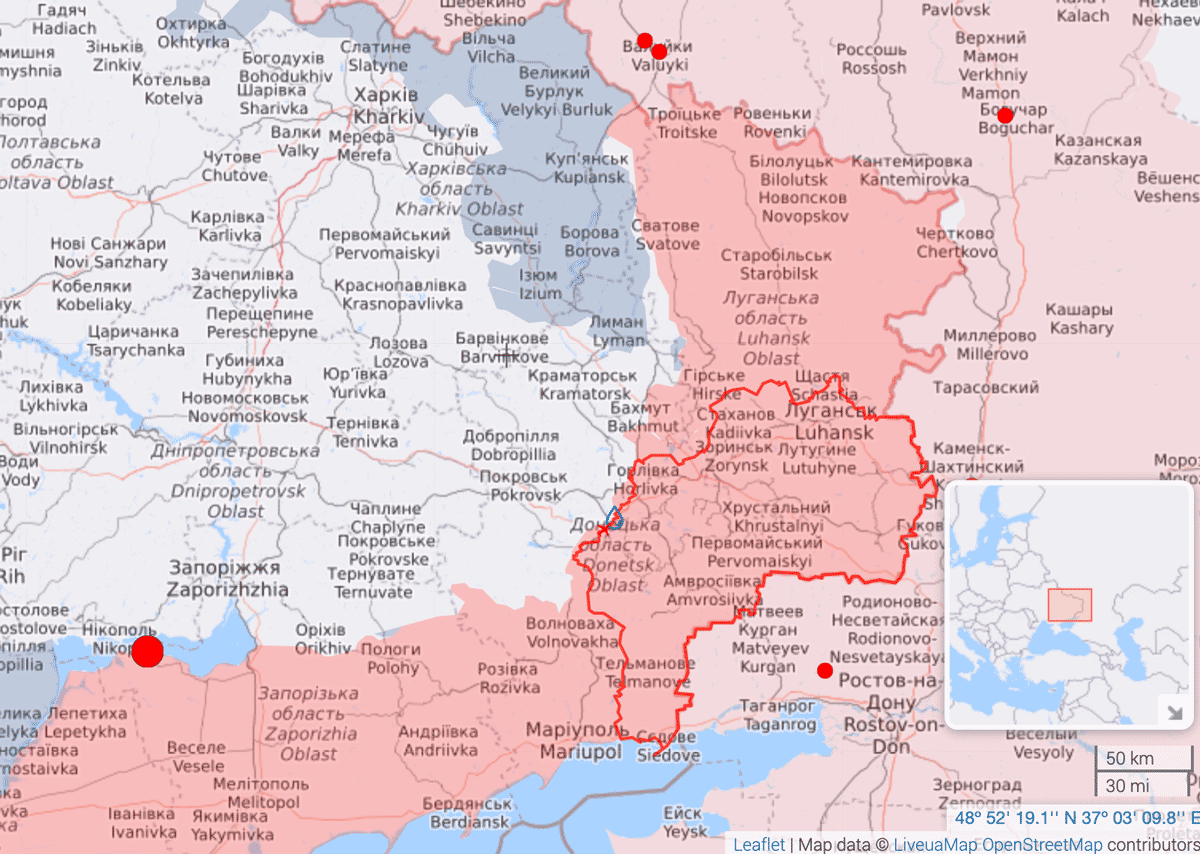 Current situation in Ukraine's east. Map: Liveuamap 
Editor's Note
The US-based Institute for the Study of War says that Bloomberg's report based on Kremlin insider sources that Russia is preparing a new offensive in February or March 2023 is consistent with ISW's current assessment that the Kremlin is preparing "a decisive strategic action" in the next six months most likely in Luhansk Oblast.
Russian officials, Kremlin advisors, and other unspecified knowledgeable figures who spoke on condition of anonymity reportedly told Bloomberg that Putin seeks to conduct a new major offensive and that he believes that Russia's tolerance to accept causalities will allow Russia to win the war in the long run despite Russian failures so far.
This report is consistent with ISW's current assessment and forecast that the Kremlin is likely preparing to conduct a decisive strategic action—most likely in Luhansk Oblast—in the next six months intended to regain the initiative and end Ukraine's current string of operational successes.
ISW previously assessed that the decisive strategic action in Luhansk Oblast could be either a major offensive or a Russian defensive operation to defeat and exploit a Ukrainian counteroffensive.
Ukraine intel says Russia prepares Donbas offensive in spring, partially confirming ISW's standing assessment – ISW
Recent limited Russian ground attacks in Zaporizhzhia Oblast may be intended to disperse Ukrainian forces and set conditions for an offensive in Luhansk. Russia is redeploying elements of the 2nd Motorized Rifle Division from Belarus to Luhansk Oblast. This recent development suggests that the planned Russian offensive referenced in the Bloomberg report is most likely aimed at Luhansk Oblast though it could also occur in the Vuhledar area in western Donetsk. This new offensive is extremely unlikely to target northern Ukraine from Belarus. There continues to be no indication that Russian forces are forming strike groups in Belarus; Russian elements in Belarus are largely using Belarusian infrastructure and training capacity for training rotations.
Russian milbloggers are also increasingly writing off the notion of a second attack against Kyiv as an information operation and are suggesting that the most likely target for a Russian offensive would be in eastern Ukraine or neighboring Kharkiv Oblast.
Tags: Luhansk Oblast