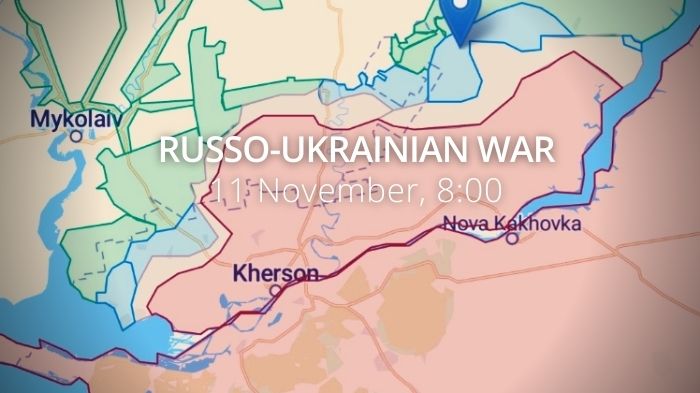 Daily overview — Summary report, November 11
A map of the approximate situation on the ground in Ukraine as of 00:00 UTC 11/11/22. pic.twitter.com/WA97SeaQYq

— War Mapper (@War_Mapper) November 11, 2022
The General Staff's operational update regarding the Russian invasion as of 06.00 am, November 11, 2022 is in the dropdown menu below:
Military Updates
Russia has realized that sporadic missile and drone strikes do not bring the desired destruction to Ukraine's infrastructure and are therefore trying to stockpile precise missiles, spokesman of Ukraine's Air Force Yuriy Ihnat said on air of the country's national newscast. Read more here.
Regional Updates
In Mykolaiv Oblast, drinking water will soon return to Mykolaiv. The Armed Forces of Ukraine liberated Kyselivka, a town where the water canal supplying water to Mykolaiv is located.
According to British Defence Intelligence, (last 48 hours): 
Losses of the Russian army 
As of 11 November, the approximate losses of weapons and military equipment of the Russian Armed Forces from the beginning of the war to the present day:
Humanitarian 
️Legal 
Amnesty International documents Russian war crimes in Ukraine. Russian authorities deported Ukrainian civilians from occupied regions in what amounted to war crimes and likely crimes against humanity, Amnesty International says in a new report. The report 'Like a Prison Convoy": Russia's Unlawful Transfer of Civilians in Ukraine and Abuses During 'Filtration' also reveals that Russian troops forcibly separated children from their families and transferred them into Russian-controlled areas of Russia. Read more here.  
Support 
Speaker of the Lithuanian parliament Viktorija Čmilytė-Nielsen met with Deputy Speaker of the Ukrainian parliament Olena Kondratiuk in Kyiv, UkrInform reported.  "Ukraine is fighting not only for its freedom but also for the freedom of Europe. I am sure the Ukrainian state will become part of the European Union. We are ready to provide support in this process and the process of the Euro-Atlantic integration of Ukraine," Viktorija Čmilytė-Nielsen said during the joint briefing with Kondratiuk. According to the Seimas speaker, Lithuania sees Ukraine as a prosperous, free, democratic country and will help Ukraine punish Russian war criminals. Read more here.
https://twitter.com/EuromaidanPress/status/1590830238686072832
The European Union has approved agreements with Ukraine and Moldova to ease the cross-border transport of goods. The agreements will facilitate road freight transport, allowing haulers to transit through, and operate between, each other's territories without the need for related permits. Read more here. 
https://twitter.com/EuromaidanPress/status/1590741455639023617
missiles for HAWK air defense systems;
4 Avenger anti-aircraft missile systems and Stinger missiles;
ammunition for HIMARS;
21,000 155mm artillery shells;
500 high-precision 155-mm artillery shells;
10,000 120mm mortar mines;
100 highly mobile vehicles (HMMWV);
400 grenade launchers;
small arms, optics and more than 20,000,000 cartridges for it;
explosive equipment and means of protection from the cold.
https://twitter.com/EuromaidanPress/status/1590817325686861824
New Developments 
Russian President Vladimir Putin will not attend in person a summit of leaders from the Group of 20 nations in Bali next week, CNN reported, citing the Russian embassy in Indonesia. Read more here.
Assessment 
On the war. 
The Institute for the Study of War has made the following assessment as of 10 November, 2022:
Tags: Russian invasion