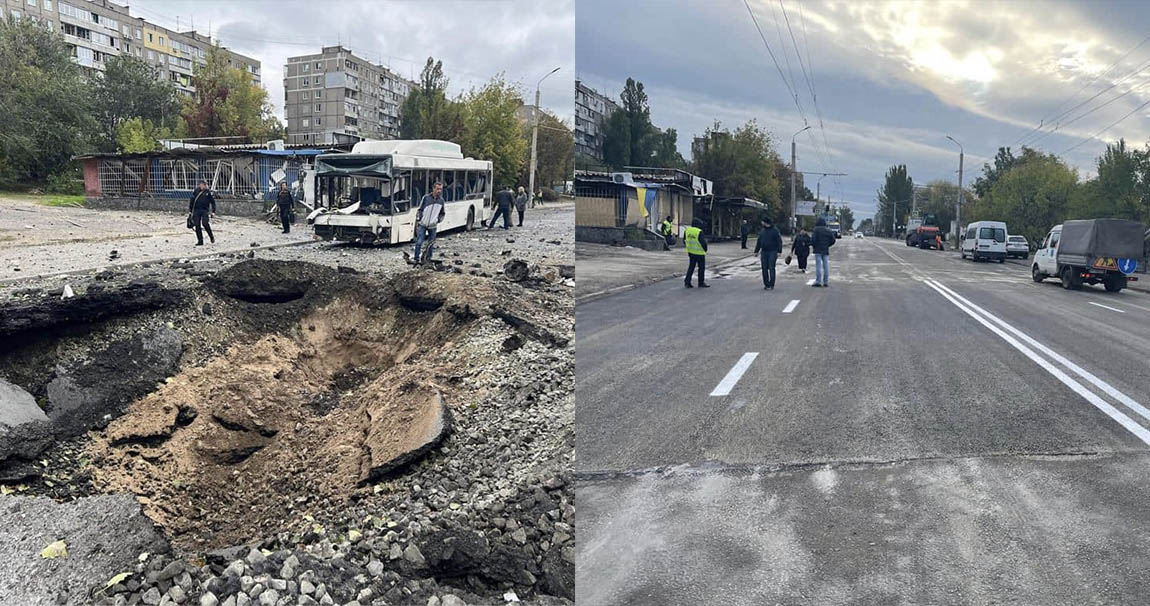 Dnipro after the Russian missile strike on 10 October (left) and after repairs on 11 October (right). Photos by Dnipro mayor Borys Filatov 
Municipal services had managed to repair roads damaged by unprecedented Russian missile strikes of 10 October in the capital Kyiv and the central-Ukrainian city of Dnipro overnight. Dnipro mayor Borys Filatov shared before and after pictures of a road in the Ukrainian city with an enormous crater from a Russian missile on his facebook page.
"Let them choke on it. We'll rebuild and restore everything. But our hatred will live on for centuries," Filatov stated.
Kyrylo Tymoshenko, deputy Head of the President's Office, also shared photos of repaired roads in central Kyiv, where Russian missiles had killed civilians, destroyed cars, a park, and shattered windows of the Taras Shevchenko National University. He informed that traffic movement in central Kyiv, which fell under the attack, had been restored, and that cars destroyed in the strike were cleared off the road.
Russia continued striking Ukrainian cities and energy facilities on 11 October. This was a continuation of unprecedented strikes on 10 October, which killed 19 civilians and injured 105.
Russia continues strikes against Ukrainian energy facilities; air defense shoots down 20 missiles, 13 drones
Kyiv, Ukrainian cities under unprecedented missile strike, casualties reported: LIVE UPDATES
Tags: Dnipro, Kyiv, Russian missile attacks