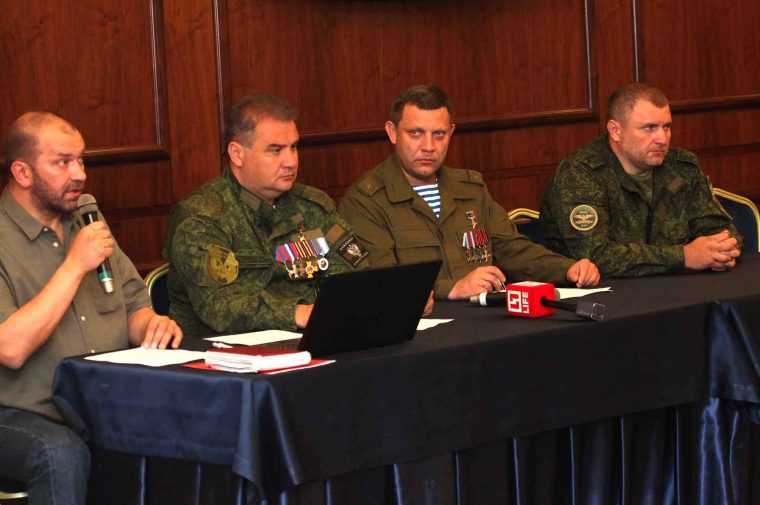 "DNR" head Alexander Zakharchenko and other "DNR officials" declare the state of Malorossiya. Donetsk, 18 July 2017. Credit: dninews 
Today, Aleksandr Zakharchenko, leader of the Kremlin-run "Donetsk People's Republic" ("DNR"), proclaimed that the new state Malorossiya is a "successor to Ukraine," calling Ukraine a failed state. "DNR"'s twin statelet "LNR" had no notion about Zakharov's declaration. Ukraine's President Petro Poroshenko says this means that Novorossiya Russia's project has been buried. Germany and France condemned this new state proposal. The Ukrainian and Russian envoys to the Minsk negotiations both said such declaration undermines the Minsk peace process.
On 18 July, Aleksander Zakharchenko, the Kremlin-installed leader of so-called Donetsk People's Republic, a breakaway region in Ukraine's Donbas, delivered a statement to the press in occupied Donetsk, saying:
We propose to establish the state of Malorossiya. Malorossiya is an independent young state. A transition period of up to 3 years.
The Russian state outlet Sputnik highlights: "Malorossiya has been declared as a sovereign federation of states with wide-ranging autonomy," and quotes so-called "DNR tax minister" Aleksandr Timofeev:
We, the representatives of former Ukraine, declare the establishment of a new state, Malorossiya, which is a successor state to Ukraine. We agree that the new state's name will be Malorossiya because the very name of Ukraine has discredited itself. The city of Donetsk becomes Malorossiya's capital.
Timofeev disclosed the plans of "Malorossiya":
The policy aimed at joining the Union State of Russia and Belarus while preserving independence and sovereignty. The keeping of a visa-free regime in agreement with the European Union.
The bad news for him is that it was Russia which recognized "LNR" and "DNR" passports, not the European Union.
The "Official declaration of the Malorossian Federation" was published on one of "DNR's" promotional websites.  It reads, "To stop the civil war and avoid new victims, we, representatives of the majority of the regions of the former "Ukraine" assembled in Donetsk on July 18, 2017, discussed the current situation," however, the photographs accompanying the publication show just four "DNR" members "representing the majority of the regions of the former Ukraine" and journalists listening to the statement:
"DNR" head Alexander Zakharchenko and other "DNR officials" declare the state of Malorossiya. Donetsk, 18 July 2017. Credit: dninews
Alexander Zakharchenko, head of so-called DNR declaring Malorossiya. Donetsk, 18 July 2017. Credit: dninews
Moreover, Vladimir Degtyarenko, the Head of the "LNR Parliament," said that the Luhansk occupation authorities have no idea what has happened in Donetsk, "The Luhansk People's Republic didn't send its official delegates to the meeting of the representatives of Ukraine's regions. Moreover, we were not even informed about the intention to hold this event, this issue wasn't aligned with us."
The Declaration is stuffed with anti-Ukrainian narratives of Russian propaganda including allegations of neo-Nazism, genocide, coup, civil war etc. A so-called Malorossiya is proclaimed inside Ukrainian borders excluding Crimea, according to the attached maps:
We, representatives of the regions of the former "Ukraine," propose to re-establish the state and to proclaim the state of MALOROSSIYA under historical background out of the former "Ukraine." In this case, it is of fundamental importance to rename the country, since "Ukraine" as a state is guilty of war crimes, mass terror, and genocide of its own people.
The so-called "DNR Parliament Head" Denis Pushilin has called the creation of Malorossiya "an interesting initiative" and said, "However, as of now it is just an idea, pretty objectionable in LNR, DNR, Russia."
Russian propagandist groups on vk.com, "the Russian Facebook," have already started replacing Novorossiya in their names with Malorossiya:
Administrators of pro-Russian groups have already changed old "Novorossiya" to new "Malorossiya" pic.twitter.com/IsM0iqaKJa

— Liveuamap (@Liveuamap) July 18, 2017
Russia's state media outlets have started to promote the "state of Malorossiya":
RU state media promotes "establishment of new country—Malorossiya" as a successor to Ukraine pic.twitter.com/ZSloARC2FI https://t.co/NagEfk1B2v

— Gregor Martin (@Guderian_Xaba) July 18, 2017
#Russia's state media & lawmakers are now promoting this insanity as the new reality.
More #sanctions, please.#MinskAgreement #Ukraine pic.twitter.com/RM4mw2NtLe

— Julia Davis (@JuliaDavisNews) July 18, 2017
Ukraine, Germany, France condemn Malorossiya
President of Ukraine Petro Poroshenko has commented on proclaiming another state on Ukrainian territory. "Zakharchenko is not a political figure, but a puppet transmitting the Kremlin messages," Poroshenko noted, and added, "Project Novorossiya was buried. Ukraine will resume sovereignty over the Donbas and Crimea."
Foreign Minister of Ukraine Pavlo Klimkin thinks that Russia is trying to apply the Abkhazian scenario in Ukraine, he wrote on his Twitter page:
Just as the Ukrainian delegation is in Georgia, the Kremlin is trying to do in Donbas what it has done in Abkhazia, we will not let them.
Klimkin refers to 2008 events, when Russia invaded Georgia's regions of Abkhazia and South Ossetia, then declared their independence and recognized them as independent states.
A spokesperson for the German federal government told DW, "Mr. Zakharchenko has no legitimacy to speak on behalf of Ukraine. We expect Russia to also immediately condemn this step, and that it neither respects nor even acknowledges it."
French foreign ministry's spokeswoman called on Russia "to condemn this fact which violates the Minsk agreements and betrays the spirit of negotiations in the Normandy format."
Novorossiya vs. Malorossiya
The "Donetsk People's Republic" ("DNR") was proclaimed in 2014 by the Russian forces in Donetsk to separate the region from Ukraine. Another attempt of creating a Russian puppet statelet in Ukraine succeeded in Luhansk, where the so-called "Luhansk People's Republic" was proclaimed in the same year.
Both "republics" were parts of a greater project, Novorossiya ("New Russia"), intended to separate all southern and eastern provinces from Ukraine and to create a land corridor from Russia to the annexed Crimean peninsula.
But Kharkiv, Odesa, Mykolaiv and all the other "people's republics" had failed.
Read more: Meet the people behind Novorossiya's grassroots defeat
Historian
Ihor Vynokurov
notes: "
The term people's republic may indeed be derived from the UNR name as familiar for Ukrainians. But the other possible explanation is that the people who supervised the creation of DNR and LNR in Moscow followed the examples that are more familiar to them. They all grew as Soviet citizens during the Cold War when the notion of "countries of people's democracy" was commonplace to denote Moscow's global domination. So the Polish People's Republic, Bulgarian, Hungarian, and, not least, Chinese People's Republic were omnipresent in the discourse of their generation. This is what they lost because of the so-called "greatest geopolitical catastrophe" of 1991, this is a subject of their nostalgia.
Regarding the territory of Malorossiya and Novorossiya, most likely, Russians (and many Ukrainians alike) mostly imagine Novorossiya as 1/2 of Ukraine and Malorossiya as roughly full Ukraine. However, when speaking of "historic" toponyms, we should differentiate between these vaguely imagined terrains, on the one hand, and regions with defined limits, on the other. All Russian administrative entities which included the name Novorossiya were definitely less than half-Ukraine. As for Malorossiya, the two entities the Russian Empire created using this name (the Governorate and then General Governorate) covered even smaller territory compared to the administrative Novorossia. In this latter sense, Malorossiya contained the territory of (also roughly, of course) just two contemporary regions: Chernihiv (where was its capital), and Poltava Oblasts. It doesn't repeal the fact that In the mental geography of both 19th-century Russia and a Putin one, Malorossiya does amount to Ukraine, and the new name of the "state" shows how far their appetites go.
The term "people's republic" in the names of pseudo states was allegedly used intentionally to sound familiar for Ukrainians. It referred to the Ukrainian People's Republic (UNR), an independent Ukrainian state declared in 1918.
The notion Novorossiya was the historical name of several Ukrainian governorates in the Russian Empire.
Malorossiya ("Little Russia"), mentioned by Zakharchenko as a name for a new state, was a term in the Russian Empire to designate the territory of almost entire modern Ukraine. Correspondingly, the Empire officially called Ukrainians Malorossy ("little Russians") contrary to Velikorossy ("great Russians").
"DNR tax minister" Timofeev cleared it up: they want to rename the Donbas Ukrainians to "little Russians" and call the Ukrainian language "the little Russians' language":
Malorossiya is a multinational state with Russian and Malorossian being its official languages, and regional languages retaining their rights and statuses.
This proclamation is akin to taking a time machine back to the time of the Russian Empire when most of the territory of modern Ukraine was essentially colonized and its language and national identity all but destroyed in the process of "russification" which continued through the USSR to the present day.
Russian imperial policies have been directed at the linguicide of the Ukrainian language, with multiple covert and direct influences working to persuade Ukrainians to renounce their language and identity of "inferior Malorossiyans" to become full-fledged citizens, or "Velykorossiyans."
Renouncing the identity of "Malorossiyans" and adopting those of Ukrainians was the cornerstone of Ukraine's national struggle for statehood.
What the proclamation of Malorossiya may mean
The proclaiming of Malorossiya can be as a personal initiative of Zakharchenko (unlikely) as a new Russian project for Ukraine just voiced by the "DNR leader."
Russian nationalist writer Zakhar Prilepin claims he is behind the declaration, in his interview with Komsomolskaya Pravda Prilepin said,
 We really wanted to create a surprise not only for Moscow, but also for Washington, and for Kiev, first of all. And for Odesa. And for Kharkiv. 
However, Zakharchenko would hardly do anything without Kremlin's approval.
So what may the proclamation of Malorossiya mean?
Project Novorossiya failed
Changing the narrative of "DNR" from "Novorossian" to "Malorossian" means, first of all, that Russia admits the failure of its Novorossiya project in Ukraine. President Poroshenko thinks that the project has been "buried."
Next step of Abkhazian scenario
As we reported earlier, the shift in the Russia's policy towards Ukraine's occupied parts of Luhansk and Donetsk oblasts showed possible Russia's preparations to recognize so-called LNR and DNR as independent states:
In February, Russian President Putin recognized LNR and DNR "passports" in Russia.
In March, LNR adopted the Russian ruble as its basic monetary unit.
All enterprises and organizations that had operated under Ukrainian jurisdiction in the occupied territory were seized by occupation authorities of Donbas "republics".
Those steps are similar to the Abkhazian scenario of the Russian occupation. Russia recognized two Georgia's provinces, Abkhazia and South Ossetia, as independent states back in 2008. Another Russia-controlled enclave, Moldova's Transnistria remains unrecognized as a state even by Russia over the 25 years of its existence.
Read more: Policy shift shows Russia preparing to recognize its puppet republics in Donbas
Declaring the "independent state" by the DNR still fits into the Abkhazian scenario, which implies further recognition of the puppet state's independence by Russia.
Blocking the Minsk process
The declaration by Zakharchenko contradicts the Minsk-2 agreement called to broker a peace to the conflict in eastern Ukraine, where the territories uncontrolled by the Ukrainian government are viewed as parts of Ukraine.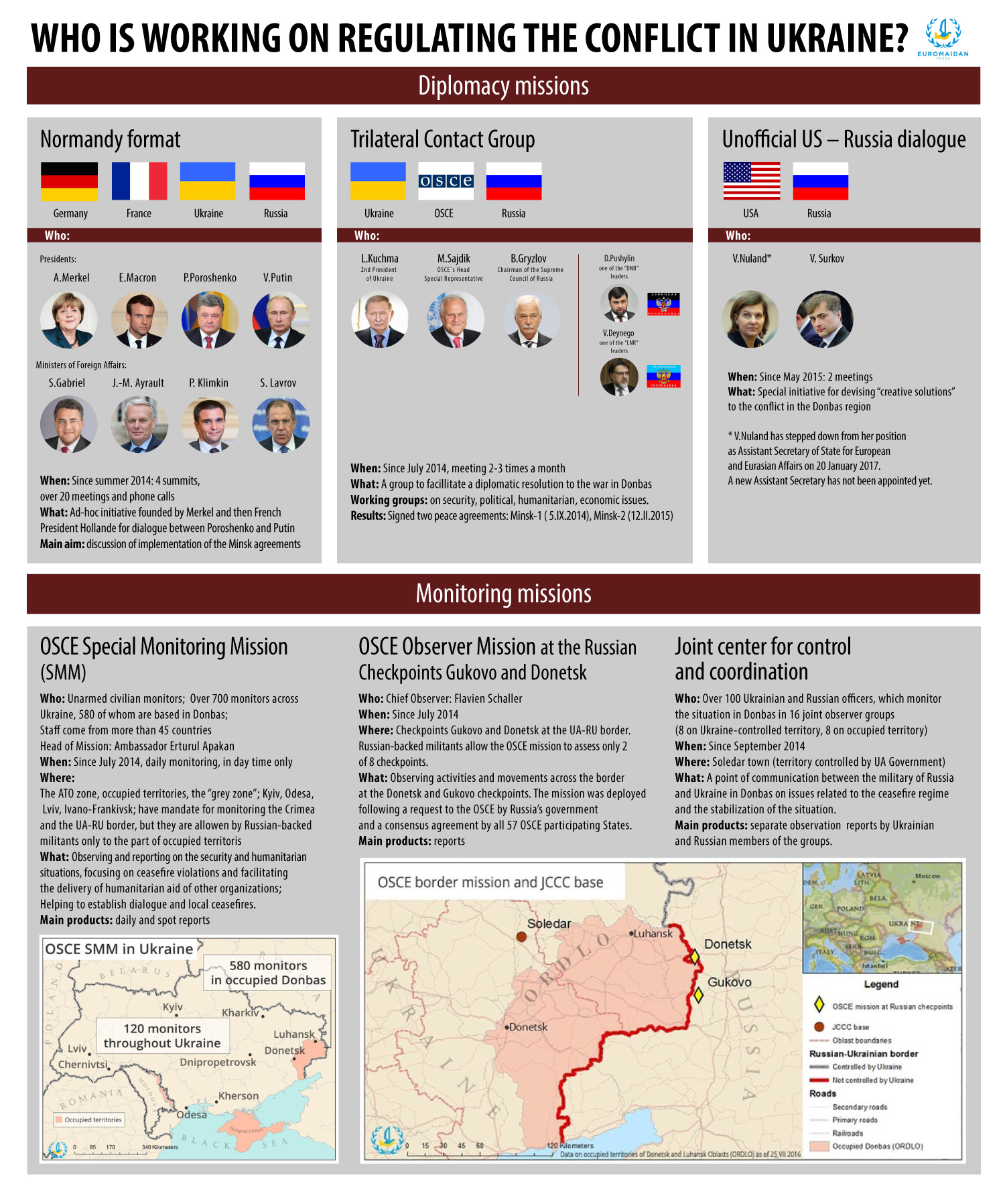 Minsk peace process in a nutshell.
Read more: Who is who in the Minsk process | Infographics
Yevhen Marchuk, a Ukrainian representative in the security subgroup of the Trilateral Contact Group (TCG), said:"This statement can generally block the negotiation process." Marchuk also mentioned an important detail:"This statement was made before tomorrow's meeting in Minsk, and it can happen so that there will be nothing to talk about."
Russian envoy to TCG Boris Gryzlov said:
This initiative doesn't fit in the Minsk process. I perceive this only as an invitation to a discussion, this statement has no constitutive consequences.
As per Sputnik, Gryzlov attributed Zakharchenko's proposal to "information warfare" which "is not a subject of realpolitik," implying that the declaration of Malorossiya is not a Kremlin's project, but Zakharchenko's own initiative.
Russia wants all of Ukraine instead of half
While historic Malorossiya was less than historic Novorossiya, Kremlin's project Novorossiya covered half of Ukraine and the new project Malorossiya expands on the entire area of Ukraine excepting Crimea.
Secretary of the National Security and Defense Council of Ukraine Oleksandr Turchynov believes, "The statements of the Kremlin clown puppets who call themselves the leaders of the occupied Donbas, about the creation of Malorossiya is more proof of Putin's aggressive plans and his maniacal reluctance to resolve issues in the east of Ukraine by peaceful means."
Between 14 April 2014-15 May 2017,  the OHCHR recorded 34,056 casualties among civilians, the Ukrainian military and members of armed groups in the Donbas, 10,090 people killed, including 2,777 civilians, and 23,966 injured.
The established Russia-backed statelets LNR and DNR originally sought to join Russia but the Kremlin hasn't ever recognized both "republics" as states over the 3 years.
At a summit in Minsk on 11 February 2015, the leaders of Ukraine, Russia, France, and Germany agreed to a package of measures to alleviate the ongoing war in the Donbas region of Ukraine. The package is now known as Minsk-2
---
Read more:
Tags: Donbas war (2014-present), Malorossiya, News, Russo-Ukrainian War (2014-present)