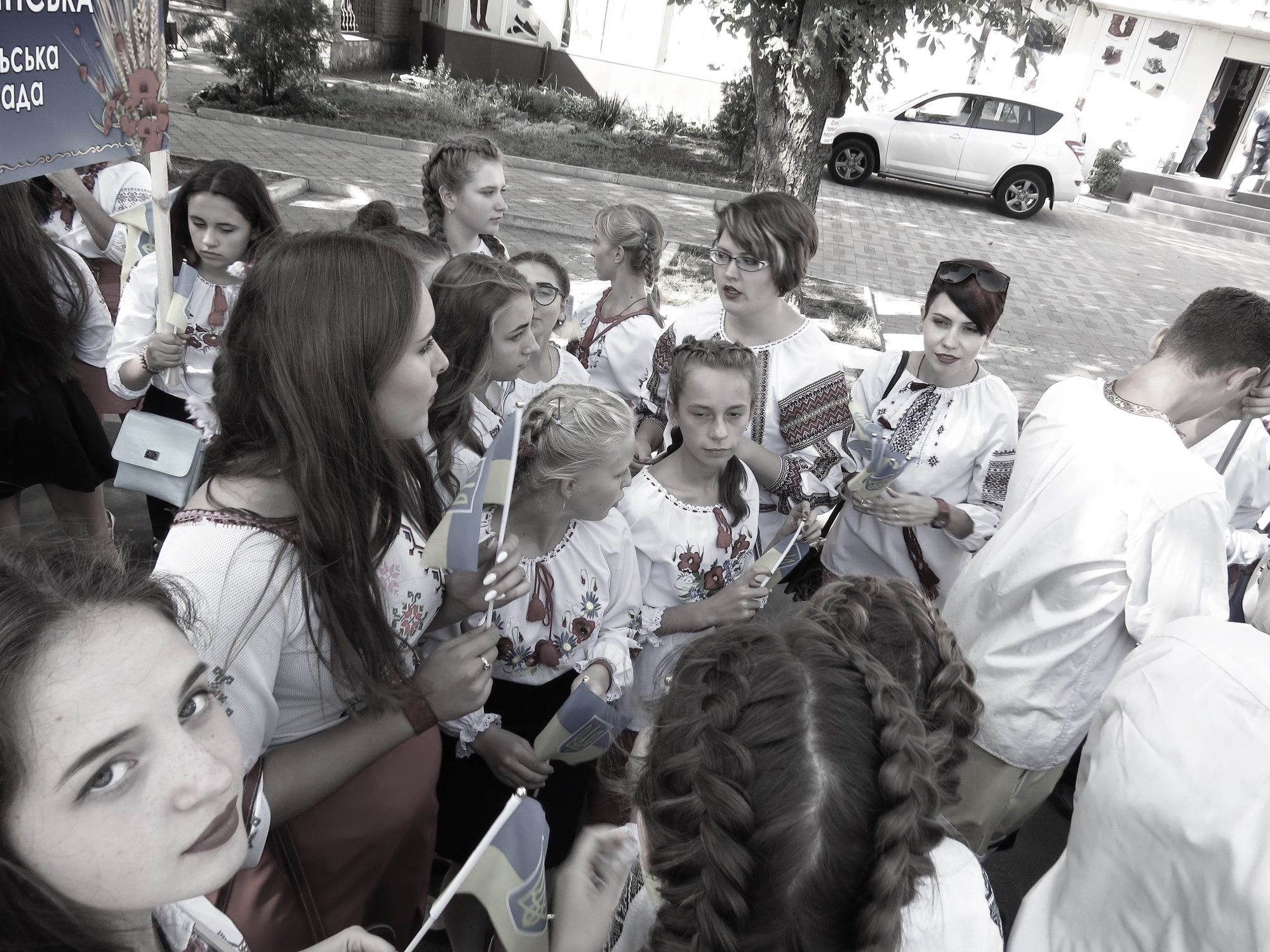 Residents of Vilne village, Donetsk Oblast, celebrate Ukraine's Independence Day on 24 August 2018. Photo source: Olena Koniushok's Facebook page 
The Russian military occupied Vilne, in Donetsk Oblast, a year ago. The villagers who remained suffered Russian looting and betrayal of collaborators, while those who fled the war and repressions just want to go home.
Despite the fact that many Ukrainians have resettled in other places in Ukraine because of the war, only 100 out of 1,000 inhabitants left Vilne village after Russia's occupation, according to estimates by Olena Koniushok and Svitlana Fomenko, who work in Vilne's cultural departments. The same goes for the other 25 villages in the hromada: approximately 85–90% of residents remained in the occupied villages. Olena and Svitlana explain that the villagers often did not leave because Russians, who also settled in empty houses, immediately looted abandoned properties.  
Olena Koniushok and Svitlana Fomenko initially had no intention of leaving their little village of Vilne, even after the Russian occupation that took place a year ago in March. But shortly after that occupation, some of their colleagues were detained and beaten by the Russian military and Olena and Svitlana left their village in mid-March, later learning that the Russian military had been searching for them.
They also learned that their parents and grandparents were captured by the Russians.
One of the largest detentions of civilians happened last June, just as the cousins were planning online activities for displaced persons. While previously, no more than 10 people at a time were detained, this time, 41 people with patriotic views were transported from Vilne to Starobieshevo, near Donetsk.
"Our parents were detained by Russians and fed only once a day"
Some were taken with their entire families, including children and the elderly. The Russians confiscated their documents and cellphones and fed them soup once a day. People from neighboring villages also were detained that day. And despite previous cases where villagers were kept for only a couple of days, this time, it was different.
"Those people have absolutely no pity. Our father underwent three operations, with two-thirds of his stomach cut out. He needed dressings for all his wounds and smashed foot, and here, some kind of soup was given once a day. It was terrible. He could barely walk. With a height of 1,87 meters, he weighed only 65 kilograms," Svitlana says.
At that time, not only Svitlana and Olena, but all five members of their youth team, had relatives detained in the occupied area. "We were all very worried. It was extremely difficult," Olena says.
The detained villagers were only released after 21 days. The Russians offered to transport them to Russia and warned them not to return to the village. By then, the Russian occupiers had moved into the villagers' homes and stolen their cars and money.
Out of 41 people detained that month, only 10 escaped the Russian-occupied territories, some via Estonia, and others via Zaporizhzhia. Another 30 people returned to their village.
The parents of Svitlana and Olena were among those released and it took them six days to travel 250 kilometers to Zaporizhzhia. Like most Ukrainians who fled their homes because of the war, they settled in a neighboring oblast. The 14-person extended family is currently gathered in Poltava Oblast, in Ukraine's east.
Collaborators: "They ought to feel awful, not us"
Some villagers also were simply evicted from their homes, especially those who were identified as pro-Ukrainian, by neighbors who helped the Russian occupiers.  Many villagers were detained and transported to colonies because of the lists compiled by local collaborators.
It was painful to learn about such people, Svitlana says.
"At first, I was disgusted that people went to co-operate, such as teachers I know. I considered how I would return to these people. But now, on the contrary, I think, let it be disgusting for them. They don't understand that Ukraine will win and we all will return."
In the occupied areas, some locals bake pies or do laundry for the Russian military. There are many Russian supporters among pensioners, who refer to them as, "our boys," Olena says. Some are attracted by the low petrol price while others think, "that their youth, which they experienced in Soviet times, is returning," Olena says.
Still others are simply "brainwashed by [Russian propagandists] Skabieyeva and Solovyov."
"These persons [collaborators] believe they have no choice. We call them conformists," Svitlana says. "However, as time passes, the number of people who understand who Russians really are, grows. But at what price?"
The behavior of Russian soldiers also is leading some collaborators to reconsider.
Once, a Russian soldier approached a family with many children and told the woman that he will come for a bath and she should prepare everything for him and make some food. Following that, the youngest child began stuttering. The second time, the woman's husband was at home. He asked a Russian soldier what he was doing. In response, the Russian soldier fired multiple shots under the man's feet.
On 10 March 2022, when the Russian military first entered Vilne, they killed the father of Svitlana and Olena's mutual friend. He was in his yard, running to his basement, when a Russian soldier shot him. Afterwards, the soldier came up to the man's relatives and mockingly asked, "What will I do if I am a sharpshooter?"
Normal life no longer in the village of Vilne
Even during Soviet rule, Ukrainian was taught in Vilne's school, while many schools in the neighboring villages taught Russian. It was only in 2022 that a Russian language program was introduced. "Perhaps the Ukrainian school was preserved in Soviet times due to patriotic people. It is ridiculous that the school is now Russian for the first time," Svitlana says. All songs and prayers, recorded by ethnographers in the village, were in Ukrainian.
Marathon of Unity with a roll call between the villages of the hromada was held in Vilne on 23 February 2022, just a day before Russia's full-scale invasion. Photo source: Olena Koniushok's Facebook page
At home, Vilne villagers communicate in Ukrainian. Moreover, their dialect and phonetics are similar to that found in Chernihiv Oblast. This is because of its incredible history.
In 1844, by order of the Russian Tsar Nicholas II, indigenous people from the provinces of Chernihiv and Kharkiv, were forcibly resettled to the empty territory where Vilne now stands.
"People were forced to build sod huts as homes. Finally, they built a flourishing village here. And now they [the Russians] have returned to annihilate the usual way of life. We were late in bringing this awareness to the people," Olena says, adding that they were working on a movie about the history of Vilne just before the Russian invasion.
"Someone may not know what his mission is, but I know mine for sure; it is to work with youth. I really like doing it. Someone once told me, "You know, your work bears fruit, because parents support the Russian world and (their) children say they are crazy." We did not pit children against their parents, but we managed to instil this understanding of Russian propaganda in them," Svitlana says.
In early February 2022, before the invasion, Vilne's youth community was busy repairing a room for a future history club.
"There was no sense of the full-scale war approaching," Olena adds.
That month, the team ordered and paid for stands and a pool table, but they never reached Vilne because the village was still awaiting de-occupation.
Vilne youth repair the room for the history club a few days before Russia's full-scale war against Ukraine, February 2022. Photo source: The Road of the Free Facebook page
Only one team member, a young man who participated in the 2014 Maidan Revolution in Kyiv, raised concerns. In February 2022, Putin appealed for the use of Russia's armed forces in the self-proclaimed LNR/DNR.
" 'You know, Putin will try to capture the entire Donetsk Oblast or will launch a full-scale attack on Ukraine,' he told me. I didn't even want to hear it. I didn't want to believe that war could happen in the 21st century. I responded, 'What are you talking about? Putin will not be allowed to do it,' " Olena recalls.
The young man left Vilne immediately on 24 February, and for good reason. Russians detained and assaulted Ukrainians who participated in the Euromaidan (Revolution) or in the war in the east of Ukraine, or who simply had Ukrainian symbols or tattoos. Some have been held in Russian detention in Olenivka and Horlivka colonies for months.
The head of Vilne's youth center also was detained and beaten but was released and then immediately left the village. He now volunteers for Ukraine in Poland, where he received a volunteering prize. He also helps Olena and Svitlana in online projects for displaced persons of Donetsk Oblast.
In 2020, after a counteraction between the local youth and authorities, the youth won 21 million USD in funding for a local youth space. Vilne's youth NGO "Chas Vilnykh" ("Time of the free") was founded in 2012.
After 24 February 2022, the lives of Vilne's youth activists contrast sharply with life from the previous day. On 23 February 2022, they organized the Marathon of Unity with a roll call between the villages of the hromada, where they read works of Ukrainian poets and "thanked people who defend our territorial integrity" – at that time, only in the eastern part of Ukraine.
The team organized sports events, concerts, grant programs, training on resume writing, violence prevention, and environmental aid training. In the summer before the invasion, a charity fair was organized during which approximately 1,000 USD was raised for each disabled child in the village. "It was very lively. One girl did makeup. The boys brought TV and a game console, and there were treats and a raffle. People had fun and helped," Olena recalls.
The Piece of Home project allows displaced people to buy a small item that reminds them of the life they left behind
Olena and Svitlana also initiated a series of online activities for displaced persons of their native Khlibodarivska hromada. It is called the Community Online project with the goal of  reuniting, "displaced members of our community so that after the victory, we can all return together." Khlibodarivska comprises 26 villages in Donetsk Oblast.
"We set up this initiative so that we could be small anchors for each other, so that there is someone to return to, and with whom to rebuild and restore order in our community," Olena explains.
The launch of the Community Online project coincided with the detention of Olena and Svitlana's relatives in Russia. Despite their emotional difficulties, they still decided to go ahead with it.
A number of activities addressed the common trauma and pain associated with the abrupt and harrowing loss of home. One of them is the Piece of Home project, in which all participants were given a small sum of money (25 euros) to purchase their own little piece of home. UNICEF funded the initiative.
"We understood that people put themselves on pause for a very long time. We ourselves did, from March till June. It was a period of downtime for us. We understood that … displaced persons don't spend their money (for enjoyment) to psychologically and spiritually please themselves. But, as part of the project, they had to," Svitlana says.
"It was easy for us to understand what the displaced people want because we are not an NGO that works for the displaced people … we are displaced persons ourselves and are now working for the displaced people," Olena adds.
For their piece of home, people bought their favorite cosmetics, headphones, tonometers, dishes, books, chairs, pillows, and sweaters. Those are the simple comforts they learned to live without, after leaving their homes.
"For example, I want a large frying pan that I left at home, and for me, it is not only a household thing but a symbol of the family – that I can make food for everyone. We didn't want to restrict people, and indeed, there were so many different things people had bought," Olena tells us.
Many purchased exactly the same things they had left in their abandoned homes.
"If you could go home one more time, what would you take with you?" Participants were asked this question during one of the discussions. Many mentioned photo albums, as well as icons and blankets. Many didn't have their old photos of their grandpas and grandmas digitized.
"These were not very material but very spiritual things," Olena comments. "For example, I would bring my vyshyvanka [Ukrainian traditional embroidered shirt -ed.]."
People also mentioned a rocking chair, grandmother's earrings, cats and dogs, large pot, perfumes, camera, pillows and blankets, garlands, unread books, food processors and coffee machines. However, some said they would like to take no less than "their apartment with everything in it" or their mother or grandparents who they left behind in the occupied village.
"People often express their gratitude to other Ukrainians who sheltered them. During meetings, we also discuss what people like in their current places where they stay, so that they can notice something beautiful even in such difficult times," Olena says. "People have a place to return (to). The village did not suffer much from the shelling."
About 10 to 15% of the residents left Khlibodarivska hromada. Only 10% of them moved abroad and 90% resettled in other parts of Ukraine. During Community Online meetings, people were also encouraged to share local customs of the places where they temporarily stayed and to discuss which of these customs they would like to bring back to the village after it is de-occupied.
When asked what they would do on the first day following Ukraine's victory, the majority said they would buy a ticket home.
Here are some of the responses of the displaced persons from Donetsk Oblast's Khlibodarivska hromada, to the statement,
On the first day following the victory, I will …
"On the first day after the victory, I will cry tears of joy and mentally and physically prepare to return home."
"On the first day after the victory, I will gather all our local club's artists and publish a collection of poems."
"On the first day after the victory, I will buy a ticket home."
"On the first day after the victory, I will open my favorite Nova Poshta [the office of the private postal service]."
"On the first day of victory, there will be joy through tears! We'll pack our belongings and go to our ancestral home. And in the soul there will be the thought, 'Ours did it!' "
"On the first day after the victory, I will walk like a zombie and not believe that this horror is really over. I don't know about others, but I began a new life after the war began, and already started to forget how you lived before February 24."
"There will be multiple victories. For starters a blue-yellow flag will be raised over our native village. I will make a route home and make plans for the future. And there will be joy. Then there will be victories for which we will rejoice. And then there will be VICTORY. I will pray (although not very religious) and thank the Lord. On this day, I would like to hug my family. And I also want to call all those people who helped my relatives and me during a difficult time. And listen to them. To learn that they, too, have the opportunity to hug their closest relatives. And there will be peace."
Related:
Tags: collaborators, personal story, Russian invasion, Russian occupation