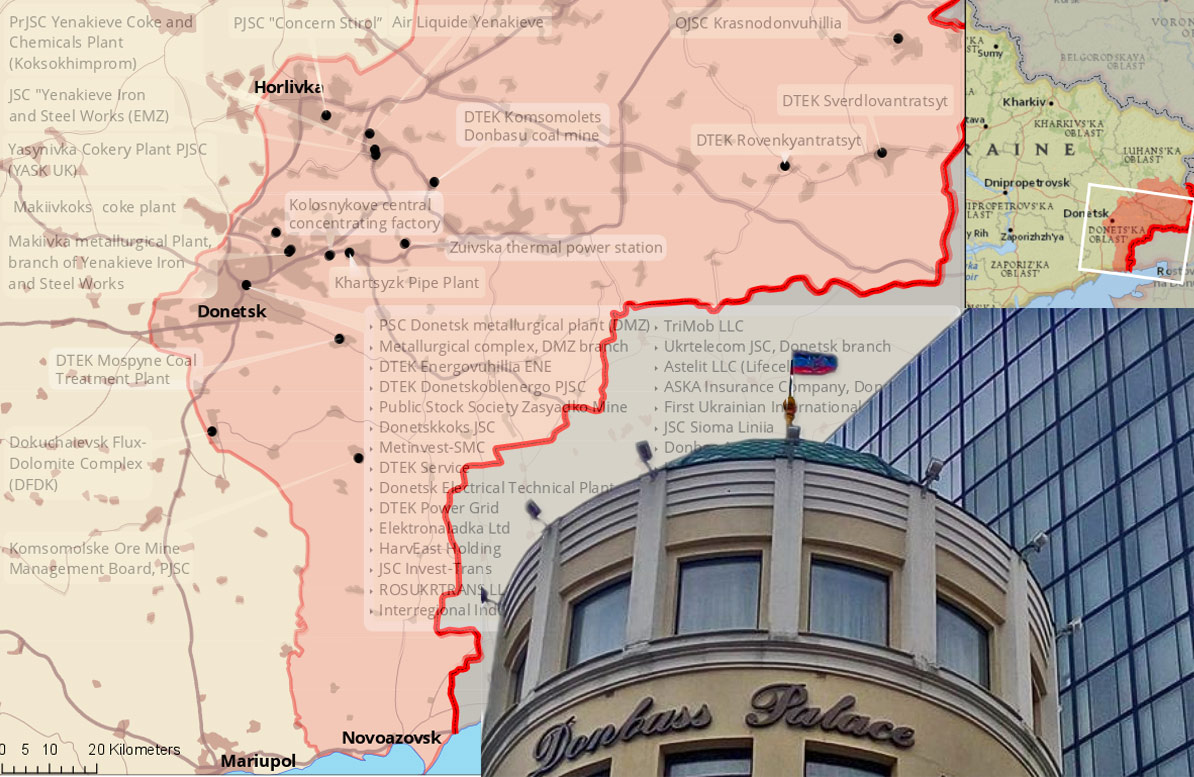 On February 27, terrorist leaders of Russia's puppet republics in the Donbas Aleksandr Zakharchenko and Igor Plotnitsky delivered an ultimatum, demanding Ukraine stop the
trade blockade
 and threatening to "nationalize" the companies under Ukrainian jurisdiction operating in the occupied territories. The ultimatum was refused by both
Ukraine's representatives in Minsk Group
and 
civil activists
 blocking transport corridors to the occupied parts of the Donbas. On March 1, Ukrainian assets had been seized by terrorists who introduced external "temporary administrations" to the companies.
On March 1, so-called LNR ("Luhansk People's republic")  grabbed 3 coal companies owned by Ukrainian tycoon Rinat Akmetov:
Metinvest's Krasnodonvuhillia – five mines, two enrichment factories
DTEK's Rovenkyantratsyt – six mines and three enrichment factories
DTEK's Sverdlovantratsyt – five mines and three enrichment factories
The "DNR," another Russia's "republic" in the Donbas, also seized Ukraine-registered companies on March 1, but the list of "nationalized" assets was released a day later.
Companies and organizations seized in Donetsk Oblast
The Donetsk list of "nationalized" companies has been published on March 2 evening, it includes 43 assets: coal mines and enrichment factories, ironworks and coke plants, hotels and even Donbas Arena, one of the largest stadiums in Eastern Europe used by Rinat Akhmetov's charitable foundation as an office and a storage facility amid the Donetsk occupation.
Metallurgy:
PSC "Donetsk metallurgical plant" (DMZ)
Branch "Metallurgical complex" PrJSC "Donetsksteel-metallurgical plant"
JSC Yenakieve Iron and Steel Works (EMZ)
Makiivka metallurgical Plant, branch of Yenakieve Iron and Steel Works
Air Liquide Yenakieve
Coke plants:
Donetskkoks JSC
Makiivkoks Coking Plant
Yasynivka Cokery Plant PJSC
PrJSC Yenakieve Coke and Chemicals Plant (Koksokhimprom)
Coal mines and enrichment factories:
DTEK Komsomolets Donbasu coal mine
Public Stock Society Zasyadko Mine
DTEK Mospyne Coal Treatment Plant
Kolosnykove central concentrating factory
Energy companies:
Donetsk Electrical Technical Plant, PJSC
DTEK Power Grid
Zuivska thermal power station
Elektronaladka Ltd
DTEK Donetskoblenergo PJSC
DTEK Energovuhillia ENE
Other industrial and extracting companies:
Khartsyzk Pipe Plant
Komsomolske Ore Mine Management Board, PJSC
Dokuchaevsk Flux-Dolomite Complex (DFDK)
PJSC Concern Stirol, a chemical plant
Other service companies and organizations:
Metinvest-SMC
DTEK Service
The Interregional Industrial Union
ASKA Insurance Company, Donetsk outlet
First Ukrainian International Bank (PUMB)
An agricultural enterprise:
Two transport companies:
JSC Invest-Trans
ROSUKRTRANS LLC
Telecommunication companies:
TriMob LLC
Ukrtelecom JSC, Donetsk branch
Astelit LLC (Lifecell)
Football facilities:
Donbas Arena
Kirsha sports training base of FC Shakhtar
Hotels and real estate companies:
Donbas-Palace hotel
Project-2012 (Park Inn by Radisson Donetsk)
Pushkinsky Complex LLC
Lux LLC
JSC Sioma Liniia
A publishing house:
Donetskiye Novosti, Publishing House
A school:
Grigorivska International School
All of the 46 companies "nationalized" in both "republics" were operating under Ukrainian jurisdiction on the occupied territories, paying taxes to Ukraine's budget and salaries in hryvnia to their workers. At least 32 assets grabbed by occupation authorities are owned by oligarch Rinat Akhmetov, whose SCM Group released a statement, noting that they refuse to re-register and pay taxes to the "LDNR". Ukrainian President Petro Poroshenko said, "Russia de facto confiscated Ukrainian state and private assets located in the occupied territory."
Tags: Akhmetov, asset-grabbing, blockade, coal industry, Donbas, Donbas war (2014-present), Donetsk, metallurgy, nationalization, News, Russo-Ukrainian War (2014-present)