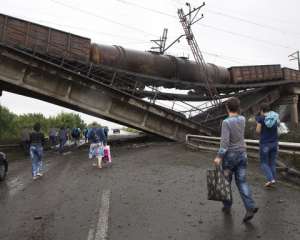 Russia has instructed its terrorists in the Donbas to deliberately destroy facilities and infrastructure, said Ministry of Internal Affairs adviser Anton Herashchenko at a press briefing, July 15, reports Ukrinform.
"It is likely they will continue to mine all bridges and bridge supports because those are the instructions from Russia. Their goal is to destroy the economy," he said.
"For example, each time an iron bridge is blown up, which is not even being used for combating terrorists in the ATO zone, the mines are cut off from the possibility of supplying coal, the salt mines are cut off from supplying salt, and the iron and steel works no longer receive raw materials. The goal is to bring people out in the streets, to make them unemployed," he said.
According to Herashchenko, "Putin will not stop before making Donbas an area of further instability. And, unfortunately, this will be paid for with the lives of our citizens and the citizens of Russia who are being sent there," he said.
However, he added that Ukraine has excellent mine clearing specialists who have distinguished themselves in the liberated cities.
Translation: Anna Mostovych
Source: Ukrinform
Tags: Donbas war (2014-present), News, Russian state terrorism