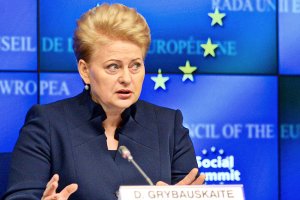 The President of Lithuania Dalia Grybauskaite finds the agreements reached in Minsk on February 12 during the meeting of the leaders of the "Normandy Four" extremely weak.
"The core solution to the conflict (in the Donbas) is establishing control over the border. An agreement (on the border) was not reached, and this issue has not been resolved," she said in Brussels before the beginning of the EU summit, reports European Pravda, February 12.
"This means that the border is open for the passage of all kinds of troops and all kinds of weapons," she said.
Additionally, Grybauskaite is not convinced that the ceasefire will be respected.
"Five months ago we already had a ceasefire agreement that has not been implemented. Let's see what happens with this one," she said.
"We'll see in the coming days if at least partial agreements will be implemented," she said.
She also noted that the EU would not discuss changing the sanctions regime against Russia before March.
"Let's look at the implementation of the agreement. Any discussion on sanctions is impossible before March," she said.
Earlier,  the EU High Representative for Foreign Affairs and Security Policy Federica Mogherini announced that the EU is unlikely to impose additional sanctions against Russia. It is more likely that the EU will "discuss all the possible ways to ensure that the ceasefire holds."
On Wednesday evening, February 11,  in Minsk, the presidents of Ukraine, Russia, France and the chancellor of Germany held talks to resolve the crisis in Ukraine.  Work on the document designed to reduce tensions in eastern Ukraine lasted almost 16 hours. Following the talks, it was reported that a comprehensive ceasefire would begin at midnight, February 15, and that the withdrawal of heavy weapons from the frontline would begin no later than the second day after the beginning of the ceasefire and be completed within 14 days.
Tags: Donbas war (2014-present), Grybauskaite, Minsk protocols / Minsk agreements, News, Russian invasion