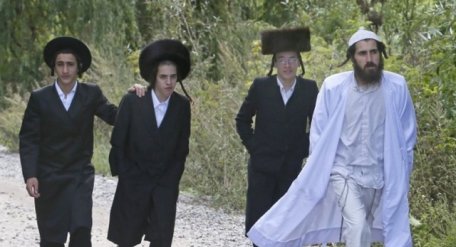 Hasidic pilgrims who arrived in the city of Uman, Cherkasy Oblast, to celebrate Rosh Hashanah have donated UAH 300,000 for the needs of Ukrainian soldiers from the area who are taking part in the antiterrorist operation (ATO) in eastern Ukraine, Oleksandr Tsebriy, the acting chairman of the Uman city council reported on his Facebook.
"I want to thank the Hasidic pilgrims for their substantial donation in the amount of UAH 300,000 to the trust account at the Executive Committee of the City Council to help our soldiers who are defending the sovereignty and integrity of our country in the ATO zone," he wrote.
This year the Jewish New Year — Rosh Hashanah — is celebrated September 14-15. Hasidic pilgrims come to Uman for this celebration from all over the world
According to the Uman city council, approximately 12,000 Hasidic pilgrims arrived in Uman as of September 10. Some 27,000 pilgrims from 24 countries, primarily from Israel and the US, are expected. Public order is being maintained by 400 law enforcement officials and 15 police officers from Israel
Rosh Hashana has been traditionally celebrated in Uman, the burial place of Rabbi Nachman (1772-1810), the spiritual father of the Bratslav Hasidic movement. Every year more than 30,000 pilgrims arrive to celebrate the Jewish New Year at the burial site of Rabbi Nachman of Bratslav, located on the former site of the Jewish cemetary in the local synagogue. The tomb of the Rabbi is one of the most revered shrines of the Hasidim.
Tags: Donbas war (2014-present), Hasidic pilgrims, News, Ukraine, Uman