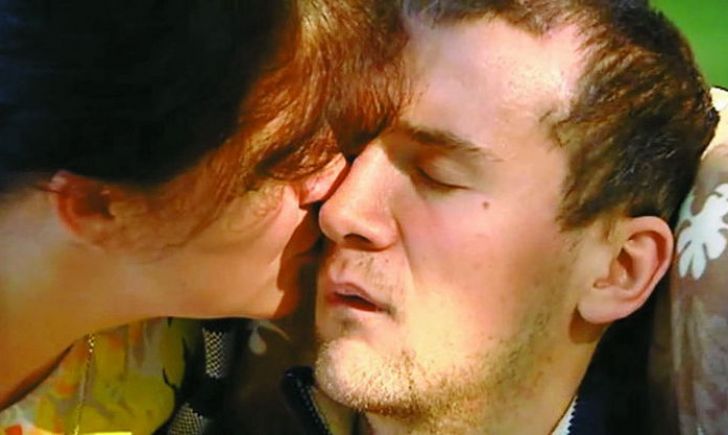 The kiss of a mother. Image: wz.lviv.ua 
Oleksandr Petrakivskyi, a Ukrainian military officer, once gave his own helmet to a fellow soldier, an act which would later save that fighter's life. Now this commander is himself in need of help, after spending the past two years in a coma following a combat injury, and his family wonders where that help will come from… You can read more and donated on Oleksandr's fundraiser page.
Among the countless advertisements found in a newspaper's "Buy and Sell" Section, one item for sale has everyone's attention. Petro Petrakivskyi, a former special forces Lt. Colonel, placed an advertisement on behalf of his son to sell the "Gold Star" that had been awarded to him in December 2014 by the President of Ukraine. Oleksandr was 28 years old at the time, a Major with a reconnaissance unit, and a participant in the ATO, the Anti-Terrorist Operation zone.
The father is in need of finances to care for his Sashko's recovery and medical rehabilitation. His son had been seriously wounded in Donbas, and as a result of mistakes made by some military doctors, he has been in a coma for the past two years. American doctors who have assessed Oleksandr's condition give the soldier a 75% chance of full recovery. However, the cost to get him to their hospital overseas is estimated at $700,000 USD. His chances of recovery are jeopardized with each passing day.
Petro Stanislavovych gets angry just mentioning what he had been offered by profiteers: "12,000 hryvnia! Some people spend that much on a single restaurant meal!" He has resolved to sell the recognition of military valour together with the certificate of authenticity. "Someone might think I should place this decoration on his grave, but that's not going to happen. My Sashko is going to live! I'll do everything in my power to help him live!"
The father of the seriously wounded officer says that he was very optimistic about a chance meeting he had with the President. Petro Petrakivskyi raced from Khmelnytskyi to Lviv by taxi in order to meet the President during his visit to Lviv in April. They met at Saints Peter and Paul Garrison Church, at which time Petro Poroshenko shook his hand three times in gratitude for having raised such a heroic son, reassuring him that everything will be alright. Two months later, no progress has been made.
"I have no idea where to turn for help, on my knees if I must, in order to save my son," says the retired Lt. Colonel. "I've already met with elected officials, some of whom I have no use for at all after their insane counsel. Their advice was to send him for surgery to St. Petersburg of all places, or to Moscow. He would be murdered the moment he crossed the border! I told them what they could do with their suggestions."
Major Oleksandr Petrakivskyi is a living legend of the Ukrainian army. During the months of intense fighting in the east, on 20 July 2014, together with 13 fighters of the 8th special forces regiment, Oleksandr risked his life and his health, but successfully saved 2,000 Ukrainian soldiers who attempted a break-through of a blockade in order to arrive as reinforcements for their brothers in arms at the Luhansk airport.
A raid near Luhansk had been planned for that day by the General Staff headquarters, involving a large number of soldiers. The first scouts sent out for observation reported that their intended route was clear to travel, with no warning signs of danger. At the last moment, the commander of the special forces regiment expressed a feeling of foreboding that something was wrong, and that's when he spoke with then Captain Petrakivskyi: "Something doesn't make sense with their report, it's almost too perfect. Even in training it's never that easy. Sashko, I want you to take a unit and you see for yourself…" And he added, "One group of men should be enough…"
They travelled only a few kilometres when Oleksandr Petrakivskyi gave the order that half the group clears the area to the left of the road while the other half cleared the right. As was explained later, "if the enemy were present there, that's the most likely spot for them to lay an ambush." (He definitely put his studies in combat tactics from the military academy to good use that day!). The recce team moved forward a few steps and they encountered the enemy forces. The team was fired upon with mortars. The captain made a report back to his commander about the trap that had been meant for the entire group of reinforcements. (The Russian proxies had prepared this "cauldron" at this exact spot for several days, bringing in all manner of weapons, which could only mean one thing: someone from the Ukrainian headquarters was a traitor and supplied them with the information.)
Oleksandr and his men engaged the enemy in a very uneven battle. They held back the enemy until they themselves received reinforcements. The actions of a very competent commander in Captain Petrakivskyi meant that their losses were kept to a minimum: two fatal casualties. As for the two thousand strong column of Ukrainian soldiers, they made a maneuver behind the "separatists" and executed a successful combat mission. Later, the generals would say that his actions were worth "three stars of valour for that one action."
These words are no exaggeration. All those men were brave that day, stopping the attack, rescuing the wounded and bringing them to safety, administering combat first aid. That's when he was wounded. One of his men was hit in the head by shrapnel, which sent his helmet flying off his head. The captain crawled over to him and told the sergeant to take his own Kevlar helmet, ordering him to wear it. That helmet already had stopped seven pieces of shrapnel. The non-commissioned officer suffered a concussion, but he was still alive. It was Captain Petrakivskyi who was then hit by shrapnel against his bare head, two shrapnel wounds in total. Bleeding profusely, he continued in his command during the battle. When reinforcements arrived, he waited to be the last one to receive medical attention, and only when he was convinced that every one of his men had already been treated.
Such had always been his style. During "peacetime" he would advocate for those lower in rank than himself in front of his superiors. There was an incident at the front lines once when the quartermaster brought bullet proof vests for the soldiers. The first thing Oleksandr did was to throw one on the ground a few metres away from him and fire at it with a 5.45 calibre shell. The result was a large hole, leading him to ask what would have been the result on the men if they had been hit with the usual size of 7.62 rounds. He didn't rest until he secured adequate vests for his men. The inferior ones were thrown away, for which he was reprimanded, "for squandering military property…"
After he was wounded, Oleksandr Petrakivskyi was sent to the Kharkiv military hospital and clinical centre. That evening he phoned home to his father and told him that he was alright and that he had "only been grazed." When it came time for the operation to remove the shrapnel, he walked on his own to the operating room and didn't require any help getting onto the operating table. But he didn't get off that table again. During the operation, he fell into a coma. The next day, the unconscious captain was flown to the Lviv military hospital, but nothing could be done for him there. Oleksandr's condition worsened, including a fever that started with no determinable explanation. His temperature reached 40 degrees C. His treatment was an ice bath…
Oleksandr's family became discouraged emotionally and became physically exhausted. They remained his constant companion, taking turns at his bedside, while investigating all possibilities that might save him. A promise came from Kyiv that he would be transported to Germany for treatment, guaranteed by Chancellor Merkel herself. Others were sent to Germany, but not Sashko. Through a translator, the German doctors told his father that "I'm sorry, there's no point taking your son anywhere since could die any day now."
An arduous task was to find a benefactor so that the parents could take Sashko to the Israeli clinic, "Reyut." Once they saw him, they were outraged and said they had never seen a patient as weak as he was and in such a critical condition. This medical journey to the "promised land" alleviated the worst of his problems but did not result in the improvement everyone had hoped for.
With great difficulty, his father managed to bring him to a neurosurgeon in Poland. Here is where Oleksandr can be found today. He is in serious condition, unable to wake up, and he is unable to move his limbs. The advice given to his family by the medical staff was somewhat unusual, namely to bring his daughter, Nastia, to the hospital to see him. Perhaps her sweet voice would be able to awaken her father. It was nearly a miracle what happened next. When Nastia spoke to him and caressed the face of her silent father, be opened his eyes and began to cry… only to plunge back into his deep sleep.
Another tragic aspect of this story is the mistakes of the Ukrainian doctors. Their incompetence is largely to blame for his present condition. This conclusion was reached by a commission of professors and academics in the capital, headed by the Deputy Minister of Health Protection. The commission determined that the medical staff in Kharkiv and Lviv did not act according to accepted standards and protocols for the administration of medical assistance. In the opinion of the experts, the wounded man was inexplicably administered 42 types of medicines, including drugs for pregnant women. The medical mistakes made in Kharkiv (the wrong dose of narcotics, for example) resulted in the patient experiencing cardiac arrest.
It is the conclusion of the members of the government commission that "the administration of medical assistance under the auspices of the Military hospital and clinical centre, Western Region (Lviv) is substandard, void of theoretical foundation, and potentially prohibitive for the rehabilitation of cognitive functioning." The commission's recommendation was that those who "treated" Major Petrakivskyi be held accountable for their actions and that they take courses for re-accreditation.
When the parents became upset that the medical staff could not find a reason why Sashko was suffering from such a high fever, they sought out the advice of a well known psychic. From the cards that she used she said, "The cause is in the infection, and no place else!" It turned out that she was correct. Later, in Kyiv, it happened that from Oleksandr's wound there emerged on its own a tiny fragment of shrapnel, the cause of the inflammation in his head. Once this piece had removed itself, his temperature stabilized and returned to normal, but not before it caused a great deal of grief!
The above-mentioned psychic had some other news for Lt. Colonel Petrakivskyi which she initially did not disclose. She was given a photo of Sashko from civilian life and was told, "Look at my boy. He wants everything, an apartment, and a car, but where do I get all this money from? In reply, she said, "Your son was on the verge of death. You are the one who saved him. He has travelled two long roads already: to Israel and to Poland. There remains one that is even longer. This third road is one that I see with a very encouraging image, the Mother of God wearing a wreath. Your son has a very strong guardian angel! Your son will get back on his feet, just not as quickly as you would like…"
In Petro Petrakivskyi's opinion, this third journey mentioned by the psychic means that they must travel to the United States. In the American city of Houston can be found one of the best clinics in the world, Memorial Hermann Texas Medical Center. They are prepared to accept this Ukrainian officer as their patient. The cost, however, is nearly insurmountable: $700,000, including airfare. It is the opinion of the family and combat compatriots that this expense should be the obligation of the government. It was on behalf of the government that this helpless hero was wounded. In addition, medical mistakes of government healthcare workers nearly shortened his life…
The father of this hero of Ukraine has been canvassing the offices of the Cabinet of Ministers who have the authority to make such decisions about these costs to reach the United States. He has experienced what he refers to as bureaucratic football at these offices. At the reception desk for Volodymyr Groysman, he was told that the Premier was not available, having flown on a mission to the USA.
Meanwhile, the international surgeons are growing anxious: these delays mean that the neurons in Oleksandr's brain are at risk of constant harm.
In his interview with "Vysokyi Zamok", Colonel Petro Petrakivskyi is nearly in tears, and makes the following plea to the government: "Mr. President, you made your airplane available to Nadiya Savchenko: make it available one more time so that I can save my son!"
Save lives together
, a US-based charity, has opened a
fundraiser
for Oleksandr, writing that American doctors who have assessed Oleksandr's condition give the soldier a 75% chance of full recovery. However, the cost to get him to their hospital overseas is estimated at $700,000 USD. His chances of recovery are jeopardized with each passing day.
Save lives together is part of our Verified ways to help Ukraine list.
Tags: Donbas, Help Ukraine, Op-ed, recovery