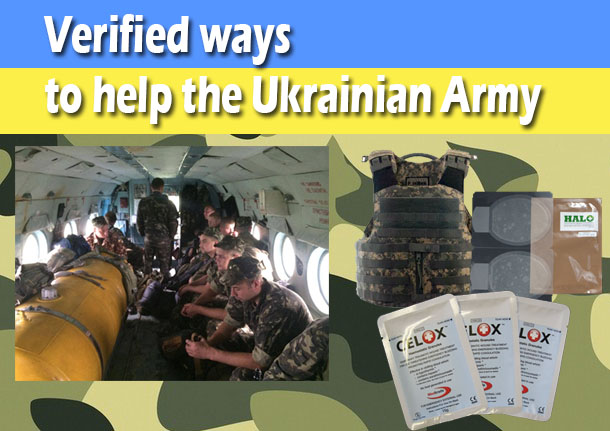 Interactive map of Ukrainian initiatives worldwide
.
Ukrainian-based initiatives *
Patriot Defence *
This initiative, involving many partners, helps volunteers in Ukraine and around the world to supply Ukrainian Patriots with an Improved First Aid Kit (IFAK) and Combat Lifesaver training. These two things will increase a Patriot's chance of survival should they suffer a catastrophic injury. The improved First Aid Kit includes items that cannot be bought in Ukraine, such as the Combat Application Tourniquet, Israeli Combat Bandage, QuickClot Combat gauze, HALO Chest Seals, Trauma Sheers, Nasopharyngeal Airway, 14 gauge Needle Decompression Device, and is complemented with a Combat pill pack (analgesic, anti-inflammatory, antibiotic), Gloves, Tape, and Camo Pouch in Ukraine. In addition, this initiative works with providing a Combat lifesaver training for soldiers of the National Guard and Army.
Donations are being accepted through their partner in New York, the Patriot Defence Humanitarian Fund, a a 501 (c) 3 organization making donations tax deductible. More info on site patriotdefence.org. More info and even  more about the trainings. A glance inside what happens at the trainings is here. The initiative has recently opened a facebook page:  Patriot Defence: IFAK + Combat Lifesaver Training for Ukraine.
 Come back alive *
Come back alive (Вернись живым) – a private initiative of Vitaliy Deyneha, who states that he "sooner or later my children will ask me what I was doing in this difficult time, and I will have to give an answer." This initiative gathers funds to purchase thermal imagers, night vision goggles, hemostatics, and other things that the state is not providing for the 95th airmobile brigade in Sloviansk on Mt. Karachun, for the 80th Airborne Brigade (Luhansk airport), and the Special Forces. From his words, these are the military divisions that carry out the most demanding tasks and are in the zone of maximum risk. The initiative provides detailed reports and regular updates on their FB page.
Paypal account: [email protected], purpose: transfer to friends or relatives, message ArmyUA;
Western Union: Vitaliy Deynega +38050-4444-336.
Bank tranfer via SWIFT: Dollars, Euro. More ways on transferring money can be found on their site Come back alive.
Wings of the Phoenix *
Wings Phoenix (Крылья Феникса). Yura Phoenix is a private entrepreneur, originally from Mykolayiv. Yura supplies bullet-proof vests, medical supplies and many other necessities for the 72th, 30th, Mechanized Brigades of the National Guard, the 79th Mykolaiv Airborne Brigade, the 10th Saki brigade of naval aviation, the 15th Boryspil transport aviation brigade, the 25 th Dnipropetrovsk Airborne Brigade, the 26th Berdychiv Artillery Brigade, and a secret unit. Photo reports are being made on the initiative's FB page. Financial reports are here.  Donations are possible through PayPal: [email protected] – Please, write "Advertising" text in description to your transaction! Wings Phoenix recently opened up a site that has an English version.
For wire-transfer (SWIFT) payments You could use our USD and EUR accounts
USD:
———————————————
BENEFICIARY: BIRIUKOV IURII
ACCOUNT: 5167987204531228
BANK OF BENEFICIARY: PRIVATBANK
SWIFT CODE: PBANUA2X
INTERMEDIARY BANK: JP MORGAN CHASE BANK
SWIFT CODE: CHASUS33
CORRESPONDENT ACCOUNT: 0011000080
EUR:
BENEFICIARY: BIRIUKOV IURII
ACCOUNT: 5168757262225826
BANK OF BENEFICIARY: PRIVATBANK
SWIFT CODE: PBANUA2X
INTERMEDIARY BANK: Commerzbank AG Frankfurt am Main Germany
SWIFT CODE: COBADEFF
CORRESPONDENT ACCOUNT: 400 8867004 01
IBAN: UA823052990005168757262225826
ATO Sister of Mercy *
ATO sister of Mercy, or Yaryna Chagovets, helps with providing medical assistance for wounded ATO soldiers and items of first necessity that she delivers to the checkpoints: sacks, flashlights, tents, tourist mats, galoshes, gas stoves, army boots, balaklavas, produce, cigarettes, disposable tableware, gasoline, shaving utensils, underwear and socks, chainsaws, raincoats, medicine,  children's drawings. Like the other people assisting Ukraine's army, Yaryna acts as a hub of accepting aid from all people of goodwill and transferring it to the places it is needed.
Photo reports, as well as photos of checks, are published on the ATO Sister of Mercy FB page. There is an international bank account:
Physical person name: Yaryna Chargovets
Individual text number: 2892802169
Currency of account: USD
Account number:26203295801100
Bank name: Public Joint Stock Company "UkrSibbank"
Bank code: 351005
Beneficiary bank (JSC "UkrSibbank") :
Intermediary bank: 020061151200138
UKRSIBBANK
MOSKOVSKY AVE 60
KHARKIV, UKRAINE
SWIFT code: KHABUA2K
BNP PARIBAS U.S.A – New York Branch
New York, USA
SWIFT-код: BNPAUS3N
Army SOS *
An investment broker
, an auditor, a manager of an American company, a project manager and a private entrepreneur – that's the team of the activists known as the ArmySOS on their Facebook page. The group has raised money to provide class 4 armored vests, portable radio stations, battle-field lights, ballistic masks as well as thermal imaging devices, optical trackers and night-vision devices to the frontline.  The activists visit all Ukrainian checkpoints around Sloviansk several times a week and makes a list of all that is needed. After that, the activists find the means to cover the requested through the Facebook page. They write about themselves there: "Social group "ARMY SOS" was created by group of Ukrainians for coordination of the activities directed on the support of Ukrainian army forces in front of the Russian aggression.
Main goal is to provide direct supply of required military goods for the Ukrainian soldiers. "ARMY SOS" is working directly with commanders and soldiers (bypassing corrupted generals)."
The group is highly credible as it makes very scrupulous reports to its subscribers, publishing accounts of their activity on a weekly basis. Half of the funds come from large companies and private entrepreneurs. There are English-speaking contacts on the page in the "about" section. You can find all the ways to donate on their fb page.
Volunteers' Hundred *
This association helps Ukrainian troops that are in the ATO zone. They cooperate directly with the battalion commanders and heads of hospitals in the ATO zone and receive lists of necessary items. Based on them  they buy the equipment, technology, medicine and other things that is needed and personally deliver to the war zone.
They publish extensive photo reports and information on needs on their FB page. This organisation is collaborating with the Canada Ukraine Foundation in Canada and the U.S. Ukrainian Foundation. Volonterska Sotnya hotline (in Ukraine): +38099-422-86-91;+380638583140. To donate:
Banking details for donations in USD :
БО «БФ «ВС «Україна-Світ»/ CO "CF "VS "Ukraine-World" РАХУНОК /ACC. 26009300002428
ПАО "Диамантбанк" / PJSC "Diamantbank" Киев, Украина / Kyiv, Ukraine S.W.I.F.T. DMBAUAUK
Deutsche Bank Trust Company Americas New York, USA S.W.I.F.T. BKTRUS33 Счёт/Account 04452215
Banking details for donations in EUROs :
БО «БФ «ВС «Україна-Світ»/ CO "CF "VS "Ukraine-World" РАХУНОК /ACC. 26009300002428
ПАО "Диамантбанк" / PJSC "Diamantbank" Киев, Украина / Kyiv, Ukraine S.W.I.F.T. DMBAUAUK
Commerzbank AG Frankfurt-am-Main, Germany S.W.I.F.T. COBADEFF Счёт/Account 400886740001
All-Ukrainian Union "Patriot" *
The All-Ukrainian Union "Patriot" is a volunteer union supplying the Ukrainian Army. Currently they focus on supplying the ATO participants with the necessary equipment, clothes, rations, modern Individual First Aid Kits (IFAKs) and protective gear. They also aim to provide information, legal, and psychological support for the relatives of ATO participants. They have a call center that at the number 38-044-206-48-08 handles calls on all questions about legal and information support of relatives, transmits information on captured and missing ATO participants to the relevant structures of the SBU, MIA, Defense Ministry. The organization has a station for collecting humanitarian aid on vul. Pushkinska 28a in Kyiv, open from 8:00 to 21:00 (phone 044-206-48-08). The group regularly publishes financial reports for the bank account and card accounts. The group has a facebook page, website coming soon. Donations are accepted via paypal: [email protected] and bank transfer:
For transfers in USD 
SWIFT: PBANUA2X
ACCOUNT: 26004052734648 (USD)
IBAN: UA683007110000026004052734648
BANK-CORRESPONDENT: JP MORGAN CHASE BANK
SWIFT: CHASUS33
CORR.ACCOUNT: 001-1-000080
For transfers in Euro
BENEFICIARY Charitable fund HELP THE ARMY OF UKRAINE
BANK OF BENEFICIARY: PRIVATBANK
ACCOUNT: 26002052734800 (EUR)
IBAN: UA313007110000026002052734800
SWIFT CODE: PBANUA2X
INTERMEDIARY BANK: COMMERZBANK AG
SWIFT CODE: COBADEFF
CORRESPONDENT ACCOUNT: 400886700401
EuroArmyMaydan *
The Support the Army (EuroArmyMaydan) initiative has over 6,000 members and a wide network of volunteers. Besides Kyiv, there are nine more cities in Ukraine with the representatives of this initiative: Kharkiv, Kramatorsk, Odesa, Zaporizhzhia, Mykolayiv, Ivano-Frankisvk, Uzhhorod, Lutsk and Lviv. The group's main tasks were first to supply the soldiers with equipage, now one of the priorities is to supply the medical centers of the Anti-Terrorist Operation headquarters, including stretchers, artificial respiration units, medical rucksacks, tourniquets, Celox. The group publishes regular updates on their FB page and coordinates activities in their FB group; they also have a USA-based group. While the group mainly coordinates activities of Ukrainian activists, you can help from abroad by sending a medicine kit with items inaccessible in Ukraine by mail, or sending binoculars for the Army.
This group has also registered as a charitable/non-profit foundation in Ukraine. Financial reports and detailed information on how to donate is available here. The foundation's description:
We are nothing more, but volunteers. We are people, who care about what is happening in our country, Ukraine.
We spend every minute of our free time (and sometimes couple of office hours) to serve the one and the only propose: protecting Ukrainian soldiers, while they are guarding us from being killed by the invaders and terrorists.
We aim to help fulfilling the needs of the Ukrainian army – supply them with things, that they really need.
The assistance must be timely, targeted and high-quality. Sometimes our tasks are very complicated, sometimes they are almost impossible. But God has no other hands except our own. And hands of those who help us. And this way we can do miracles for our guys.
We pursue no political or business purposes. We do not have any goals except one: helping defend our country and save our people. It demands an incredible amount of work. We need wheels, trucks, money, hands and brains.
We registered the charitable foundation with the same name HELP THE ARMY OF UKRAINE, but sometimes we still have to use our own personal cards for the special and complex tasks, that are impossible to do through the charity account.
Read more about them here.
Saving lives in Ukraine *
A community that coordinates aid for the Ukrainian military and volunteers at war as part of the Ukrainian Army, National Guard, volunteer battalions. Their FB page carries the following description: "We are a group of activists working with MedAutoMaidan. Currently, our main goal is to purchase large quantities of the hemostatic drug Hemostop or its analogues Celox, Quicklot and transfer it to the Ukrainian military units and volunteer battalions (Donbas, Azov, Aidar) in the ATO area." They regularly publish financial reports and news on their FB page.
Their latest initiative is a fund raising campaign to purchase more blood stopping medicaments (Celox Gauze, QuikClot Combat Gauze) as well as IFAK first-aid kits for the Ukrainian soldiers fighting against Russia's invasion in the East of Ukraine. Since the beginning of the initiative they have purchased and delivered 4000+ packages of blood stopping agents to the Ukrainian patriots. New orders have been placed recently for Celox, QuikClot, major IFAK components such as CAT and Israeli bandages as well as brand new 100 IFAKs. 
PayPal account: [email protected]
Medicine of the National Home Front *
Medicine of the National Home Front is one the sections of National Home Front (Narodny Tyl). It is a medical unit of one of the largest volunteer organizations in Ukraine that support the country's army. The main purpose of the organization's medical unit is to save lives of Ukrainian soldiers fighting the Russo-Ukrainian war in eastern Ukraine. Ukraine's war-damaged economy is limiting the government's ability to fund the army. Ukraine's soldiers, who are fighting the well-equipped and well-funded Russian invaders, have to rely significantly on volunteer support. Since 2014, volunteers of the National Home Front have delivered thousands of military-grade first-aid kits and tons of medicines to the most dangerous and war-ravaged parts of eastern Ukraine. In addition, National Home Front's doctors and medics are working directly on the frontlines. Hundreds of lives have been saved because of volunteers' dedication and financial support from all over the world. Their needs: Celox, QuickClot, CAT, Israeli Bandages.
You can send medicine to them directly (George Tuka. 68 Zhylianska street, Kyiv, 01033, Ukraine) or contribute financially through 2 partner organizations (both listed here in  Verified ways to help the Ukrainian Army):
1) US-based partner: Save Lives Together Foundation (their site; fb). Click "Donate Now" (credit card, check, wire transfer – mention "National Home Front (Narodny Tyl)" in memo). Click here to transfer funds via PayPal. Donations are tax-deductible in the United States.
2) Ukraine-based partner: Saving Lives in Ukraine with  the PayPal: [email protected]
This group's financial reports are part of the Narodnyi Tyl's reports: the group regularly posts scans of checks and other financial documents, as well as the incomes to the accounts. Read more about Medicine of the National Home Front.
Joint Army support project *
This project is run by the Kryla All-Ukrainian volunteer association
http://kryla.org.ua/
. It also has a Facebook
page.
It was originally founded to assist disabled children, but its Charter allows for other humanitarian projects. The Army Support project involves funneling light military equipment to Unit A0224 deployed in Donetsk Oblast. Goods are purchased directly from manufacturers or legal importers and we obtain official receipts in the name of Kryla. A volunteer driver then delivers them to the unit and we receive acknowledgement from the commander. Direct fundraising implemented in Ukraine, Canada and France so far…. (difficult to get non-Ukrainians interested and involved as they just don't understand the situation).
List of purchased and delivered equipment: portable radio transmitters, radio broadcaster/receiver, protective goggles, remote contacts for sighting laser or illuminator, military wear, boots, basic medicine. Currently collecting for bulletproof vests and helmets. Read more here>>>
For more information and donations, please contact:
Ukrainian Freedom Fund *
UFF is an NGO registered in Kyiv which was set up by several Ukrainian and international businesspeople. It is endorsed by the National Security and Defence Council (RNBO) as well as the US Ukraine Business Council and EU Ukraine Business Council. UFF has appointed PwC as its auditor. The list of purchased materials, mostly military equipment, as of July 7 is here, new updates are available on their site. Donating is possible online. Their FB page shows the list of latest donors and general progress. 
The People's Project *
The People's Project is a crowdfunding platform that gives an opportunity for activists all over Ukraine to create their own online projects to gather funds for helping the Ukrainian Armed Forces. It has a site and social media accounts (fb ua. fb en, twitter). The platform has a very broad variety of projects you can fund in 3 categories (Military, Healthcare, Social), from People's Drones to People's regenerative medicine to first aid kits. Each project has its own financial report (the tab "Report" next to the description of the project). Having completed a number of successful initiatives, the Project now sells gift certificates that the presenter can choose to spend on the project of their wish. The People's Project accepts donations by credit card or bank transfer. The project is implemented in conjunction with Wings Phoenix, Save Lives Together, and the Ministry of Defense.
Fuck U Putin *
Fuck U Putin is a project selling Tshirts, mugs, bumper stickers, and bracelets with the motto "Fuck U Putin." A part of the proceeds is donated to the Ukrainian Army through the charity ArmySOS. They say about themselves: "Fuck U Putin is more than just sentiment, it is a stand against oppression, tyranny, despotism, injustice, and the brutality suffered at the hands of Vladimir Putin here in Ukraine, and everywhere." The initiative has a site, fb page where updates on funds raised are provided, as well as an etsy shop.
Victory Sisters Foundation *
Victory Sister's Foundation is a charitable fund that engages in multiple activities to help soldiers at the front. Examples of their activities include ghillie suit weaving (done by volunteers each day from 12 to 19:00), creation of army libraries (so soldiers at the frontline can have a change to relax), mobile aerial reconnaissance brigades which operate drones along the frontline, and other types of aid. They post about their activities on their fb page. Full info on how to donate to them is on the same page. For donations abroad, they have the following information:
PayPal: [email protected]
PayPal: [email protected]
SWIFT CODE: PBANUA2X
Address: Naberezhna Pobedy Street, 50, Dnipropetrovsk, 49094, Ukraine
Initiatives from abroad *
USA: Leleka Foundation *
Leleka Foundation is a US-based, volunteer-run non-profit organization helping people affected by the armed conflict in Ukraine. They collaborate with several Ukrainian volunteer initiatives such as Saving Lives in Ukraine to provide medical and first-aid supplies to ambulances and hospitals. They claim to have procured and delivered over $145,000 worth of medical supplies to Ukraine since December 2014.
They provide humanitarian aid (first-aid kits and medical supplies to supply field ambulances and hospitals) and targeted aid to the gravely sick and wounded. Apart from that, Leleka supports medical and psycho-social rehabilitation projects, support families and children in crisis, and other projects that change the life of Ukrainian society for the better.
Leleka Foundation is registered as a 501(c)(3) non-profit organization. Contributions to Leleka Foundation are tax-deductible to the extent permitted by the US law. Leleka Foundation's tax identification number is 47-2377309. Another project of Ukrainian volunteers based in Washington DC, Helping Ukrainian Soldiers, is also run from donations to Leleka. More information and reports on used funds is available on Leleka's site and fb page.
USA: Save Lives Together *
Save Lives Together Foundation was formed as a direct response to the urgent and growing need for critical medical aid in regions of Ukraine devastated by ongoing political conflict and war. It is committed to providing humanitarian aid to Ukrainian residents, servicemen and women, first aid workers, medical facilities treating casualties, and victims of the crisis in Ukraine. As the cold winter approaches Ukraine, they are focusing on delivering warm clothing and medicine like ibuprofen, skin ointments, tourniquets, decompression needles and the life saving CELOX. They have been working with local synagogues and medical facilities to send wheelchairs, crutches, and sanitary linens, and ensure these supplies get delivered directly to the intended recipients. Extensive information on the organization is available on their website http://savelivestogether.com, and many updates on recent campaigns are listed on their facebook page. They run a permanent fundraiser One Celox equals one life (Celox receipts are posted on the fundraiser's page). The group provides financial reports, as well as reports on where the equipment/supplies were delivered in Ukraine. Many photo reports from the campaigns can also be found on the facebook page. The group works with many volunteers on the ground in Ukraine, including Solomia Vitvitska, Dana Yarovaya and Narodnyy Tyl. Information about their activities can be found on their fb pages. You can donate by PayPal, check, YouCaring, Wire Tranfer, and credit card.
USA-Canada: Ukraine prosthetic assistance project *
The main objective of the project is the transfer of skills, knowledge and experience from American and Canadian specialists to their colleagues in Ukraine. As a result, more quality prosthetics and rehabilitation could be done on the ground paid by the Government of Ukraine and would not require sending amputees abroad to get prosthesis and adequate rehabilitation. A team of registered prosthetists, physiotherapists and occupational therapists from US and Canada have undertaken a visit to Kyiv, Ukraine to work with their Ukrainian counterparts from across the country on various cases of amputations involving different types of prosthesis. The site features updates Donations for the project can be made via the site http://www.prostheticsforukraine.com.
Canada: Euromaidan *
Euromaidan Canada is a group of dedicated Ukrainian Canadians who work under the umbrella of Ukrainian Canadian Congress Toronto since November 2013. This group organizes rallies, fundraising events and conferences in support of Ukraine. Euromaidan Canada has several committees that work to address the most urgent needs in Ukraine and well as plan strategically for the future: Fundraising Committee; Anti-Propaganda Committee; Media Committee; Festivals and Events Committee.   Everyone works very hard on a number of projects daily, supporting Ukrainian Army, refugees and volunteers in Ukraine. More information about Euromaidan Canada could be found here: www.euromaidancanada.ca and their facebook.
Canada: Adopt a soldier – a project of the Ukrainian War Amps  *
Adopt a soldier
is a project launched at Kyiv's Central Military hospital which aims to provide monthly stipends of approximately $50 USD to as many veterans of the Russian invasion and war on Ukraine as they can on an ongoing basis. 100% of the proceeds goes directly to those being helped. Ukraine War Amps provides photographic evidence of payments and puts you directly in touch with the war amp you're helping. Proofs of payment and stories of war amps can all be found on the
Ukraine War Amps Facebook page
. The initiative is being crowdfunded on
YouCaring
. Read more on the initiative and how to participate: 
You asked how to help: Adopt A Soldier
.
Canada: Guardian Angels Ukraine *
The Guardian Angels Ukraine Project is a non-profit initiative supported by the League of Ukrainian Canadian Women, created in response to the urgent need to treat the growing number of Ukrainian military personnel injured and maimed while defending Ukraine against Russian terrorism. The project's mission is to provide rehabilitative treatment and medical support for these Ukrainian soldiers, as well as victims of the Euromaidan attacks.
The project will provide support for the establishment of rehabilitation facilities for wounded soldiers from the Armed Forces of Ukraine, National Guard, and volunteer battalions. It works with the Military Medical Academy of Ukraine's Ministry of Defence and the founding medical staff of the Maidan Hospital of Ukraine (Шпиталь Майдану) located in Kyiv.
The project has opened the first rehabilitation facility at the Irpin Military Hospital (near Kyiv) which provides patients with access to occupational therapy, physiotherapy, and psychotherapy. A specialized medical staff, with expertise in treating injured soldiers, will help members of Ukraine's Defence Forces overcome both the physical and psychological challenges of their injuries. The project has purchased one of the world's best interactive rehabilitation systems – based on immersive video gesture control technology – for two rehab centres, valued at $20,000 USD.
Guardian Angels Ukraine will work with military hospitals and civilian therapeutic centres. The project also plans to support knowledge exchange programs between Canadian and Ukrainian rehabilitation educators and practitioners.
For more information:
http://www.lucw.ca/guardian-angels.html
www.facebook.com/guardianangelsukraine
(416) 763-8907
[email protected]
France: Ukrainian-French support groups *
The group 
AMC.UKR.FR
runs a fundraiser for purchasing Celox, a hemostatic unavailable in Ukraine, in collaboration with the Volunteer's Hundred, Medical service of the Headquarters of the National Resistance, communities of Hamburg, Vienna, and Bratislava. All that are interested in donating can do through the
Cagnotte fundraising system.
 They have a
facebook page
where updates are made. For more information please contact 
[email protected]
 and
Poland: Open Dialog Foundation *
The The Open Dialog Foundation, a Polish non-governmental organisation in operation since 2009 engaged in the fields of protection of human rights, support for democracy and the institutions of law in post-Soviet countries. Having been actively participating in Maidan events and in activities to support Ukraine, currently they are supporting the soldiers of the Ukrainian armed forces, members of the National Guard and other law enforcement agencies involved in the ongoing anti-terrorist operation, by supplying clothing and means of life protection, namely bullet-proof vests. On their webpage, http://bronezhylety.com, they say "Regarding all the donations received and funds spent, we are obliged to report to the Ministry," there are infographics on the ways the ODF is helping Ukraine. Donating is possible through PayPal.
Estonia: Vaba Ukraina *
NGO Free Ukraine (Vaba Ukraina, Вільна Україна, Cвободная Украина) is an Estonia-based private nonprofit initiative to support Ukraine. Donations will be used to purchase and ship medical supplies to Ukrainian armed units that have been founded in accordance with the Ukrainian constitution and that stand for the independence and territorial integrity of Ukraine (including the Ukrainian Army and the National Guard of Ukraine). Primarily, we compile and ship fully-equipped backpacks for frontline medics as well as individual first-aid kits for soldiers and volunteers (IFAKs). The backpacks and IFAKs are assembled in Estonia and then dispatched to Kyiv where our partners transport them to the conflict zone in Eastern Ukraine. Read more about Vaba's activities here and here.
Photos, reports, information and news are published on the NGO Free Ukraine web site, as well as on FB page. Donations are accepted via bank transfer and PayPal.
Banking details as follows:
NGO Free Ukraine (reg. no. 80373382)
Bank name: Swedbank
Bank address: Liivalaia 8, 15040 Tallinn, Estonia
Account holder: MTU VABA UKRAINA (NGO Free Ukraine)
IBAN: EE042200221060257931
SWIFT/BIC: HABAEE2X
Lithuania: Blue / Yellow *
Blue/Yellow is a grassroots movement based in Lithuania, born online and uniting like-minded people from the region. They are connected to a wide range of Ukrainian units and volunteer organizations. Since 2015 the group cooperates on specific issues with the Lithuanian Armed Forces.
Blue/Yellow can provide personal protection (kevlar helmets, body armor) as well as boots, uniforms, thermowear, winter-camo, sleeping bags and army food rations etc to Ukrainian military units of all kinds. The group has specialized in optics (scopes, binoculars, monoculars, artillery periscopes) and support to various kinds of recon-units.
Blue/Yellow publishes reports in the form of financial reports and pictures from Ukrainian detachments and partner support organizations to show that the aid has reached its destination and how the monetary donations have been used. They have a webpage and a fb page. Donations are possible by card and bank transfer in USD, EUR and other currencies. Blue/Yellow is open to international cooperation.
Latvia: SOS help for Ukrainian army *
SOS palīdzība Ukranas armijai" (English — "SOS help for Ukrainian army") is a registered Latvian volunteer association (registration number: 40008238761) helping Ukrainian army and volunteer battalions in fight against the terrorists and Russian occupants. They closely cooperate with Lithuanian volunteers from
SOS Ukrainos kariams
 and have sent to Ukraine already five cargos with donations – military equipment (i.e. camo suits, jackets, pants, thermo wear, tactical vests, boots, weapon cleaning kits, backpacks, sleeping bags etc.), medical supplies (i.e. bandages, medications) and equipment (i.e. crutches), office supplies (i.e. computers), also food and civil clothes and a lot of other useful things in war (i.e. flashlights, lanterns, batteries, tools). Now they are getting ready for the sixth shipment. The donations are handed to trusted local volunteers to distribute to the fighters at the frontlines. The group can be contacted at 
[email protected]
Their bank account in AS Swedbank: LV93HABA0551040192621
USA: Wounded Warrior Ukraine  *
Wounded Warrior Ukraine (WWU) is a new non-profit organization bringing world-class rehabilitation services to Ukraine. WWU's first project, training the first-in-Ukraine group of veteran-instructors for preventing and treating war trauma and PTSD among their fellow veterans, is now in progress. Many combatants suffer from consequences of war such as flashbacks, sleep problems, anxiety, aggression, and depression, but don't trust psychologists and oftentimes refuse to see them. WWU unique training, called Bodynamic modality, created by Ditte Marche in Denmark for Afghanistan war veterans, addresses this problem by training service members to become instructors for treating and preventing war trauma and PTSD.
Instructors trained in WWU program will be working directly with their fellow soldiers and veterans resolving and preventing many psychological problems related to shock and PTSD. Experience shows that following the positive experience of working with instructors, some soldiers then choose to go on and work with professional psychologists with special training in war trauma.
Overall program objective is to certify 20 Ukrainian servicemen as "Combat Shock Trainers".  Participants will learn proven methods to combat war induced psychological shock and post­traumatic stress disorder.
Longer term vision includes three Ukrainian-­speaking psychiatrists and psychotherapists already certified in Bodynamic modality, will assist Ditte Marcher to teach this method. They will conduct subsequent trainings for Ukrainian servicemen under supervision of Ditte Marcher with the goal of providing the training to 500 Ukrainian servicemen. You can support the Wounded Warrior Ukraine training financially here on their website; for latest updates, follow them on Facebook.
Great Britain: Ukraine Aid *
Ukraine Aid is a London-based charity supporting people suffering from war in Ukraine, including the injured and wounded, orphaned children, the elderly and families who have lost their breadwinners. They work by identifying individuals in need of help by directly contacting Ukrainian hospitals, locating British manufacturers, charities, benefactors, organizations, and specialists that are willing to address the needs of those affected by war. Further, they raise funds with events and online donations. Their current project focuses on purchasing spare parts necessary for the production of prosthetics at the Lviv State Experimental Company for manufacturing of prosthetics and Vinnitsa State Experimental Prosthetics and Orthopaedic Enterprise, Ukraine, which are urgently needed by those who have lost their limbs during the on-going conflict in Eastern Ukraine. They also work on optimising services provided in Ukrainian hospitals by building cooperation with UK medical institutions, and aid children affected by war financially and by donations of warm clothes, shoes, and food. The initiative has a site www.ukraineaid.co.uk on which donations can be made, a facebook and twitter account.
Great Britain: European Frontier Foundation *
European Frontier Foundation is a UK Charity dedicated to saving lives in Ukraine. The main areas they are active in are:
First Aid – procurement and delivery of first aid kits and individual first aid kit items. Skilfully applied modern first aid kits can eliminate a large percentage of preventable battlefield deaths from bleeding out, blocked airways, tension pneumothorax and similar causes requiring immediate attention before an injured person can be transported to the hospital for treatment. 
Hospital & Ambulance – They support Ukrainian hospitals and ambulance services treating the servicemen and civilian casualties of the war and acts of terrorism.
Wounded & Disabled – They contribute towards the cost of treatment of people of Ukraine who became injured and disabled due to war and acts of terrorism. Some injuries are evident for all to see. Some, like post-traumatic stress disorder, will take years to manifest themselves. EFF`s mission is to stop people of Ukraine dying from war wounds after the war ends. The initiative has a site www.europefrontier.org on which donations can be made, a facebook  account.
Australia: Assist Ukraine *
Assist Ukraine (AU) is an Australian NGO that works closely with multi-national corporations, national companies and small- to medium-sized businesses to implement alliances that leverage the strengths of the corporate sector on behalf of the Ukrainian society.
Currently, AU works in two countries (Ukraine & Australia) to provide support to families of killed in recent clashes in Eastern Ukraine and supply Ukrainian hospitals with medical equipment.
AU is funded by the voluntary contributions of individuals, businesses, foundations, and governments. You can read more about AU's activities and programs at their website, as well as donate money.
Spain: Con Ucrania *
Con Ucrania is a group of volunteers and activists, the Ukrainians, mostly living in different parts of Spain (Madrid, Malaga, Barcelona, Valencia, Murcia, Santander, etc.). All of them are united with one common goal: to inform about what is happening in Ukraine. Activists do not belong to any party. They are fighting against injustice, manipulation, and lying propaganda. They try to break the language barrier and bring first-hand information to people. Con Ucrania is an open and dynamic team consisting of people from all kinds of profiles, both researchers and people with formal politics and social vocation, as people outside the political profiles turned into activists under the last and unfortunate events in Ukraine.
Con Ucrania also organize charity events collecting money for needs of people who suffer from conflict in the East of Ukraine. They provide humanitarian aid to IDPs.
You can read more about Con Ucrania and programs at their website and facebook page. You can also donate money at the website.
Germany – Switzerland: Libereco – Partnership for Human Rights *
Since it was founded in 2009, "Libereco – Partnership for Human Rights" has been fighting for respect for civil and political human rights. For them these are fundamental rights for all, such as freedom of expression, assembly, association, press, conscience and religion. In justification for this, they refer to the Universal Declaration of Human Rights (1948) and the International Covenant on Civil and Political Rights (1966), where these inalienable human rights are guaranteed. Libereco focus their work on Belarus, but in addition , they direct their relief projects also to Ukraine. By demanding closer attention, putting pressure on people in power, and becoming engaged, Liberece tries to improve the situation of victims of human rights violations. Libereco also organizes aid to people who suffered from conflict in the East of Ukraine.
You can learn about Libereco`s projects dedicated to Ukraine at their website and facebook page. You can also donate money at the website.
Banking details for donations:
Donations account Germany:
Account holder: Libereco
IBAN: DE96 8309 4495 0003 3203 32
BIC: GENO DE F1 ETK
Donations Account Switzerland:
Account Holder: Libereco
Post Account: 85-792427-8
IBAN: CH61 0900 0000 8579 2427 8
BIC: POFI CH BE XXX
Germany: EuromaidanNRW *
Euromaidan NRW eV is an initiative of Ukrainians, Germans, and others from the Greater North Rhine-Westphalia region. Founded initially with the intention of supporting Maidan victims, actively participating in their care and financial support during their stay in the Central Military hospital in Koblenz), as well as widows and orphans of ATO soldiers (not considering their "status" as fighters, thus including  volunteers of batalions). They also support Ukrainian victims of the war in Donbas and children's homes with monetary and material donations and donations for the needy population, working closely with trusted Ukrainian organizations and initiatives.
Norway: Norsk Ukrainastøtte *
 The group was started in late 2014 by Arnstein Tranøy to help soldiers of the Ukrainian army and supported the 3d separate tank battalion until September 2015 when personnel was changed and contact lost. Presently this group sends primarily humanitarian aid to those in need and equipment for hospitals, as well as still tries to help the soldiers; however, it is becoming difficult to find out what they need, so not as much as before. They claim to have strict rules on only providing needed equipment, not gadgets or nice to have items. Donations are to their bank account directly or Paypal – find out details, as well as contacts here. The group makes an annual accounting report and posts updates about their initiatives on their fb page.
Slovakia: Ukraine-Slovakia SOS *
Ukraine-Slovakia SOS is a volunteer movement of Ukrainians in Slovakia.
In September 2014, the SOSukrajina/SK Facebook group was created by group of volunteers, which provides information about current needs/requests, collected and delivered support to Ukraine. For two years, this community has been caring for wounded Ukrainians under treatment and rehabilitation in Slovakian and Austrian medical settings, as well as buying medicines and medical supplies for Ukrainian hospitals, collecting and transporting to Ukraine clothes, shoes, toys, baby food, hygiene products for orphanages, internally displaced persons and children of fallen heroes.
Later, the group established the Charitable Funds "Ukraine-Slovakia SOS" in Ukraine and "SME SPOLU" (English: "We are together") in Slovakia. Their aims are:
Development and implementation of humanitarian projects to help Ukraine
Representation of Ukrainian community in various segments of public life in Slovakia
Promotion and development of Ukrainian-Slovak cooperation in both public and private sectors; creation of a dialogue platform in commercial as well as in public sector
Maintenance, development, and popularization of Ukrainian culture in Slovakia and in the European Union as well
Identification of needs, protection of interests and information support of Ukrainians concerning immigration and integration issues.
Donating is possible directly through their bank account, reports about donations are on their site www.smespolu.org. The group recently obtained an official license from the Slovakian government for public donations abroad. For more information, visit their fb page.
Information initiatives *
Greece: Ukranorama *
Ukranorama is an information source made by Ukrainian volunteers who lives in Greece. Its purpose is to promote everything Ukrainian, to provide real facts about current events in Ukraine, and to resist Russian propaganda in Greece.Sphere of work: information, translations, Greek subtitles for video
They work by translating articles and creating their own, creating Greek subtitles for video. Find out more on their site and youtube channel.
Norway: Maidan Norway *
Maidan Norway is an independent association with the main mission to disseminate information about Ukraine in the Norwegian mass media and among the public in general, promote bilateral relations between Norway and Ukraine, contribute to the ongoing democratization process in Ukraine.
They run the information portal www.maidan.no with news, analysis and other relevant information that contributes to a better understanding of politics, society and ongoing events in Ukraine.
In 2015 they arranged an essay competition for Ukrainian children and adolescents, called "Zhyttia Tobi," organized in collaboration with the International Institute of Education, Culture and Relations with Diaspora at the Polytechnic University in the city of Lviv.
In 2016 they arranged a summer school together with Ukrainian Scandinavian Center in Chernivsi, focusing on language learning (Ukrainian and Norwegian), and Ukrainian history, politics, traditions. Find our more on their fb page and twitter.
Other ways to help *
Help with transporting supplies *
If you frequently cross the Ukrainian border, you could help with transporting those goods that can't be imported in large quantities, for example helmets, bullet-proof vests, medicine. If you travel frequently inside Ukraine, you could help with transporting them to the East. Please contact [email protected] (source – http://armyhelp.com.ua/transport.php)
Purchase and ship medicines *
Not all essential medicines are freely sold in Ukraine. It is very difficult to buy them even having enough finance.  But the demand for the medicines is almost unlimited because every soldier has to be provided with them. If you live abroad or often travel, you can help a lot by buying (on Ebay, Amazon, in pharmacies or online pharmacies) and sending/delivering essential medicines to Ukraine. It is also possible to order medicines online from Ukraine but the delivery time usually amounts to 2 weeks, so it makes sense to appeal to friends or relatives abroad.
On this page there is a list of the most necessary medicines, sorted out depending on the extent of demand.
More info: Army of Suppliers. Who is Helping the Frontline
Tags: Act!, Archive, help, Help Ukraine, Resources, Ukrainian Army