Serhiy, a border guard, before the war – a businessman and sole provider for his family, was wounded in the East and is now missing a part of his shin bone. Myhailo, a former Emergency Ministry worker from Luhansk, member of Dnipro-1 volunteer battalion, lost a part of his collarbone during the battle for Donetsk airport. Roman, a Ukrainian National Guard sergeant, history teacher before the war, lost a part of his shin bone and surrounding tissue holding a checkpoint in Luhansk region. All three would have been permanently disabled, if not for ground-breaking regenerative surgery, performed in a Kyiv private clinic and funded by the volunteer center "People's Project."
Regrowing bone and skin tissue has been made possible by innovative stem cell technology, developed in Ukraine over the course of the last decade. The research started in Donetsk in 2000, financed by various international organizations originally intended for treating burn victims. The use of stem cells for therapeutic purposes started in 2004.
The technology is unique for the post-Soviet region and even the world, claims biotechnologist Dmitro Zubov, who received a standing ovation while presenting the results of the clinic's work in Leipzig. One of the clinic's founders Oleksiy Shershnev explains that while in the West stem cell treatment is the subject of ongoing scientific research, in Ukraine doctors were forced to put the technology into practice since 2000, which put Ukraine way ahead of the curve in this field.
Based on implanting the patient's own stem cells over a 3D model of the bone, the treatment method is the future for the next 5-10 years of medical science, Shershnev believes. He refers to his laboratory as a bona fide "stem cell plant" and hopes that in the future they will be able to grow actual human organs and even print them on a bioprinter using patients' cells, although he admits that today it still remains in the realm of science fiction.
Shershnev recalls that the idea of using regenerative surgery came to the clinic's workers when they learned of a woman injured in the shelling of Kramatorsk during the so-called "truce period": "She was seriously injured and was threatened with the possibility of her left limb length reduced by 6 centimeters. Also, significant dysfunction of the shoulder joint resulted in high probability of her being permanently disabled. So she became our first patient," Shershenev remembers.
The first surgery was paid with the clinic's own funds. However, the Ukrainian-made miracle of modern medicine comes with a hefty price tag of USD 7,000-14,000. The treatment of many wounded Ukrainian soldiers was made possible with crowdfunding, attracted by People's Project, a volunteer organization engaging in providing equipment, technical devices and medical supplies to the Ukrainian Army, impoverished by years of neglect. Discounts offered by the clinic down to bare costs still require USD 6,000 for Serhyi, USD 7,700 for Myhailo and USD 7,600 for Roman. The ambitious project, involving ten participants in various stages of treatment, is making a cure straight out science fiction a reality thanks to the great volunteer drive and gratitude to soldiers risking their lives to defend Ukraine.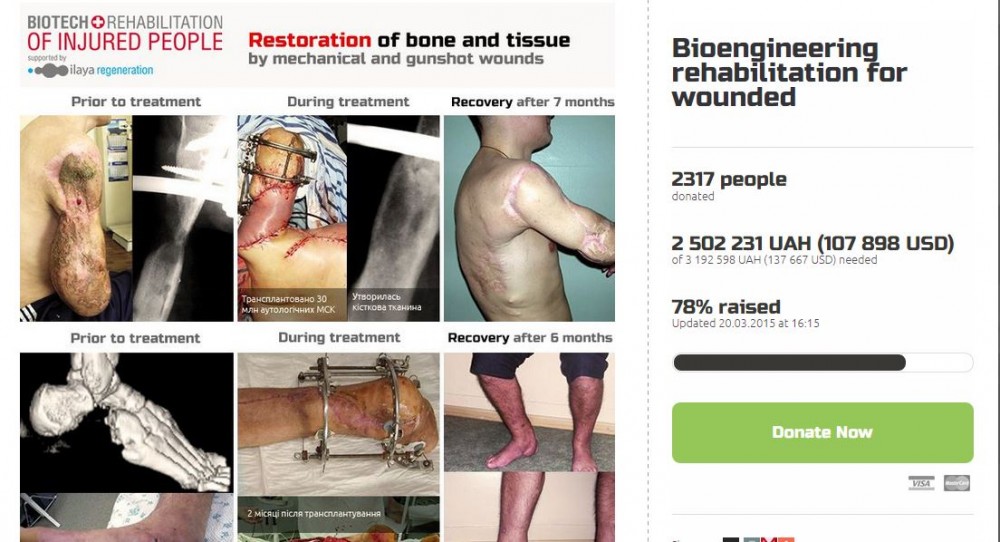 The origins of regenerative medicine in Ukraine
The first stem cell experiments began in Donetsk in 2000 in the laboratory for cell and tissue cultivation at the Emergency and Reconstructive Surgery Institute. It initially was created with the aim of growing "artificial skin" for treatment of patients with severe burns (one of the most common work-related injuries in Donetsk Oblast) and was financed by various international organizations.
Specialists, doctors and biologists from Donetsk Institute studied methods for cell cultivation in laboratories and medical centers in Germany, France, Russia, and Belarus. These methods were used not only in skin transplantation, but in treatment of coronary heart disease: laboratory-grown stem cells were implanted into myocardium zones that ceased to contract. When the cell activities resumed in these zones then surgeons proceeded with surgery. Such manipulations allowed avoiding heart transplantations. Since the patient's own stems cells were transplanted, the patient did not need to receive immunosuppressive medication. In the Emergency and Reconstructive Surgery Institute 60 unique heart surgeries and 80 skin transplantations were performed.
The first experiments on the cultivation of bone tissue began there as well. For these surgeries, bone carriers are used (3D matrixes created from bone chips) which are "saturated" with patient's cells – after a few months, they cells embed themselves into the bone carrier. Such surgeries are considered unique for post-Soviet region and, according to Dmitro Zubov, are today performed only in Ukraine.
Part of Donetsk's biotechnologists and clinicians who were working in the Emergency and Reconstructive Surgery Institute moved to the Ukrainian capital Kyiv even before the conflict in the East Ukraine. Some of them are now working at a private clinic in which laboratory for growing cells was launched several years ago.  The laboratory is not experimental but rather fully operational; in fact it is a cell production plant. For this, the patient's adipocytes (fat cells) are extreacted via the liposuction procedure and then, in highly sterile conditions, stem cells are extracted from adipocytes. The biomaterial is then analyzed for bacterial and virus infections, after which the stromal stem cells are separated from the tissue. Then, the cells are placed in an incubator where they grow from 5 million to more than 100 million cells.
Please visit Biotech's Facebok page and site to learn more.