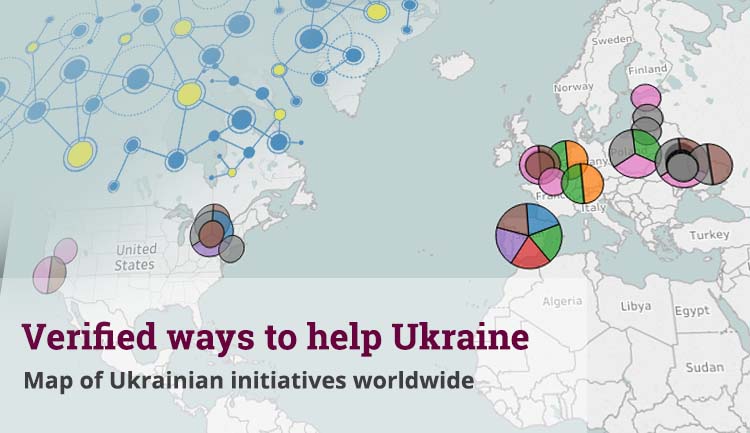 Since the start of Russian aggression in the East of Ukraine, many organizations aiming to help Ukraine were created both in the country and abroad. A number of them is helping Ukrainian soldiers and volunteers, providing military and medical aid, as well as give humanitarian aid and help IDPs. Besides, communities all over the world are helping Ukraine in by organizing cultural events festivals, concerts, and film screenings, as well run media initiatives informing their local societies about Ukraine.
Sometimes people who want to help Ukraine don't know where to find information about verified ways to help. That is why Euromaidan Press is launching a map of organizations gathering pro-Ukrainian activities all over the world (you can view it permanently on our page Friends of Ukraine Network). Now the map shows mainly activities in the military sphere (from our article Verified ways to help the Ukrainian Army), but we are updating it into more categories. You can also sign up for the Friends of Ukraine newsletter and stay on top of latest news.
The map is interactive. Click Ctrl+mouse scroll to zoom in. Click Shift+click+drag mouse to pan. To see more information on an organization, click on it in the table. To return to the full view, click on the word "country" in the table.
If you know any other organizations that are helping Ukraine, you can send us information at

[email protected]

and we will add these organizations to our map. Join the initiative and let's share information together! 
Besides our map there are other catalogues and lists the goal of which is to unite information about Ukrainian initiatives all over the world. One of them is the Ukrainian Directory. The Ukrainian Directory is also opened for cooperation, so you can contact its create for adding information about your company or initiative. This directory will also be one of the sources of information for our map.
Tags: Act!, Diaspora, Featured, Help, Help Ukraine, Resources, Ukraine, Volunteers