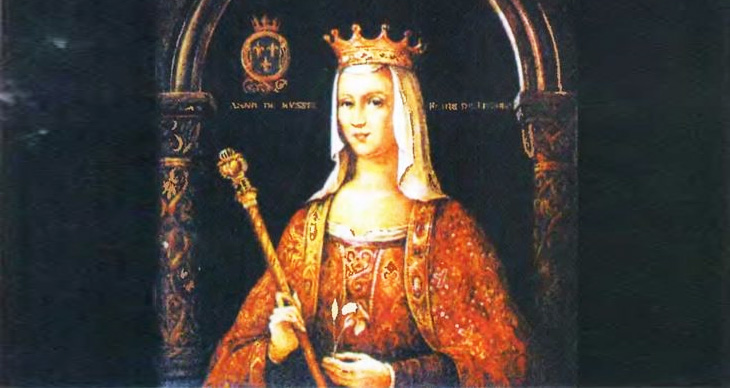 Queen Anna of Kyiv as pictured on a medieval French miniature 
On 19 May 1051, Anna, the youngest daughter of Kyivan Rus Prince Yaroslav the Wise, ascended to the French throne as the wife of King Henry I Capet in the Cathedral of Reims. As traditional Days of Anna of Kyiv take place in Sanslis, an abbey 40 km from Paris, we revisit the story of the earliest dynastic connection between France and Ukraine.
Her father Yaroslav, was nicknamed "the father-in-law of Europe." Yaroslav himself married Ingigerd Olofsdotter, the daughter of the Swedish King; his sister Maria married the Polish Prince; son Illya was married to the sister of the Danish King; son Sviatoslav married the Austrian Princess; son Vsevolod married the daughter of the Byzantine emperor; son Ihor – a German Princess; Yaroslav married his daughter Anastasia – to the Hungarian King; daughter Elizabeth – to the Norwegian King. And his daughter Anna married Henry I of France.
Anna was born about 1024 and grew up in Kyiv. She received a good education at the princely court where she studied reading and writing, history, foreign languages, mathematics, and drawing. It is known that Anna of Kyiv could read fluently in several languages, including Old Church Slavonic, Greek, and Cyrillic and Glagolitic alphabets. At that time, not every man in Europe was literate, let alone women.
In 1048, the French Embassy arrived in Kyiv, searching for a wife for the widowed King Henry I. The French King was searching the courts of Europe for a suitable bride, but could not locate a princess who was not related to him within legal degrees of kinship – the Pope prohibited marriage between monarchs up to the seventh degree of kinship. Anna was chosen to be his wife, and in spring 1051 she arrived in France. On 19 May 1051 she married Henry I and became the Queen of France.
There exists a legend that the 18-year old Queen brought an ancient gospel with her as a marriage dowry, presumably, part of the library of her father Yaroslav. The legend says that the manuscript later became part of the museum at the Cathedral of Reims and was called the "Reims Gospel" and that many French kings, including Louis XIV, took their oaths on this Gospel. This legend has become widespread but is disputed by historians. What is known for sure is that this ancient manuscript was constantly on the territory of France only starting from the mid-XVI century and is considered to have been given by Roman Emperor Carl IV to the Emmaus Monastery in Prague, taken to Constantinople, Italy, and then ended up in France. French kings took their oaths on the ancient gospel starting from the late XVI century.
Anna gave birth to four children, namely Philip, Emma, Robert, and Hugo. Despite many historical claims that she is the first female regent of France, this appears to be more legend than fact. She was offered to take up regency after the death of her husband Henry, but declined and settled in the town of Senlis near Paris, where she founded and built a convent and a church. In the summer of 1065, she married one of the most powerful Northern France lords, Raoul de Crepy. He accused his first wife of treason and divorced to marry Anna. However, an investigation conducted by Pope Alexander II did not recognize his legitimate marriage to Anna and Raoul de Crepy was anathematized.
In 1074, Anna was widowed a second time and settled at the court of her son Philip, and was accepted with honor as the Queen mother. Her signature on one of the documents is the oldest public example of old Ukrainian writing. Being literate at the time when this was uncommon not only for women but for all royalty, she signed documents with the Cyrillic letters "Ана Ръина," that is "Anna Regina," meaning "Anna the Queen," while other officials only marked a cross in front of their names written by their clerks.
Anna could ride a horse, was knowledgeable in politics, and actively participated in governing France, especially after her husband died. 
Henry the First respected his wife Anna so much that his many decrees bear the inscription "With the consent of my wife Anna" and "In the presence of Queen Anna." French historians point out that there are no other cases in the French history when Royal decrees bear such inscriptions.
The date and place of Anna's death are unknown, and the last mention of her dates back to 1075. It is assumed that this is the year she died and was likely buried in the Villiers Abbey cemetery (la Ferte-Alais town, Essonne department), which was destroyed during the French Revolution.
We do not know for sure how Anna Yaroslavna lived her early years in France, but French researchers quoted lines from a letter to her father: "What a barbaric country you have sent me to! Houses are gloomy here, churches look ugly, and people have terrible manners." However, Nataliya Pushkaryova, author of the book "Women of ancient Rus," maintains there is no documentary evidence for such a letter existing, but agrees that this content corresponds to the realities of the time.
 Supposedly, everything was not that bad, but there is no doubt that the highly educated Queen who grew up in conditions of Slavic culture was not easily able to adapt to the French high society of that time.
Another legendary story is Anna's library which she brought to France from Kyivan Rus. There are also other legends that it was Anna Yaroslavna who taught the French court to use cutlery and take a bath regularly, but it is difficult to say if this is truth or legend.
Anna of Kyiv is commemorated each year on September 5 in the church she founded in the town of Senlis. All the subsequent French kings were descendants of Anna. On 27 September 2013, the Ukrainian Eparchy of St. Vladimir in Paris headed by Bishop Boris (Gudziak) purchased a church in Senlis with funds donated by Ukrainians from Ukraine, France, Britain, the United States, and Canada with the aim of transforming it into the current Ukrainian Greek Catholic Church where the Cultural Center of Anna Yaroslavna operates.
A statue to Anna of Kyiv holding the church of St.Vincentius in the abbey of St.Vincentius in Senlis, France
Anna Yaroslavivna of Kyiv (born 1024/25 or 1032 in Kyiv, died after 1075), daughter of King Yaroslav the Wise of Kyiv and Ingegerd, daughter of King Olof Skötkunung of Sweden; the third wife of King Henry I of France; and sister-in-law of kings Andrew I of Hungary and Harald III of Norway. Monument in Senlis, France. (Image: panoramio)
Also, on May 22 the Day of Anna of Kyiv will be held in Senlis. "Celebrations will begin with the laying of flowers at the monument to the Queen Anna and a memorial plaque to victims of the Holodomor, as well as a service in the Abbey of St. Vincent," a representative of the Cultural Center of Anna Yaroslavna said. Other events include performances Ukrainian singer Oksana Mukha, presentation of the Leadership Academy, "Intelligent space around Anna of Kyiv" conference, and a presentation of the church of Saint Boris and Gleb and Anna Yaroslavna Cultural Center. In addition, Ukrainian designer Oksana Karavanska will present a unique collection "Anna of Kyiv – Queen of France".
This article has been amended with updated data dispelling myths surrounding the figure of Anna of Kyiv. Particularly, it is disputed that she brought the Reims Gospel to France and that she really wrote the letter to her father depicting the "gloomy" realities of France. Also, researcher of the women of ancient Rus Nataliya Pushkaryova claims that there is no way Pope Nicholas II could have written to her the following lines: "Honorable lady, the fame of your virtues has reached our ears, and, with great joy, we hear that you are performing your royal duties at this very Christian state with commendable zeal and brilliant mind" and that this episode is made up by Anna's biographers. This quotation was removed from the article. We apologize for the inconvenience caused.
Related:
Tags: France, History, Kyivan Rus, Ukraine-France relations, Ukrainian history