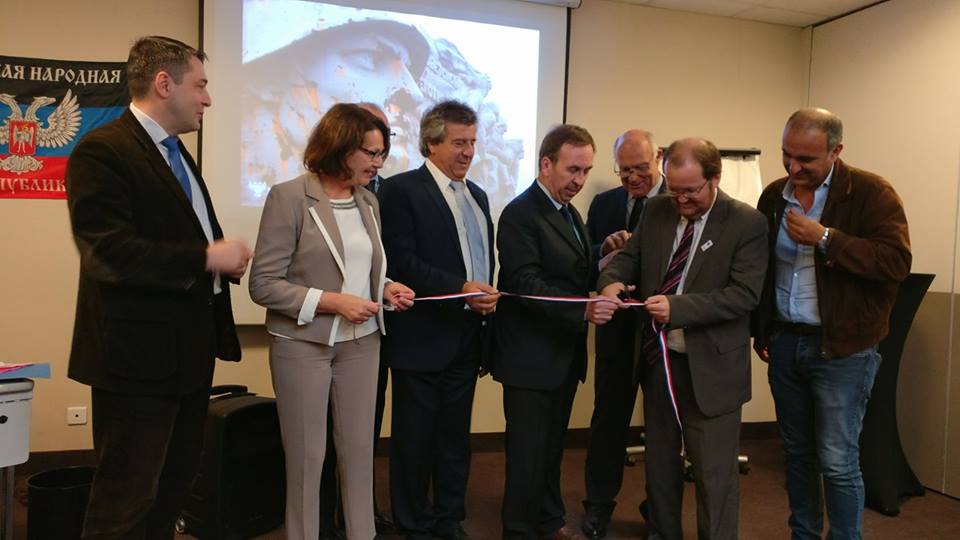 In the center holding a ribbon (left to right): councilors Christiane Pujol, Christian Borelli, Hubert Fayard from the Bouches-du-Rhône county, southern France, opening a fake diplomatic mission of Russian-run puppet statelet DNR in France. Marseille, France, 25 September 2017. Photograph: FB Centre de la représentation de la République de Donetsk en France 
On 25 September, yet another fake diplomatic mission of the Russian-run puppet statelet "Donetsk People's Republic" ("DNR") opened in Europe, this time in the southern French city of Marseille. A local leader of a small far-right French party, Hubert Fayard has become the head of the "DNR" office. Mr.Fayard who has earlier illegally visited occupied Donetsk claims that the office aims to
"inform the French people of developments in the Donbas."
Of course, informing means here spreading Russia's anti-Ukrainian propaganda.
The next Russian provocative diplomatic step would probably be to hold so-called "International Expert Conference" in Finland to push the Russian narrative of recognition of self-proclaimed "republics" among citizens of Finland, Sweden, Norway, and Denmark.
On 25 September Hubert Fayard, a small right-wing French political party known as the National Center of Independents and Peasants, opened up the so-called "Center of the Representation of the Republic of Donetsk in France." Some 20-30 people, including journalists, attended the event in Marseille, the capital of Provence-Alpes-Côte d'Azur on the Mediterranean coast, Le Monde reported. Despite the suspense skillfully maintained by its brand new "official representative" Hubert Fayard, the brand new "official representative," no diplomat, even the Russian consul, had showed up at the ceremony in a lounge of the Novotel Hotel, a few minutes' walk from its headquarters, in reality a simple office under shared rent.
As Daleko&Blisko reported, Mr.Fayard said in his speech that the inauguration made him a "consul" of the self-proclaimed "DNR" in France, the Russian state-funded news agency TASS mentions Fayard as an honorary consul. However, the Center is not a consulate. Moreover, the French state has not recognized the "DNR" since its forceful establishment on 7th April 2014, nor did it recognize its Russia-backed sister in Luhansk ("LNR").
At the opening of a Marseille office of what the Ukrainian legislature mentions as a terrorist organization, Mr.Fayard disclosed the purpose of creating such fake embassies in random foreign states, "We received many letters of support from different political figures. It proves that we exist. It proves that the Donetsk People's Republic exists. This representation is here for this purpose."
So-called acting DNR minister of foreign affairs Nataliya Nikonorova appeared by video link from Donetsk and said, "For us, establishing direct contact with European society is of great importance, as it means that truthful information about our living conditions, about the establishment of our republic and its development, will directly reach them."
There is no real country in the world that recognized the independence of the "DNR." Even Russia which has established, backs, and fully controls the fake republic, didn't recognize the statelet. Opening such centers in foreign countries creates an illusion of the recognized sovereignty of the fake country. In fact, the "DNR" was recognized only by another Russian puppet republic South Ossetia, formed in the occupied northern territory of Georgia.
"We will be coordinating humanitarian aid, establishing student exchanges, implementing information tasks – we want to inform people in France of what is going on in Donbas," Mr.Fayard said according to TASS. However, he forgot to mention that entering the Ukraine's occupied territory from Russia is illegal and those who will visit Donetsk this way will probably be banned from entering Ukraine.
A spokesman for France's Foreign Ministry last week said that the government had no plans to recognize the new center in Marseille.
Fake diplomatic missions and visits of foreign politicians to occupied territories
The same pseudo embassies of the fake Donetsk republics were earlier established in Finland (2015), Czech Republic (June 2016), Italy (December 2016), and Greece (March 2017). However, the office in the eastern Czech city of Ostrava was later shut down after the Ukrainian Foreign Ministry sent a note of protest (now awaiting the results of an appeal).
The "embassy" of the so-called Luhansk People's Republic ("LNR") was about to be opened in Austria, but the Austrian Foreign Ministry denied any possibility of establishing either a diplomatic or a consular mission of the "LNR" on the Austrian territory.
Alongside opening up fake diplomatic missions of puppet republics abroad, Russia arranges visits of loyal foreign politicians to the occupied Ukrainian territories of Crimea, Donetsk, and Luhansk.
In February 2015, a delegation of the German party Die Linke visited occupied Donetsk and met with the Russian-installed ruler of "DNR" Aleksandr Zakharchenko.
In July 2015, ten French lawmakers visited occupied Crimea. The French Foreign Minister Laurent Fabius has stated that he is "shocked" by those visit because it violated "international law" and "could be used by those who justify Russia's claims to the peninsula."
In March 2016, Christian Estrosi, head of the French region of Provence-Alpes-Côte d'Azur and mayor of Nice, has called the Crimean city of Yalta as belonging to the Russian Federation and signed a letter of intention and renewal of friendly relations with Yalta.
In July 2016, eleven French MPs visited Crimea, six of them traveled to the occupied region a year before.
In October 2016, an Italian delegation consisting of 18 politicians and businessmen visited the annexed Crimea. The political part of the delegation was largely represented by regional politicians from far-right parties, but the delegation also featured one politician from the left-wing populist party Free Alternative (Alternativa Libera).
In May 2017,  the Italian MEP, Eleonora Forenza (Communist Refoundation Party) visited occupied part of Luhansk Oblast for participation in the May Day events.
This June, three councilors from the south French Bouches-du-Rhône county, Hubert Fayard, Christiane Pujol, Christian Borelli, illegally visited Donetsk, traveling there via Moscow. Mr.Fayard stated that they were going to visit Donetsk to "support the Russian army that is constantly shelled by Ukraine." That was a serious slip of the tongue, as Russia consistently denies the involvement of its troops in fighting in the Donbas. Now Mr.Fayard has become an "honorary consul of DNR."
Next fake diplomatic missions to be opened up in Nordic countries?
Establishing fake diplomatic missions is an old Soviet tactic. Back in 1919, then unrecognized Soviet Russia established an unofficial "diplomatic organization" Russian Soviet Government Bureau in the United States. The Bureau functioned as a trade and propaganda agency of the Soviet government. The "mission" was terminated early in 1921 as its head was deported from the USA.
Ukrainian journalist Vitaliy Portnikov considers that the opening of such offices is a well-planned propaganda campaign with the purpose of putting pressure on Ukraine and on Ukraine's western partners.
Anyway, it looks like this campaign is far from its end and the next fake diplomatic missions of Russian-run statelets will emerge in the Nordic countries.
Ambassador of Ukraine to Finland Andrii Olefirov issued an official statement informing that Nordic pro-Russian activists have decided to arrange so-called "International Expert Conference" to spread the idea of recognition of self-proclaimed "republic" among citizens of Finland, Sweden, Norway, and Denmark.
The "conference" mentions typical narratives of Russian propaganda among its topics:
NATO as hybrid threat in Nordic countries;
Russophobia and NATO propaganda in Western mainstream media; NATO influence operations among Nordic journalists;
Information Defence of Donetsk People's Republic ("DNR");
Recognition of "DNR" in Finland, Denmark, Norway, and Sweden.
Mr.Olefirov stresses:
I strongly believe that such a "conference" should raise legitimate and serious concern of the Finnish authorities taking into account that public promotion of activities of terrorists, temporary holding control of certain areas of Donetsk and Luhansk regions of Ukraine, clearly contradicts the official policy of Finland and the EU.
---
Read more:
Tags: DNR ("Donetsk People's Republic"), Donbas war (2014-present), fake diplomatic mission, Far right, France, News, Russian diplomacy