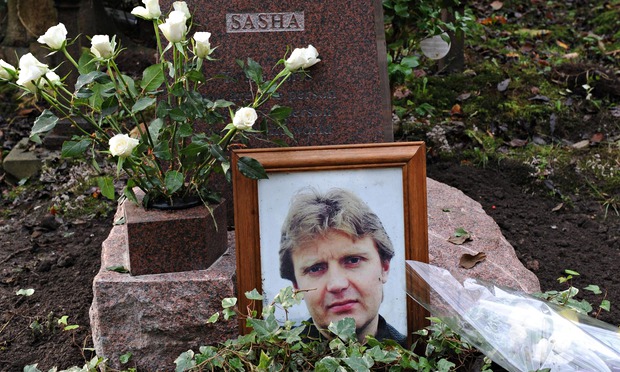 Alexander Litvinenko's grave in Highgate cemetery. In deathbed interviews in hospital with Metropolitan police, he accused Vladimir Putin of personally ordering his murder. The British investigation confirmed his conclusion. (Image: Stefan Rousseau/PA) 
The British investigation into the death of Aleksandr Litvinenko has shown that "Vladimir Putin is a murderer," Aleksandr Goldfarb says; but the consequences of this for international politics are unlikely to be "very dramatic" although world leaders will now have to face up to the nature of the man with whom they are in contact.
In a comment for the GordonUA.com, Goldfarb, who helped Litvinenko escape from Russia and settle in Great Britain, says that "no one will begin a war with Russia" over this. But "the findings of the London court are significant." They define how Putin and his Russia will be remembered a century from now.
Now, Goldfarb suggests, even the ostracism of Putin by world leaders is unlikely given that "in the international political arena, 'politics is politics.'" World leaders will shake Putin's hand just as they did with Hitler and Stalin, "although for them this ended poorly." But that doesn't mean that it won't have consequences.
British Prime Minister David Cameron "has already said that well, we will deal with any kind of regime, including the Russian, but now we know precisely what Putin represents," Goldfarb says. He does not add, but all people of good will can only hope that other world leaders will be similarly chastened by that the English investigation has shown.
On January 21, London's High Court released a 329-page final report on its investigation into the death of Litvinenko in November 2006. In releasing it, Judge Sir Robert Owen concluded that Litvinenko's murder "was probably approved" by Putin.
Thus, Goldfarb says, it has now been "judicially established" that "Putin is a murderer;" and however much he and his regime deny it, "facts remain facts" – and Putin's responsibility has been shown.
"It is important to understand that the Litvinenko case is not only a political one but a criminal one as well. Putin gave the order to kill a man with whom he was personally acquainted. And the motive of the Russian leader was simple: Sasha Litvinenko helped Western special services to uncover the links of Putin and his entourage with the Tambov criminal group which was involved in drug trafficking throughout Europe."
"Killing Litvinenko for Putin," Goldfarb continues, "was not simple an act of state but a personal one," and he calls on everyone to remember that "a criminal is a criminal whatever position he occupies."
The former Soviet dissident says that this outcome was largely thanks to the efforts of Litvinenko's widow Marina and that the report "undoubtedly is a major emotional and moral victory" for her. "Thanks to her," he concludes, "now the entire world has been shown that Putin is a criminal and a murderer."
No one can ever look at him again in the same way.
Tags: International, Litvinenko verdict, Murder, Putin, Russia, Tambov mafia