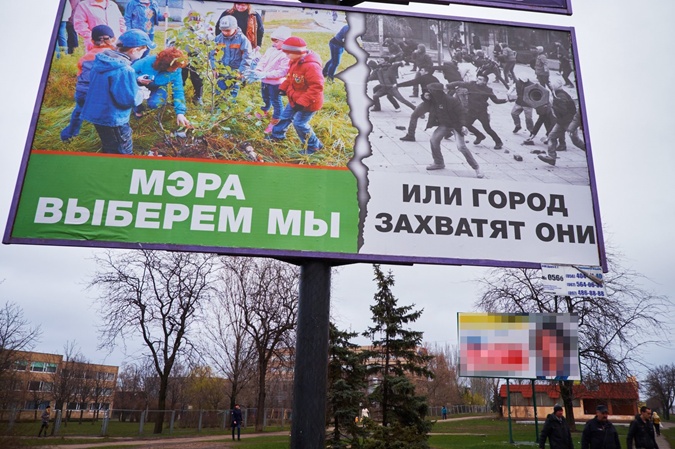 The billboard is saying: We will chose the mayor (left) or they will take over the city (right) 
Ukraine is discussing the scandalous early mayoral election in Kryvyi Rih. Convincing victory in around 74% of votes, goes to the current mayor Yuriy Vilkul. He is a proxy of the Ukrainian oligarch number one Rinat Akhmetov, and a long term member of the Party of Regions (the party of exiled ex-president Viktor Yanukovych) and now its successor Opposition Bloc.
Vilkul had got to the second round of the last fall local election and due to only 700 votes provided by illegal schemes won it. The party of his opponent Yuriy Milobog, Samopomich, announced the results illegitimate and achieved conducting early election in the city. However, instead of Milobog who is a Kryvyi Rih citizen, battalion Donbas combat Semen Semenchenko represented the party on the early election and got only around 10% of votes.
Who is blaming whom
Now political experts blame Samopomich for surrendering the election by changing the candidate as attitude of majority of local citizens to combat Semenchenko is rather negative. Samopomich blames top politicians in friendship with ex-Party of Regions members and playing for the Kremlin, so that surrendering the election. Some media blame Kryvyi Rih people who are keen to take bribes for their votes and surrendering the election.
Read also: The democratic movement's election fiasco in Kryvyi Rih
Even if all these arguments were true, it would not eliminate the fact that the election campaign itself was conducted with numerous violation. It demonstrated that it is still possible to use a city budget in personal purposes (to bribe voters by Vilkul) in Ukraine. Moreover, it showed that one could win in such a way and stay unpunished, just like in Yanukovych times. Aactivists, observers and pro-democratic parties were reporting those violations.
The most outrageous one was pulling out UAH 50mn (US $1,879,70) from local budget to pay citizens UAH 500 (less than US $19) each to vote for Vilkul (officially it was a one-time hand-out). Illegal use of public transport, taxi monopoly, shops and of course local media (majority of which belong to Vilkul) were also tools for promoting the current mayor. All  this was happening even before the official campaign started. Central media were covering the events in the city from time to time, however the proper attention was not paid.
Reaction of observers 
The topic went public only after the election, when it was too late.
Below, we give some quotations of the report of Committee of Voters of Ukraine (CVU) which was observing the election.
"CVU estimates early election of Kryvyi Rih city head as such that does not meet the standards of fair and democratic election and was held with systemic violations of the current legislation which had a significant impact on election results. During the election campaign there was a large-scale vote-buying and systematic abuse of administrative resources.
During early election current mayor's actions of a vote-buying nature were recorded. Two month before the election, Kryvyi Rih city council allocated budget of 50 mn UAH by Vilkul's initiative to provide financial assistance to low-income residents (500 UAH to 100 thousand families). Despite the fact that funds were available throughout the year, most residents of Kryvyi Rih took this opportunity during the election campaign.
According to the city authorities, 2 thousand families of Kryvyi Rih received assistance during the first three days in general as Yuri Vilkul noted, as of the end of February, 100 thousand families received such assistance. In this regard, Kryvyi Rih city council additionally allocated 30 mln UAH a month before the election to pay financial aid to the city residents and expanded a list of categories of citizens who having had the right to receive this aid. Given that this initiative has been implemented in the midst of the election campaign, CVU estimates actions of Yuri Vilkul as such that have vote-buying and abuse of official position character.
In the election campaign Yuri Vilkul repeatedly used city mayor status in own interest as a candidate. He systematically used of administrative resources . In particular, Yuri Vilkul involved subordinate people into his campaign. Thus, leaflets distributed in the campaign tents and appealing to vote for Vilkul contained an image of the candidate along with his subordinates and the slogan "One political team". Kryvyi Rih city election commission issued a warning to Yuri Vilkul for this fact.
Information resources such as the city council website were used during the campaign for the benefit of Yuri Vilkul. In particular, the website published a notice that Yuri Vilkul applied for registration as a candidate for mayor. This piece of news was accompanied by a commentary of Yuri Vilkul on development of the city, which was violation of the Law "On local elections". The frequency of messages on the website also increased during the election period. During February-March 24 of 2015, 67 pieces of news were published compared to 81 pieces of news during February-24 March 2016; September-October 23, 2014 – 47 pieces of news compared to 69 of those during September – October 2015.
The special topic of the election campaign was the use of slogans aimed to split the society. Slogans like "If we don't elect a mayor, — they will take over the city" were accompanied by pictures of events on Independence Square (Maidan Nezalezhosti in Kyiv) in 2014, were of a violent nature and were intended to make residents feel scared about the victory of another of candidates, which didn't contribute to free elections. Promoting hatred to one of the social groups is unacceptable in election campaigns.
Large-scale technology of voters' delivery to polling stations was used in Krivyi Rih on the Election Day. In general 70-80 thousand residents of Kryvyi Rih used free delivery service to come to places of voting. Typically elderly citizens and workers of "Metnivest" used this way of transportation. This technology allowed to artificially increase turnout. While in the first round on 25 October the turnout was about 40%, in the second round on 15 November it was 39%, and in early elections on 27 March it was 55%. CVU believes that the delivery of voters was of a vote-buying character as the transportation services were provided for free."

Activists released photos and videos of people being taken to the polling stations by mini busses
Activists released photos and videos of people being taken to the polling stations by mini busses
OPORA, another NGO which observed the election, also recorded all the violations during the campaign and mentioned them in its preliminary statement. However, for unknown reasons OPORA became much softer in conclusions:
"Appointment of early mayoral election in Kryvyi Rih is the result of a political and legal compromise, aimed to stop confrontations between electoral subjects on the repeated 15 November 2015 election. The legal mechanism, chosen by the Verkhovna Rada of Ukraine, didn't provide possibility of anticipatory dismissal premature withdrawal of the Mayor, who was acknowledged to be the winner of 2015 election by the TEC. This questionable precedent hazards securing equal rights and opportunities principle. Besides that, new conditions, favorable for misuse of administrative resources, have appeared.
Political context of solving the conflict that appeared in 15 November 2015 repeated election has influenced both motivation of the voters to participate in early election of Kryvyi Rih city mayor, and electoral strategies of parties and local political leaders. Citizens of Kryvyi Rih had a wide range of candidates to vote for (15), which had significantly changed if compared to 2015 regular elections.
Thus, the turnout in 27 March 2016 early mayoral election was quite high. According to OPORA's data, it has increased in over 16% compared to the repeated voting held on 15 November 2015 (55.4% and 39.2% respectively). Such increase was not only due to the public resonance around peculiarities of appointment and conduct of the corresponding election, but also because of highly active campaigning efforts of candidates followed by strong conflicts. Civil Network OPORA informs, that 27 March 2016 early mayoral election in Kryvyi Rih and vote count at polling stations were organized and held properly. Violations that official observers detected at election commission level were not systematical, and had no influence of legitimacy of the election and vote count processes at polling stations."
The short term prospective
Meanwhile, unlike the period before the election, now candidates from pro-democratic camp united and released the common statement in which they refused to recognize Vilkul's victory and claimed it was achieved thanks to Kremlin technologies. They concluded, that Kryvyi Rih became the next city after Mariupol and Kharkiv where Yanukovych and Putin regime's minions will continue to rob Ukrainian people.
They also promised to reveal all the violations to the broad public and "to act successively and decisively".
However, Yuriy Vilkul has already taken the oath of mayor . Moreover, he has the argument that he is a legally elected mayor who won received the majority of votes. The questions which remains whether the rule of law is still a priority for Ukraine as it is provided by the Constitution of Ukraine? If yes, then how is it possible to establish it in the case of the Kryvyi Rih election? Will the authorities really do something about this or will the case be forgotten just like during Yanukovych times? Thus, will Yuriy Vilkul will his best to serve Akhmetov leaving his own citizens with nothing?
These photos of Kryvyi Rih were taken by citizens to show how the mayor cares about the city:









Tags: International, Op-ed, Samopomich, Semenchenko, Vilkul