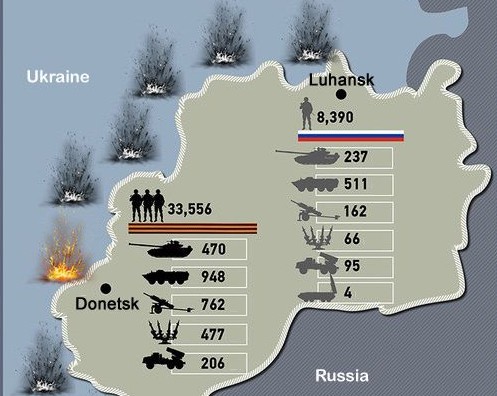 During the armed conflict in eastern Ukraine, Russian President Vladimir Putin many times denied the presence of Russian armed forces on Ukrainian territory. However, on 17 December 2015, at the annual summary press conference Putin mentioned that "we never said there were not people there who were carrying out certain tasks, including in the military sphere. But that does not mean there are Russian (regular) troops there, feel the difference."
Read more about the conference: A guide to Putin's 2015 Q&A press conference newspeak
Data from the Ukrainian Ministry of Defense suggests that more than 1/4 of the members of illegal military formations are members of the Russian Army. According to their statistics, summed up by Ukrainian journalist Viktor Tregubov, 41,946 members of illegal military formations are acting in the area of conflict, and 8,390 of them are representatives of the Russian Armed Forces. This hybrid force — combining the Russian regular troops and mercenaries hired locally in the Donbas and recruited from the Russian Federation — attacked Ukrainian positions and local civilians nearly 24,000 times during the period from 1 September 2014 through 16 November 2015. The ceasefire regime, according to the Minsk Agreement, began on 5 September 2014.
The infographics below, created by Slovo i Dilo based on Viktor Tregubov's summary and translated by Euromaidan Press, explain what amounts of artillery and ammunition the hybrid military formations need for making those attacks. The "LNR/DNR" do not have facilities for producing this amount of arms. It is unlikely that they could have captured this amount from Ukraine – the so-called "DNR/LNR" forces possess far more tanks, armored combat vehicles, and multiple rocket launch systems than were kept in Ukrainian army depots in Donbas, according to open source data and the ATO press center. Moreover, the military power of the self-proclaimed republics surpasses that of many NATO member states.
Details here: Separatists in Donbas have more tanks than Germany, France, and Czech Republic combined
On 17 November 2014, Vladimir Putin in an interview to German TV channel ARD said that insurgent and terrorist groups in Ukraine's east "will always get weapons," including armored vehicles and artillery in response to questions of Russia's material involvement the war against Ukraine.
Tags: Donbas, Donbas war (2014-present), Infographics, Military analysis, Russian Army, Russian military, Russian military threat