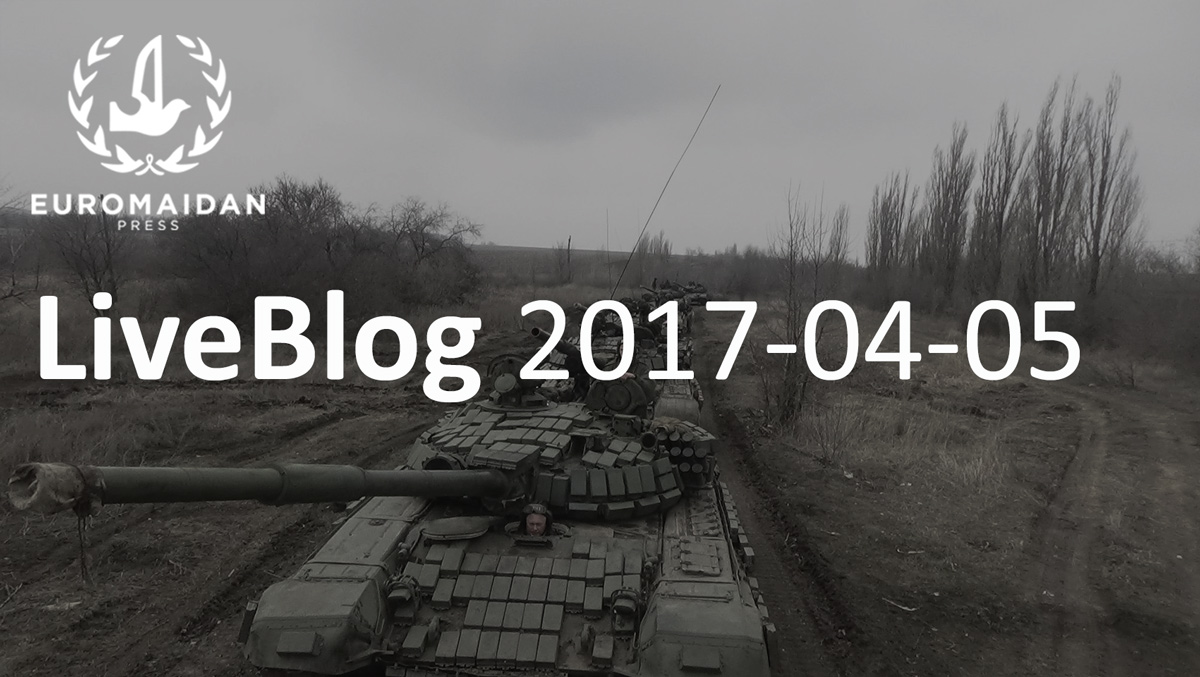 A "renewed commitment to the ceasefire" went into force in the Donbas on April 1 to last throughout the Easter holidays (Orthodox Easter is celebrated on April 16 this year). Hostilities have decreased about midnight of April 1, but the number of attacks increases day by day. 5 Ukrainian soldiers were wounded in 54 attacks on April 4. The LiveBlog of March 4 can be found here: 2 soldiers killed amid "Easter ceasefire" in Donbas. 100 attacks in 3 days #Donbasreports
ATO HQ: 5 soldiers were wounded in 54 attacks on April 4
The ceasefire statistics as of April 5: 2 killed in action, 15 wounded. 154 attacks in 4 days
No reports on social networks since midnight on military activity in Mariupol area and Luhansk Oblast.
Local residents of Donetsk, Avdiivka report inactive cannonade at night, mostly quiet morning, separate artillery rounds at noon
Donetskers heard separate rounds afternoon and a 'usual' evening cannonade
Donetsk Oblast's governor: 62-year-old civilian wounded in Avdiivka
OSCE: 15-year-old boy wounded in Marinka on April 3
The Ukrainian military discovered a downed Russian UAV Granat-1 at Svitlodarsk bulge
Donetsk filtration station repaired, resuming Avdiivka water supply first since March 29
Alleged 2014 photographs of Ukrainian Buks in the Donbas geolocated in Poltava Oblast hundreds of kilometers away from Donetsk, nearly 3 years later – Bellingcat
OSCE observed fewer ceasefire violations in Luhansk Oblast, more in Donetsk on April 3-4
ATO HQ: 18 attacks on Ukrainian positions, 1 soldier wounded as of 18:00 today
Canada intends to greenlight arms exports to Ukraine
---
March 5: separate rounds afternoon, 'usual' evening cannonade heard in Donetsk; Popasna heard explosions
Local residents of Donetsk reported separate sounds of artillery afternoon:
13:56 Donetsk Oktyabrskyi: an [outgoing] tank round
14:12 Donetsk: "Butovka mine: Single heavy ones" "DOK: periodic booms in the north"
14:19 Avdiivka: Periodically, they are firing today. The ceasefire at its best [=no ceasefire]
14:31 Donetsk Kyivskyi district: Your direction[=Avdiivka] is sometimes heard
After a 3½-hour lull, a "usual" evening bombardment begins north of Donetsk:
18:04 Makiivka: Oh, they are already pounding somewhere. The evening "program" has been declared open
18:15 Makiivka: At 18:10 outgoing rounds have started or became audible, from the bypass
18:20 Krasnohorivka: Now quiet, rare booms before
18:20 Makiivka: YaBP direction: shooting all day
18:24 Donetsk Shakhtarska square: booms have started
18:24 Makiivka Gvardeyka: Great outgoing rounds, maybe from Lisovyi
A rare report from Popasna, a frontline city in Luhansk Oblast facing occupied Pervomaysk and Kadiivka:
The inactive artillery shelling continues north of occupied Donetsk:
18:43 Yasynuvata: The first salvo, maybe a tank, nearby, maybe in Lager area
18:54 Donetsk: Promka direction – since about 6 p.m.  [RU] started provoking [UA] with single artillery rounds, some 20 minutes later a battle started, as of now not intense artillery rounds
19:05 Donetsk: Something has f*cking boomed
19:06 Donetsk Kirovskyi: Bang! Not close
19:07 Makiivka Gvardeyka: And now it wasn't quiet at all
19:07 Donetsk downtown: It has been nearby
19:15 Makiivka Vostochnyi: Not quiet. They rumble, but not frequent
19:28 Avdiivka: There were 2 impacts in the area of ceramics plant
19:30 Makiivka: By sounds, today a "grand shutting down" of yet another ceasefire regime occurred today for sure
19:45 Makiivka: As I get it, ceasefire can be officially considered disrupted. Cold outdoors… heavy arty is heard working long time
19:50 Makiivka: Machine guns and other small things were heard too
19:55 Donetsk: [RU] have started to pound louder
The activity of the attack decreases but not fully:
22:44 Donetsk: "Defenders" hold ceasefire, first with grenade launchers, mortars and AA-guns in airport area, now a tank from Ploschadka1
23:02 Donetsk railway station: Today the "peace plan" pounds especially big ones. It rumbles far off but very strong
23:05 Donetsk: Booms are sometimes heard from the northwest, far away
No reports came today from the area of Mariupol city. Residents of Luhansk Oblast posted only 2 reports on military activity today about artillery drills in the vicinity of occupied Khrustalne and about undefined explosions heard in Popasna at 18:40.
---
OSCE observed fewer ceasefire violations in Luhansk Oblast, more in Donetsk on April 3-4
The OSCE Special Monitoring Mission to Ukraine recorded ceasefire violations in the Donbas "despite the relatively calmer security situation since the renewed commitment to the ceasefire." The report describes the 24-hour period from 19:00 of April 3 to 19:00 of April 4.
According to the SMM, fewer ceasefire violations were recorded in Luhansk Oblast, including 15 explosions against about 30 explosions in the previous reporting period.
The hostilities escalate in Donetsk Oblast for the second consecutive day, the monitors recorded more ceasefire violations with about 420 explosions, compared with the previous reporting period (190 explosions). "About 70% of the explosions were recorded in the Avdiivka-Yasynuvata-Donetsk airport area," the report reads.
A 15-year-old boy was wounded in Marinka on April 3:
Medical staff at a hospital in government-controlled Kurakhove (40km west of Donetsk) told the SMM that on 3 April, a 15-year-old boy had been admitted to the hospital with ten metal splinter wounds to his right leg allegedly received while in Marinka (23km southwest of Donetsk).
---
Russia used R-149MA1 command vehicle to control the invasion forces on the Donbas in 2014 – InformNapalm
---
Russia is trying to break all Donbas-Ukraine ties, destroy Minsk deal – Poroshenko
The Russian Federation intends to sever links between Donbas and the rest of Ukraine and effectively destroy Minsk agreements, Ukrainian President Petro Poroshenko said at a joint press conference with Prime Minister of Denmark Lars Lokke Rasmussen, UNIAN reports.
"The Russian Federation destroys the Minsk agreements by recognizing fake documents of fake countries [LNR and DNR terrorist organizations – YZ], confiscating Ukrainian property in the occupied Ukrainian territory, introducing the ruble zone, and taking other steps to officially recognize these territories," added Poroshenko.
---
ATO HQ: 18 attacks on Ukrainian positions, 1 soldier wounded as of 18:00 today
On April 5, Ukrainian positions in the Donbas were attacked 18 times фы ща 18:00, 1 serviceman wounded, the ATO Headquarters reports.
82mm mortars were used to attack strongholds near Avdiivka and Krasnohorivka near occupied Donetsk. Ukrainian positions near Syze in Luhansk Oblast were shelled with 120mm mortars. Grenade launchers, heavy machine guns and small arms were used in other attacks.
---
Canada intends to greenlight arms exports to Ukraine
Opening of the arms market will become the next step in the defense cooperation between Canada and Ukraine, Ukrinform reports citing Canadian National Defense Minister Harjit Sajjan.
"The Canada-Ukraine relations are unique. The signing of the defense agreement will allow us to have much more detailed and substantive discussions on various topics. Therefore, the next step will be to include Ukraine in the Automatic Firearms Country Control List," Sajjan said.
However, no specific dates were mentioned, "We always try to move forward as quickly as possible. We have worked closely to agree on the defense agreement and will continue to cooperate," the minister added.
The Automatic Firearms Country Control List defines the countries, which Canada allows its domestic producers to supply weapons to.
---
Donetsk Oblast's governor: 62-year-old civilian wounded in Avdiivka
Head of military and civil administration of Donetsk Oblast Pavlo Zhebrivskyi says, a man, 62, has been wounded from the ongoing shelling of Avdiivka:
gov. #Zhebrivskyi: Occupants shell residential areas of #Avdiivka. 62-yo resident got a shrapnel wound in the shoulder. The attack continues https://t.co/yFOtVVdZ2g

— English Lugansk (@loogunda) April 5, 2017
---
Next round of Normandy format talks to be held in Minsk tomorrow
Kremlin spokesman Dmitry Peskov said that Putin's aide Vladislav Surkov would represent Russia at the next Normandy format talks in Minsk, as usual, Peskov blames Ukraine in all provocations of Russia's puppet "republics" in the Donbas:
"Russia's stance is that, unfortunately, the situation has been exacerbated by the provocations of the Ukrainian armed forces along the line of engagement," Peskov told reporters commenting on the upcoming meeting of the Normandy Four leaders' aides.
The Ministry of Foreign Affairs of Belarus confirmed that a meeting of aides to the Normandy Four heads of state will take place in Minsk on April 6.
Deputy Head of Presidential Administration of Ukraine Kostiantyn Yeliseiev will represent Ukraine at the Normandy Four meeting in Minsk.
---
Bellingcat: Photographs of Ukrainian Buks geolocated in Poltava Oblast, nearly 3 years later
---
Donetsk filtration station repaired
The Donetsk Filtration Station (DFS) has been repaired. The facility supplies water to Avdiivka, occupied Yasynuvata and northwest suburbs of Donetsk. Damaged in a shelling, it was de-energized since March 29 as a power line feeding the town of Avdiivka, Avdiivka Coke plant and the Donetsk Filtration Station was damaged in a bombardment.
ДФС запущено в роботу. Вода пішла на #Авдіївка. Сьогодні ще подамо воду з 16 до 22:00. Завтра зранку вже будемо подавати у звичному режимі

— Pavlo Zhebrivskyi (@zhebrivskyi) April 5, 2017
Translation: Donetsk Oblast governor Zhebrivskyi: The DFS has been brought into service. Water is running to Avdiivka. Today we supply it since 16:00 until 22:00. Tomorrow morning will supply it in the normal course.
The OSCE Special Monitoring Mission to Ukraine facilitated the repair works:
Today SMM & JCCC facilitated & monitored ceasefire to enable repair @ Zolote-Katerynivka, Artema & #Donetsk filtration station #factsmatter

— OSCE SMM Ukraine (@OSCE_SMM) April 5, 2017
---
Social networks (00:00-15:00): Restless night, cannonade at noon in Donetsk; artillery drills near Khrustalnyi
00:14 Makiivka: A strange feeling: before the latest ceasefire the nights seemed calmer than now. Seldom but "fruity" salvos. Days are calm
05:15 Krasnohorivka: Quiet
Sounds of battle have been heard in Avdiivka:
06:18 Avdiivka: "It's pretty noisy since morning"
11:36 Donetsk: "Bastards shelled single rounds all night. From 5:30 to 6:00 there were very intense volleys targeting Pisky/Avdiivka"
A single artillery salvo breaks quiet morning, and one more an hour later:
10:05 Krasnohorivka: a strong boom and quiet
10:18 Donetsk Kirovskyi district: Something boomed. Pretty greatly heard

10:22 Donetsk: A Ural truck with troops along Svitloho Shlyakhu street, tactical sign: #23
11:12 Donetsk: a boom?
A cannonade is heard in Avdiivka and in occupied Donetsk, Makiivka:
12:10 Donetsk: Single launches are well heard through closed windows, direction: the edge of Scheglovka?
12:12 Donetsk: It rumbles
12:41 Donetsk railway station: Periodically, artillery booms
13:13 Makiivka Vostochnyi: A serious boom in Gvardeyka direction
13:14 Makiivka Gvardeyka: Seldom but loud single outgoing rounds from Hryhorivka ettles
13:15 Donetsk #Obyednanyi: One can hear powerful booms
13:55 Avdiivka: "They are somewhat firing today"
13:56 Donetsk #Oktyabrskyi: a tank round
13:56 Khrustalnyi [formerly Krasnyi Luch, Luhansk Oblast]: Since morning, Novopavlivka range was barely heard, after the dinner time something more serious/strong there, in series
14:12 Donetsk: "Butovka mine: Single heavy ones" "#DOK: periodic booms in the north"
14:19 Avdiivka: Periodically, they are firing today. The ceasefire at its best [=no ceasefire]
14:31 Donetsk Kyivskyi district: Your direction[=Avdiivka] is sometimes heard
14:31 Donetsk #Viktoria: In 30 minutes, 3 pretty strong salvos in the north
14:42 Donetsk: [3 strong salvos were heard from the north at] 13:45, 13:55, 14:29
15:08 Krasnohorivka: a single boom
---
Russian UAV Granat-1 found at Svitlodarsk bulge
On April 2 the Ukrainian military discovered a Russian UAV Granat-1 at the Svitlodarsk bulge, the drone is part of Navodchik-2 UAV complex:

---
5 soldiers WIA in 54 attacks on April 4
The ATO Headquarters reported 54 attacks on Ukrainian positions on April 5, "the situation aggravates", the HQ says. More attacks day by day since April 1, however, no heavy artillery was used in attacks according to the report.
Map. Situation in eastern #Ukraine April 5, 2017, 00:00 EET pic.twitter.com/g04zYdJgZ3

— uacrisis (@uacrisis) April 5, 2017
Tags: Avdiivka, Donbas, Donbas war (2014-present), Donetsk, Khrustalnyi, liveblog, News, Russo-Ukrainian War (2014-present), Vladislav Surkov, Yeliseiev