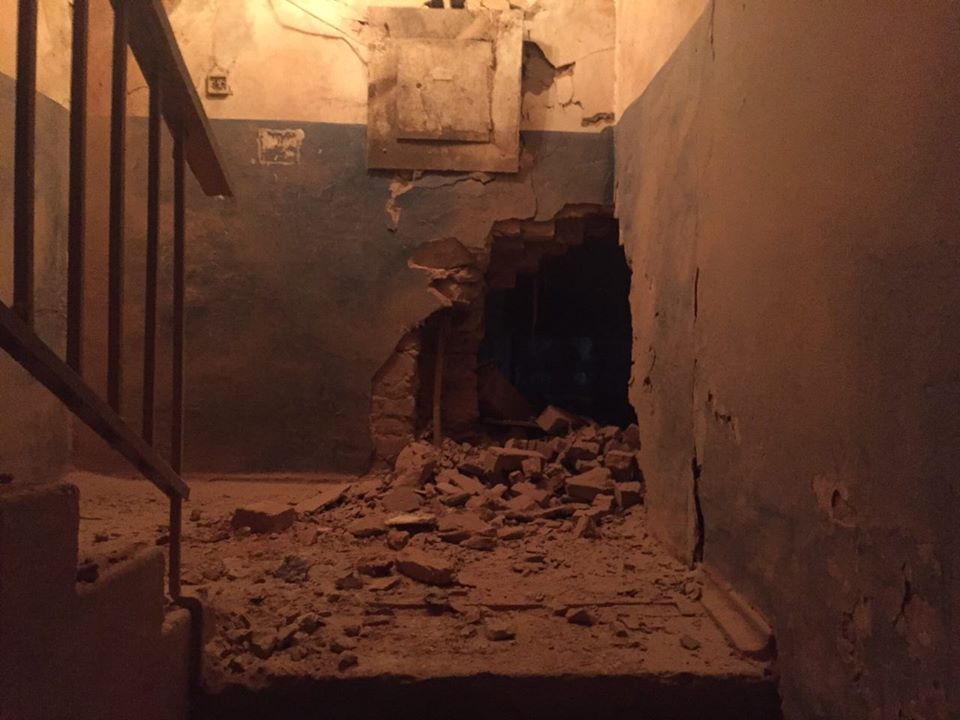 February 16, 2017. Evening shelling aftermath in Avdiivka. Credit Vyacheslav Abroskin FB 
After the spike in hostilities at the turn of January and February, there was a comparative lull in the artillery fire in the vicinity of Donetsk. Lately, the Russian-backed forces resumed bombardments in their "regular" mode of "harassing fire" with its sporadic rounds throughout a day's time, and sometimes at night.
Pointless artillery attacks from Donetsk on Avdiivka outskirts usually start at 16:00-18:00, intensify towards evening and almost stop around 23:00-01:00. On schedule. Within this lapse of time, the fire of mortars and cannon against the positions of Ukrainian Armed forces suspends for a while when Ukrainian artillery starts to return fire. The west and northwest vicinities of Donetsk have been the most active during the "idle" periods between escalations and comply with the above-mentioned schedule for more than two years.
On February 16, everything started as usual in the morning (all time EET, GMT+2):
10:30 Donetsk: "Ramada: Something big shelled northwest" "Smolyanka heard 3 heavy booms 10:11-10:30″ "OblGAI heard 2 heavies"
10:34 Horlivka: Something has boomed strong
10:57 Kostyantynivka: We can hear explosions in the southeast, and pretty powerful
The standard pause and then:
15:35 Donetsk: I've heard one 'peaceful' boom
15:48 Donetsk Butovka mine: Battle not far away. Like Avdiivka's Promzone. They boom
16:03 Donetsk: In the north, yet another "Minsk withdrawal" has started [=shelling]
16:05 Makiivka: Radyanskyi district, especially Khanzhonkove experienced a strong blast wave. Khartsyzk felt it too
16:06 Avdiivka: A bit of noise southeast. Sporadic explosions
16:17 Makiivka Gvardeyka: Suddenly, a pretty intense battle has begun. Small arms + light booms
16:18 Yasynuvata: "Ongoing battle, the settlement catches it, heavy machine guns at work"
16:36 Donetsk: "Shakhtarska Sq can hear loud rolling booms" "Makiivka Gvardeyka: a rumble started, frequent, heavy"
16:37 Makiivka: The Russian artillery "wakes up", a series of salvos
16:37 Donetsk Kalininskyi ds: The evening begins [=artillery]
16:40 Donetsk: The north rumbles, both small arms fire and heavier calibers, the entire Kyivskyi district can hear "echoes of war"
16:40 Makiivka Gvardeyka: 'DNR' artillery has shown up
17:10 [Avdiivka]: Reciprocal mortaring has started along the line Avdiivka–Yasynuvata. Sometimes BMP cannons are heard
17:14 Yasynuvata: It rumbles strong
17:15 Pokrovsk: They pour fire for about 2 hr so tough, that explosions are heard even in Pokrovsk
17:35 Makiivka: Salvos again
17:43 Horlivka: It's not Donetsk alone who can hear the "peaceful withdrawal", Horlivka too [=sounds of battle]
17:45 Yasynuvata: Outgoing fire from [Makiivka's] Vostochnyi
Shortly after 18:00 artillery hit Khimik settlement in government-controlled Avdiivka:
18:05 Avdiivka: Something has strongly boomed 4 times. One time like an explosion/incoming just within the city limits or just nearby
18:10 Donetsk: Tekstilschik: it's heard through closed windows, I guess UAV is being shot down
18:10 Donetsk Proletarskyi district: "AA-gun fire?"
18:12 Toretsk: It sounds loud from Mayorsk direction
18:17 Avdiivka: Incoming fire on Khimik
18:17 Avdiivka: About 10 minutes ago, a couple of salvos followed by a blast wave, floor shaked. No, it were hits on Khimik not a wave
18:17 Avdiivka: F*ckup, close impacts
18:17 Avdiivka: An Incoming round hits the town
18:18 Avdiivka: Impacts at #12, Haharina St – the 1st floor
18:20 Yasynuvata: "Militants conduct shelling from inside the town"
18:22 Horlivka: Over the last 20 minutes, they are firing northwest
18:23 Donetsk Bossé: It's unclear what is shelling, I thought it were fireworks, but they seem to hunt an UAV
18:24 Makiivka: Salvos again
18:26 Makiivka: Gvardeyka has become noisy
18:32 Donetsk: They are firing
18:34 Avdiivka: 2 incoming rounds in the very center of the town
18:37 Makiivka Vostochnyi: Evening of provocations: about 5 salvos from one place, then moving further e.g. to a hospital and more salvos
18:40 [Yasynuvata]: "From the old cemetery along the highway towards Kruta_Balka: explosions in the sky"
18:43 Horlivka: At least 2 "lamps" hang in the sky [=illuminating projectiles]
A long pause after residential high-rise buildings in Avdiivka were hit. Then a tank on move, and many illuminating or signal flares over the Promzone area (southeast suburb of Avdiivka facing occupied Yasynuvata):
21:10 Yasynuvata: [by protected twi acc @19sps] "A Guderian [=tank] passed by Yasynuvata Machinery Plant" "towards exit"
21:30 Avdiivka: Illuminating [flare or shell] over the area of Vineyards [=south, near the Promzone]
21:38 Makiivka: A rocket [=signal or illuminating flare] in Yasynuvata checkpoint direction
21:41 Makiivka: One more [signal flare over YaBP], but much higher
21:50 Makiivka: 2 at once [=signal flares in YaBP direction]
21:53 Makiivka: A couple more [flares]. What are they 4? I saw illuminating ones before with half-sky lighted, those are signal or what
At last, a bit of "good night" fire:
21:59 Donetsk Kyivskyi ds: Now ougoing heavy rounds are heard through closed windows
23:05 Avdiivka: Sporadic incoming rounds in the area of Promzone[=southeast] & forest [=east]. + machine guns, grenade launchers
23:12 Makiivka: It seems quiet.
Bombardment kills 1, injures 2 in Avdiivka
At least 1 civilian dies, 2 get wounded as artillery strikes the government-controlled city of Avdiivka on February 16 about 18:20.
The experience of Avdiivka residents:
18:46 #Avdiivka @bamr69 "F*ck, shrapnel went thru the balcony window. Flowers fell from the window sill"

— English Lugansk (@loogunda) February 16, 2017
18:59 #Avdiivka @Yhnmko5 "The impact was just over me [=the same house], it was pretty loud and I was concerned about my cat"

— English Lugansk (@loogunda) February 16, 2017
The Head of Donetsk Oblast police Vyacheslav Abroskin reported that a civilian, born 1984, has been wounded in the leg, another man, born 1973, has died of shrapnel wounds.
The Governor of Donetsk Oblast Pavlo Zhebrivskyi adds, a man, 76, has suffered serious burns after the heating system was damaged by an explosion. At 21:01 Zhebrivskyi reported, "As of now a strong explosion is heard once every 20-30 minutes in Avdiivka. They pound outskirts and positions of our military".
3 soldiers KIA, 10 WIA, 66 attacks on February 16
The Anti-Terrorist Operation (ATO) Headquarters reports casualties, 3 Ukrainian soldiers were killed in action, 10 more were wounded on February 16.
66 attacks on positions of the Armed Forces of Ukraine in the Donbas have been recorded over the day.
Donetsk sector:

Avdiivka, Kamyanka, Pisky, Zaytseve, Verknyotoretske came under 120mm and 82mm mortar fire.
Grenade launchers and small arms were used to attack Kamyanka, Zaytseve, Avdiivka, Pisky.
A sniper fired on Zaytseve.
A tank shelled at positions near Avdiivka.

Mariupol sector:

120mm and 82mm mortars were used to attack Pavlopil, Shyrokyne.
Maryinka, Novotroitske, Novoselivka, Vodyane, Lededynske, Shyrokyne, Pavlopil, Hnutove were attacked with grenade launchers and small arms.
BTR and BMP cannons were used to attack Shyrokyne.
Bohdanivka was attacked with an anti-tank missile complex.

Luhansk sector:

Krymske came under fire of 120mm, 82mm mortars.
Lobacheve, Novozvanivka, Stanytsia Luhanska, Novooleksandrivka were attacked with use of grenade launchers and small arms.
Avdiivka a day before
An evening before on February 15 Avdiivka came under shelling too, the old part of the town was hit, the spokesman of the Ministry of Defense Col. Oleksandr Motuzyanyk provided more details on this attack:
Militants were shelling ATO troops in Avdiivka from 3 p.m. till midnight non-stop. During these nine hours militants conducted a series of massive artillery and mortar attacks at Avdiivka industrial area and fired from tanks over 10 times. Residential quarters came under enemy's long-range artillery fire yet another time. One private house was fully destroyed as a result of fire caused by a hit of a shell. Eight more buildings were damaged
The head of the National Police in the Donetsk Oblast Vyacheslav Abroskin clarified, that three households on Kolosova (formerly Kirova) and Lermontova streets were shelled, that attack caused no casualties.
Donbas blockade ongoing
The civil blockade of the railway communication between the government-controlled territories and occupied areas of the Donbas continues. The Headquarters of the blockade reported, that activists have set up their first checkpoint on the highway near Zolote settlement in Luhansk Oblast:
The Embassy of the United States of America to Ukraine has issued its statement on the blockade of the uncontrolled territories of Luhansk and Donetsk Oblasts:
We are concerned by the current disruption to the coal supply from the non-government-controlled areas of Donetsk and Luhansk and its potential impact on Ukraine's energy system, the Ukrainian economy, and the Ukrainian people. The relevant parties need to come together to find a way forward in the short term that allows legitimate goods from Ukrainian companies to transparently cross the Line of Contact in order to prevent hardship to the people of Ukraine on both sides of the line.
The Delegation of the European Union to Ukraine has also urged to stop coal supply blockade from the separatist-held territories of Donbas.
The President of Ukraine Petro Poroshenko pledged to resume coal supplies from the uncontrolled territories. Shutting down the railway connection with temporarily occupied territories and attempt to organize their full economic blockade "has become a destabilizing factor over the recent days", he said. The President stressed:
Absolutely irresponsible actions of state-mongers who organized cynical PR on blood for themselves have caused direct threats to energy security of the state… They "defend" the Ukrainian metallurgy from the Ukrainian coke, Ukrainian families – from Ukrainian heating, Ukrainian houses from Ukrainian light, Ukrainians from jobs and Ukraine from stability.
Metinvest Group of Companies said to the Interfax-Ukraine, shutting down of their enterprises located on the uncontrolled territories would lead to a humanitarian disaster. Metinvest owns large enterprises behind the Line of Contact: Krasnodonugol Coal Company, Yenakiyeve Metallurgical Plant, Makiivka Metallurgical Plant, Komsomolske Komsomolske Ore Mine Management Board, Khartsyzk Pipe Plant. Juridically, all these companies are re-registered in government-controlled cities of Sievierodonetsk and Mariupol. ISD Corporation CEO Maskym Zavhorodniy complied with the Metinvest position on the blockade of the Donbas. ISD owns Alchevsk Metallurgical Plant, which stopped iron production on February 14 due to lack of iron-ore raw materials as a result of the blocking of railway tracks.
Meanwhile, another report came from occupied Rovenki, a town in the south of Luhansk Oblast used by Russia as a railway hub for fuels and lubricants:
С утра ВТ на нефетебазе идет разгрузка ЖД цистерн. Мин.20 шт.-остальные как всегда между товарняком за станцией стоят. И сегодня#Ровеньки

— Злоебучие Ровеньки (@ZlbRvnk) February 16, 2017
Translation: "Since Tuesday [February 14] tank-wagons are being unloaded at the railway station. At least 20, as usual the rest of them sit behind the station between freight trains. Today too".
Tags: Avdiivka, Blockade, Donbas war (2014-present), News, Russo-Ukrainian War (2014-present)