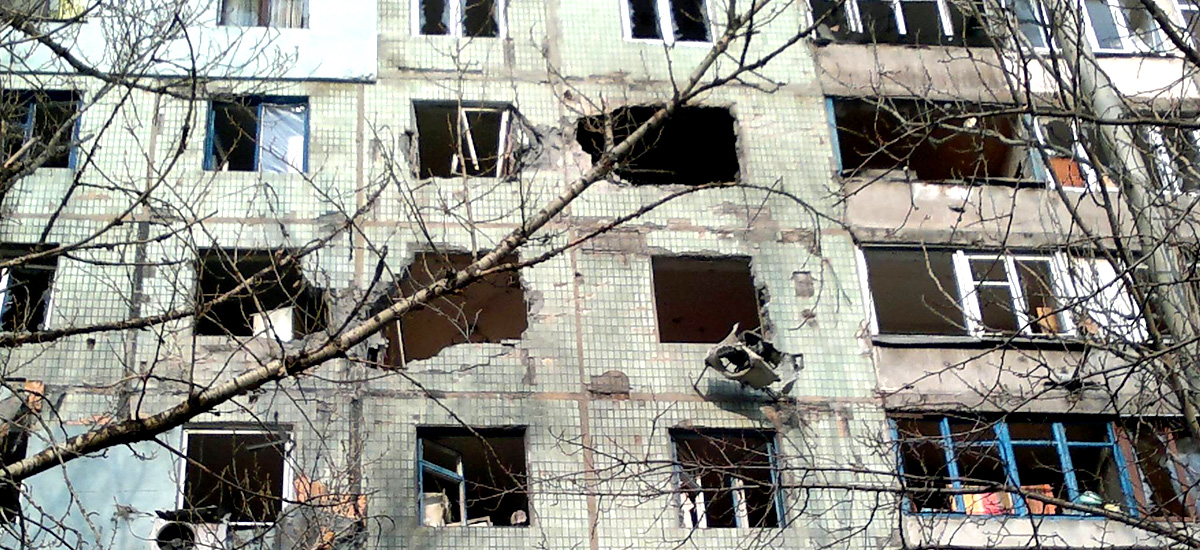 Many buildings and houses in Avdiivka damaged and destroyed as result of shelling by Russian heavy artillery. (Photo: pravda.com.ua) 
A serious escalation started on 29 January in Avdiivka, a town on Ukrainian government-controlled territory in the Eastern Ukraine, close to demarcation line and 6km to the north of Donetsk. According to official reports, seven Ukrainian soldiers were killed and dozens wounded since fighting intensified. Media also report that 2 civilians were killed. Heavy shelling from separatist-controlled territories also affected residence areas. The town is cut off from electricity, heating, and water.
Here are the key facts about the escalation:
Avdiyivka is of strategic importance for both sides of the conflict. Anastasia Magazowa, correspondent for Deutsche Welle who is currently reporting from Avdyivka, writes that it is a hometown for Avdiivka Coke and Chemical Plant which is one of the biggest coke producers in Europe. Avdiivka town is also a major transport hub in Donetsk region. According to Minsk agreements, Avdiivka belongs to the government-controlled territory. Previously this town has been shelled on numerous occasions. 
Pro-Russian militants started their attacks near Avdiivka on 29 December. Since 31 January the town has been shelled by Grad rockets. Residence districts in Avdiivka have been affected. Escalation is also reported near Mariupol and in Luhansk oblast. Donetsk-based social networks post numerous videos of Grad shelling from Donetsk and suburbs presumably in the Avdiivka direction, but there are also signs that residential districts in Donetsk itself were affected by return shelling.

The humanitarian situation in Avdiivka is very difficult. As a result of the shelling, critical infrastructure of the town has been destroyed. This has caused a humanitarian crisis: civilians have no water, electricity, and heating while the temperature is -18 Celsius and keeps going lower. Mobile heating and food units have been set up in the city. The delegation of the International Committee of the Red Cross in Ukraine has already expressed concerns and is sending humanitarian help. Meanwhile, Ukraine is preparing evacuation —up to 12,000 people can be evacuated, according to Ukrainian official sources. Reporters on the ground say that some inhabitants are already leaving the town.
The separatists' offence can be a response to Ukrainian maneuvers, some observers say. Christopher Miller, a correspondent for RFE/RL, writes in his coverage that "since mid-December Ukraine's armed forces have edged further into parts of the gray zone in or near the war-torn cities of Avdiivka, Debaltseve, Dokuchaievsk, Horlivka, and Mariupol, shrinking the space between them and the separatist fighters." Alexander Hug, principal deputy chief monitor of the OSCE SMM to Ukraine, quoted in RFE/RL article, said that "direct result of forward moves is escalation in tension." The Ukrainian side, however, responds that troops were not violating the Minsk agreements as they were not crossing the demarcation line and were moving inside the government-controlled (under Minsk deals) territory. The Ukrainian regional administration also says that it is vital to have government control over towns in the gray zone to stop large-scale smuggling.
Ceasefire guarantees from "DNR" and Russia did not last. There were several attempts to establish a ceasefire, but it has been broken after 15 minutes of less, according to Hromadske journalists who are reporting from Avdiivka. The same information was reported by Pavlo Zhebrivsky, the head of Ukraine's military and civil administration in government-controlled Donetsk oblast. This video by Anastasia Magazova documents the ceasefire violations during the daytime of 31 January.
Both sides blame each other for the escalation. The escalation took place during Ukraine's President Petro Poroshenko's official visit to Germany, one of the key countries of Normandy format. Poroshenko has cut his official visit to Berlin short and held a briefing with military representatives to coordinate the government's measures. Ukraine's foreign ministry issued a statement saying that "the current escalation in Donbas is a clear indication of Russia's continued disregard of its commitments under the Minsk agreements." In turn, Dmitry Peskov, Kremlin spokesman, accused Ukrainian soldiers of launching an attack on separatists across the Avdiivka frontline. Paradoxically Russian media like TV channel Zvezda also blame Ukraine for shelling Avdiivka itself, as if Ukraine was attacking a town on its own territory. They also continue producing fakes: same TV channel Zvezda, for example, published photo from Avdiivka by Kostiantyn Reutskyi, a Ukrainian activist, falsely claiming they show destruction in a "DNR"-controlled town.
Several media continue live coverage of Avdiivka escalation, including RFE/RL and Hromadske. Regular updates are also provided by Deutsche Welle's journalist Anastasia Magazova.
Prepared by Vitaliy Rybak, Volodymyr Yermolenko, Internews Ukraine, as well as Alya Shandra, Euromaidan Press, for UkraineWorld group
Tags: Avdiivka, Donbas, Donbas war (2014-present), Donetsk, Russian aggression, Russo-Ukrainian War (2014-present)