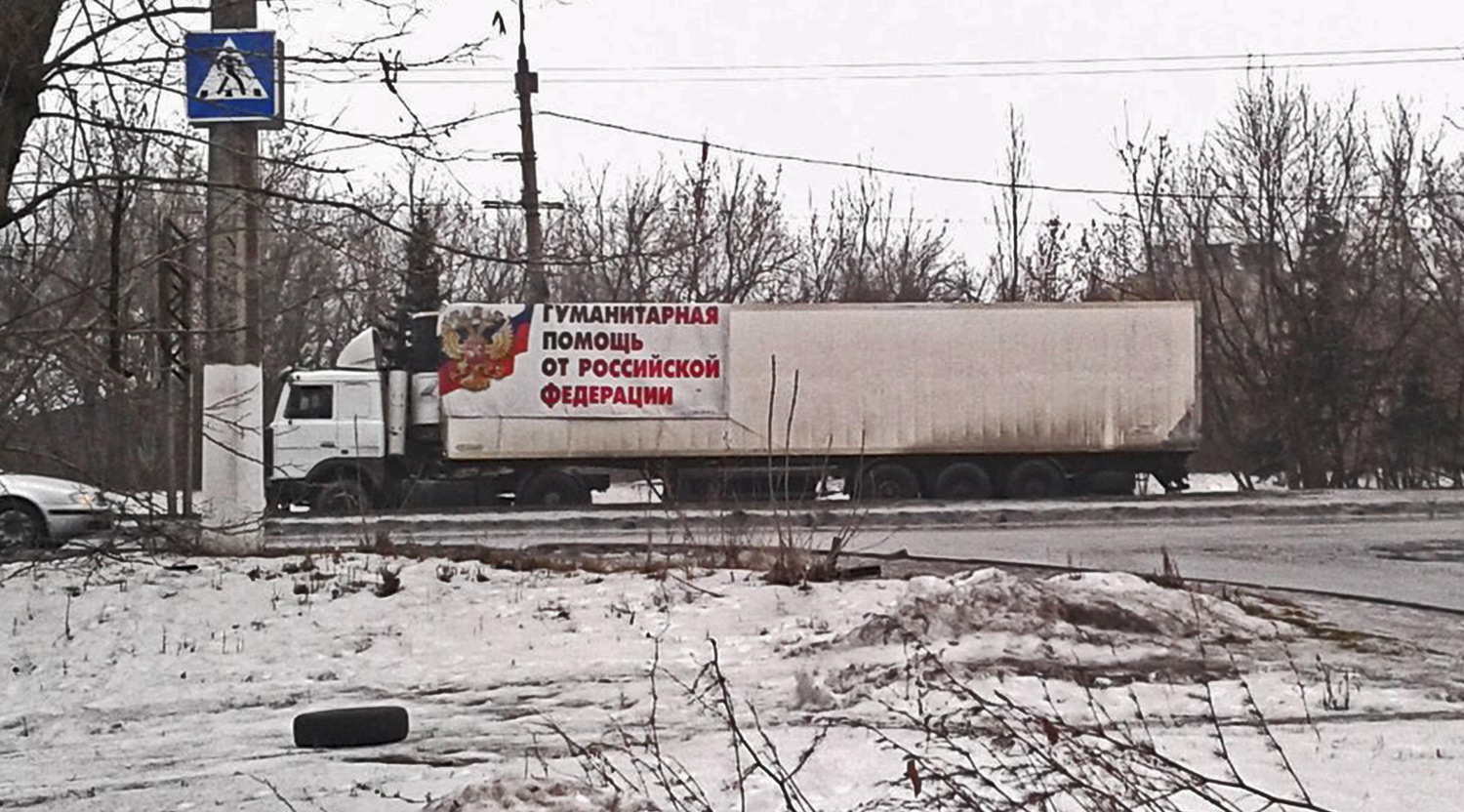 February 21, 2017. Hanzivka settlement in Makiivka, a white truck of the 60th "humanitarian convoy" on its way back from occupied Donetsk to Russia. Credit: twitter.com/zusamelena 
In this series, we are teaming up with the tireless social media activist who goes by English Luhansk on twitter to produce open source updates about the military situation in Donbas. We analyze reports from Donbas local twitter accounts and translate it into a comprehensive overview of what's going on on the ground. Yesterday's digest can be found here: #DonbasReports: 74 attacks, 9 WIA, rescue worker dies of wounds
According to reports by local residents on social networks, February 21 was mostly a quiet day in the Donbas.
A short morning "wake-up call" near Avdiivka and Marinka:
06:10 Donetsk Kirovskyi district: For at least 10 min, a distant heavy low cannonade is heard from the north [=probably from south, see parallel reports], a bit of vibration
06:28 Marinka: It booms pretty great in the area of Marinka entry-exit checkpoint
…and a battle begins south of Donetsk in the area of Taramchuk – Novotroitske – Olenivka – Dokuchaevsk:
06:30 Marinka: Strong explosions reach us from the south
06:38 Marinka: "Darn it, a brisk morning. How children would go to school?"
06:40 Marinka: The south is rumbling strong, "ceasefire" begins
06:40 Donetsk: "Olenivka, what's happening there? From Petrovskyi [district in Donetsk] they can see and hear your direction"
06:53 Olenivka: Ongoing battle, the checkpoint is closed, highway closed
06:54 Dokuchaevsk: "Olenivka: Separatists don't subside, at night solicited fire on the city, were beaten themselves, now on Olenivka"
07:30 Donetsk: "..at 07:10 2 cars rushed with escort and siren along Illicha in Amstor area towards Makiivka, 5 OSCE vehicles after them"
08:12 Olenivka: "Ongoing battle…"
An alarm clock ring for Makiivka:
A bit of activity after lunch:
12:40 Makiivka: Shooting in the area of YaBP–Spartak. So far it didn't cease. One single strong boom has rolled far away
12:50 Donetsk: "It's strange, explosions in the airport in the middle of the day"
12:52 Yasynuvata: Today at 06:30 there was in active traffic of BMPs in Yasynuvata
A rare report from Luhansk (it is usually quiet in Luhansk Oblast):
14:28 Luhansk: "Where is it rumbling?" "Oh yeah, somewhere nearby"
A blast or incoming artillery closer to Avdiivka afternoon:
14:50 Donetsk: "… suddenly. What's that?"
15:05 Donetsk: A closed covered VAI [=military traffic police] truck went from Komsomolskyi to #Postysheva heading #DMZ
15:05 Donetsk: [Blast] wave has rolled across the north. The second today
15:06 Avdiivka: Something has blew up, powerfully
15:08 Avdiivka: Something has flown in loud. Windows and walls trembled at the [coke] plant
15:17 Makiivka: We've heard it at Gvardeyka. Not sure if incoming, but yes, strong even though it was distant, more like a blast
15:40 Donetsk Proletarskyi district: "Today I saw an orcs' [=(pro-)RU] ambulance, with a windshield "300" [=code for the wounded] sign"
And another harassing bombardment begins near Avdiivka:
16:15 Novhorodske: Strong explosions started near Avdiivka once each 20 seconds
16:20 Yasynuvata: Hospodar–Kruta_Balka area booms periodically
16:25 Yasynuvata: Seemingly, a battle is beginning, pretty tough
The area of Svitlodarsk activates:
16:28 Svitlodarsk Bulge: The war goes on, various [weapons] boom
16:58 Avdiivka: Heavy impacts are heard, Yasynivka can hear launches
17:00 Donetsk: "Durna_Balka: something blew up"
17:00 Donetsk: "Horsad hears heard a massive explosion"
17:00 Donetsk Mariupol fork: "F*ck what has just blown up?"
17:01 Avdiivka: "Noisy again. I congratulate everyone on ceasefire regime and withdrawal of weapons"
17:04 Yenakiieve: Afternoon the range was making noise. about 14:00 2 KUNG kamaz trucks without marking went from EMZ towards Vuhlehirsk
17:35 Avdiivka: "Where has it landed? String 4 incoming ones, rounds weren't heard"
17:36 Avdiivka: "A serious battle in Promka area"
17:48 Avdiivka: 5 incoming rounds within the town or nearby
18:00 Makiivka Vostochnyi: One can hear strong infrequent resonant booms for about 30 min. And again in the west – Gvardeyka
18:08 Avdiivka: Lastochkyne and Orlivka: no electricity, great [voltage] drop, a series of explosions in Promka direction, but I guess, its a rear attack
18:15 Taramchuk area [=south of Donetsk]: "A little [stir/battle] – Olenivka–Taramchuk–Slavne"
18:16 Makiivka: A covered Kamaz marked #31 in circle, with troops, went towards Donetsk along the bypass
18:16 Yasynuvata: How loud they are withdrawing arms [=shelling]
18:18 Makiivka Hanzivka: [In the morning] Humanitarian aid on move along Makiivka route from Donetsk.
20:30 Donetsk: Today orcs' [=RU] trucks cruised around the city. Are they preparing "fireworks of Feb23? [=RU army day]"
21:02 Donetsk pasta factory: From Motel something makes its way along Illicha, heavy, It's roaring
21:05 Donetsk: Along Myru–Shakhtobudivnykiv tracked vehicles have moved, roared for 2-3 min
21:24 Debaltseve: Today at Vostochnyi micro district: half score of armored vehicles went towards highway then towards Ryazantsevske
21:58 Donetsk Botanic garden: Outdoors, seldom booms are heard by times from northwest, but far off, not heard indoors
Allegedly, 9K31 Strela-1 surface-to-air missile system was spotted:
22:07DonetskPetrovskyi district: 5 min ago, a Strela went towards Tekstilschik[from Petrovskyi]
22:36Horlivka: Whom do you carry each evening at 23:35 [GMT+3], oh night tram? It is 35 minutes as curfew started
23:01Makiivka: It booms in YaBP direction
#Svitlodarsk Bulge positions of UA 54th brigade. Battles were so dense, that no undamaged twigs left @ua_ridna_vilna pic.twitter.com/3O77d0Yfml

— English Lugansk (@loogunda) February 22, 2017
So-called "Fairytale forest" at positions of the 54th Mechanized Brigade (the Armed Forces of Ukraine) southeast of Svitlodarsk. Photograph no. 3 shows a canned stew meat produced in Moscow Oblast, it reads "not for sale", probably delivered in one of Russia's so-called "humanitarian aid convoys", crossing Ukrainian border illegally to deliver unknown cargoes to the occupied cities of Luhansk and Donetsk from Russia.
59 attacks, 1 soldier wounded
The ATO Headquarters reported 59 attacks on February 21, no fatalities, 1 servicemen was wounded in action:
Mariupol sector:
Donetsk sector:
Luhansk sector:
OSCE records a similar number of explosions, reports civilian wounded
The OSCE Special Monitoring Mission to Ukraine (SMM) has released its report based on information as of 19:30, 21 February 2017:
The SMM recorded more ceasefire violations in Donetsk region with a similar number of explosions (341), compared with the previous 24-hour period (370 explosions). Over 70 per cent of those explosions were recorded in the Horlivka-Svitlodarsk-Debaltseve area.

In Luhansk region, the SMM recorded a similar number of explosions (26 explosions) compared with the previous 24-hour period (20 explosions).
Following up on reports of civilian casualties, the SMM visited government-controlled Artema (26km north of Luhansk), where a woman had been wounded by a bullet to her left shoulder being outside her house in the afternoon 19 February, she said, at the time of injury she had her back shoulder turned toward Donets river, uncontrolled territory is 1.5km away in that direction.
Russia sends another illegal convoy to occupied Donetsk and Luhansk
On February 21, so-called "humanitarian convoy" crossed the Russian checkpoints Donetsk and Matveyev Kurgan into Ukraine.
According to OSCE, a total of ten vehicles arrived at the Donetsk Border Crossing Point at 06:20, they were checked by the Russian border guards and customs services prior to them crossing into Ukraine. All 10 vehicles had crossed back into the Russian Federation by 14:38 on the same day.
15 vehicles of the so-called 'humanitarian' convoy passed from 05:50 to 06:30 through the Russian-based Matveyev Kurgan checkpoint to enter Ukraine, Ukrainian State Border Service's press service said, it states, Russia has sent a nuclear, biological, chemical reconnaissance vehicle (NBCRV) with its 60th "humanitarian" convoy to occupied Donbas.
Ukrainian inspectors could only examine the cargo without performing control functions.
пос. Ганзовка #Макшоссе в сторону Макеевки из Донецка. Гуманитарка едет. 21.02.17г. pic.twitter.com/PL0aiocM2e

— юля иванова (@zusamelena) February 21, 2017
Translation:  Hanzivka settlement, humanitarian aid on move along the Makiivka route from Donetsk towards Makiivka.
Feb21 #Makiivka @zusamelena This car, probably, escorted humanitarian aid and was last [in column] pic.twitter.com/P5RXkmGlfz

— English Lugansk (@loogunda) February 22, 2017
Russia sends its "humanitarian" convoys to the occupied Donbas since August 2014. Cargoes are not properly inspected by the Ukrainian Border Service.
Tags: Avdiivka, Donbas war (2014-present), Donetsk, News, Russo-Ukrainian War (2014-present), Shyrokyne, Svitlodarsk