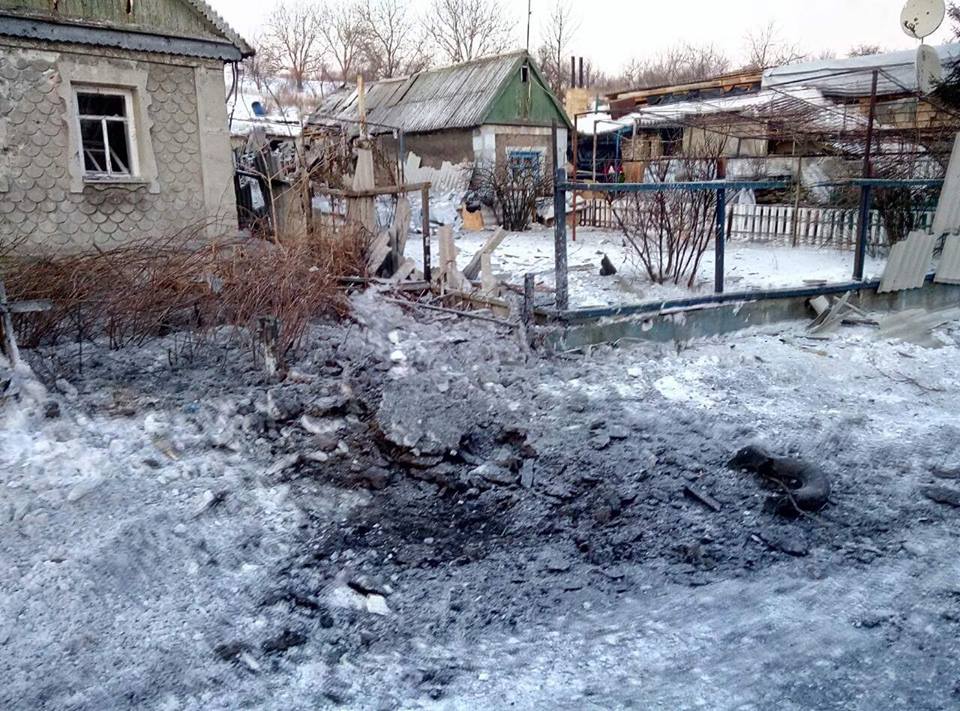 Aftermath of February 15 evening shelling in the old part of Avdiivka. Credit: Vyacheslav Abroskin FB 
February 15 was a relatively quiet day in the Donbas except for Donetsk city where a harassing shelling started since morning and escalated afternoon (all time EET, GMT+2).
08:33 Yasynuvata: "No day without a morning explosion since Monday"
08:38 Donetsk Kalinina mine area: A heavy boom 5 min ago in the north. It was quiet since early morning before.
12:56 Donetsk: It booms almost since 4:30 am in east&west. Once each 20-30 minutes
13:01 Donetsk Scheglovka: The wind brings sounds of battle from Yasynuvata checkpoint direction
13:01 Donetsk Scheglovka: Since early morning sporadic artillery salvos are heard, various strength.
A piece of electronic warfare was spotted in the center of Donetsk:
10:22 Donetsk: A truck "with radiolocation things atop" went from Illicha along Naberezhna southwards – KUNG, white camouflage
Distant sounds of war were heard in Lysychansk, a city in Luhansk Oblast about 20km away from the frontline:
14:08 #Lysychansk: "It's not heard at home, as I went out something heavy has been heard…"
There are reports on additional field fortification being built by the Russian-backed forces north of occupied Dokuchaevsk:
16:39 [Dokuchaevsk area]: "Olenivka: separatists dig new trenches since yesterday (February 14) along the road to Oleksandrynivka"
The harassing fire north of Donetsk intensified towards evening and lasted until 22:30:
16:30 Donetsk Vetka: Battle is heard from the north – small arms, booms
16:41 Makiivka: "5 black jeeps with flashers and 2 black minibuses went through Zelenyi microdistrict towards Donetsk. Probably it was Zakharchenko"
16:47 Donetsk: Seldom rounds of D-30 howitzer, 120mm mortar from Mineralne-Yakovlivka direction
16:48 Donetsk: Launches from Putilovka, small arms fire is heard from there
17:23 Makiivka Gvardeyka: Yasynuvata checkpoint makes noise, in "medium tempo". Heavy booms begin
17:29 Donetsk Kirovskyi ds: From time to time, tangible gunnery reaches us through the wind
17:34 Donetsk Shakhtarska Sq: We're listening to the war for about 20 min, sporadic heavy claps
18:48 Donetsk: Powerful single artillery salvos in the north
19:10 Donetsk: airport – Mineralne – Donetsk bypass line: single monotonous heavy outgoing rounds, once every 1-2 min…
19:15 Makiivka Gvardeyka: Ka-booms became more frequent
19:33 Makiivka Gvardeyka: Stronger artillery started to shell
19:38 Avdiivka: Flashes at Promzone are seen from the town. Booms, and rapid-gun fire – probably AA-gun
19:49 Donetsk: Again heavy salvos resumed from Mineralne-#Yakovlivka
19:50 Donetsk: Either larger caliber, or salvos from a position closer to the city
19:51 Donetsk: Cannonade has started in the north. Before it was heard but not that frequent
19:51 Avdiivka: Southeast sounds of heavy booms became more distinct and louder
20:01 Donetsk: The battle intensified in the north, both artillery salvos and impacts are heard
20:30 Donetsk: Again. Rumble, flashes in the sky, sometimes hissing outgoing rounds
20:32 Makiivka: Salvos again
21:17 Avdiivka: Large calibre machine guns, explosions, flashes direction of the forest/DFS (east of Avdiivka)
21:24 Donetsk: A smoke break is over. "Withdrawal" of heavy weapons continues [=artillery fires]
21:34 Makiivka: Artillery is still pounding in full swing. Roughly towards Yasynuvata checkpoint – Hospodar direction (west of Yasynuvata, east of Avdiivka)
21:34 Donetsk: Flashes and sounds of outgoing rounds from roughly Hrabari direction
21:35 Donetsk: Flashes and booms from the direction of the chemical plant (Kuybyshevskyi district), Smolyanka
21:36 Donetsk railway station: Artillery is still working
21:37 Donetsk: Heavy outgoing rounds from the direction of the cemetery of mine no. 29
21:43 Donetsk: Panfilovska mine and old concrete plant – allegedly mortar fire from there towards Pisky
22:01 Donetsk: From Panfilivska mine or Hrabari artillery has just shelled
22:10 Donetsk Kuybyshevskyi Bakiny: A machine gun "barks" not far away, short bursts
22:10 Makiivka: Salvos from Hryhorivka ettles
22:23 Makiivka Gvardeyka: [Salvos from #Hryhorivka] were accompanied by flashes
22:29 Donetsk Oktyanrskyi: One can hear heavy [guns]
22:35 Donetsk DK Kuybysheva: We're listening to it, capitally, with vibration
22:35 Donetsk Kirovskyi mine no. 17-bis: It sounds very loud indoors even with TV set on
22:45 Yasynuvata: A "box" [=tracked vehicle] went along the town passing by Zorka settlement
Ukrainian military: 1 killed, 3 wounded, 1 injured
49 attacks were launched on positions of the Armed Forces of Ukraine in the Donbas on February 15, the Anti-Terrorist Operation (ATO) Headquarters reports. One Ukrainian soldier was killed in action, three servicemen were wounded, one injured.
Mariupol sector: machine guns and small arms were used to attack Shyrokyne, Hnutove, Vodyane, Pavlopil.

Donetsk sector: Avdiyivka, Opytne came under shelling of 120mm, 82mm mortars. Grenade launchers were used to shell the Ukrainian positions in Zaytseve and Pisky.

Luhansk sector: mortars and grenade launchers were used to shell Krymske, Novooleksandrivka, Novozvanivka.
OSCE records more ceasefire violations
The OSCE Special Monitoring Mission to Ukraine (SMM) has published its latest report based on information received as of 19:30, 14 February 2017:
The SMM recorded more ceasefire violations compared with the previous reporting period, mainly in the Avdiivka-Yasynuvata-Donetsk airport area (northwest of Donetsk). The Mission followed up on reports of explosions at industrial facilities in Donetsk city and Shchastia (20km north of Luhansk), and damage to civilian infrastructure in Novooleksandrivka (65km west of Luhansk).
Bellingcat identifies Khmuryi, the Major General linked to the downing of MH17
Most of tapped telephone conversations, published by SBU (the Security Service of Ukraine) in relation to the downing of Malaysian Airlines Flight 17 (MH17) in 2014, are between an officer identified as 'Khmuryi' and other separatists of the self-proclaimed "Donetsk People's Republic", who were involved in the transport of the Buk missile launcher that downed MH17.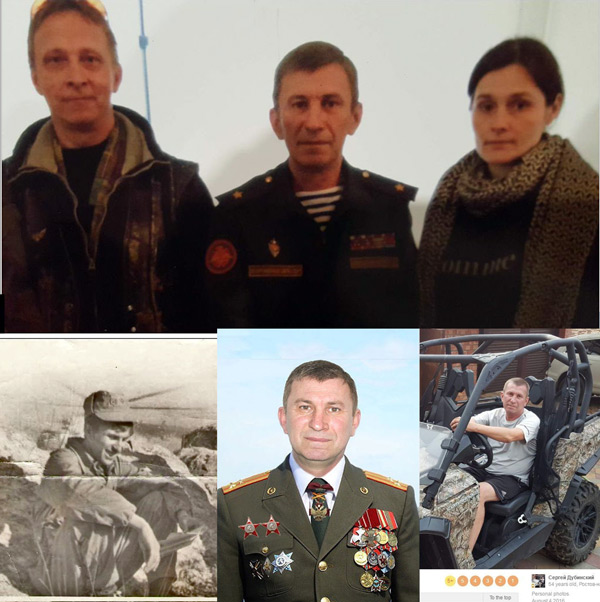 The Bellingcat team has identified 'Khmuryi' as Sergey Nikolaevich Dubinsky, a Russian colonel in July 2014, who fought in the Soviet-Afghan war, later in Chechnya, then served in a unit connected to the GRU (the Main Intelligence Directorate of the Russian Army). Dubinsky was granted the higher rank of major general in the "Donetsk People's Republic".
Aric Toler:
Sergey "Khmury" Dubinsky wrote that he drove a Peugeot 3008 in Ukraine. A black Peugeot 3008 accompanied the Buk that downed #MH17. pic.twitter.com/GLozaJqcMW

— Aric Toler (@AricToler) February 15, 2017
Government imposes state of emergency for energy sector
Amid the ongoing civil blockade of the occupied territories of the Donbas, the Prime Minister Volodymyr Groysman has imposed a state of emergency in the energy sector on February 15. Groysman emphasizes, "The Government would do its best to prevent or minimize the power outages".
SBU brings case of "advisor" of Zakharchenko to the court
Ukraine's State Security Service (SBU) brought to the court a bill of indictment concerning Eduard Poliakov, an advisor of the "DNR" terrorist leader Zakharchenko on the issues of the fuel and energy complex. A Ukrainian citizen Poliakov is under accusation of committing actions aimed at organizational and financial assistance to DNR terrorist organization
Russia to deport former "LNR" militant to Ukraine
Novosti.dn.ua reports that Russia's Novoshakhtinsk District Court of Rostov Region ruled to deport Oleh Andrushevich, a Ukrainian citizen who fought for the 'LNR' in the Donbas.
Andrushevich served in "Leshiy" and "Saint George" separatist battalions in 2014-2015. Having incurred a concussion, he moved to the Russian town of Novoshakhtinsk. The Novoshakhtinsk District Court ruled to deport Andrushevich after he tried to be granted asylum in Russia.
Tags: Avdiivka, Blockade, Donbas war (2014-present), Donetsk, Lysychansk, Makiivka, Russo-Ukrainian War (2014-present), Yasynuvata