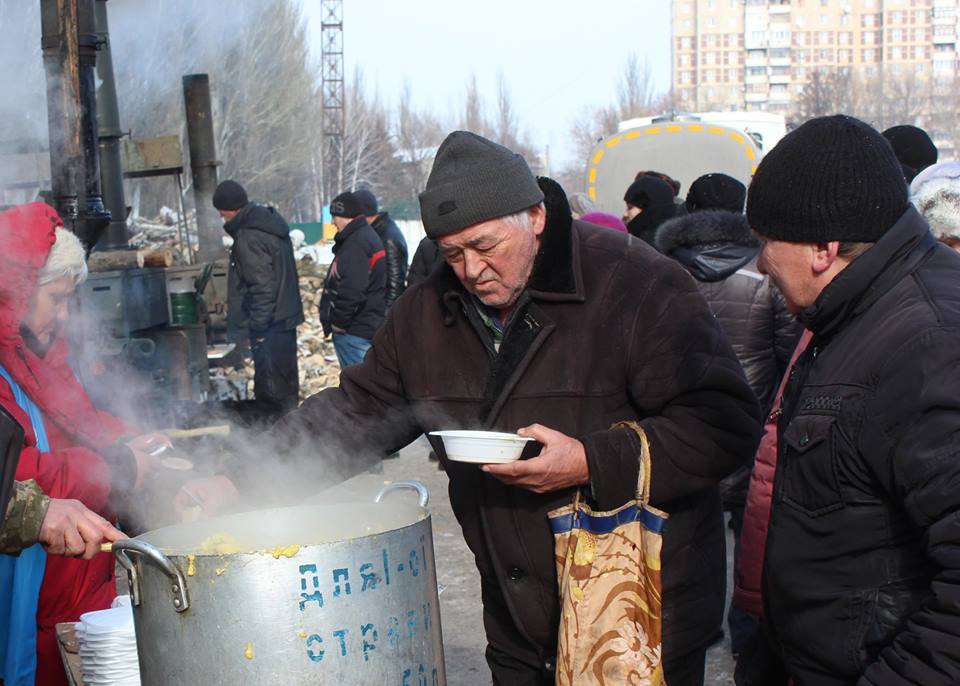 Avdiivka inhabitants getting food at one of 7 mobile heating points, set by the State Emergency service in the town
Credit: Yevhen Kaplin 
The OSCE Special Monitoring Mission to Ukraine reports that repair works of a power line are finished near the government-controlled front-line town of Avdiivka and electricity is already supplied to the town after almost seven days of power outage.
#DFS: Finally (!) repair works started. The SMM continues to facilitate localized ceasefire together with the JCCC. It must hold pic.twitter.com/ziIi4U152Y

— OSCE SMM Ukraine (@OSCE_SMM) February 5, 2017
Repair works on site finished. Ceasefire must go on. Joint SMM, JCCC and repair crew results must be preserved. Stop firing

— OSCE SMM Ukraine (@OSCE_SMM) February 5, 2017
Lights on in Avdiivka. Joint efforts by the #OSCE SMM, JCCC and repair crews. Ceasefire must be maintained. End the fighting

— OSCE SMM Ukraine (@OSCE_SMM) February 5, 2017
Volodymyr Groysman, the Prime Minister of Ukraine, says: "Supplying electricity to Avdiivka is restored! We did it through well-coordinated work of the government bodies, military, State Emergency service, services of the Regional State Administration."
Avdiivka inhabitants confirm it on social networks.
17:15 #Avdiivka @owl_ok Power has been restored

— English Lugansk (@loogunda) February 5, 2017
17:23 #Avdiivka @jackson_villi Power is restored

— English Lugansk (@loogunda) February 5, 2017
18:06 #Avdiivka @fingerw80 PowerOurs for already more than 30 minutes [= referring to Russian "Crimea ours" slogan]

— English Lugansk (@loogunda) February 5, 2017
According to the General Staff of the Armed Forces of Ukraine, the sharp escalation in the fighting started on January 29th at 4:40 a.m. EET with "attack of Russian-terrorist forces on positions of the 72nd separate mechanized brigade in the area of Avdiivka along the entire frontline, with the use of 120mm and 82mm mortars, SPG, RPG, small arms." The attack escalated into a battle with the massive use of heavy artillery and MLRS Grad from the Russia-backed side.
Active battles lasted more than five days, until the morning of February 3.
Amid renewed hostilities, on January 30 Avdiivka left without electricity. Artillery strikes by Russia-backed forces caused de-energizing of Avdiivka. Together with the town itself, the blackout touched a coke plant, supplying Avdiivka with heating, and the Donetsk Filtering Station, supplying water to Avdiivka, Yasynuvata, and north Donetsk. A state of emergency was declared in Avdiivka and later on the same day, President of Ukraine Petro Poroshenko has cut short his visit to Germany due to "an emergency situation (in Avdiivka) verging on a humanitarian disaster," as the spokesman for Poroshenko told.
A Ukrainian repair crew of electricians tried to approach the damage site few times from February 1, but each time until today their works ended abruptly due to shooting from the Russian side. Only today electricians finally were able to complete the works to restore electricity. However, electricity is still not supplied to some neighborhoods.
State Emergency service: In #Avdiivka, electricity is still not supplied to #Yuvileynyi neighbourhood and few more streets https://t.co/5WdZzk9rOp

— English Lugansk (@loogunda) February 5, 2017
Throughout the week of hostilities, humanitarian aid organizations, neighboring communities, the Ukrainian government and individual volunteers made an effort to ease the suffering of the 16,000 civilians in Avdiivka who were left without water, electricity, and heating. Here are some photos of Yevhen Kaplin who was there with the humanitarian aid mission Proliska, that show how the city is getting along.


Tags: Avdiivka, Donbas, Donbas war (2014-present), Russo-Ukrainian War (2014-present)