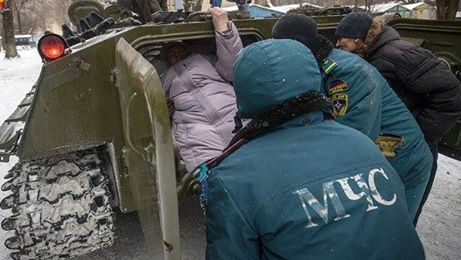 Workers of the Ministry of Emergencies during an evacuation. Illustrative photo. Source: 24tv.ua 
The Ukrainian Channel 24 reports that sources in occupied Donetsk have informed them of forced evacuation in Kyivskyi Raion of the city.
Armed individuals and the so-called "DNR Ministry of Emergency Situations" are forcing people to leave their homes. According to sources, no reasons have been given for this emergency evacuation and residents have been told either to leave immediately or stay in their apartments all day tomorrow.
The source said that large-caliber Multi Launch Rocket Systems (MLRS) pointing towards Avdiyivka are being installed in the district.
"Some locals approached these armed units and asked them to remove the military hardware from the residential areas or at least refrain from firing as there might be a response from the Ukrainian Armed Forces. These armed men opened fire in the air and promised to shoot anyone who interfered." reported the source.
Locals believe that Avdiivka will be massively shelled tomorrow so that Ukrainian troops will fire back. They also suppose that Donetsk could be provocatively shelled by the "DNR" forces.
On 2 February, Ukraine's permanent representative to the UN Volodymyr Yelchenko stated that a provocative shelling of Donetsk by "DNR's" own army is a possible explanation for the forced evacuations of civilians from residential areas of Donetsk at a session of the UNSC.
"We do not exclude any escalations or provocations in Donetsk and the vicinities with the attempts to further compromise the Ukrainian armed forces and Ukrainian leadership. There exist reports about the evacuation of civilians from Donetsk, which we view as a preparation for a possible provocation," he stressed and added that a similar situation occurred when Russia was preparing to attack Georgia in 2008.
Ukraine has seen a peak of violence in Donbas, with a massive attack being launched upon the government-held city of Avdiivka in the outskirts of Donetsk.
#OSCE's Hug: On 31 Jan SMM recorded over 11,000 ceasefire violations – Truly unprecedented pic.twitter.com/5bg0iVD18G

— OSCE SMM Ukraine (@OSCE_SMM) February 3, 2017
On 30 January, the government-held Avdiivka on the outskirts of Donetsk was massively shelled, in the result of which 16,000 residents were left without heat, water, and electricity. Thus far, the attacks are continuing. The city's strategic position overlooking the highway connecting Donetsk and Horlivka is a likely explanation for the attack.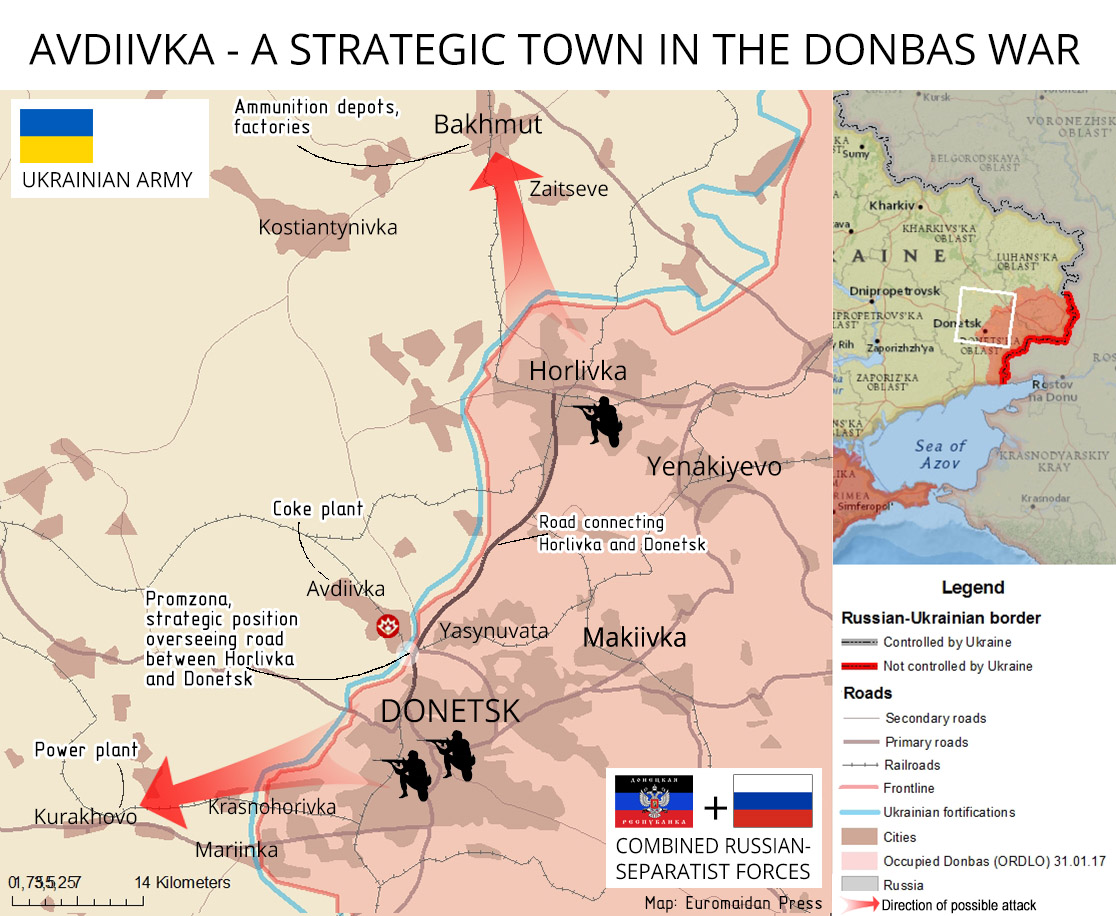 On 2 February 2017, the Bellingcat investigative journalism team issued a report detailing the practice of Russian-backed militants firing missiles on Ukrainian positions near residential areas in Donetsk. The report found that the "DNR" forces had repeatedly used a launch site 200 meters from a supermarket in Donetsk, deliberately risking the lives of the civilians in the area.
Tags: Avdiivka, Donbas, Donbas war (2014-present), Donetsk, Russian military crimes, Russo-Ukrainian War (2014-present)