In this series, we are teaming up with the tireless social media activist who goes by English Luhansk on twitter to produce open source updates about the military situation in Donbas. We analyze reports from Donbas local twitter accounts and translate it into a comprehensive overview of what's going on on the ground. 
Yesterday's digest can be found here: 
105 attacks, 6 WIA, another ceasefire, Russia recognizes "LDNR passports"
The reports by residents of Donbas on social media sites are not exhaustive since we cannot collect all such reports and the most of the reports originate from more densely populated areas, thus, for example, we have nothing but official military reports from Chermalyk, a small village 20-40 km away from the cities. But the reports of the locals give us insight into the current situation.
According to reports by residents of the frontline cities, it was much quieter in the Donbas on February 19, as compared with the escalation of hostilities on February 18 and on prior days (all time EET, GMT+2):
00:06 Volnovakha: It's quiet here [= against Dokuchaevsk, where the sounds of battle have been heard]. Probably they are fighting with Berezove
00:24 Donetsk: "Fireflies" in the sky in the north [either illuminating or signal flares]
01:39 Donetsk: The clatter of tracks comes from the direction of Panfilovskyi bridge, maybe tanks. Towards Pisky?
05:47 Avdiivka: "The night passed ok. Now relatively quiet, dogs bark, far sounds reminding of the war. No power and water"
05:59 Donetsk: Artillery is making noise in the north
08:30 Donetsk Vetka: Shooting, loud and close, heard very distinct
11:54 Makiivka Gvardeyka: Shooting was heard almost all night, and in the morning, by a recent tradition, artillery boomed a bit
12:15 Yenakiieve: 2 explosions. They wrote it was at the range
13:03 Avdiivka: Overhead contact system is repaired at Ocheretyne-Avdiivka [railway] section
17:07 Donetsk: Staromykhaylivka: they start to boom bit by bit. Panes clink, floor jumps
17:19 Horlivka: Southwest: they start to boom, so far a couple of salvos
17:24 Kadiivka: About 15:00 something boomed on the block. They report a grenade was blown up at #13, Yunykh Lenintsiv St in an apt
18:15 Donetsk: Staromykhaylivka: As of now the battle is heard as dense assault rifles fire
18:23 Makiivka: "It has boomed strongly, Gvardeyka?" "At Kirovets we've heard it"
18:30 Donetsk: Very heavy "bad sounds" are coming from the north
18:44 Donetsk: North: 1 boom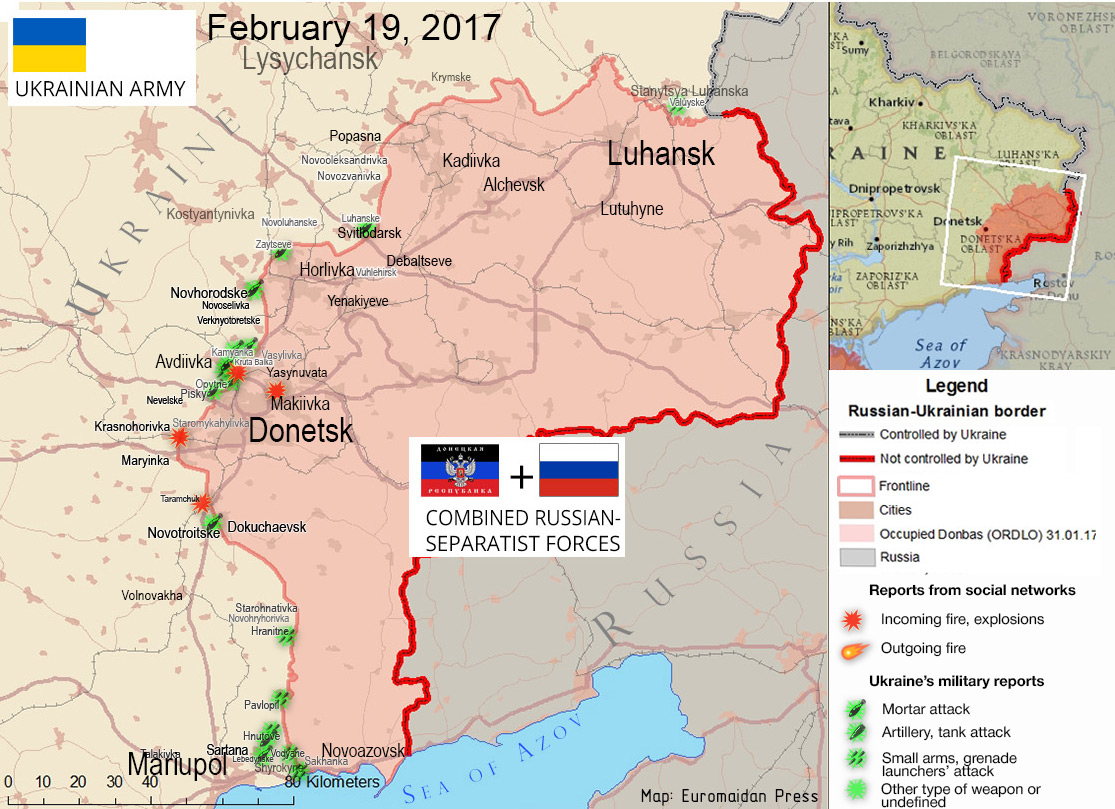 62 attacks, 1 KIA, 1 WIA
The ATO Headquarters reported 62 attacks on February 19, one serviceman was killed in action, one more was wounded.
Mariupol sector:

Various-caliber mortars were used to attack Hnutove, Novotroitske, Lebedynske and Zaytseve.
Hnutove, Pavlopil, Hranitne, Vodyane were attacked with use of grenade launchers and large-caliber machine guns.
Shyrokyne came under BMP fire several times.
ATGM were used against Vodyane.
Sniper fire was opened on Avdiivka.

Donetsk sector:

120mm and 82mm mortars as far as grenade launchers, small arms were used to attack Troitske, Avdiivka, Zaytseve, Opytne, Kamyanka, Luhanske, Novhorodske.

Luhansk sector:

Valuyske was attacked several times with use of grenade launchers and small arms.
Col. Motuzyanyk: Donetsk sector: Yesterday, the fights in Avdiivka lasted 10 hours. Over the day, enemy fired 120+ bombs and 50+ tank shells

— UCMC (@uacrisis) February 20, 2017
ATO spokesperson: Over the past day, 1 UA AF serviceman KIA, 1 WIA. The death of previously MIA serviceman is confirmed. 1 serviceman DOW

— UCMC (@uacrisis) February 20, 2017
Map. Situation in eastern #Ukraine February 20, 2017, 00:00 EET pic.twitter.com/vEGEdvnQyV

— UCMC (@uacrisis) February 20, 2017
Air defense platoon commander Maksym Hrynchyshyn has perished yesterday:
https://www.facebook.com/slujeniekapellanov/photos/a.583120001787949.1073741828.583109041789045/1040818022684809/?type=3&permPage=1

Electricity restored in Avdiivka
On February 18 a high voltage power line feeding the town of Avdiivka (about 20,000 people) was damaged due to military action:
19:51 Avdiivka: No lights
19:52 Avdiivka: "The town is in darkness after heavy impacts. Explosions and illuminating ones. Minsk rules"
19:57 Avdiivka: No electricity, glow in the direction of Verknyotoretske or Kruta_Balka
20:34 Avdiivka: Gov. Zhebrivskyi: Power shortage again in the town & at the coke plant… electric generators are being prepared
Repair crews found and repaired 5 wire breakage on the government-controlled territories on the next day.
Caption: "Repair brigades are working to restore a power line near Avdiivka".
As of February 20 at 11:30, supplies of electricity has been fully restored in Avdiivka, the Ukrainian state service for emergency situations reported.
Railway infrastructure was damaged too:
Feb19 #Avdiivka @rechnikato railway damaged pic.twitter.com/e5EayBqNdj

— English Luhansk (@loogunda) February 20, 2017
13:03 #Avdiivka @GirkinGirkin Overhead contact system is repaired at #Ocheretyne–#Avdiivka [railway] section

— English Luhansk (@loogunda) February 20, 2017
'DNR' to allow Red Cross to access POWs on occupied territories
The so-called DNR ("Donetsk People's Republic") and LNR ("Luhansk People's Republic") promised not to obstruct access to prisoners for representatives of the International Committee of the Red Cross (ICRC), as reported by Russia's Interfax news agency citing the office of so-called "Ombudsman of the DNR".
In turn, Ukrainian Foreign Minister Pavlo Klimkin hopes that the Red Cross will begin to search for missing persons in the Donbas.
"I have tried to get some evidence from the Russian side that they will put pressure on the fighters they control regarding access for international humanitarian organizations, as per the Red Cross access plan… This, unfortunately, is not what we want in terms of release [of POWs], but it is a very important first step, in that the Red Cross can begin a search for the missing – for those, whom we cannot find," Klimkin told reporters in Munich.

Donbas trade blockade rallies in Kyiv end in clashes
Demonstrators gathered in downtown Kyiv February 19 in support of the blockade on coal-producing areas uncontrolled by the government, and some protesters later clashed with riot police.
The rally was led by MPs Yehor Sobolyev and Semen Semenchenko, who organized the railway trade blockade in Donbas, and the head of the Organization of Ukrainian Nationalists (OUN) Mykola Kokhanivskyi. The latter was detained during an attempt to break through the police cordon.
Five people were detained and one policeman injured in a clash between demonstrators and police outside the presidential administration building. Later at night, the Headquarter of the blockade reported, that the police drew up reports of disorderly conduct and released all 5 detainees.