Authors: Bohdan Miroshnichenko, Olena Mukhina; adapted from Ekonomichna Pravda
Western countries are slow in imposing sanctions on metals and diamonds from Russia, despite achievements in reducing reliance on its oil and gas. While Russian exports of metals and precious gemstones to US and European markets still bring an additional $20 billion annually, concerns over economic consequences and the need for effective tracking mechanisms have delayed the implementation of restrictions.
Over the past year, European Union countries have eliminated or limited their dependence on Russian oil, petroleum products, coal, and natural gas, which have been lucrative businesses for the Kremlin, bringing it approximately $354 billion in revenues over the first year of its invasion of Ukraine. However, there are other Russian profitable industries that have not been included in sanction packages.
According to Ekonomichna Pravda, Russia still earns $20 billion a year from the export of metals and precious gemstones to Western markets.
Diamonds for Belgium
Diamonds are one of Russia's top ten non-energy industries by value, with exports in 2021 totaling over $4.5 billion, according to the US Department of the Treasury. Russian gemstones are concentrated in the hands of the company Alrosa, responsible for 90% of the country's diamond mining capacity. The Kremlin has a large stake in the company which provides $1.5 billion to the country annually by selling precious gemstones to the European Union, as per UN Comtrade. The enterprise not only helps to finance Russia's war against Ukraine but also supports the maintenance of the Black Sea fleet combat submarine named after the company — "Alrosa" – a carrier of cruise missiles.
On 6 July, Kalibr missiles killed ten civilians in the western Ukrainian city of Lviv and injured 35 people.
Belgium is Russia's primary destination for diamond exports to the EU. In 2022, gemstones worth over $1.4 billion arrived in the country, Ukrainska Pravda reported. While the US and the U.K. have already imposed sanctions on Alrosa, Belgium still hesitates, appealing that measures could harm Antwerp's diamond district, the world's largest gemstone hub. A European ban on Russian diamonds could cost 10,000 Belgian jobs, said the Antwerp World Diamond Centre.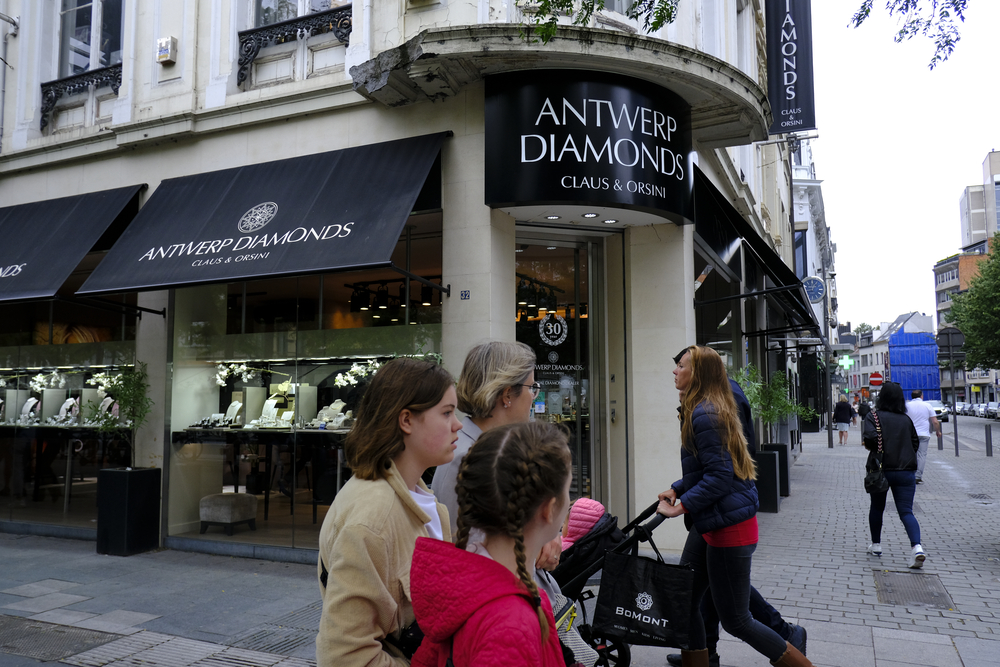 In addition, Alexander De Croo, the Belgian prime minister, in an interview with the Financial Times told that the existing direct bans on Russian diamonds hadn't had any "meaningful impact on the financial flows for Russia's war machine." According to de Croo, establishing mechanisms of tracing the origin of diamonds would prevent the possibility of disguising Russian jewels as those created in third countries and selling them on European markets.
At the 2023 G7 summit, EU's President Charles Michel said, "Russian diamonds aren't forever." His words prompted expectations that a full embargo would be imposed on precious gems during the event and in the 11th sanctions package against Russia. However, G7 leaders, in a joint statement, agreed only to cooperate in creating tracing mechanisms to track gems that finance the war and the new restriction package didn't include any bans on diamonds.
Previously, Alrosa had managed to "vanish" from EU draft sanction lists at least two times despite requests from society and international organizations such as Transparency International, according to The Guardian.
However, experts believe that an embargo or restrictions could be put in the 12th sanction package. According to Iliia Neskhodovskyi, the head of the ANTS Network of National Interests Protection, the first step that could be done to limit Russian profits from diamond exports would be to implement a certificate system. Uncut gemstones should be identified before their arrival in European markets. In this case, buyers will be aware that diamonds were extracted or manufactured in Russia and make decisions based on data in the certificate, UA.TV reports.
Another expert, Oleh Penzin, proposes to grant Russian diamonds the status of "blood diamonds" and include them in a ban list approved by UN teams who investigate the origin of gems.
While Belgium and the European Union are negotiating diamond sanctions, Russia uses the time to expand its presence in the markets of India and the UAE. With each day of delay, the potential impact of an embargo diminishes.
Platinum for Western car producers
Russia is a major supplier of platinum metals to Western markets. In 2022, Russian platinum exports brought $3.8 billion to the country's budget. The United States, the United Kingdom, Germany, and Italy are the key buyers of "Russian Platinum" and "Norilsk Nickel" companies, which are the biggest producers of rare metals in the country.
Platinum metals, including ruthenium, rhodium, palladium, osmium, iridium, and platinum, are used in the automotive industry.
The "Norilsk Nickel" enterprise is controlled by Vladimir Potanin, the second richest man in Russia and a close ally of Russian President Vladimir Putin. A shareholder of the company is the "Rusal" corporation, led by oligarch Oleg Deripaska, who was involved in the 20`16 US election meddling.
While the United States and the United Kingdom have targeted Russian platinum with additional tariffs, a full embargo has not been imposed by any EU country.
However, other EU restrictions have already impacted "Norilsk Nickel." In 2022, the company's management faced challenges due to a shortage of Austrian equipment, forcing them to seek alternative suppliers which offered lower-quality equipment at significantly higher costs. Flight bans have also disrupted logistical chains. As a result, "Norilsk Nickel" may expect a reduction in platinum production by 1-7% and palladium by 7-14% in 2023. Future sanctions on the "Norilsk Nickel" could have a lasting effect and limit funding of the Kremlin's war machine.
Non-ferrous metals for the European Union
Russia exports a quarter of its aluminum and approximately one-third of its copper to the EU. "Rusal," "Norilsk Nickel," and "The Ural Mining and Metallurgical Company" which is controlled by Andrey Kozitsyn, a member of the ruling party "United Russia," receive billions of dollars from the sale of non-ferrous metals to the West.
Copper and aluminum are used for electric vehicle production, so the demand for them continues to grow steadily.
The EU's dependency on Russian nickel is significant, as it accounts for nearly half of its imports and generates $3.8 billion for the aggressor country annually. In addition, the export of aluminum and copper brought Russia $6.7 billion in 2022. Profits from the non-ferrous metals trade were directed into the budget of Russia which continued its missile and drone attacks on Ukraine's civilian population.
Halting reliance on Russia for titanium supplies
In 2022, Western aerospace producers, including Airbus and Boeing companies imported Russian titanium worth $365 million. The corporations bought metals from the Russia-based non-ferrous metallurgical company VSMPO-Avisma, which serves the Russian military industry by supplying titanium to produce armored vehicles, combat aircraft, and missiles.
Despite being a strategic player in the Russian defense industry, "VSMPO-Avisma" hadn't faced EU sanctions for its engagement in supplying titanium for the production of armored vehicles, combat aircraft, and missiles. So far, it is on the sanctions list of only Ukraine.
That year, Russian titanium was pulled off the sanctions list at the last minute, as per the wish of the countries that manufacture Airbus aircraft.
Later this year, Airbus and Boeing announced they would halt their reliance on Russia for titanium supplies, as per Reuters. However, there is no country-wide ban, so imports continue.
Imposing an embargo on Russian iron and steel
The Russian ferrous metallurgy industry has been included in sanctions packages but Western countries have shown weakness in abandoning Russian iron, steel, ore, and ferroalloys. Russian exports of these products to the West amounted to $5.3 billion in 2022.
Russia's largest iron producer is Novolipetsk Metallurgical Plant (NMP), owned by oligarch Vladimir Lisin. In December 2022, journalists of The Times discovered that Lisin's company supplied steel for Russia's nuclear weapons.
As of now, only Ukraine and Australia have imposed sanctions on Vladimir Lisin. The company has not been subjected to broader restrictions, allowing Russian iron and ferroalloys supplies to continue to arrive in Western countries.
The European Union has indeed reduced its import of Russian iron ore by four times. However, it still continues imports. In 2022, the EU brought Russia $600 million in profit for purchasing iron ore. Nevertheless, the share of Russian metals in the EU's overall imports remains relatively small.
In the eighth round of sanctions, the EU introduced an embargo on the import from the Russian ferrous metallurgy industry. Its enforcement will start on 30 September 2023 and for certain products, the restrictions will be further delayed until 2024.
Time matters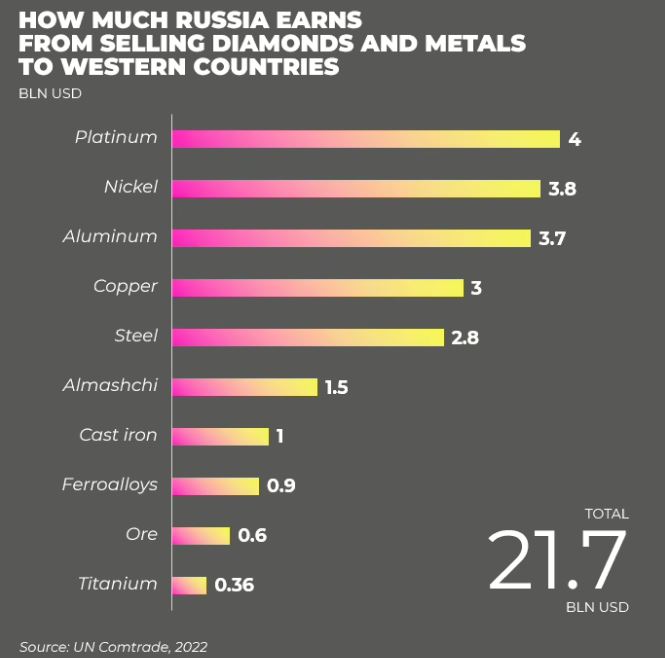 Critics of broader restrictions on Russia say that sanctions won't lead to effective results as the country will likely shift its trade focus to Asia.
However, India and China cannot fully replace the rich markets of the G7 countries, making an embargo a potential tool to fight off Russian aggression. The timing of imposing sanctions is also crucial. The longer the implementation is delayed, the more opportunities Russia has to redirect its products to other trade platforms.
Despite the pressure of existing restrictions, Russia's mining industry continues to expand the production of certain products, according to Lydia Lisovska, an analyst for the ANTS project "Russian Assets as a Source of Ukraine's Economic Recovery."
According to her, in the first quarter of 2023, Russia's stainless steel ingots increased to 132.6% compared to 2022. In addition, the growth was observed in lead concentrates, alloyed steel ingots, silver powder, aluminum wire, raw titanium, zinc, and magnesium production.
In 2022, the European Union swiftly reduced its dependence on Russian gas due to resource mobilization and infrastructure investments.
Similar results can be achieved with other non-sanctioned products if the EU and its allies impose effective restrictions on them.
To disrupt these trade flows, joint decisive actions are needed, rather than delays or exceptions, emphasized Vladyslav Vlasiuk, the advisor to the President's Office.
This is an adapted version of Bohdan Miroshnichenko's article on Ekonomichna Pravda
Related: