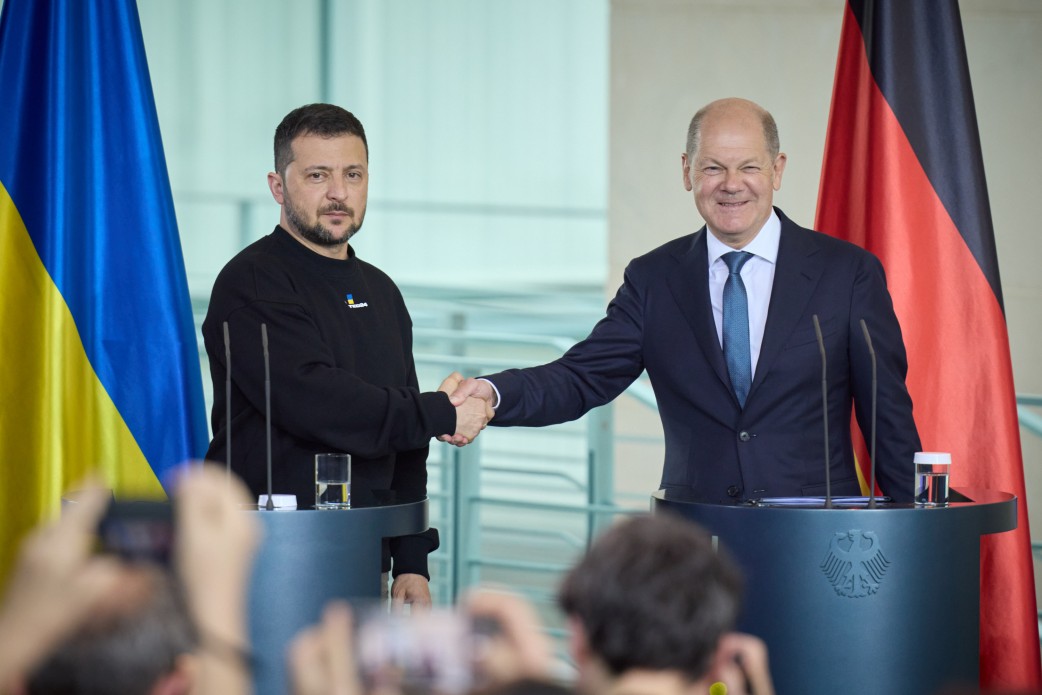 Ukraine's President Zelenskyy and Germany's Chancellor Scholz during their meeting in Berlin on 14 May 2023.
Credit: Ukraine's presidential office. 
During today's visit to Berlin (Germany), the President of Ukraine, Volodymyr Zelenskyy, stressed how important it is for Ukraine to be provided with Western-type fighter jets.
Volodymyr Zelenskyy arrived in Berlin late at night on 13 May 2023, following his visit to Italy. On 14 May, the President of Ukraine met with the German Federal President, Frank-Walter Steinmeier, members of the German Security Cabinet, and the Federal Chancellor of Germany, Olaf Scholz.
During a joint press conference with the Federal Chancellor, Ukraine's President expressed gratitude for the German support for Ukraine and said that Ukraine urgently needs Western-type fighter jets to boost its defensive capabilities and save lives in the face of the ongoing Russian full-scale invasion.
"We are now working to create a coalition of fighter jets, and partly my visits to European capitals are aimed at this. I think we will succeed," Volodymyr Zelenskyy said, answering journalists' questions.
Olaf Scholz noted that German support is aimed at strengthening Ukraine's ability to defend its territories to force Russia to retreat and leave Ukrainian soil. Ukraine's President said he would continue discussing fighter jets with Olaf Scholz because Ukraine needs them to tackle Russian superiority in the Ukrainian sky.
"I want to emphasize that Germany's assistance is about protecting lives. The lives of our people in cities and villages are reliably protected, particularly by the air defense systems you have provided. The lives of our soldiers on the battlefield are protected by the armored vehicles you have provided. Social life in Ukraine, which is protected by your financial support, is vital. Ukraine knows how to be grateful and will always be grateful to your country," Volodymyr Zelenskyy said during the press conference following the negotiations with the head of the German government in Berlin.
Apart from that, Volodymyr Zelenskyy said that he counts on "Germany's effective assistance" in supporting Ukraine's application to join NATO. The President of Ukraine expressed hope for Germany's leading role in the EU's adoption of the next sanctions package against Russia.
The leaders of Germany and Ukraine also discussed Germany's participation in Ukraine's recovery. Volodymyr Zelenskyy emphasized the importance of bringing to justice those responsible for war crimes and other atrocities committed by the Russian forces in Ukraine.
The parties specifically focused on joint work to promote the Ukrainian Peace Formula and organize a Global Peace Summit with the participation of the maximum number of states, including those from the Global South.
Following their negotiation, the President of Ukraine and the Federal Chancellor of Germany issued a joint declaration that comprised 13 chapters. According to the joint declaration, Germany supports Ukraine's initiative for a just and sustainable peace in line with the UN Charter and based on Ukraine's sovereignty and territorial integrity as stipulated in President Zelenkyy's Peace Formula.
After meeting with Volodymyr Zelenskyy, Olaf Scholz officially announced a new German military aid package worth 2,7 billion euros for Ukraine.
"We will not let up our support: Germany is providing a new military support package totaling 2.7 billion euro – including further Leopard 2 battle tanks, Marder infantry combat vehicles and IRIS-T systems," Olaf Scholz wrote on Twitter.
Since the beginning of the full-scale Russian invasion of Ukraine, Germany provided Ukraine with aid worth 17 billion euros, Olaf Scholz said.
Related:
Tags: fighter jets, Germany, military aid to Ukraine, Russian invasion of Ukraine, Scholz, Ukraine, Zelenskyy