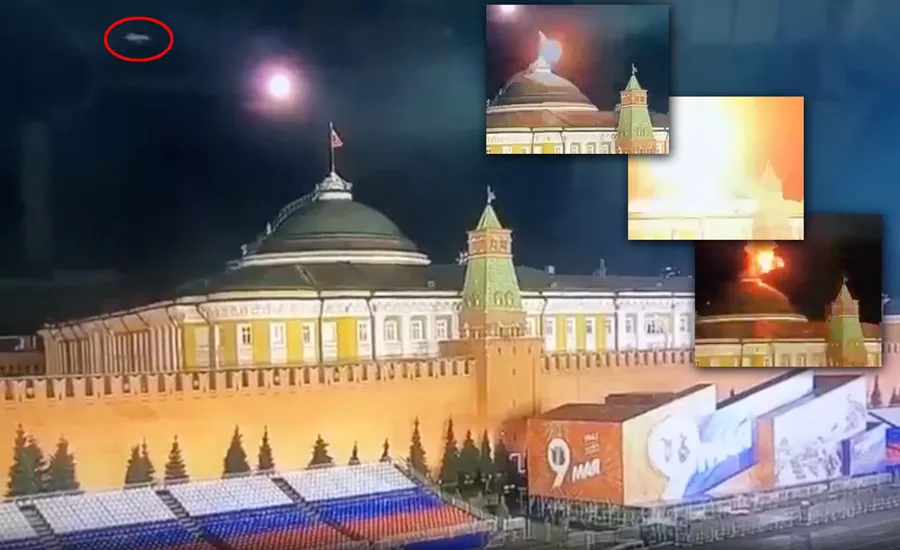 Alleged drone attack on the Kremlin in Moscow, Russia. Screenshots from the video. 
Editor's Note
Russia accused Ukraine of conducting a drone strike on the Kremlin on May 3, which Ukrainian officials denied, and the US-based think tank Institute for the Study of War (ISW)
suggests
that the strike was likely internally staged by Russia to bring the war home to a Russian domestic audience and set conditions for wider societal mobilization.
Russia accused Ukraine of conducting a drone strike against the Kremlin on May 3. 
Social media footage circulated on May 3 shows a drone detonating near a flagpole on top of the Kremlin Senate Palace building in Moscow as two unidentified people climbed up the dome of the building (1, 2, 3, 4, 5, 6, 7, 8, 9, 10, 11, 12, 13, 14).
Putin's press service claims two Ukrainian drones targeted Kremlin last night, promises retaliation
The Kremlin accused Ukraine of orchestrating "a planned terrorist attack" with the intent of assassinating Russian President Vladimir Putin, and clarified that Putin was not at the Kremlin at the time of the attack and was therefore unharmed (1, 2, 3, 4, 5, 6, 7, 8, 9, 10).
Ukrainian officials, including Ukrainian President Volodymyr Zelenskyy, stressed that Ukraine did not conduct the attack.
Russia likely staged this attack in an attempt to bring the war home to a Russian domestic audience and set conditions for a wider societal mobilization. 
Several indicators suggest that the strike was internally conducted and purposefully staged. Russian authorities have recently taken steps to increase Russian domestic air defense capabilities, including within Moscow itself, and it is therefore extremely unlikely that two drones could have penetrated multiple layers of air defense and detonated or been shot down just over the heart of the Kremlin in a way that provided spectacular imagery caught nicely on camera.
Geolocated imagery from January 2023 shows that Russian authorities have been placing Pantsir air defense systems near Moscow to create air defense circles around the city.
A strike that avoided detection and destruction by such air defense assets and succeeded in hitting as high-profile of a target as the Kremlin Senate Palace would be a significant embarrassment for Russia. The Kremlin's immediate, coherent, and coordinated response to the incident suggests that the attack was internally prepared in such a way that its intended political effects outweigh its embarrassment. The Kremlin immediately accused Ukraine of conducting a terror attack, and Russian official responses coalesced rapidly around this accusation.
If the drone attack had not been internally staged it would have been a surprise event. It is very likely that the official Russian response would initially have been much more disorganized as Russian officials scrambled to generate a coherent narrative and offset the rhetorical implications of a clear informational embarrassment. The Kremlin has notably failed to generate a timely and coherent informational response to other military humiliations not of its own making, including the falls of Balakliya and Kherson City in September and November 2022.
The rapid and coherent presentation of an official Russian narrative around the strike suggests that Russia staged this incident in close proximity to the May 9th Victory Day holiday in order to frame the war as existential to its domestic audience.
The Kremlin may use the strike to justify either canceling or further limiting May 9th celebrations, actions that would likely augment the information effort framing the war in Ukraine as directly threatening Russian observance of revered historical events. ISW has previously assessed that Russia is employing an array of measures to frame the war in Ukraine as existential to Russia's domestic audience and to prepare for wider societal mobilization.
Read also: